The global ammunition market size was estimated at USD 33.16 billion in 2022 and is projected to hit around USD 45.2 billion by 2030 and expanding growth at a CAGR of 3.95% during the forecast period 2022 to 2030.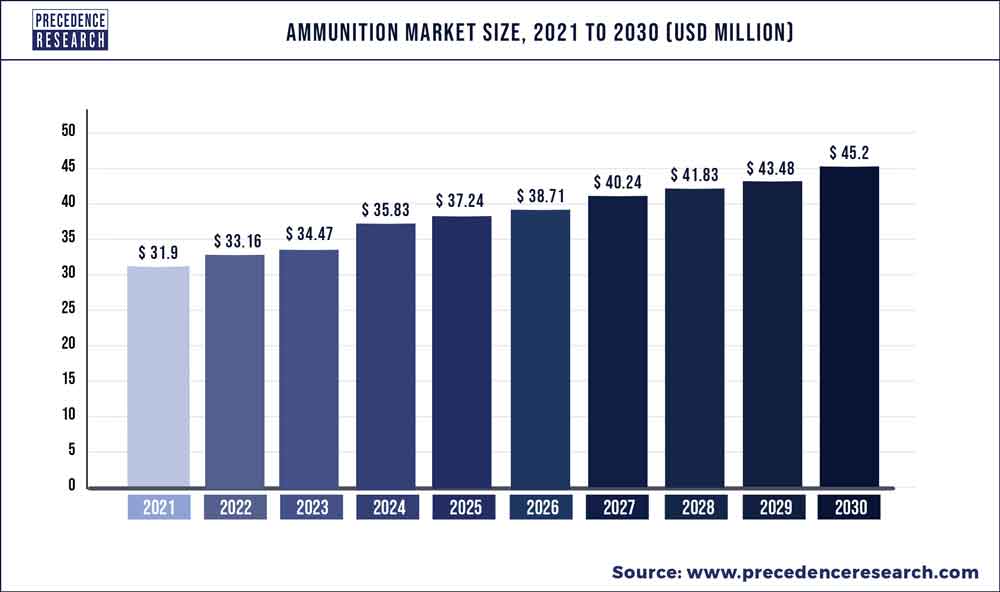 Access our Premium Real Time Data Intelligence Tool, Visit: Precedence Statistics
Key Takeaways:
By caliber, the small caliber segment hit 51% market share in 2021.
By end user, the defense segment held 76% of global revenue share in 2021.
By product, the centerfire segment has contributed 65.5% of total revenue share in 2021.
North America region hit 31% revenue share in 2021.
By type, the bullets segment hit highest revenue share in 2021. However, the aerial bombs segment is expanding at a steady CAGR from 2022 to 2030.
By components, the fuses & primers segment hit highest market share in 2021. However, the gun powder segment is growing at a strongest CAGR over the forecast period.
By end-use, the military & homeland security segment has garnered highest market share in 2021. However, the civil & commercial segment is growing at a remarkable CAGR from 2022 to 2030.
Ammunition is any substance that is scattered, fired, dropped or exploded by any weapon, such as bomb or rocket and particularly shots, shrapnel, bullet, or shell fired by a gun. Ammunition is both disposable weapons as well as it's the component element of other weapon that provides desired impact on the target. Ammunitions come in wide variety of size and also kinds further it is sometimes intended to only operate in a certain weapon's systems. However, certain ammunition type (e.g., 5.5645mm NATO) have globally recognized for standards that it is been allowed them to be used across different weapons and also by diverse users. There are many certain types of ammunition meant to have specific impact on the target, to name, as armor-piercing round and tracer ammunition, which are only employed in specified situations.
Ammunition is typically colored in definite way to support in identification and to avoid use of erroneous ammunition types. A munition is aggregate word for all sorts of ammunitions. The objective of ammunition is to express force at a specific target. The type of ammunitions use, on the other hand, comprises delivery or battle supporting munition like pyrotechnic or incendiary compound.
The market primarily is driven by increase in an acquisition of ammunition by border security forces military forces and local law enforcement agencies as a result of enlarged political upheaval, terrorist activities, and geopolitical tensions. In addition, the increased demand for tiny caliber projectiles by citizens and the homeland security department due to their lower lethality would promote market expansion.
Report Scope of the Ammunition Market
| | |
| --- | --- |
| Report Coverage | Details |
| Market Size in 2022 | USD 33.16 Billion |
| Market Size by 2030 | USD 45.2 Billion |
| Growth Rate from 2022 to 2030 | CAGR of 3.95% |
| Base Year | 2021 |
| Forecast Period | 2022 to 2030 |
| Segments Covered | Caliber, Product, End User, Component, Type, Guidance, Lethality, Others and Geography |
| Companies Mentioned | Northrop Grumman Corporation, FN Herstal, Olin Corporation, General Dynamics Corporation, BAE Systems, Inc., Rheinmetall Defense, Nexter KNDS Group, Hanwha Corporation, ST Engineering, Remington Arms Company LLC, Vista Outdoor Operations LLC |
Growth Factors
Rising demand for defensive equipment in armies due to rising geopolitical tensions throughout the world is likely to fuel ammunition demand. The Indian Army intends to expand the number of artilleries and with many mortar platforms over the period of next ten years through indigenous developments projects and foreign purchase, which will contribute to ammunition demand throughout the projected period. Furthermore, growing tensions in Middle Eastern countries are anticipated to feed regional demand. Furthermore, growing cross-border conflicts throughout the world would boost the Ammunition Market growth over forecast period. Military groups are beefing up their artillery stocks in preparation for wars with neighboring countries.
The United States Army said in January 2019 that it will expand combat forces by around 1,500 units are to be stationed in Germany as well as Baumholder. A major increase in military personnel numbers will result in tremendous development potential in a given industry environment. Increased defense spending is surely to bolster troops and gain an edge will also increase the Ammunitions further, Market share. According to SIPRI, worldwide military spending surpassed USD 1,800 Bn in 2018, also an increase of around 2.5 percent over previous year. Over the research period, the implementation of the new arms acquisition plans in nations such as the United States, China also Saudi Arabia and India will increase product demand.
Furthermore, numerous governments' expanding upgradation measures would promote segment expansion. Defense organizations are always working to improve existing weaponry and introduce more sophisticated types, such as self-propelled howitzer. These reasons are anticipated to boost the growth of the Ammunition Market. In comparison to other calibers, the 9mm cartridge is becoming increasingly popular. The use of a 9mm caliber is owing to its varied performance and technological developments. The latter's performance has improved. The FBI declared in October 2015 that its agents will carry 9mm handguns instead of.40 S&W. The 9mm round's greatest benefit is its low recoil, which gives a tactical advantage.
Segment Insight
Caliber Insights
The market is divided into three categories based on caliber: small, medium, and big. The small caliber segment hit highest market share in 2021. Rising terrorist threats, expanding political disputes, and rising defense spending are the primary reasons driving the expansion of this category. During the projected period, the small caliber category is expected to increase significantly. The increase is linked to the increased usage of small caliber in both handguns and rifles. Due to the COVID-19 epidemic, gun and sales in the United States hit an all-time high in February 2020. The medium caliber category will develop somewhat throughout the projected period as armed forces increase their requirement for combat activities.
The medium caliber sector includes high-performance 20 mm, 25 mm, 30 mm, and 40 mm cartridges capable of penetrating light armour, material, and human targets in a variety of situations including land, sea, and air. The rising usage of weapons and rifles by major militaries worldwide is likely to raise consumption for medium-caliber ammunition. There are three varieties of large caliber ammunition: spin-stabilized, fin-stabilized, and warhead, which is a combination of the two. The majority of the weapons use spin-stabilized large-caliber cartridges, which boost flight solidity by spinning, whilst fin-stabilized projectiles gain stability by fins at the projectile's end.
End User Insights
The defense end-use sector accounted highest market share in 2021. In addition, the segment in concern is more likely to keep on its dominance during the studied period. Ever increasing cross-border related conflicts have spurred the international grow of bullets market. Even further, amplified geopolitical tensions and radical actions are projected to enhance product penetration. Full metal jacket bullet is extensively in use in military firearms, although hollow-point bullets are favored by air force for better precision. Because of the swift extension and sturdy stopping power, hollow-point bullets are accepted among law enforcement and military personals.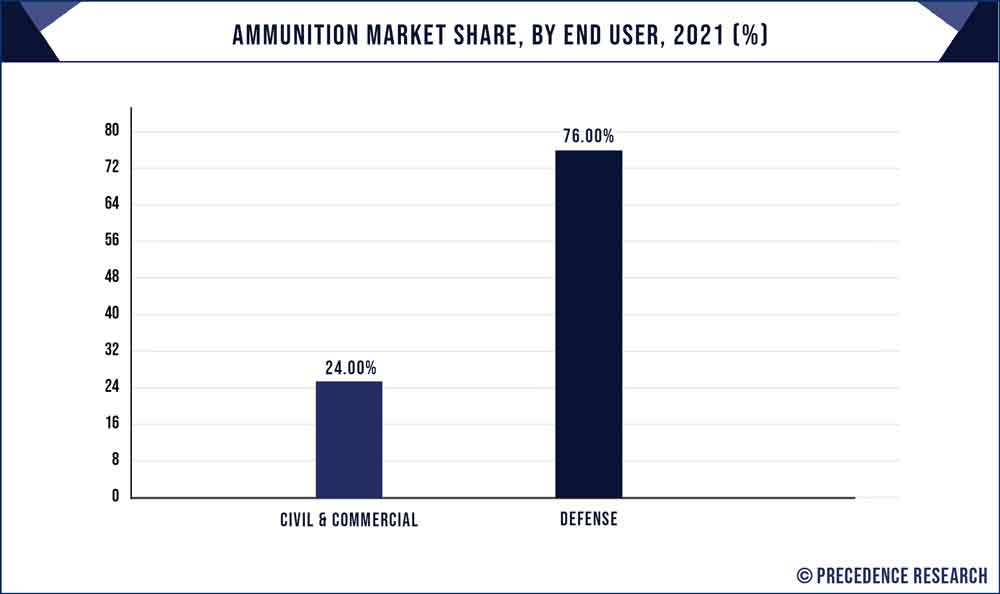 Semi-jacketed hollow-point bullets, these are mostly noted for capability of their controlled penetration as well as excellent stopping power, and they also can generate superior wound cavity compared to typical and further it assures successful result in single shot. Due to which, this bullet is frequently in use for pistol target shooting, self-defense and backyard shooting. The enlarged buying of improved product is projected to provide the prospect for growth. With advance technological breakthroughs, more countries such as Russia and United States are actively developing the bullets capable of twisting, changing speed and even transmitting data. Moreover, it allows military to remain under cover and shoot in the order of corners. These technological advancements are certainly projected to boost market expansion at greater heights.
Product Insights
The centerfire category topped overall market in 2021. Most firearms, shotguns, and handguns use centerfire ammo. In centerfire ammunition, the primer is situated in the centre of the cartridge base. This is the most commonly used sort of cartridge since it is reloadable. Because of its ability to endure force and reuse casings, centerfire ammunition is utilised as a global norm in army, police, and security services. These cartridges are preferred for military use due to their tougher metal casing, which can withstand rough treatment without incurring major damage.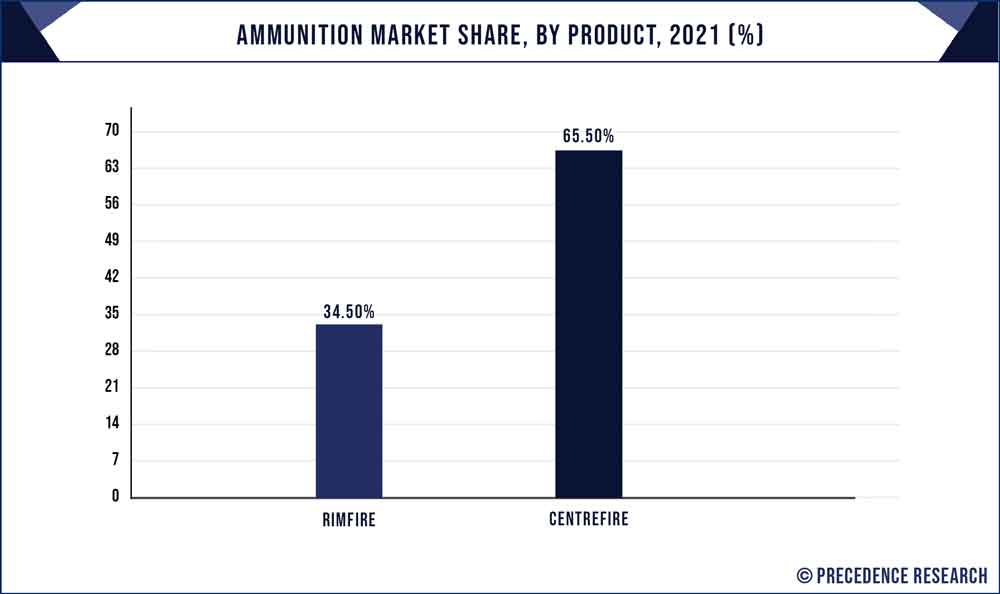 The rimfire market is expected to grow with a CAGR of 3.4% so over projected timeframe, expected to drive the growth from hunters due to the reduced recoil of the weapon. Beginners like rimfire rounds because they provide less recoil if shot. They are also less costly because skinny casting with a flattening primer is easier to create. While rimfire ammo is just less costly, it's really only available in small calibers. This is because the bullet casing needs to be small enough to compress and spark the primer, which itself is difficult to achieve in large and medium calibers. This ammunition is commonly used in.22LR rifles.
Ammunition Market Share, By Region, 2021 (%)
| | |
| --- | --- |
| Regions | Revenue Share in 2021 (%) |
| North America | 31% |
| Asia Pacific | 22% |
| Europe | 27% |
| Latin America | 13% |
| MEA | 7% |
Regional Insights
North America dominated the market with highest revenue share 31% in 2021. The increased threat of terrorism, along with permissive gun laws, is expected to boost the usage of bullets. The North American bullets business is expected to grow dramatically because to increased demand from the United States. Defense spending in North America has increased, which has had a significant influence on the region's munitions sector.
The European Union's government establishes guidelines for weapon ownership, firearm supply in a single market, and a process to combat firearm manufacture and trafficking. In addition, the European military system has struggled to deal with migrants from the Middle East and Syria. Because Europe has also faced a terrorist threat, the European ammunition market is expected to grow over the forecast period.
The Asia Pacific region is growing at a CAGR of 4.7% from 2022 to 2030. Rising geopolitical tensions and the increased threat of terrorist attacks are the primary drivers of Asia Pacific defence sector growth. Countries such as China and India are investing on military modernization in order to curb violence. These nations buy ammunition for their military forces and law enforcement groups in order to tackle rising crime rates. Over the anticipated period.
To battle the rising crime rate, these countries acquire ammunition for their armed forces and law enforcement agencies. Over the estimated period, these factors are more likely to boost market demand.
Key Market Developments
In March 2021, The US Army has approved to send advanced BONUS weaponry to the BAE Systems. The prize is such, 155-millimeter ammunition specially designed for annihilating powerfully armored targets; they will be used by Army's armada of M109 self-propelled howitzers and M777 ultra lightweight tow howitzers. These so many transports are expected to start in 2021.
The French Army awarded the Nexter KNDS Group authorization to store 70,000 specialized artillery loads to be used on the CAESAR framework in March 2020. The CAESAR framework, a 155mm installed cannon framework, is used by the French Army. Every module under this contract will be built in the Eurenco Bergerac facility and supplied to the French Army during 2021 and 2022.
Market Key Players
Northrop Grumman Corporation
FN Herstal
Olin Corporation
General Dynamics Corporation
BAE Systems, Inc.
Rheinmetall Defense
Nexter KNDS Group
Hanwha Corporation
ST Engineering
Remington Arms Company LLC
Vista Outdoor Operations LLC
Segments covered in the report
By Caliber
Small
Medium
Large
Artillery
Mortar
By Product
By End User
Civil & Commercial

Sports
Hunting
Self Defense

Defense
By Component
Fuses & Primers
Gun Powder
Projectile
Cases
Others
By Type
Bullets
Aerial Bombs
Grenades
Mortars
Artillery Shells
Others
By Guidance
By Lethality
By Geography
North America
Europe
Asia-Pacific
Latin America
Middle East & Africa (MEA)