The global amphibious vehicle market size accounted for USD 4.58 billion in 2022 and it is expected to hit around USD 10.28 billion by 2032, poised to grow at a CAGR of 8.42% during the forecast period 2023 to 2032.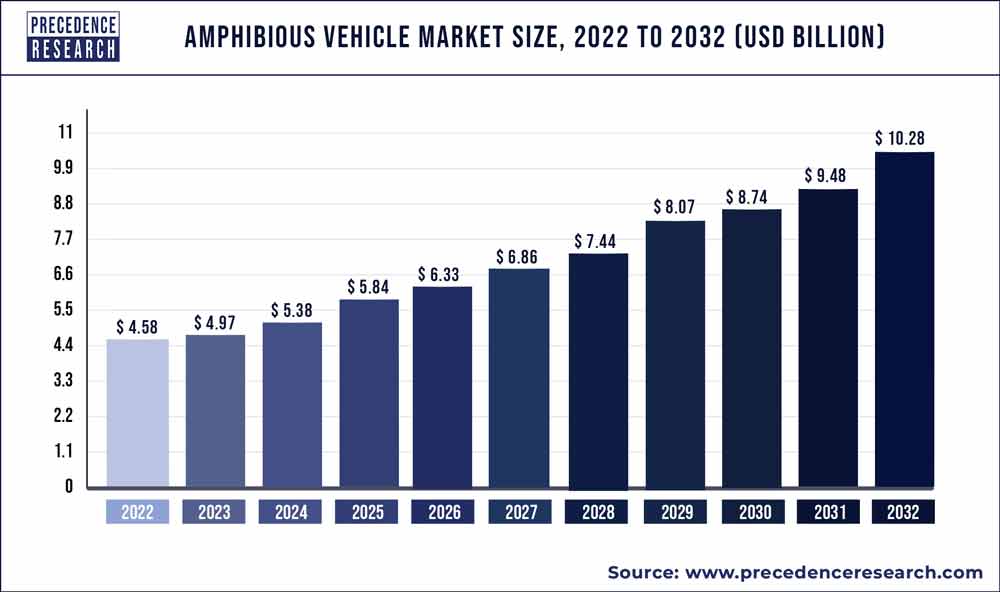 Access our Premium Real Time Data Intelligence Tool, Visit: Precedence Statistics
Key Takeaways:
North America Contributed more than 43% of revenue share in 2022.
By Mode of Propulsion, the track-base segment accounted for more than 49% of revenue share in 2022.
By Application, the surveillance & rescue segment captured over 28.9% of revenue share in 2022.
By End-user, the defense segment had the largest market share of 57% in 2022.
Market Overview:
The amphibious vehicle are the vehicles that are designed to operate on both land and water seamlessly. Amphibious vehicle market refers to the manufacturing, distribution, and sale of such vehicles. These vehicles are designed in a way that they can operate in various environments which includes challenging off-road terrain and aquatic ecosystems like lakes, rivers, or even inland waters.
The amphibious vehicles are used for various purpose like military and defense application in the form of troop transport and reconnaissance and civil uses like tourism and travel in remote and flood-prone areas.
Over time the progress made in technology has brought about the creation of vehicles that are more efficient and environmentally friendly. These vehicles incorporate enhancements such as propulsion systems and reduced emissions. As a result, the market for vehicles has experienced growth and expansion. It caters to a range of customer requirements across industries while also addressing concerns about sustainability and environmental impact.
This market is influenced by factors, including government regulations, infrastructure development, and the increasing demand for transportation solutions. Consequently, it is an evolving segment, within the automotive and transportation industry.
Growth Factors:
The amphibious vehicle market is set to experience growth due to a variety of reasons. Firstly, there is a growing demand for versatile transportation solutions that can navigate across terrains in sectors. Amphibious vehicles are particularly useful in disaster relief efforts as they can effectively maneuver through flooded areas and deliver aid to locations. Moreover, they offer an opportunity, for tourists who want to explore both land and water environments providing them with experiences.
Furthermore, the growth of this market is heavily influenced by defense applications. Amphibious vehicles play a role, in operations as they provide strategic benefits, such as enabling quick deployment of troops during amphibious assaults and facilitating reconnaissance in difficult terrains. As countries focus on modernizing their defense forces there is an increasing demand for vehicles, with improved capabilities.
Therefore, robust expansion is predicted for the amphibious vehicle market in the coming years because of its adaptability to various industries, versatility, and emphasis on sustainability. With technological advancements providing better performance and environmental awareness taking center stage, this market has a promising future.
Report Scope of the Amphibious Vehicle Market:
| | |
| --- | --- |
| Report Coverage | Details |
| Market Size in 2023 | USD 4.97 Billion |
| Market Size by 2032 | USD 10.28 Billion |
| Growth Rate from 2023 to 2032 | CAGR of 8.42% |
| Largest Market | North America |
| Base Year | 2022 |
| Forecast Period | 2023 to 2032 |
| Segments Covered | By Mode of Propulsion, By Application, and By End-User |
| Regions Covered | North America, Europe, Asia-Pacific, Latin America, and Middle East & Africa |

Market Dynamics:
Driver:
Transportation in remote areas
In regions where traditional transportation infrastructure is limited or nonexistent, such as remote villages, islands, and isolated communities, amphibious vehicles play a critical role. They act as a lifeline by surmounting geographical barriers and offering seamless mobility between land and water. With their unparalleled versatility, these vehicles provide practical solutions to areas with challenging terrains like marshlands, swamps, rivers, and lakes. In regions prone to seasonal flooding or heavy rains, conventional transportation modes such as roads or bridges become impassable. This inability to access vital routes leaves communities isolated and vulnerable.
However, the design of amphibious vehicles allows them to navigate through floodwaters effectively. Hence, they facilitate the transport of essential supplies, medical assistance teams, and personnel promptly during emergencies. The capability offered by amphibious vehicles is particularly crucial in disaster relief efforts. It ensures timely assistance can reach those affected by floods, hurricanes, or other natural calamities. By overcoming obstacles caused by extreme weather conditions with ease like navigating through treacherous floodwaters these remarkable vehicles provide invaluable support during times of crisis.
Furthermore, amphibious vehicles are an environmentally friendly choice for transportation in remote and ecologically fragile areas. These vehicles can navigate water bodies without causing disruptions to delicate ecosystems or compromising water quality. By eliminating the need for expensive bridge or causeway construction, they preserve the natural landscape while ensuring essential connectivity for remote populations.
Restraint:
Limited infrastructure
The lack of designated docking and berthing facilities can pose challenges for the deployment and usage of amphibious vehicles, particularly in urban areas where waterfront access is limited. Without proper infrastructure, loading and unloading passengers or cargo becomes difficult, resulting in decreased efficiency and convenience. This limitation can deter potential users and investors, hampering market growth.
Additionally, the maintenance and repair of amphibious vehicles can be more complex than that of traditional land-based vehicles. Specialized facilities and skilled technicians are required to ensure optimal performance. In regions with limited access to such facilities, owners may face higher operational costs and increased downtime, which can impact the economic feasibility of operating amphibious vehicles.
The availability of waterways is vital for the effective use of amphibious vehicles. When there is a lack of infrastructure, such as navigable channels or appropriate landing sites, it greatly limits where these vehicles can operate. This restriction becomes especially challenging in situations like disaster response or transportation to remote areas, where timely access to specific regions is crucial.
Opportunity:
Military modernization
The amphibious vehicle market has a promising opportunity for growth due to military modernization efforts worldwide. These vehicles have become crucial assets for armed forces as they enhance their capabilities. Amphibious vehicles serve multiple purposes such as troop transport, reconnaissance missions, and amphibious assaults, providing strategic advantages in various operational scenarios. With security challenges constantly evolving, the demand for technologically advanced and adaptable amphibious vehicles is increasing.
Manufacturers can capitalize on this opportunity by developing cutting-edge solutions that meet the rigorous requirements of modern military forces. This includes improving vehicle performance, durability, communication capabilities, and integrating advanced weapon systems and protective measures. Furthermore, intercontinental cooperation and military accords are likely to positively influence the industry's progress, since nations are increasingly turning to the acquisition of the most advanced amphibious equipment to augment their defensive capacities and adequately deal with both standard and irregular security risks.
Impact of COVID-19:
The COVID-19 pandemic had a negative impact of the market. The pandemic caused disruptions in global supply chains that led to delays in the production of amphibious vehicles and their components, consequently impacting manufacturers' ability to meet demand and resulting in postponed deliveries and reduced sales.
Additionally, travel restrictions and lockdowns caused a sharp decline in tourism and recreational activities, both of which are significant customers of amphibious vehicles, leading to dwindling demand and revenue losses for operators. Furthermore, economic uncertainty and reduced consumer spending during the pandemic caused potential buyers to delay or cancel their purchases of recreational and leisure-oriented amphibious vehicles.
The financial strain of the pandemic also affected government budgets, potentially impacting defense contracts and military modernization efforts, another important driver of this market. Ultimately, the uncertainty and disruptions caused by the pandemic had a negative cascading effect on the amphibious vehicle market.
Segments Insight:
Mode of Propulsion Insights:
According to the mode of propulsion, the track-based sector has held the major revenue share in 2022. The track-based section of the amphibious vehicle Market is highly important, as these vehicles are equipped with tracks, similar to those found on tanks and other tracked vehicles, to propel and control them. These vehicles are ideal for unpredictable terrains, such as swamps, marshes, or any soft and muddy ground, where traditional wheeled vehicles may not be able to keep their grip.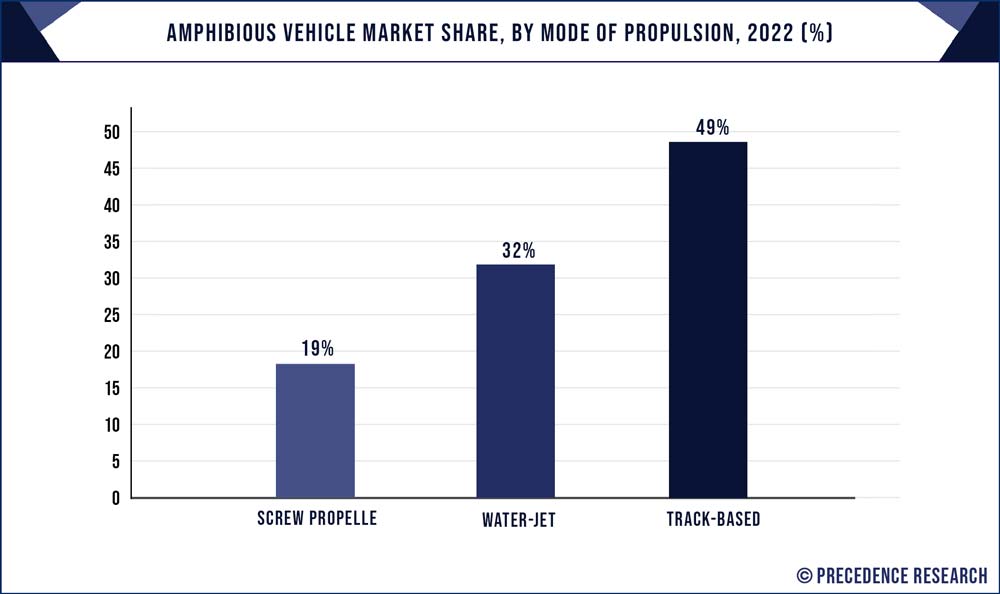 The track-base design provides stability and weight distribution, enabling amphibious vehicles to move effectively on both land and water. They are employed in a variety of industries, such as the military and defense sector, for tasks like troop transport, reconnaissance, and amphibious assaults, due to their capacity to navigate through different terrains. The track-base segment highlights the versatility of amphibious vehicles, providing solutions that are able to conquer the most challenging landscapes, making them invaluable in circumstances where standard transportation is not feasible or practicable.
Application Insights:
Based on the application, surveillance & rescue is anticipated to hold the largest market share of over 28.9% in 2022. Amphibious vehicles have a unique advantage in both search and rescue and surveillance operations due to their advanced surveillance and communication systems, which allow them to gather real-time information, conduct reconnaissance, and monitor remote or challenging terrains both on land and in water. In rescue operations, they can effectively access flooded regions or disaster-affected coastlines that are otherwise inaccessible to traditional vehicles, enabling swift and effective response during natural disasters such as floods, hurricanes, and tsunamis.
Furthermore, their stability and buoyancy provide assurance of safe transportation of survivors, medical personnel, and essential supplies. Furthermore, amphibious vehicles can be used as a discreet and adaptable platform for various surveillance applications, such as border security, environmental monitoring, and wildlife conservation, due to their ability to access remote or waterlogged areas. These features make amphibious vehicles an indispensable tool for safeguarding lives and enhancing security.
End-User Insights:
In 2022, the defense sector had the highest market share of 57% on the basis of the end-user. The defense platform of the amphibious vehicle market plays a crucial role in supplying specialized military vehicles. These vehicles, designed for various purposes such as troop transport, reconnaissance, and amphibious assaults, boast advanced weaponry, communication systems, and armor.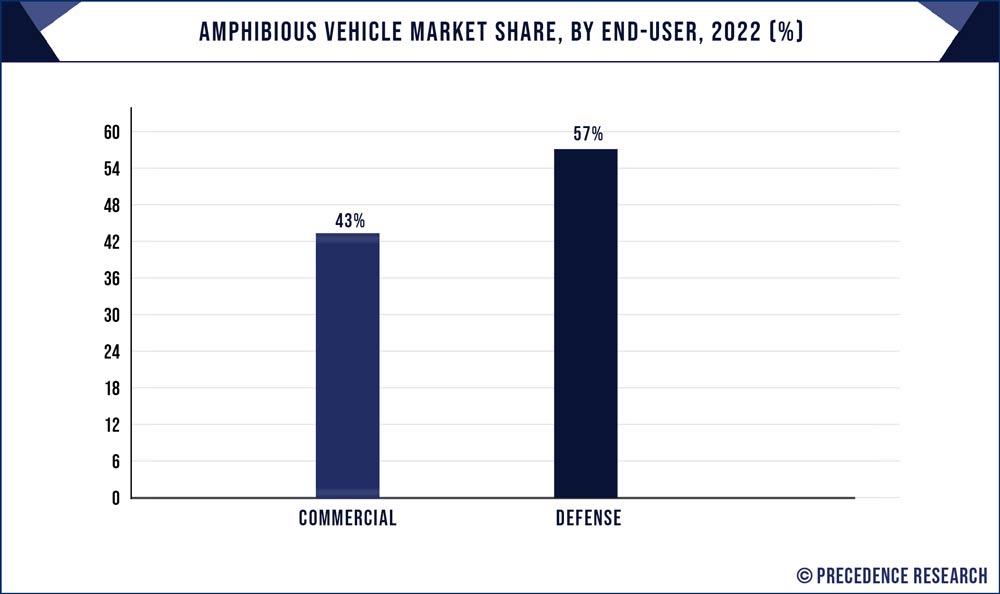 Capable of swiftly maneuvering across diverse terrains like rivers, lakes, marshes, and coastal areas, they ensure a rapid response to potential threats or crises. Their seamless transition between land and water makes them highly valuable to modern military forces a versatile and adaptable asset that effectively addresses security challenges. As such, the defense platform of the Amphibious Vehicle Market is integral for strengthening national defense capabilities and ensuring the readiness and efficiency of military forces globally.
Regional Insights:
North America has held the largest revenue share in 2022. In the defense sector, North America has a strong demand for amphibious vehicles. This demand is driven by the need for rapid troop deployment, reconnaissance, and maritime security. The United States places a particular emphasis on military modernization and maintaining a formidable presence across different global theaters. Amphibious vehicles are essential in ensuring the readiness and effectiveness of the U.S. Marine Corps. They enable the conducting of amphibious assaults and operations in challenging terrains and coastal regions. Moreover, these vehicles also play a critical role within the U.S. Coast Guard for search and rescue missions, border security, and maritime law enforcement.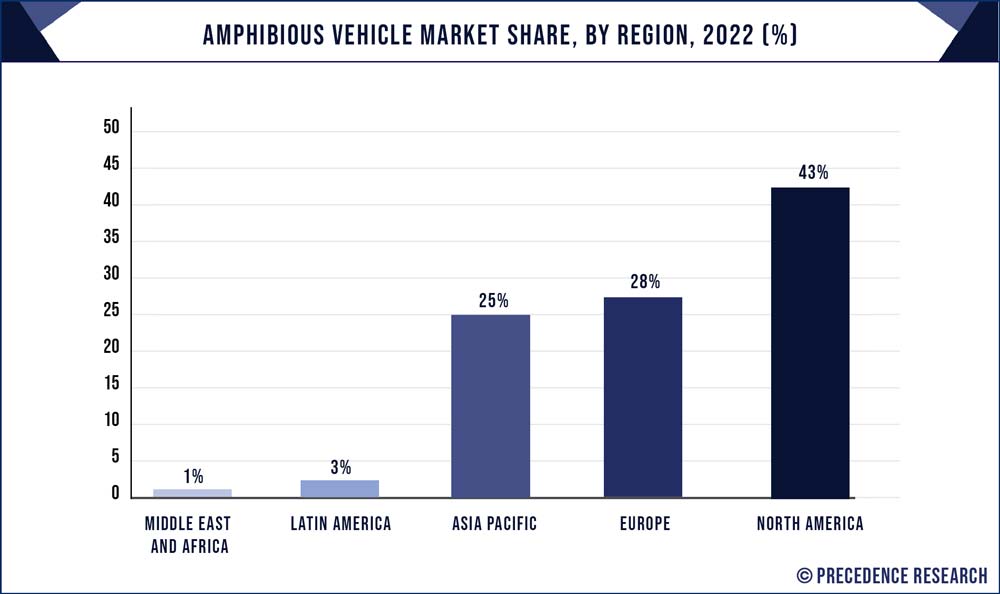 The Asia-Pacific region is positioned for significant growth in the Amphibious Vehicle Market. Several factors contribute to driving this expansion. Firstly, the rapid economic development and increased defense budgets in the region have created a strong demand for advanced military assets that can adapt to various situations. Amphibious vehicles play a crucial role in modernizing defense forces by swiftly deploying troops, conducting reconnaissance missions, and safeguarding coastlines against evolving security challenges. As tensions and territorial disputes persist within the region, nations are investing heavily in their defense capabilities, driving the demand for amphibious vehicles even further. Additionally, Asia-Pacific's thriving tourism industry attracts a growing number of travelers seeking unique and adventurous experiences. The increasing popularity of amphibious vehicles that enable tourists to explore both land and water excursions in Bali, Phuket, and Sydney is expected to cause a surge in the demand for such tour vehicles, leading to broader market growth in the years ahead.
Recent Developments:
BAE Systems has been awarded a contract by the U.S. Marine Corps for the cost of manufacturing Command variants (ACV-C) and Amphibious Combat Vehicle Personnel (ACV-P). This contract includes an existing procurement option for over 25 ACVC vehicles valued at USD 145.3 million and USD 111.5 million. Additionally, this contract involves the procurement of 15 or more ACVC vehicles.
IDV would reinforce the fleet and bolster the San Marco Marina Brigade, BMSM'S sea projection capability by supplying the Italy Navy with 36 cutting-edge Amphibious Armored Vehicles VBA personnel carriers.
The US military has given a contract modification to BAE Systems in order for the production of the 2nd batch of Assault Amphibious Vehicles at full production rate. Contracts worth USD 169 million have been won for a total of 33 vehicles.
The BAE Systems Amphibious Combat Vehicle Family FOV program has achieved a significant breakthrough with the United States Marine Corps opting to begin full production and offered a contract of USD 184 million in return of 36 vehicles.
Key Market Players:
Hitachi Construction Machinery Co. Ltd
BAE System
Science Applications International Corporation (SAIC)
Wetland Equipment Company
General Dynamics Corporation
Lockheed Martin Corporation
Wilco Manufacturing, L.L.C
EIK Engineering Sdn Bhd
Marsh Buggies Incorporated
Rheinmetall AG
EIK Engineering Sdn. Bhd.
Griffon Hoverwork Ltd. (GHL)
Segments Covered in the Report:
(Note*: We offer reports based on sub-segments as well. Kindly, let us know if you are interested)
By Mode of Propulsion
Track-Based
Water-Jet
Screw Propeller
By Application
Water Sports
Surveillance & Rescue
Excavation
Water Transportation
By End-User
By Geography
North America
Europe
Asia-Pacific
Latin America
Middle East and Africa