The global anastomosis devices market size was valued at USD 4.99 billion in 2022 and is projected to hit around USD 7.21 billion by 2032, registering growth at a CAGR of 3.80% during the forecast period 2023 to 2032.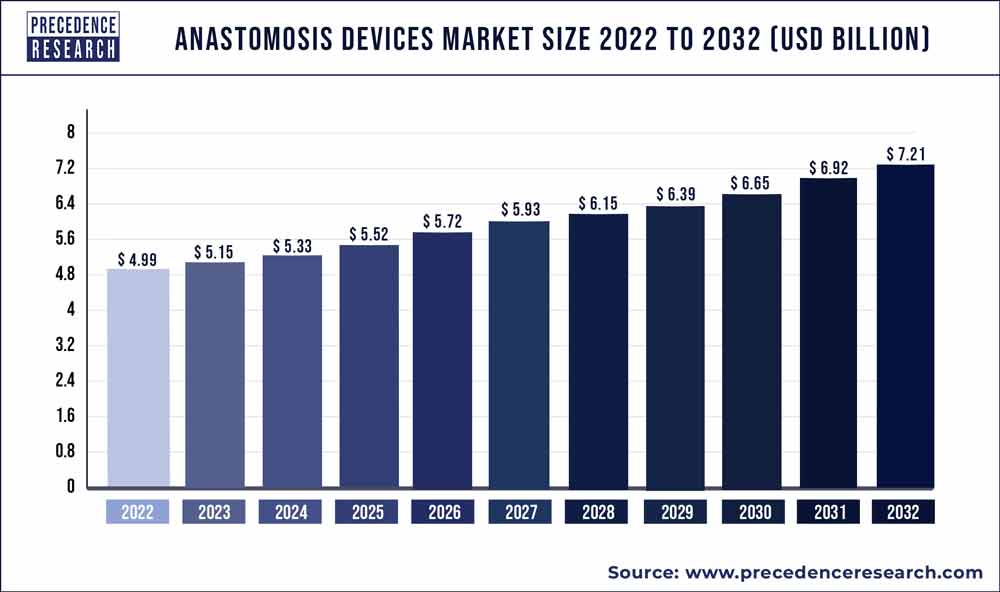 Key Takeaways:
By product, the North America anastomosis devices market was valued at USD 2.2 billion in 2022.
By product, the disposable segment held the largest revenue share of over 88% in 2022.
Reusable product segment is expected to grow at a CAGR of 7% from 2023 to 2032.
Cardiovascular surgery application segment was the most prominent application segment with over 53% revenue share in 2022.
By end user, the hospital segment dominated the market with over 57% revenue share in 2022.
The ambulatory care centers & clinics segment is projected to grow at a CAGR of 6.4% over the forecast period.
North America accounted for the largest revenue share of over 43% in 2022.
Asia Pacific is projected to reach at a CAGR of 7.2% from 2023 to 2032.
Rising careful tasks, as well as an expansion in the recurrence of cardiovascular and gastrointestinal ailments, are the essential variables driving business sector development. The COVID-19 pestilence has impacted careful practice. The pandemic has introduced hardships in everyday careful practice. It has impacted working strategies; open versus negligibly obtrusive medical procedure, surgeries, patient and staff wellbeing, theatre work process, preparing, and instruction. All claims to fame have needed to focus on the meaning of routine careful tasks and consider non-careful helpful strategies where conceivable.
Numerous elective or semi-elective tasks, including those for gastrointestinal diseases, have been stopped. Nonetheless, the business will see expanded request once these activities are completely carried out. Besides, the requirement for better persistent results will energize the reception of creative progressions in anastomosis devices, adding to advertise development. For instance, India Medtronic Private Limited, an entirely claimed auxiliary of Medtronic, will send off the EEA Circular Stapler involving Tri-Staple Technology in December 2020. This is the initial 3-column Circular Stapler with many staple levels that has been endorsed for use in colorectal tasks. The Coronavirus pandemic impacted elective undertakings.
Covid limits drove in a diminishing in the amount of errands drove. At the present time, most nations have fixed limits on elective medications. At the point when a result, as these operations starts with full power, there will be a useful prerequisite for anastomosis devices. Plus, the excursion for better calm outcomes will fabricate the use of mind boggling advancement in anastomosis devicess, propelling business area improvement.
Growth Factors
The anastomosis devices market is being driven commonly by a development in the amount of cardiovascular errands performed, as well as an extension in the recurrence of persevering afflictions like heart ailments and gastrointestinal issues. Cardiovascular issues are one of the primary wellsprings of mortality all over the planet. According to the World Health Organization, 17.9 million people passed on in 2019 as a result of cardiovascular disorders, addressing around 32% of all fatalities generally. Furthermore, coronary disappointments and strokes were liable for 85% of these fatalities. This will augment interest for anastomosis devices later on years. Therefore, extra imaginative work practices on anastomosis device progression are being coordinated to overhaul healing results.
The market is supposed to develop as the recurrence of myocardial areas of dead tissue increments. Anastomosis devices are imperative in careful tasks. As the recurrence of persistent ailments developed, so will the requirement for anastomosis devices, pushing the area forward. Anastomosis frameworks that are mechanically best in class can help to diminish the dangers associated with careful medicines. Less working time, more prominent specialist adaptability, diminished sedative openness, and a lower hazard of blood spillage are reasons driving developing interest for anastomosis devices in medical clinics and other medical care foundations across the world. Furthermore, the prerequisite for better tireless outcomes will uphold the gathering of creative types of progress in anastomosis devicess, adding to promote improvement. For example, India Medtronic Private Limited, a totally asserted helper of Medtronic, will ship off the EEA Circular Stapler with Tri-Staple Technology in Dec 2020. This is the underlying 3-line Circular Stapler with a considerable number staple levels that has been upheld for use in colorectal errands.
The headway of precisely further created things and productive reimbursement conditions in cardiovascular operations, for instance, Coronary Bypass Graft Surgery, open-heart valve replacement, and angioplasty in made nations are pushing the market for anastomosis devicess forward. Government clinical protection Part B, for example, covers coronary course evade join an operation, coronary angioplasty, valve fix and replacement, and other complete Cardiac Rehabilitation programs.
Report Scope of the Anastomosis Devices Market
| | |
| --- | --- |
| Report Coverage | Details |
| Market Size by 2032 | USD 7.21 Billion |
| Growth Rate from 2023 to 2032 | CAGR of 3.80% |
| North America Market Share in 2022 | 43% |
| Disposable Segment Market Share in 2022 | 88% |
| Base Year | 2022 |
| Forecast Period | 2023 to 2032 |
| Segments Covered | Type, Application, End User, Geography |
| Companies Mentioned | Vitalitec Internaional Inc., Ethicon US, LLC, MAQUET Holding B.V. & Co. KG., Medtronic, Peters Surgical, Synovis Micro Companies Alliance, Inc., LivaNova PLC, Dextera Surgical Inc. |

Type Insights
The market is separated into two classifications: disposable and reusable. The disposable classification will have the best income portion of the anastomosis devices market in 2022. The tremendous choice of dispensable anastomotic things accessible on the lookout, as well as the developing business sector infiltration of these gadgets, is driving the extension of this class. Besides, the heft of critical market organizations is engaged with the making of expendable things, bringing about a strong inventory network for these products.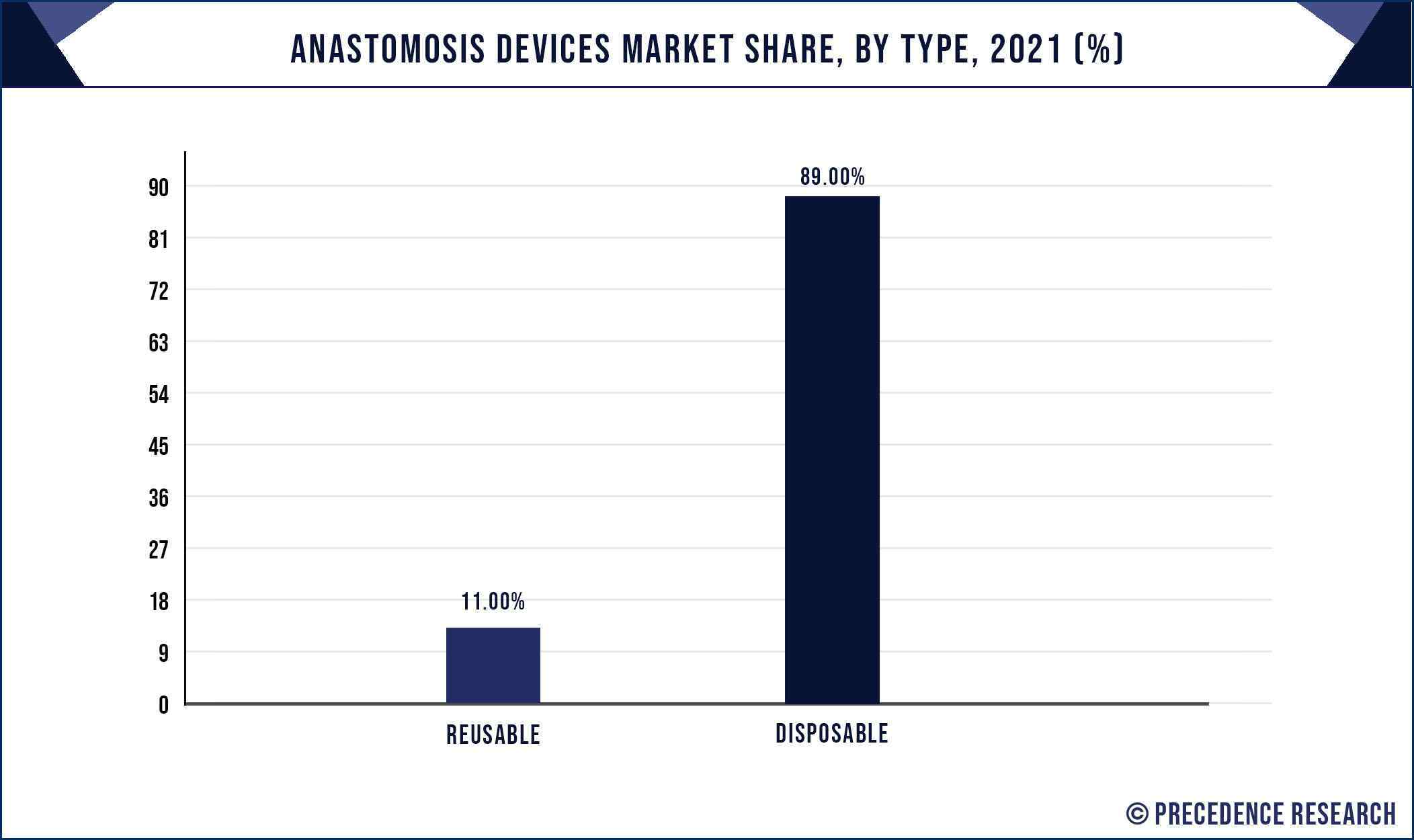 Moreover, by using these things, Surgical Site Infections, cross-pollution, and other Healthcare-Associated Infections are impressively diminished. One more benefit of expendable anastomotic gadgets over reusable ones is that they needn't bother with to be gone back over between utilizes, which lessens going back over costs while likewise speeding up the activity. This portion's development is being advanced because of these advantages. These things help to cut down the bet of Surgical Site Infections, cross-corrupting, and other Healthcare-Associated Infections. Another advantage of superfluous anastomotic devices over reusable ones is that they shouldn't for even a moment worry about to be returned to after every use, cutting down revisiting costs and speeding up the general cycle. Because of the benefits portrayed over, this characterization should make at a sound rate. The reusable anastomotic device is one more region of the anastomosis devices market.
Over the anticipated period, it is expected to create at a valuable CAGR. A part of the huge drivers expected to push the piece's expansion sooner rather than later are the improvement of creatively further created things and the creating hankering to discard biomedical waste.
Application Insights
The gastrointestinal surgery classification held a sizable income extent of the anastomosis devices market in 2022. The gastrointestinal medical procedure portion, which incorporates huge entrail resections and colorectal strategies, is quickly extending because of developing paces of colorectal malignant growth and other gastrointestinal ailments that request gut resection. This is because of individuals' ceaselessly changing ways of life all over the world. The gastrointestinal medical procedure area, which incorporates colorectal activities and enormous entrails resections, is supposed to rise quickly all through the conjecture period because of the rising recurrence of colorectal disease and other gastrointestinal sicknesses that require gut resection.
As per the USA Cancer Society, 104,610 new instances of colon malignant growth and 43,340 instances of rectal disease will be identified in the United States year 2020. Since the recurrence of colorectal malignant growth is filling in the Asia Pacific region, the anastomosis devices market has colossal possible in the district. It additionally guarantees that rate has expanded two to fourfold in East Asian countries like China, South Korea, Singapore and Japan during the earlier 10 years. Moreover, a critical number of items for use in gastrointestinal anastomosis are probably going to be delivered in the market all through the projection period, giving the business with a promising improvement stage sooner rather than later.
End user Insights
In 2022, Hospitals had the most beyond absurd pay part of the anastomosis devices market. Crisis facilities give better thought to patients, which prompt useful augmentation. According to the American Heart Association, the amount of in-patients owing to cardiovascular disease would practically fourfold to 23 million by 2032. In addition, a rising in the amount of patients visiting centres as a result of strong reimbursement and clear permission to treatment is pushing the business forward.
In addition, various elements, for instance, an extension in the amount of patients arriving at clinical facilities in light of fitting reimbursement workplaces and basic permission to treatment are supporting part advancement. Versatile thought workplaces and focuses should create at the fastest Compound yearly advancement rate all through the projection period. The creating tendency for momentary consideration, which is more reasonable and shouldn't mess around with a crisis centre stay, is no doubt driving the new development. Government attempts and the openness of sponsoring for meandering clinical consideration workplaces are moreover expected to drive the part's augmentation later on years.
Wandering consideration offices and centers are supposed to develop at the quickest CAGR all through the projection period. The developing inclination for short term care, which is more affordable and needn't bother with a medical clinic stay, is in all likelihood driving the turn of events. Government endeavors and the accessibility of subsidizing for wandering medical care offices are additionally expected to drive the fragment's development later on years.
Geography Insights
In 2022, North America had the most elevated income portion of more than 43%. The rising recurrence of cardiovascular problems, as well as the rising number of R&D organizations embraced by driving territorial organizations, is supposed to drive local market extension. Besides, more noteworthy admittance to clinical guide, expanded information on CVD and CHD, rising extra cash, and a deep rooted R&D framework all add to development.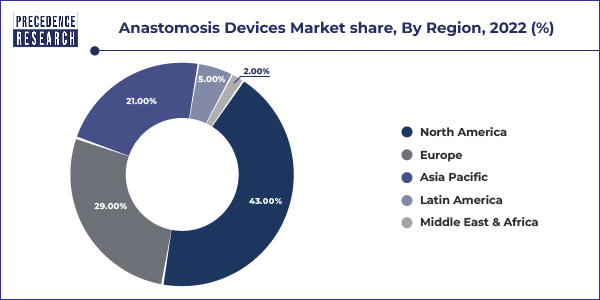 The Asia Pacific market, then again, is supposed to build the most all through the projection time frame. Factors, for example, the extending number of clinics, building medical care foundation, rising medical care spending, a maturing populace, and the presence of a gigantic patient populace are moving the Asia Pacific anastomosis devices market forward. Asia-pacific region is supposed to have the best Compound annual growth rate all through the projection period.
The APAC market is overwhelmed by Japan, China, and India. The provincial market is supposed to foster the fastest all through the projected period, inferable from better financial circumstances, rising medical care mindfulness, and the locale's maturing populace. Since more seasoned people are more helpless against cardiovascular and gastrointestinal issues, the area has an enormous objective segment. The market is supposed to be driven by expanded organization premium in growing their presence nearby, as well as rising interest for anastomosis devices. Moreover, rising R&D exercises and rising medical care consumptions are helping the territorial business.
Key Market Developments
Medtronic acquired Avenu Medical, a clinical contraption firm, in September 2020. The associations would use this purchase to initiate the endovascular improvement of arteriovenous fistulae for dialysis patients with end-stage renal infection. Additionally, Medtronic's extensive market presence, clinical organization, and market progression capacities would be gotten together with Avenu's unique development and client focused gathering to accelerate overall affirmation and thoughtfulness regarding this advancement.
Johnson and Johnson conveyed Somerville, the business' initially controlled round stapler, in September 2019. The new course of action was made to make it more direct for clients to treat anastomotic spillage. Moreover, it incorporates 3D Stapling Technology, which similarly courses Gripping Surface Technology and strain to give milder dealing with and decline compressive loads on tissues.
Key Market Players
Vitalitec Internaional Inc.
Ethicon US, LLC
MAQUET Holding B.V. & Co. KG.
Medtronic
Peters Surgical
Synovis Micro Companies Alliance, Inc.
LivaNova PLC
Dextera Surgical Inc.
Segments covered in the report
(Note*: We offer report based on sub segments as well. Kindly, let us know if you are interested)
By Type
By Application
Gastrointestinal Surgery
Cardiovascular Surgery
Others
By End User
Ambulatory Care Centres
Clinics
Hospitals
By Geography
North America
Europe
Asia-Pacific

China
India
Japan
South Korea
Malaysia
Philippines

Latin America

Brazil
Rest of Latin America

Middle East & Africa (MEA)

GCC
North Africa
South Africa
Rest of the Middle East & Africa