The global sleep apnea devices market size was reached at USD 6.42 billion in 2022 and is expected to reach over USD 13.29 billion by 2032, growing at a noteworthy CAGR of 7.6% during forecast period 2023 to 2032.
Several influences including enormous pool of undiagnosed patients suffering from sleep apnea, mounting utilization of oral appliances and technological advancements in sleep apnea devices are flourishing the growth of global sleep apnea market.
Substantial venture capital finance, cumulative number of establishments volunteering into sleep apnea and oral appliances sector is expected to upsurge the market demand during near future. Additionally, escalating pervasiveness of obstructive sleep apnea at a worldwide level is estimated to significantly push sale of sleep apnea devices during years to come.
Global sleep apnea market is expected to record optimistic growth due to several probable advantages presented by mHealth and telemedicine in improving sleep apnea management and diagnosis. Numerous studies have stated that a foremost projecting aspect for long-term CPAP compliance is patient observance in the first few weeks of treatment. In order to advance compliance, follow-up and support throughout this period must be quick. Telemedicine provides such sort of support since extended waiting lists make it problematic to deliver this support. Many studies recommend that patients in the telemedicine group conveyed high satisfaction with their care and specifically enjoyed the suitability of a live video visit with doctor and consultant.
Product Insights
Among different product segments analyzed in this report, therapeutic devices led the market in 2022 with majority of the revenue share. This development is credited to augmented disease consciousness amid patients, obtainability of technologically enhanced products, and intensifying market competition.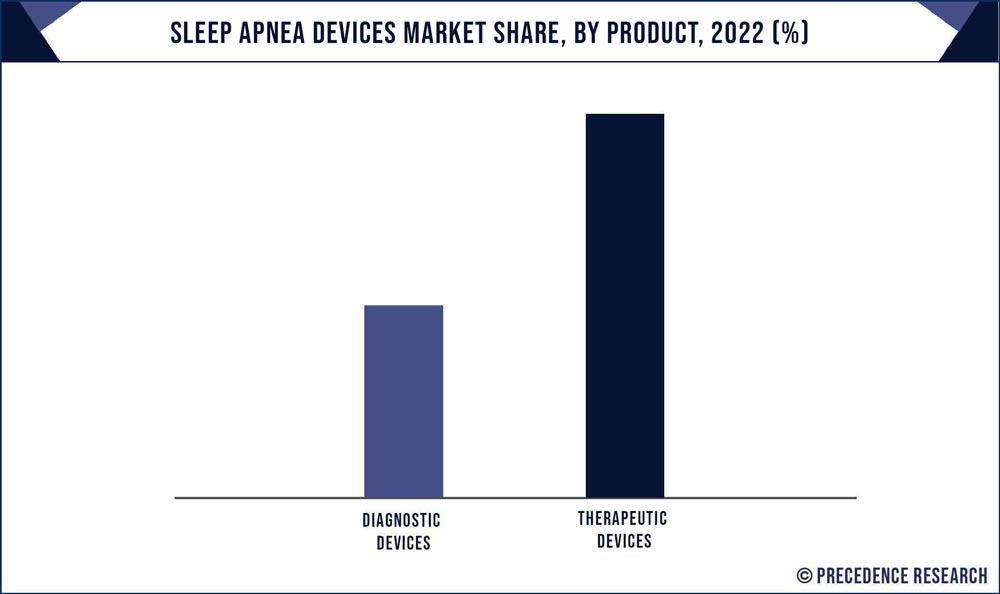 Further, PAP devices sub-segment is assessed to see noteworthy growth throughout assessment period. This great growth is accredited to mounting requirement for competent, superior and transportable sleep apnea devices. Moreover, existence of satisfactory insurance coverage for management of sleep apnea and other sleep disorders would supplement demand for PAP devices worldwide. Growing commonness of sleep apnea and associated co-morbidities in numerous parts of the globe is a foremost influence heightening the importance of polysomnography devices. Furthermore, intensify ingresponsiveness for sleep apnea and other sleep disorders among the populace will further add to their market growth.
End-user Insights
Different end-use sectors assessed in this research report include diagnostic devices and therapeutic devices. The assortment of devices employed in hospitals and sleep laboratories is restricted mostly to diagnostic devices including tabletop pulse oximeters, actigraphy systems, and clinical PSG devices. There is a progression in the number of sleep tests and labs accomplished with the help of a clinical polysomnography device across the world, as these tests are being assumed the standard diagnostic test for sleep apnea since long time period.
Regional Insights
At present, geographically, North America conquers the global sleep apnea devices market and is projected to endure its stronghold in near future. This enormous growth is attributed to the great prevalence of sleep-disordered breathing and increasing aged population in this region. As per Sleep Zone, it was projected that about 22 million Americans undergo from moderate to severe sleep apnea, among them, about 3 to 7% of men and 2 to 5% of women were recognize to have had sleep apnea in the U.S in 2018.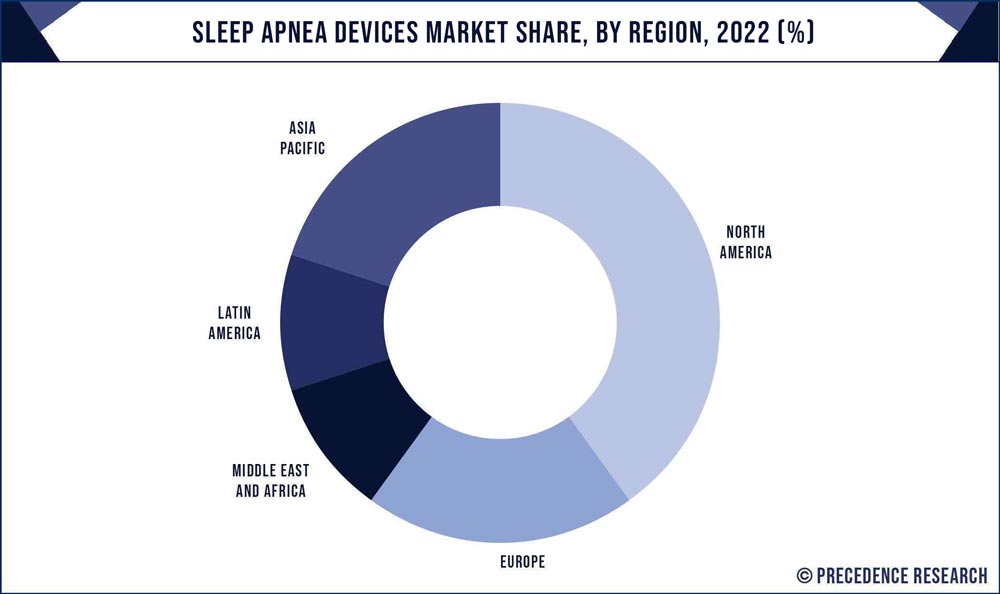 Nevertheless, Asia Pacific is assessed to exhibit highest CAGR during estimate period on account of snowballing occurrence of sleep apnea illnesses in this region, and deliberate agreements of international market front-runners with local companies. Additionally, huge undiagnosed pool in nations such as India, and initiatives undertaken by the government and other private administrations to promote awareness concerning sleep disorders is projected to further push the market growth in this region.
Key Companies & Market Share Insights
At present, newfangled smart breathing technologies are approaching the marketplace with features comprising personal reports and physical interventions for sleep apnea patients. For example, leading electronic giant, Philips has launched clinically-validated snoring relief band named Smart Sleep. This wearable is intended to diminish snoring by strapping the soft band underneath the chest. The attached discreet sensor observes the patient and vibrates if need in order to guarantee that patient endure on their side which is the ultimate position to avert snoring deprived of waking them back to total awareness.
Besides, rigorous patient obedience regiments for the repayment of PAP devices have created high entry obstructions for new entrants. Further, the presence of aggressive competition amongst market contest ants for intensification their geographic footmark and firming their client pool via different new product launches and innovative product development are the foremost factors expected to motivate growth of the market during years to come. Some of the noteworthy market players noted in this market are as follows:
GE Healthcare
BMC Medical
Philips Healthcare
Weinmann Medical Devices
CadwellLaboratorie
Compumedics
Curative Medical
Teleflex
CareFusion Corporation
Fisher &Paykel Healthcare
ResMed
SOMNOmedics
Invacare Corporation
Natus Medical
Report Scope of the Sleep Apnea Devices Market
| | |
| --- | --- |
| Report Highlights | Details |
| Market Size | USD 13.29 Billion by 2032 |
| Growth Rate | CAGR of 7.6% from 2023 to 2032 |
| Largest Market | North America |
| Fastest Growing Market | Asia Pacific |
| Base Year | 2022 |
| Forecast Period | 2023 to 2032 |
| Segments Covered | Product Type, End User Type, Region Type |
| Companies Mentioned | GE Healthcare, BMC Medical, Philips Healthcare, Weinmann Medical Devices, CadwellLaboratorie, Compumedics, Curative Medical, Teleflex, CareFusion Corporation, Fisher &Paykel Healthcare, ResMed, SOMNOmedics, Invacare Corporation |
Segments Covered in the Report
This research report includes a complete assessment of the market with the help of extensive qualitative and quantitative insights and projections regarding the market. This report offers a breakdown of the market into perspective and niche sectors. Further, this research study calculates market revenue and its growth trend at global, regional, and country from 2022 to 2032. This report includes market segmentation and its revenue estimation by classifying it on the basis of product type, end-use, and region as follows:
By Product Type
Diagnostic Devices

Respiratory Polygraphs
Actigraphs
Polysomnography (PSG) Device

Therapeutic Devices

Nasal Devices
Positive Airway Pressure (PAP) Devices
Oral Devices
Chin Straps
By End-User
Home Care Setting
Sleep Laboratories & Hospitals
Others
By Regional Outlook
North America
Europe
Asia Pacific

China
India
Japan
South Korea

Middle East & Africa
Latin America