According to Precedence Research, the anesthesia and respiratory devices market size was accounted at US$ 40.25 billion in 2021 and is expand over US$ 81.9 billion by 2030, growing at a CAGR of 8.21% from 2022 to 2030.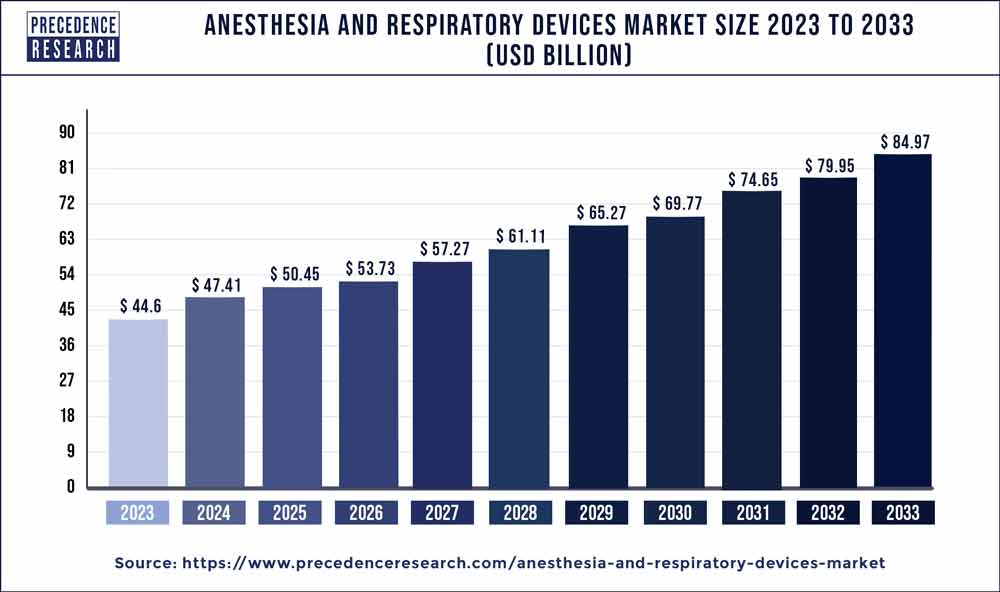 Growth Factors
Growing frequency of respiratory illnesses, prompt growth in the elderly population, and pervasiveness of tobacco smoking, are some of the major factors driving the growth of global anesthesia & respiratory devices market. Further, inclination towards home-based oxygen therapy and technological innovations to develop innovative products delivering oxygen therapy further fuelling the market growth. For example, anesthesia information-management systems (AIMS) with intraoperative monitoring-device connectivity deliver influential decision-support tools with real-time clinical guidance, using machine learning algorithms to forecast stuffs such as hypotension long beforehand they befall clinically.
Requirement for anesthesia and respiratory devices are snowballing on account of stimulating occurrence of respiratory diseases, including Obstructive Sleep Apnea (OSA) and Chronic Obstructive Pulmonary Disease (COPD). Growing occurrence of the respiratory infection is anticipated to be a high-impact influencer of the market. As per Australian Institute of Health and Welfare, 1 in 20 Australians aged 45 or beyond was undergoing from COPDin 2014-15. Further, as per, World Health Organization (WHO), about 251 million cases of COPD were detected in 2016, worldwide. Additionally, as per the National Health Service (NHS), in U.K about 1.2 million people are presently suffering from COPD.
Product Insights
Over the past few years, foremost improvements in anesthesia equipment have been ventilation modes that were earlier only employed in ICUs. These comprise synchronized intermittent mandatory ventilation (SMMV), pressure support ventilation (PSV), and synchronized mandatory minute ventilation (SMMV) and numerous derivatives of every mode. The ventilator has ICU quality ventilation throughout all patient classes and has less flow and nominal flow anesthesia modes to recover anesthetic conveyance and decrease financial influence. Current models have incorporated novel ventilation modes and most producers are striving to upsurge the resemblances among their anesthesia and ventilator monitor interfaces.
Anesthesia devices are generally classified into disposables and machines. Anesthesia disposables comprise accessories and masks. The machine segment comprises delivery machines, workstations, ventilators and monitors. The increasing number of surgical procedures is anticipated to upsurge the practice of anesthesia, thus pushing the demand for anesthesia devices.
Respiratory equipment is categorized into oxygen concentrators, nebulizers, humidifiers, ventilators, and positive airway pressure devices, respiratory inhalers. In 2021, positive airway pressure devices conquered the whole anesthesia and respiratory devices market and are also predicted to observe noteworthy growth during years to come due to escalating occurrence of respiratory disorders including asthma, cystic fibrosis, and tuberculosis.
Regional Insights
In 2021, North America dominated the global anesthesia & respiratory devices market and is expected to reflect this trend throughout forecast period. The anesthesia and respiratory devices market in the U.S.is predicted to grow, as the number of patients undergoing from COPD is mounting quickly. It is expected that nearby 12 million people are suffering from COPD in the U.S. Growing senior population, more number of casualty surgeries accomplished and accessibility of reimbursement for respiratory and anesthesia devices are the reasons that are positively impacting market growth in the U.S.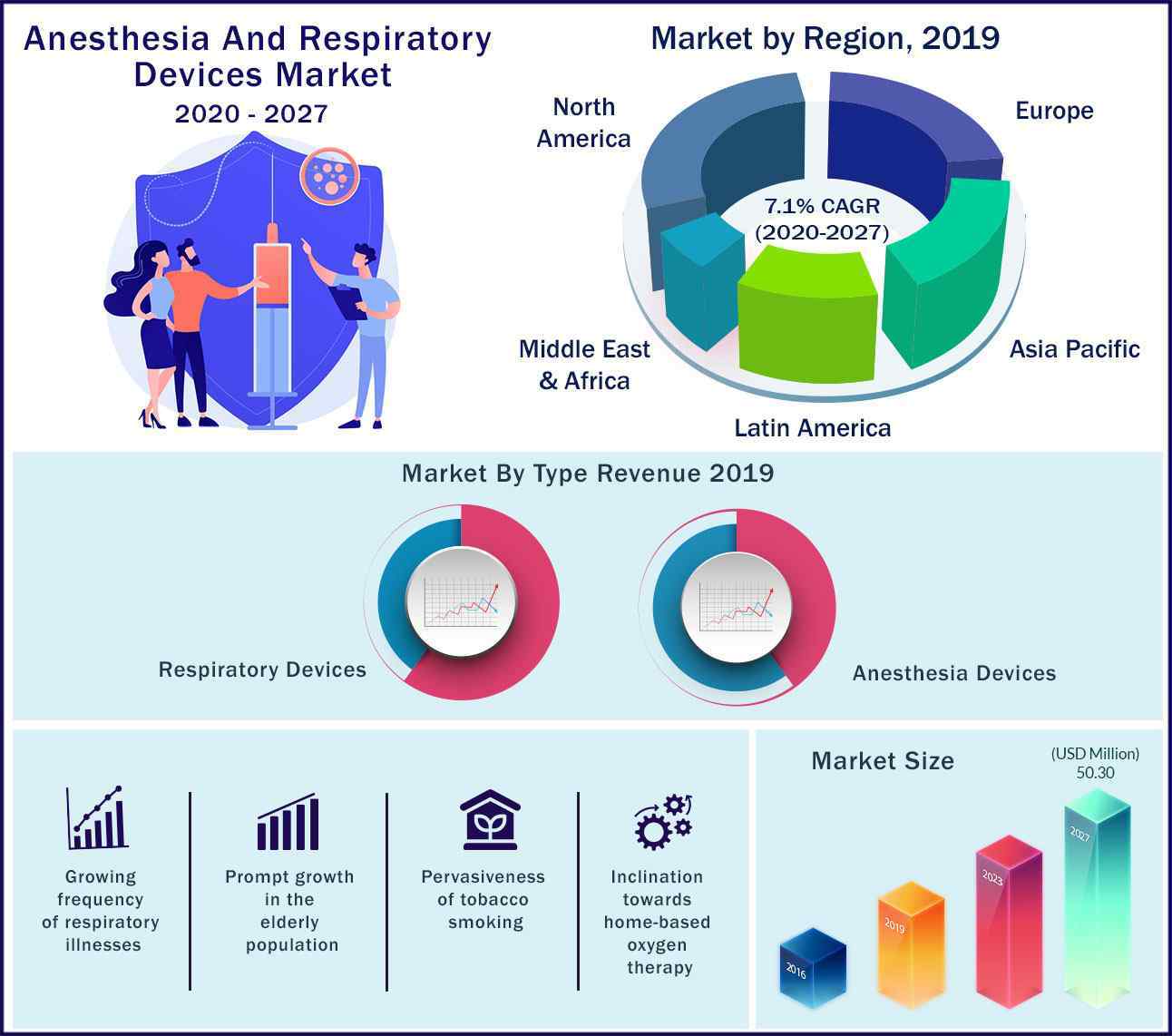 In Asia Pacific, Japan accounted for the major share of the market on account of substantial rise in the elderly population. Emerging nations such as China and India are also projected to observe a noteworthy population suffering from pulmonary diseases. As per the data released by World Health Organization (WHO), nearby 90% of the deaths credited to COPD occur in middle-income and low nations. Likewise, as per the study circulated in the International Journal of Pulmonary and Respiratory Sciences, in India, COPD was the second biggest reason of death in 2016. Thus, rising cases of respiratory diseases across emerging countries is anticipated to further propel the growth of anesthesia & respiratory devices market in the Asia Pacific.
Key Companies & Market Share Insights
The global anesthesia & respiratory devices market is extremely competitive and the key companies are capitalizing in the expansion of exclusive and cutting-edge devices. Corporations are accepting many developing approaches in developing economies, like India and Brazil via acquirements and contracts to upsurge their market shares.
Some of the significant players in the anesthesia & respiratory devices market include:
Masimo Corporation
Medtronic
AirSep Corporation
Smiths Medical
GE Healthcare
Philips Healthcare
Braun Medical Inc.
Drägerwerk AG & Co
KGaA
Getinge AB
Teleflex Inc
Report Scope of the Anesthesia and Respiratory Devices Market
| | |
| --- | --- |
| Report Highlights | Details |
| Market Size | USD 81.9 Billion by 2030 |
| Growth Rate | CAGR of 8.21% from 2022 to 2030 |
| Largest Market | North America |
| Fastest Growing Market | Asia Pacific |
| Base Year | 2021 |
| Forecast Period | 2022 to 2030 |
| Segments Covered | Product Type, Region Type |
| Companies Mentioned | Philips Healthcare, Medtronic Plc., Getinge Group, Masimo, Draegerwerk AG, Smith's Medical, ResMed and Teleflex Inc., OSI Systems |
Segments Covered in the Report
This research report includes complete assessment of the market with the help of extensive qualitative and quantitative insights, and projections regarding the market. This report offers breakdown of market into prospective and niche sectors. Further, this research study calculates market revenue and its growth trend at global, regional, and country from 2016 to 2027. This report includes market segmentation and its revenue estimation by classifying it on the basis of product and region as follows:
By Product
Anesthesia Devices

Machines

Workstations
Monitors
Ventilators
Delivery machines
Disposables

Disposable Accessories
Disposable Masks

Respiratory Devices

Disposables

Disposable Oxygen Masks
Resuscitators
Tracheostomy Tubes
Oxygen Cannula

Equipment

Reusable Resuscitators
Ventilators

Adult Ventilators
Neonatal ventilators

Positive Airway Pressure

Bi-level positive airway pressure devices
Continuous positive airway pressure devices

Nebulizers

Pneumatic nebulizers
Mesh nebulizers
Ultrasonic nebulizers

Inhalers

Dry powdered inhalers
Metered-dose inhaler

Humidifiers

Heat exchangers
Pass over humidifiers
Heat humidifiers
Heated wire breathing circuits

Oxygen Concentrators

Portable oxygen concentrators
Fixed oxygen concentrators

Measurement Devices

Spirometers
Capnography
Peak Flow Meters
By Regional Outlook
North America
Europe
Asia Pacific

China
India
Japan
South Korea

Middle East & Africa
Latin America