The global anesthesia information management systems market size was reached at USD 503.71 billion in 2022 and it is expected to hit around USD 839.86 billion by 2032, growing at a CAGR of 5.25% from 2023 to 2032.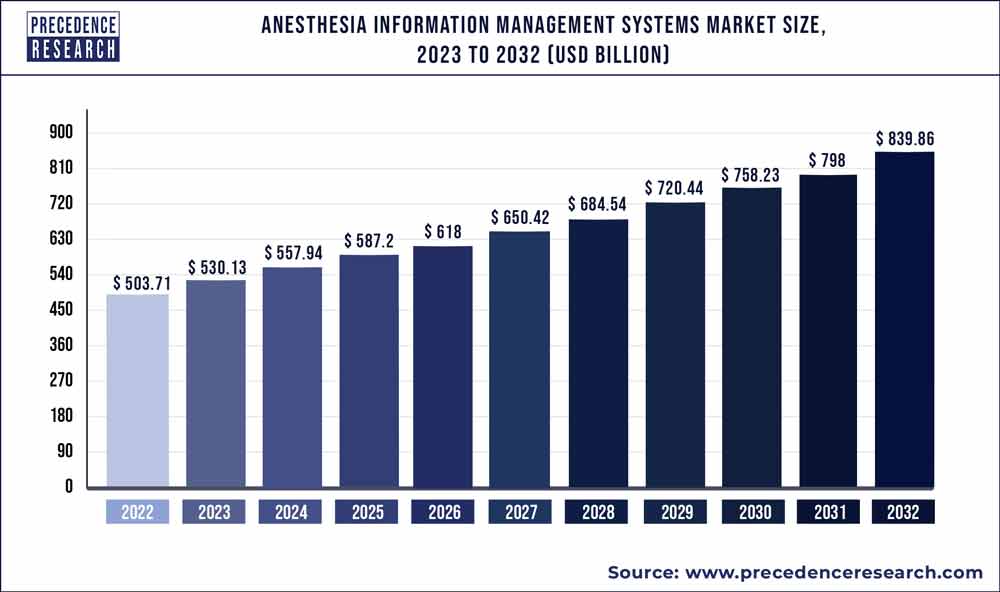 Access our Premium Real Time Data Intelligence Tool, Visit: Precedence Statistics
A system that monitors a patient's clinical data during an operation to improve the effectiveness of medical administration is known as an anesthetic information management system. In order to store and gather patient data effectively and reliably for improved medical treatment, an electronic system digitizes anesthesia-related information.
Key Takeaways:
North America generated the greatest share more than 65% in 2022.
By solution type, both software alone and software combined with hardware and related components segments are predicted to grow at a CAGR of 5.8% from 2023 to 2032.
By end user, the hospital segment has captured more than 82% of revenue share in 2022.
By end user, the ambulatory surgical centers segment contributed more than 28% of revenue share in 2022.
Growth Factor:
The rise in hospital admission rates, an increase in surgical procedures performed globally, and the swift adoption of healthcare information technology (HCIT) solutions are all expected to lead to market expansion. The market for anesthesia information management systems (AIMS) is expected to grow as a result of the increased significance of anesthetic dosage and extensive data management.
The market for anesthesia information management systems will see a major expansion in the near future as a result of this trend. Worldwide, clinical procedures are rapidly altering as a result of information technology. Every day, medical professionals use and interact with electronic medical data. Partnerships between leading cloud-based anesthesia information management system competitors are also likely to help the industry grow.
Newer technology, the implementation of telemedicine in pre-anesthesia evaluation and pain clinics, and digitalization in operating rooms, among other things, have become the new normal as a result of the COVID-19 epidemic. Organizations and societies dedicated to anesthesiology now play a wider range of roles, including developing protocols, hosting educational webinars, trying out new technology, and disseminating knowledge via a variety of social media sites and periodicals. Additionally, the pandemic lengthened wait times for patients waiting to undergo surgery.
As a result, the industry is anticipated to gain from the COVID-19 situation, as more elective to semi-elective procedures are being performed on a large-scale in operating rooms. Hospitals are under pressure to operate in a way that is both profitable and more efficient. Additionally, operating rooms account for 70% of hospital administration and nearly 40% of all hospital income. As a result, companies in the market introduce products to increase operating room effectiveness.
To offer clinical information solutions to automate the perioperative process, Pics, for instance, offers the perioperative suite, which comprises the anesthesia manager and operating room manager. The need for patient-specific clinical data and anesthetic records in hospitals and outpatient surgery centers is anticipated to fuel market expansion. For instance, using the paper record would require anesthesia professionals to spend at least 20 minutes sorting through previous data and attempting to decipher sloppy handwriting to identify whether adverse outcomes had ever happened. The future of operating rooms is medical information systems.
Anesthesia information management systems are being used more often in clinics, ambulatory surgery centers, and hospitals, among other places. This is done to improve quality assurance, result evaluation, resource optimization, and effective record-keeping for patients. A significant trend in the market for anesthesia information management systems is going to be the growing applications.
Another significant development driving the demand for anesthesia information management systems is the rise of general operations as a result of chronic conditions and injuries becoming more common.
As a result of increased hospital costs, hardware for anesthetic information management is being used more frequently to collect data on, among other things, hemodynamics and capnography.
It is predicted that the market would see growth throughout the forecast period as a result of the healthcare authorities' increased efforts to improve patient outcomes and the organization of medical records.
Report Scope of the Anesthesia Information Management Systems Market
| | |
| --- | --- |
| Report Coverage | Details |
| Market Size in 2023 | USD 530.13 Billion |
| Market Size by 2032 | USD 839.86 Billion |
| Growth Rate from 2023 to 2032 | CAGR of 5.25% |
| Largest Market | North America |
| Base Year | 2022 |
| Forecast Period | 2023 to 2032 |
| Segments Covered | By Solution Type, By End User |
| Regions Covered | North America, Europe, Asia-Pacific, Latin America and Middle East & Africa |

Key Market Drivers:
A growing focus on complete data management will facilitate growth at a rapid pace.
The global market for anesthesia information management systems is expanding as a result of increased awareness of the usefulness of these systems as well as rising demand for knowledge-based medical equipment. The use of anesthesia information management systems in university anesthesiology departments in the US is estimated to be 75%, with a projected increase to 84% by 2020, according to the Anesthesia Patient Safety Foundation.
In the upcoming year, this tendency will continue to expand the market for anesthesia information management systems. However, it is anticipated that the high cost of anesthetic management systems, high reported cases, difficulties in capturing reported cases of incorrect warnings, and confusing user interface would restrain the expansion of anesthesia information management systems globally.
Key Market Challenges:
Insufficient healthcare facilities in developing regions.
The market is threatened by the dearth of healthcare resources and services in rural regions that are undeveloped and backward. The anesthetic information management systems market is also predicted to face challenges from low health awareness, low per capita income, and subpar surgical facilities.
Key Market Opportunities:
Inhaled anesthetics are expensive.
The high cost of inhaled anesthetics is motivating greater research and development spending on more affordable anesthetics with low carbon emission characteristics. It is projected that this will increase the market prospects for anesthesia information management systems.
Increasing senior population.
Surgery cases and hospitalization rates are rising as a result of the aging population's increased prevalence of musculoskeletal injuries and intestinal and gastrointestinal illnesses. These will probably lead to more need for anesthesia information management systems.
Segments Insight:
Solution Insights:
Both software alone and software combined with hardware and related components are expected to grow at a CAGR of 5.8% over the course of the projection period. Software with hardware and related components is also seeing a substantially increased market volume as a result of the majority of hospitals and related end-users adopting modern healthcare infrastructure. The user would have a cost-effective alternative of reducing the significant expenditure on capital equipment and associated upkeep by installing such software together with the whole configuration.
Additionally, an AIMS improves patient safety by generating evidence-based recommendations to lower risks during surgery and automatically uploading data from physiological monitoring and anesthesia equipment to an electronic anesthetic chart. These are just a few of the benefits that hospitals and medical professionals should find appealing since these cutting-edge technologies will ultimately result in fewer dosage errors, which will help the market grow throughout the projected period.
By using strategies like collaborations with local businesses to broaden their reach and provide better solutions at a lower cost, the firms are building their market presence, which will eventually lead to an increase in the total market growth over the course of the projection year. For instance, in order to sell and distribute its clinical productivity solution in Saudi Arabia, Provation hired Gulf Medical Company, Ltd. as an exclusive collaborator in February 2022.
End User Insights:
Medical professionals make better judgments and manage hospital OR rooms and ASC settings overall thanks to the next-generation AIMS software and its related configuration, which promotes speedier adoption.
The hospital sector is expected to hold the largest market share in 2022, at over 82%, and is expected to maintain that position throughout the forecast period as most hospitals handle significant treatments for chronic or fatal diseases. As a result, the need for advanced OR settings—which, in some cases, also requires specialized AIMS installations—leads to the hospital sector.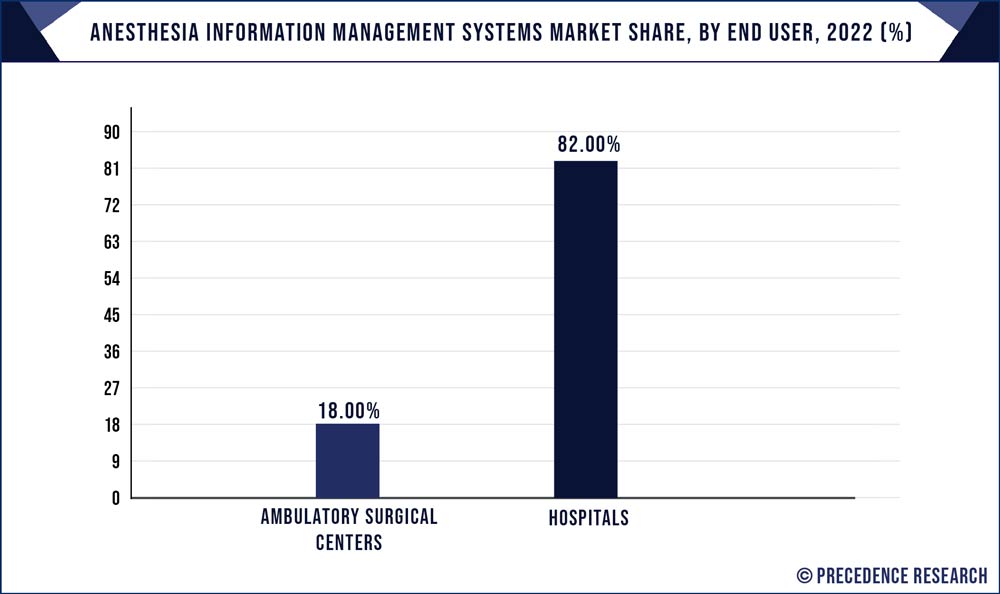 Hospitals are a crucial part of healthcare and the industry's major revenue generator, supporting technology and research not just in the U.S. but also more broadly in regions like Europe. Because of this, only a few businesses invest in strategies like marketing, sales, and advertising to sell their goods at most hospitals. Plexus Technology Group, LLC said in February 2022 that the deployment of its Anesthesia Touch into more than 1,000 hospital systems throughout the nation had given it a significant breakthrough.
The ambulatory surgical centers segment has generated a 28% revenue share in 2022 and it is predicted to grow faster than other market segments over the forecast period. A significant issue facing the healthcare industry is the rise in expenses, which is compounded by the reality that only a select group of individuals can afford the necessary therapy, including surgical operations. ASCs are also advantageous locations for elective surgery and provide the patient with defensive measures.
As a result, healthcare professionals are now required to use more sophisticated settings, one of which incorporates AIMS as a component to discover new strategies for increasing the accessibility of such treatment without sacrificing its quality. Add to the category with faster growth as a result, since ASCs have shown to be a good answer in this case.
Regional Insights:
North America held the greatest share of over 65% in 2022 as a result of greater awareness of the efficacy of anesthesia information management systems, a focus on anesthetic dose and thorough data management, as well as rising demand for knowledge-based medical equipment. A few of the main causes for expecting the region to expand are the increasing number of efforts to enhance healthcare IT and the availability of healthcare programs.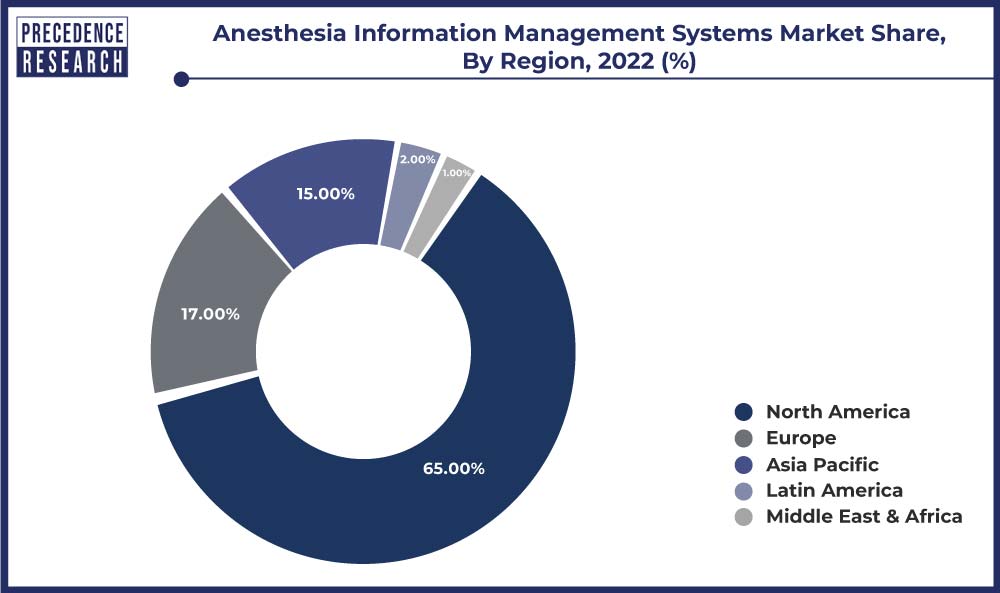 The strategic actions made by industry players in the area and significant R&D spending are also expected to benefit the North American market. For instance, in March 2022, Surgical Information Systems moved its corporate offices to the Avalon district. The new office is intended to be a state-of-the-art meeting and collaboration space that accommodates flexible working hours.
The market in Asia-Pacific is anticipated to develop most quickly. The market is supported by a rapidly expanding healthcare infrastructure as well as a rising pool of patient populations with chronic illnesses that call for surgical treatments. The Indian government introduced the national digital health mission in August 2020, a comprehensive digital health ecosystem. These initiatives can help the market in the area to witness growth.
Recent Developments:
In April 2022, Perfect Serve purchased AnesthesiaGo, a first-of-its-kind solution for automatically generating daily case assignments for anesthesia staff. With this purchase, the business will be better able to maintain its leadership position in the field of cutting-edge scheduling technology.
In October 2020, Surgical Information Systems announced that Accel-KKR had purchased the bulk of its stock. This investment by Accel-KKR deepens SIS' commitment to its clients and the industry as a whole due to the unprecedented demand for outpatient operations and the ongoing transfer of increasingly complex procedures to ASCs. Because of this, the business is dedicated to providing its clients with software, like AIMS, that will eventually enable clinical, process flow, and case management.
Key Market Players:
Drägerwerk AG & Co. KGaA
GE Healthcare
Koninklijke Philips N.V.
Surgical Information Systems
Talis Clinical, LLC
Plexus Technology Group, LLC.
Provation
Oracle (Cerner)
Allscripts Healthcare, LLC
Fukuda Denshi UK
iMDsoft
Segments Covered in the Report:
(Note*: We offer report based on sub segments as well. Kindly, let us know if you are interested)
By Solution Type
Software Only
Software with Hardware and Related Components
By End User
Hospitals
Ambulatory Surgical Centers
By Geography
North America
Europe
Asia-Pacific
Latin America
The Middle East and Africa