The global antimicrobial packaging market size is expected to be worth around USD 14.39 billion by 2032 valued at USD 8 billion by 2022 and expanding growth at a compound annual growth rate (CAGR) of 6.1% during the forecast period 2023 to 2032.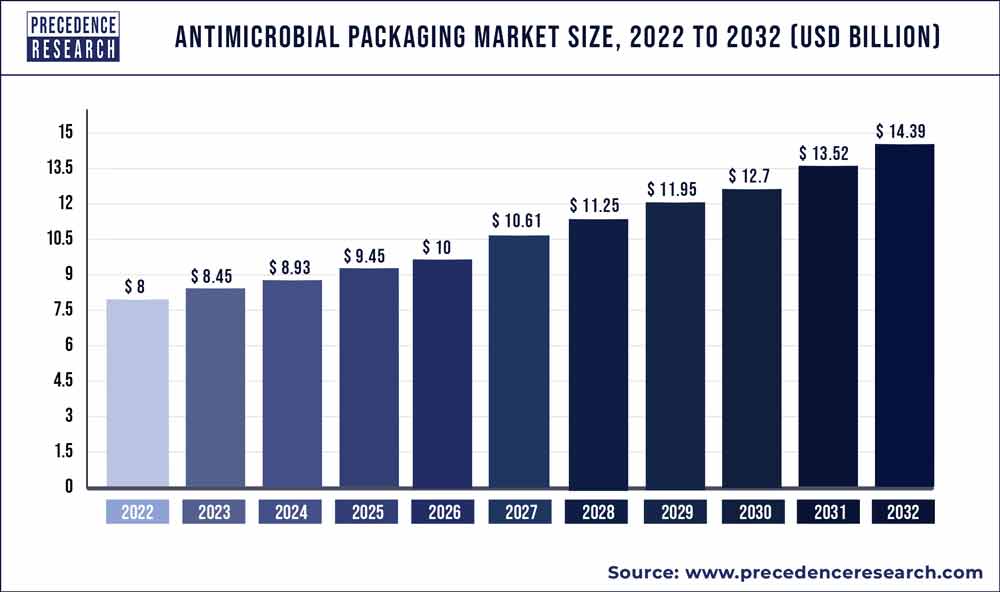 Access our Premium Real Time Data Intelligence Tool, Visit: Precedence Statistics
Key Takeaways:
Plastics segment made up 65.5% market share in 2022.
In 2022, the organic acid segment generated 37.8% revenue share in 2022.
The pouches segment has garnered the highest revenue share 41% in 2022 and will grow at a CAGR of 5.7% from 2023 to 2032.
The food & beverage applications segment hit 47% market share in 2022 and growing at a CAGR of 5.6% over the forecast period.
Asia Pacific region accounted for 35% of revenue share in 2022.
Antimicrobial packaging prevents the development or decay of bacteria that might compromise the quality and safety of packaged goods. In this procedure, the idea of "Active Packaging" was established, where various active compounds are added to the packaging material to improve its functioning. The rising demand for packaged food is one of the major factors driving the antimicrobial packaging industry.
The demand for packaged food is fueled by an increasing proportion of working women, rural-urban mobility, and rising disposable income in developing nations. Sometimes people choose packaged food over fresh food because of its quality and cleanliness. Additionally, it is made convenient and tasty. Additionally, the use of antimicrobial packaging materials has increased as a result of growing consumer awareness of consumer health and longer product shelf lives. Food that is ready to eat, has had little processing, and has been promptly prepared is becoming more and more necessary. For instance, according to industry predictions, revenue from the ready-to-eat (RTE) food market is anticipated to reach USD 83,850 million in 2020.
Future packaging trends are anticipated to be influenced by the growth of RTE and grab-and-go meals. Additionally, the beverage packaging industry is finding more and more uses for antimicrobial packaging. Alcoholic, nonalcoholic, fruit juices, flavored milk, wines, and beverages made from dairy products are all being given a longer shelf life by the use of antimicrobial agents. In addition, it is anticipated that throughout the forecast period, rising consumer demand for baked and confectionary goods in emerging economies would drive market expansion.
Additionally, there has been an increase in the number of patients with the virus during the COVID-19 pandemic. The patients are more vulnerable to bacterial and fungal secondary infections. According to information regarding the viral illness (COVID-19) obtained from The Lancet, 50% of patients who died from the virus also had secondary infections. Therefore, the market has plenty of room to grow throughout the projection period because of the hopeful healthcare sector.
Report Scope of the Antimicrobial Packaging Market
| | |
| --- | --- |
| Report Coverage | Details |
| Market Size in 2023 | USD 8.45 Billion |
| Market Size by 2032 | USD 14.39 Billion |
| Growth Rate from 2023 to 2032 | CAGR of 6.1% |
| Base Year | 2022 |
| Forecast Period | 2023 to 2032 |
| Segments Covered | Material Type, Agent Type, Pack Type, Technology, Application, and Geography |
| Companies Mentioned | BASF SE, Dunmore Corporation, BioCote Limited, PolyOne Corporation, Microban International, Mondi PLC, The DOW Chemical Company, CSP Technologies, Takex Labo Co. Ltd. |
Growth Factors
As customers become more worried about their health and products have longer shelf life, antimicrobial packaging materials are being employed more frequently. Fast food and minimally processed ready-to-eat foods are in greater demand every day. For instance, industry predictions indicate that sales from the ready-to-eat food category would surpass 83 thousand USD million in 2020. Of the next years, it is projected that the market for antimicrobial packaging would expand due to the increase in ready-to-eat and grab-and-go meals.
Rising consumer market demand for baked goods and confectionary items in emerging countries is anticipated to support the market growth of antimicrobial packaging during the forecast period. Antimicrobial packaging also improves food quality by preventing foreign substances like vapor and pressured liquids from entering the container. Food that has been packed should contain enough oxygen. Particularly, oxygen helps to stop decaying and dangerous microorganisms.
Market Drivers
Increasing Consumer Awareness of Health-Related Issues
The rise of the antimicrobial packaging industry is being aided by consumers' increasing knowledge of health-related problems. Nowadays, consumers are more concerned about their health when using products such packaged food, cosmetics, and medications. By allowing the packing material to come into direct touch with the contents, this style of packaging minimizes microbial development on the surface of the products.
Food packaging sheets use antimicrobial substances like bacteriocins to prevent food from spoiling. The demand for pharmaceutical pharmaceuticals is also rising as a result of consumers' changing lifestyles and the growing need for antimicrobial drug packaging and an effective hygiene medicine. Together, these factors are causing the industry to expand exponentially.
Raising consumer awareness of issues relating to their health
As customers become more aware of health issues, the antimicrobial packaging market is expected to grow. When utilizing things like packaged food, cosmetics, and pharmaceuticals nowadays, people are more worried about their health. This type of packaging inhibits microbial proliferation on the surface of the items by enabling the packing material to come into direct contact with the contents. Antimicrobial agents like bacteriocins are used in food packing sheets to stop food from going bad. The changing lifestyles of customers, as well as the increased demand for antimicrobial drug packaging and efficient hygiene medications, are driving up the price of pharmaceuticals. These elements working together are causing the sector to grow enormously. Economies like China, India, South Africa, and others are boosting the market expansion thanks to the booming healthcare and pharmaceutical industry.
The two primary worldwide market drivers for clinical trial packaging are R&D and innovations in drug formulation. Clinical research study packaging frequently makes use of booklet labels and other packaging choices. These booklet labels' labeling possibilities may be used to convey a range of information. The use of booklet labels may significantly reduce the amount of paperwork for businesses that deal with packaging. Additionally, booklet labels are used in clinical trial packaging to satisfy labeling requirements for multiple language support, international regulatory compliance, orderly layout, and understandable wording. The need for these booklet labels in clinical trials is anticipated to rise in the near future, driving market growth.
Market Challenges
High Material Cost: Petroleum-based materials are required to create antimicrobial packaging components for food packaging, which causes price volatility. Market participants are resorting to product post-consumption recycling due to strict environmental laws. Because of the procedure's complexity and expense, manufacturers' profit margins, especially those of small and medium-sized enterprises, are reduced (SME). Market players are experimenting with fresh strategies to advance their sustainability agenda in response to the problem, such employing really biodegradable substitutes like biopolymers.
Market Opportunities
New Approaches to Food Packaging: In recent years, new ideas in food packaging, such as intelligent antimicrobial coatings, have been presented. While sensors track chemical and physical factors that reflect or affect the quality of food products, intelligent antimicrobial coatings are made to inhibit the development of microbes. These improvements have favorable consequences on the environment, society, and health, and those advantages will be strengthened by carrying out clever tasks with reliable technology and regenerative natural resources.
Segmental Insights
Material Type Insights
The antimicrobial packaging market has been dominated by plastic usage. Plastics are excellent for packing because they are inexpensive, versatile, easy to manufacture, and moisture resistant. Due to these characteristics, plastic is often used in antimicrobial packaging. Biopolymers, such as bioplastics, are biodegradable substances utilized in this kind of packaging. They may be used as trays and films, which are useful for maintaining fresh products and extending shelf life. On the other hand, because they are eco-friendly, paper and paperboard are also utilized for packaging. Because they are organic, these components don't affect the product within. The use of packing materials made of paper is a result of growing environmental concerns. Others include readily contaminable items like glass and metals.
Antimicrobial Agents Insights
The organic acid is the largest category in the antimicrobial agents market since it is used as a preservative in food applications. To extend shelf life and maintain microbiological food safety, the organic acid is put into packing materials. On the other hand, certain species of the archaea and some bacteria create proteinaceous poisons known as bacteriocins. They protect food from spoilage and harmful microorganisms by acting as possible natural preservatives. Typically, they are used to package non-fermented goods like processed meats, pre-made vegetable salads, and others. The market for antimicrobial packaging is anticipated to expand as consumer demand for packaged goods rises.
Pack Type Insights
When it came to type, pouches dominated the antimicrobial packaging industry. Numerous sectors, including those in agriculture, food, healthcare, and personal care, use these pouches extensively for a variety of purposes. The food and beverage industries utilize carton packaging extensively; it is often constructed of paper-based packaging materials that keep germs from contaminating the food. In the healthcare sector, bags are often utilized in the packing of medical devices such tubing, connectors, syringes, as well as a variety of molded parts.
Application Insights
Consumption of antimicrobial packaging has increased in this business due to the rise in packaged food demand. This packaging offers benefits such food preservation and has antimicrobial activity due to its close proximity to the food market, which can support market expansion. The healthcare and pharmaceuticals sector, which dominates the antimicrobial packaging market, provides a number of benefits over conventional packaging materials, including simplicity of use, sterility, affordability, cleanliness, and convenience.
The personal care sector is expanding as a result of consumers with high disposable money altering their lifestyles. Due to the negative effects that low-quality products have on the skin and the body, these elements are raising consumer awareness of the importance of buying excellent and high-quality items. These goods may result in skin rashes, infections, and other illnesses if they are contaminated. Antimicrobial packaging materials are becoming more popular as a result of the high demand for higher-quality products from the consumer base. These elements, together with the focus on sustainable packaging by regional and national government agencies, are further boosting the need for antimicrobial packaging marketing on a worldwide scale.
Antimicrobial Packaging Market Share, By Region, 2022 (%)
| | |
| --- | --- |
| Regions | Revenue Share in 2022 (%) |
| North America | 28.60% |
| Asia Pacific | 35% |
| Europe | 23.90% |
| Latin America | 8% |
| MEA | 4.50% |
Geography Insights
The Asia-Pacific region currently controls a large portion of the anti-microbial packaging market and is anticipated to continue to do so during the projected period. The market for antimicrobial packaging has grown significantly in recent years as a result of the region's fast rising demand for packaged foods and drinks as well as the rising frequency of food poisoning cases and crises reported there. Due to rising employment and a fast-paced lifestyle in the major nations of the Asia Pacific area, packaged foods are gaining popularity in the region. Governmental groups have also been contributing to the growth of food awareness.
Recent Developments
HeiQ and ICP Industrial Inc. inked a contract in March 2021 giving ICP Industrial the worldwide exclusive right to use HeiQ Viroblock Technology. This will make it possible for both businesses to advertise their goods in antimicrobial packaging.
In September 2020, Van Genechten Packaging and Varcotec will offer a coating technique called Lock3 that permanently eliminates germs, viruses, and pathogens. This will aid the business in developing fully functional antimicrobial coating for the packaging industry.
Key market players
BASF SE
Dunmore Corporation
BioCote Limited
PolyOne Corporation
Microban International
Mondi PLC
The DOW Chemical Company
CSP Technologies
Takex Labo Co. Ltd.
Segments covered in the report
(Note*: We offer report based on sub segments as well. Kindly, let us know if you are interested)
By Material Type
Paperboard
Plastic
Biopolymers
Others
By Agent Type
Plant Extracts
Organic Acids
Bacteriocins Enzymes
Others
By Pack Type
Bags
Pouches
Trays
Carton packages
Cups & lids
Others
By Technology
Controlled release packaging
Active packaging
By Application
Food & Beverages
Healthcare & Pharmaceutical
Personal Care
Others
By Geography
North America
Europe
Asia-Pacific
Latin America
Middle East & Africa (MEA)