The global artificial intelligence (AI) in cybersecurity market size was evaluated at USD 17.4 billion in 2022 and is expected to hit around USD 102.78 billion by 2032, growing at a CAGR of 19.43% between 2023 and 2032.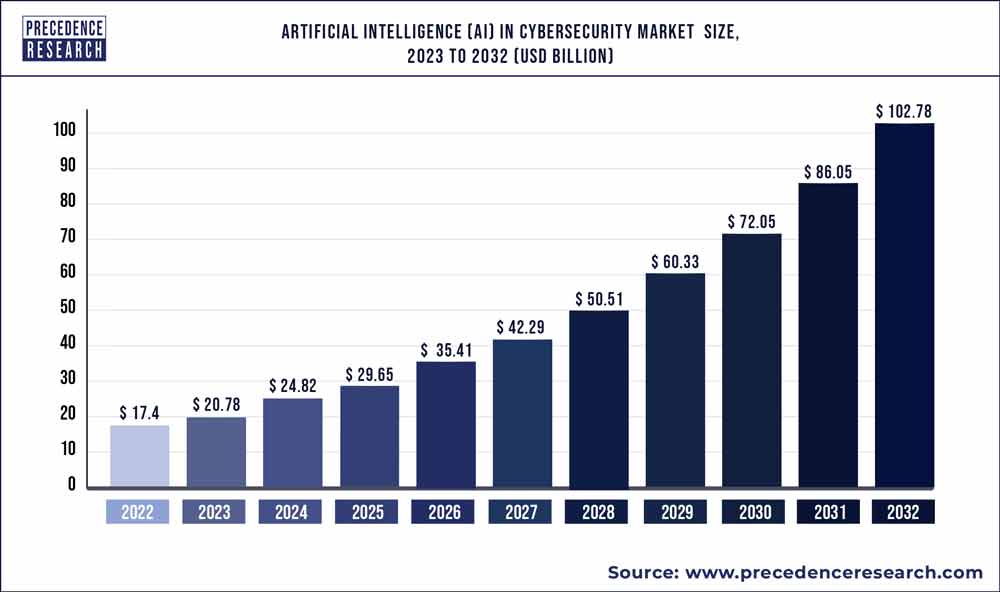 Access our Premium Real Time Data Intelligence Tool, Visit: Precedence Statistics
The market for artificial intelligence in cybersecurity is also anticipated to grow during the forecast period as a result of the proliferation of 5G technology and the rising demand for cloud-based security solutions among small and medium-sized organizations. Artificial intelligence in cybersecurity is currently gaining popularity to secure information. Because end users are anticipated to embrace AI in cybersecurity to address security concerns and spot new types of assaults that can occur at any time, the market for artificial intelligence in cybersecurity is growing steadily.
Key Takeaways:
By geography, the North America held the majority revenue share of around 38% in 2022.
By type, the network security segment is projected to contribute significantly to overall revenue in 2022.
By offering, the services segment is anticipated for a large revenue share of around 36% in 2022.
By technology, the machine learning segment captured more than 47% of revenue share in 2022.
By vertical, the enterprise segment generated more than 24% of revenue share in 2022.
By application, the fraud detection and anti-fraud segment generated more than 22% of the revenue share in 2022.
Market Growth
To safeguard against, identify, and respond to risks, more AI technologies have gained popularity. Examples include machine learning and natural language processing. Furthermore, the need for cutting-edge artificial intelligence (AI) solutions in cybersecurity have been highlighted by the exponential surge in cyberattacks against high-tech firms, defense, and governmental organizations. In order to provide a proactive protection system with precision in detection, cyber AI has grown in popularity.
For instance, a user's behavioral biometrics has become a key demand in AI, leading to relentless user verification. Industry participants are anticipated to give machine learning algorithms top priority in order to harness the energy of AI to strengthen security intelligence. The frequency and complexity of cyber threats, the rise in privacy concerns, and the significance of AI-based cybersecurity solutions in the banking sector are all factors that should be taken into consideration.
Report Scope of the Artificial Intelligence (AI) In Cybersecurity Market
| | |
| --- | --- |
| Report Coverage | Details |
| Market Size in 2023 | USD 20.78 Billion |
| Market Size by 2032 | USD 102.78 Billion |
| Growth Rate from 2023 to 2032 | CAGR of 19.43% |
| Base Year | 2022 |
| Forecast Period | 2023 to 2032 |
| Segments Covered | By Type, By Offering, By Technology, By Vertical and By Application |
| Regions Covered | North America, Europe, Asia-Pacific, Latin America and Middle East & Africa |

Market Dynamics:
Drivers
AI security solutions not only offer greater security than human capabilities, but they also speed up the acknowledgment and identification processes for cyberfrauds. As a result, the usage of AI technology in the cyber security market is anticipated to increase along with the rise in cyber security risk incidents. The opportunity aspects for the global market, on the other hand, are the rise in demand for cloud-based security solutions among small and medium-sized organizations and the increased usage of digital media for business expansion.
Cybersecurity technology uses artificial intelligence to quickly evaluate systems in order to pinpoint the computer system's vulnerabilities and business network. Additionally, it enables companies to concentrate on crucial security tasks, making it simple to control vulnerabilities and timely secure corporate systems. The security of technological advancements and crucial infrastructure is ensured by artificial intelligence in cybersecurity; as a result, businesses are significantly increasing their AI cybersecurity budgets, supporting business approaches with cybersecurity plans, and developing cyber alertness programs for clients and staff.
Restraints
Major sectors are investing in AI, but because they lack qualified internal staff, they are unable to put their AI ideas into practice. Implementing an AI system necessitates technical know-how, which aids AI in handling complex machine reasoning, talent search with applications, and client model implementation. When it comes to filling AI talent shortages, recruitment and skill-upgrading issues are interwoven. Without a doubt, a shortage of trained talent is anticipated to be the biggest challenge to the advancement of AI projects across industries, followed by a lack of funding, a lack of access to the appropriate technology, and a lack of access to user data.
A network attack known as an advanced persistent threat (APT) occurs when an unauthorized user logs onto a network and uses it for an extended period of time without being detected. A true defense against sophisticated, contemporary dangers cannot rely on older viruses or attacks. As a result, AI's inability to defend against sophisticated threats is causing a market limitation.
Opportunities
Industries of today rely heavily on endpoint devices since they make businesses work as efficiently as possible and keep up with technology so they can compete. A few of the new problems brought on by the proliferation of these gadgets include unauthorized access, data breaches, and cyber threats. As individuals feel safer, there is a rising need for artificial intelligence in cybersecurity.
The pace of industry verticals' digital transformation has quickened with the development of digital technologies like the Internet of Things. Businesses have been forced to utilize more edge-based, decentralized AI cybersecurity solutions as a result of the surge in cyberattacks and data breaches, which is driving the market for this technology. As a result of greater investment and growing recognition of the necessity for AI in cybersecurity solutions, artificial intelligence is thus expected to rise in the cybersecurity industry.
Covid-19 Impact:
The current crisis is being viewed by a number of leading cybersecurity companies as an opportunity to examine and restructure their current tactics and build more sophisticated product portfolios. As businesses increase their commitment to work-from-home policies, the COVID-19 epidemic has increased the need for cutting-edge technologies. Businesses have been forced to invest money in machine learning and deep learning algorithms due to a spike in demand for digital goods and services brought on by telecommuting workers and other people using potentially unsafe networks and gadgets.
Segments Insight
Type Insights
The network security industry is anticipated to contribute significantly to overall revenue in 2022. The significant industry share can be attributable to the growing significance of machine learning and artificial intelligence algorithms. Businesses are using cybersecurity to deter and stop cyberattacks. Hardware may be a crucial growth enabler for improving operational scalability and business efficiency.
All users must be authorized and confirmed according to the zero-trust paradigm, which is gaining popularity. The firm has prioritized zero trust, and currently, less intrusive methods of risk-based authentication are being used.
Organizations will push for continuous monitoring, risk-based application management, and automatic classification of AI-based endpoint security. Endpoint security solutions frequently generate an allow list based on well-known software and a refuse list based on well-known malware automatically. Endpoint attacks are becoming more common, therefore behavioral analytics and AI-based real-time authentication may be pursued as the foundation of security solutions.
Offering Insights
A large revenue share is anticipated for the services sector in 2022 with a 36% of revenue share. The market for AI in cybersecurity is expected to grow rapidly as a result of the category. Due to the high need for application program interfaces, including those for machine learning methods, sensor data, speech, and vision, the market will expand. The program is exceptional in its ability to reliably and precisely detect anomalous activities.
As hardware operations become in popularity, the software platform will develop to strengthen its security capabilities. Participants in the sector, who may potentially make financial investments in the software platform, will underline the importance of contemporary cybersecurity solutions. To advance hidden computing, they'll presumably build on open-source software, open system architecture, and open standards.
With the increasing global prominence of networking solutions, processors, and memory solutions, hardware-based AI in cybersecurity will advance. In order to speed up and improve AI-related activities, AI hardware is predicted to be sought after. The expanding popularity of neural networks and processors will give hardware applications a boost. Neural networks are becoming essential for fraud detection due to the global expansion of cyberattacks. Additionally, the deep learning approach has become popular in the prediction of credit card fraud detection, which bodes well for industry expansion.
Technology Insights
The machine learning segment grabbed the lead in 2022 with a 47% of revenue share. Machine-learning technologies will expand significantly as a result of the rapid adoption of deep learning throughout end-use sectors. Leading companies are starting to use machine learning for threat detection and email filtering, including Google and IBM. Businesses are utilizing deep learning and machine learning's ability to improve cybersecurity protocols. Furthermore, ML platforms are gaining popularity as a tool to automate monitoring, spot outliers, and sort through the massive amounts of data produced by security technology.
The market for AI in cybersecurity could expand globally throughout the anticipated timeframe thanks to the natural language processing segment. The rise in popularity of text summarization, question-answering systems, sentiment analysis, and natural language inference is mostly to blame for the trend. NLP has also grown in popularity as a way to find data, framework, and standard overlaps as well as security infrastructure flaws. Over the next few years, automation and customization of NLP could make major advancements and increase AI applications in cybersecurity.
Artificial Intelligence (AI) In Cybersecurity Market Share, By Vertical, 2022 (%)
| | |
| --- | --- |
| Revenue | 2022 |
| BFSI | 19.5% |
| Retail | 19.3% |
| Government & Defense | 20% |
| Manufacturing | 6.5% |
| Enterprise | 24% |
| Healthcare | 3.4% |
| Automotive & Transportation | 3.9% |
| Others | 3.4% |

Vertical Insights
The enterprise category took the lead in 2022 with a 24% of revenue share. To limit data leaks, thwart cyberattacks, and enhance security, the BFSI sector may grow into a sizable market for cyber AI. The rush of innovations and technology improvements has resulted in a paradigm shift in how consumers make payments, and purchases, borrow money, and withdraw money via crowdfunding. Banks and other financial organizations are expected to rely on the Hardware's zero-trust idea to bolster their operations that are based on threat intelligence.
A rise in cyber events has led to an increased interest in AI in the government and defense industries. According to the Center for Strategic and International Studies, a DDoS attack on a significant Israeli telecommunications provider in March 2022 resulted in the takedown of a number of Israeli government websites. The Ukrainian government's 90 websites were apparently the subject of a cyberattack in January 2022 that spread harmful software and damaged the computers of numerous government institutions. Governments are therefore prepared to rely on Cloud Security and zero-trust architecture to ward off cyber mishaps.
Application Insights
The fraud detection and anti-fraud segment generated more than 22% of the revenue share in 2022. Artificial intelligence (AI) in cybersecurity will be promoted for fraud detection and anti-fraud as proactive solutions. Machine learning has emerged as a useful technology for boosting the ability of governments and other end users to prevent fraudulent behaviors as a result of an increase in fraud incidents. Therefore, it's possible that AI tools will be applied more often to eliminate fraud, email phishing, and false records. Businesses are more interested in unified threat management to protect their digital assets from threats like spyware-infected files, phishing attacks, unauthorized website access, and trojans (UTM).
Business VPN, intrusion detection and prevention, network firewalls, gateway anti-virus, and web content filtering are just a few of the security features that the UTM method is anticipated to give more and more of. UTM software products are anticipated to be given top priority by organizations in order to swiftly and accurately detect emerging threats. For scalable hardware-based monitoring and to stop the assault before it reaches the network, UTM technologies are anticipated to gain ground.
Regional Insights
The North America held the maximum revenue share of around 38% in 2022. The presence of security vendors and cyber incidents in North America, which is a technologically advanced region, leads the entire world. The world's earliest adopter of cybersecurity products and services in North America. The most important economic and national security challenge in the region, according to governments, is the rise in cyberattacks.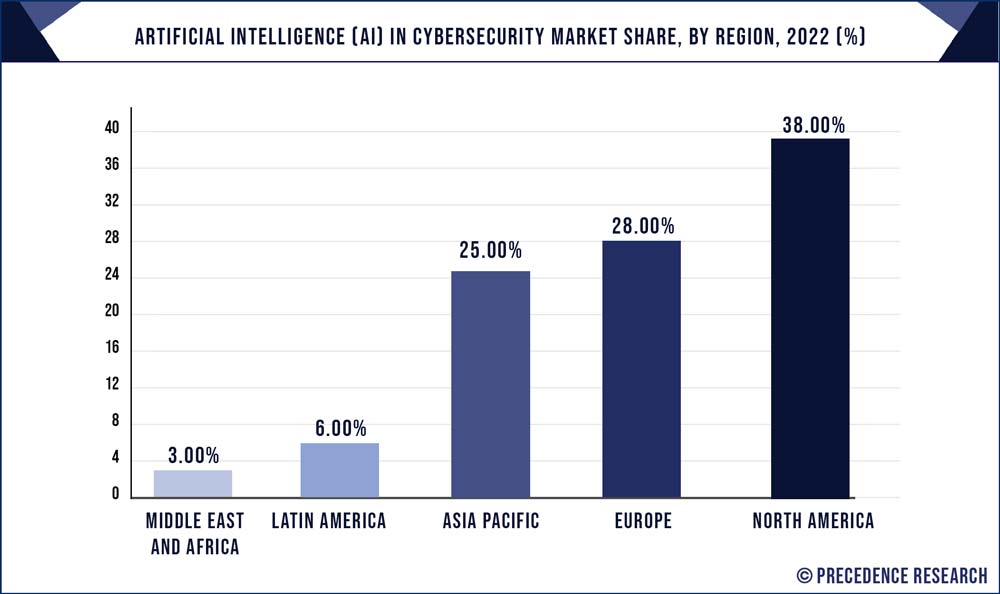 However, the Asia-Pacific region is anticipated to experience rapid growth during the forecast period, driven by factors like rising connected device consumption, increased cybersecurity awareness among organizations, rapid economic development, high adoption of cutting-edge technologies like IoT, 5G technology, and cloud computing, as well as rising privacy and security concerns in the region. The prospects for growth in Europe are promising. The administration is optimistic that higher defense expenditure would improve its position in Europe even as it takes steps to defend against cyberattacks from Russia and other aggressive nations.
Key Market Players
NVIDIA Corporation
Intel Corporation
Xilinx Inc.
Samsung Electronics Co Ltd
Micron Technology Inc.
Amazon Web Services, Inc.
IBM Corporation
Microsoft Corporation
FireEye, Inc.
Palo Alto Networks, Inc.
Juniper Networks, Inc.
Fortinet, Inc.
Cisco Systems, Inc.
Check Point Software Technologies Ltd.
Imperva
McAfee LLC
LogRhythm, Inc.
Sophos Ltd.
NortonLifeLock Inc.
Crowdstrike Holdings, Inc.
Darktrace
Cylance Inc.
Vectra AI, Inc.
ThreatMetrix Inc.
Securonix Inc.
Sift Science
Acalvio Technologies
SparkCognition Inc.
Symantec Corporation.
Segments Covered in the Report
(Note*: We offer report based on sub segments as well. Kindly, let us know if you are interested)
By Type
Network Security
Endpoint Security
Application Security
Cloud Security
By Offering
Hardware
Software
Services
By Technology
Machine Learning
Natural Language Processing (NLP)
Context-aware Computing
By Vertical
BFSI
Retail
Government & Defense
Manufacturing
Enterprise
Healthcare
Automotive & Transportation
Others
By Application
Identity And Access Management
Risk And Compliance Management
Data Loss Prevention
Unified Threat Management
Fraud Detection/Anti-Fraud
Threat Intelligence
Others
By Geography
North America
Europe
Asia-Pacific
Latin America
The Middle East and Africa