The global artificial intelligence (AI) in inflammatory bowel disease market is surging, with an overall revenue growth expectation of hundreds of millions of dollars during the forecast period from 2023 to 2032.
Access our Premium Real Time Data Intelligence Tool, Visit: Precedence Statistics
Key Takeaways
North America dominates the artificial intelligence in the inflammatory bowel disease market.
By technology, machine learning is the fastest-growing segment of the market.
By end user, the consumer healthcare segment is expected to witness the fastest growth rate during the forecast period.
By IBD type, the ulcerative colitis segment holds the dominating position in the market.
By application, the diagnosis segment accounted for the largest share in 2022; the segment is expected to sustain its position throughout the forecast period.
Artificial Intelligence (AI) in Inflammatory Bowel Disease Market Overview
Artificial intelligence for the management of inflammatory bowel diseases refers to the use of AI-based technologies and algorithms to improve the diagnosis and treatment. Artificial intelligence can assist in the early diagnosis of inflammatory bowel diseases. The landscape of medicine is altering due to artificial intelligence. Researchers are developing targeted treatments and harnessing AI for conditions such as inflammatory bowel diseases. Inflammatory bowel diseases include Crohn's Disease (CD) and ulcerative colitis (UC). According to Cancer.net, endoscopy is a technique that examines inside your body to detect and track your UC. An endoscope is used to perform a colonoscopy. IBD, often known as Crohn's disease or ulcerative colitis (UC), affects about six million people worldwide.
Artificial Intelligence (AI) in Inflammatory Bowel Disease Market Scope
| | |
| --- | --- |
| Report Coverage | Details |
| Largest Market | North America |
| Base Year | 2022 |
| Forecast Period | 2023 to 2032 |
| Segments Covered | By Technology, By End-User, By IBD Type, and By Application |
| Regions Covered | North America, Europe, Asia-Pacific, Latin America, and Middle East & Africa |

Growth Factors
The rising prevalence of ulcerative colitis and Crohn's disease is expected to supplement the growth of inflammatory bowel disease industry in the upcoming years. Computer-aided image assessment has the potential to improve the way of interpreting diagnostic imaging to determine disease activity. As a result, the use of AI-assisted imagery is projected to grow as technology advances.
Deployment of artificial intelligence can help healthcare systems reduce costs by optimizing resource allocation, reducing unnecessary tests, and preventing hospital readmissions. Additionally, AI can integrate and analyze vast amounts of diverse healthcare data, enabling better insights and decision-making. Certainly, these growth factors are observed to promote the market's growth during the forecast period.
Market Dynamics
Driver
Emergence of AI-based apps
Artificial intelligence-driven healthcare apps are a booming sector, with context-aware smartphone apps providing customized outcomes for users. Most healthcare apps follow the mobile expert system model, which includes a knowledge base containing information and regulations relevant to the target application, which is accessible and updated by an IBD Specialist, and a user interface, into which users enter queries or results, such as stool frequency and level of pain. Some apps provide feedback to the expert interface in order to notify them of a change in circumstances.
Overall, AI-based apps can enhance the efficiency and effectiveness of IBD management, benefiting both patients and the healthcare industry, which can drive further investment and research in AI in inflammatory bowel disease.
Restraint
Lack of awareness about AI applications
Without awareness of AI's potential, healthcare providers and patients may be hesitant to adopt AI solutions for IBD diagnosis and management. Investors and healthcare organizations might not allocate resources to AI projects in IBD if they don't fully grasp the benefits and potential cost savings. Lack of awareness can lead to limited data sharing among healthcare institutions, hindering the development of AI models that require large and diverse datasets.
Opportunity
Emergence of telemedicine
Telemedicine or remote patient monitoring services allow IBD patients to receive care from the comfort of their homes. AI can play a vital role in remote monitoring by analyzing the data from wearable devices to track the progress. AI in telemedicine is also observed to help in medication adherence and symptom management. The ris of telemedicine creates a wealth of data and opportunities for AI to improve the diagnosis, treatment and management of inflammatory bowel disease, ultimately enhancing patient care and outcomes.
Technology Insights
The machine learning segment is considered to be the quickest growing in the artificial intelligence in inflammatory bowel disease market. Most previous technologies utilized machine learning technique to stimulate and transform human commands into computer language. This segment includes AI solutions that leverage machine learning algorithms to analyze IBD data, identify patterns, and make predictions or recommendations.
Machine learning models can detect subtle patterns and anomalies in patient data, enabling early detection of IBD. In addition, machine learning algorithms can tailor treatment plans for individual patients, taking into account their unique characteristics and responses to therapy. Such approaches are observed to supplement the segment's growth.
On the other hand, the natural language processing segment is anticipated to grow at a steady pace during the predicted period. Natural language processing is the fragment of the artificial intelligence technology branch that helps the computer understand text and spoken words in the way humans understand. Generally, NLP uses computational linguistics with statistical and deep learning tools that enable the computer to process human language. Natural Language processing includes various tasks to perform, such as speech recognition, which includes the conversion of voice data to text data for any required application that follows the voice compounds.
End User Insights
The consumer healthcare segment is expected to grow at the fastest pace during the forecast period. AI solutions aimed towards healthcare institutions and clinical settings are intended to help healthcare providers with various elements of IBD care. AI solutions aim to aid healthcare providers in properly and effectively diagnosing IBD. They may examine a variety of data sources, including medical imaging, test results, and patient symptoms.
IBD Type Insights
The ulcerative colitis segment carries the dominating position in the global artificial intelligence in inflammatory bowel disease market. UC is defined by episodes of inflammation that are restricted to the mucosal layer of the colon. In most cases, inflammation begins in the rectum and spreads to more proximal regions of the colon in a continuous pattern.
Ulcerative colitis-related data including patient records, endoscopic images and laboratory results, are often more readily available for AI training and validation. AI can be particularly helpful in managing UC by predicting disease flares, optimizing treatment plans, and reducing complications.
Application Insights
The diagnosis segment dominated the market in 2022, the segment is expected to continue the trend over the predicted timeframe. Although various instruments are available to diagnose individuals with IBD, the process frequently involves misclassification of the disease and its subtypes, as well as multiple examinations to reach a consensus. Emerging technologies and methodologies like AI-assisted diagnostics, are required to enhance and optimize the diagnosis process. Different data modalities involved in the progression and diagnosis of IBD, including as genetic data and endoscopic and biopsy pictures, can be fed into an AI system, which subsequently outputs a projected illness diagnosis. AI can be used in the context of IBD diagnosis at various stages of the diagnostic route. For instance, it is frequently difficult to identify whether a patient has CD or UC, especially in the early stages of the disease.
On the other hand, the treatment segment is expected to witness the fastest rate of growth during the forecast period. Thiopurines are immunomodulators that are commonly used as first-line treatment for IBD. These medicines, however, have a restricted therapeutic window, with low dosages resulting in insufficient therapy response and large doses resulting in substantial immunosuppression and toxicity. By predicting treatment response and adherence, AI-based prediction of personalized thiopurine dosages could eliminate the requirement for metabolite testing, easing the load on both patients and healthcare systems.
Regional Insights
North America
North America carries a dominating share of artificial intelligence in inflammatory bowel disease market owing to the rising cases of IBD in the region and rapid adoption of advanced technologies in the healthcare sector. Over 700,000 Americans have IBD, according to the Crohn's and Colitis Foundation. North American healthcare providers are rapidly implementing AI-powered technologies to improve care quality and efficiency.
The United States is North America's largest market for AI in IBD. IBM has created Watson for IBD in the United States, an AI-powered system that can analyse enormous amounts of patient data to uncover patterns and relationships. This information can then be used to develop personalized treatment plans for patients with IBD. Furthermore, in 2022, researchers at the University of California, San Francisco developed an AI-powered system that can predict the risk of relapse in patients with Crohn's disease. The system was able to predict relapse with an accuracy of 80%.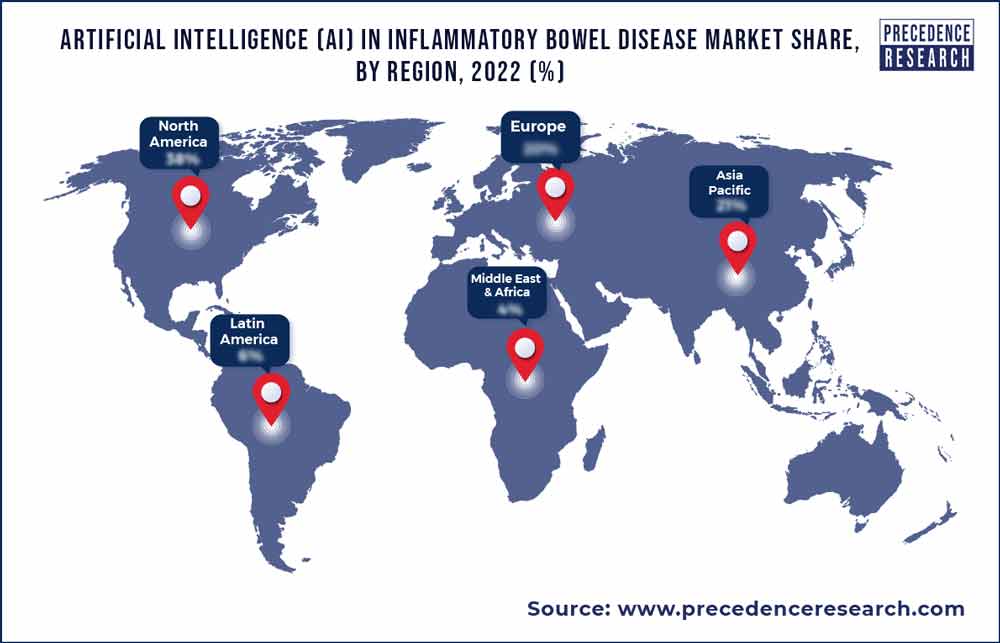 Europe is observed to witness a significant growth rate in the market during the forecast period. A number of factors are driving market expansion, including the rising incidence of IBD in Europe, the increased desire for personalized treatment, and the region's expanding usage of AI in healthcare. In the United Kingdom, the company Huma developed a patient-facing app that employs artificial intelligence to detect and monitor symptoms, adherence to medications, and other important variables in IBD patients. This data can then be used to identify patients who are likely to experience flare-ups or other consequences. Furthermore, Google AI is collaborating with a number of European healthcare organizations to create AI-powered treatments for IBD. Google AI, for example, is collaborating with the University of Cambridge to create an AI-powered system to increase the accuracy of IBD diagnosis.
Recent Developments
Iterative Scopes Declares AI-Driven Data Sharing Partnership with Pfizer in February 2022 to Advance IBD Clinical Trials.
The agreement between Sanofi and CytoReason is part of an ongoing relationship that began in 2021 with the goal of getting advanced mechanistic insights for asthma endotypes. The cooperation brings CytoReason's total number of collaborations with top pharmaceutical companies to five.
CytoReason, an Israel-based tech business, established a partnership with Ferring Pharmaceuticals in May 2021 to use AI technology to speed medication discovery and innovate innovative therapies for IBD.
Artificial Intelligence (AI) in Inflammatory Bowel Disease Market Players
IBM
Google AI
Microsoft
GE Healthcare
Johnson & Johnson
Philips Healthcare
Nuance Communications
Zebra Technologies
Medtronic
Boston Scientific
Olympus
Segments Covered in the Report
By Technology
Machine Learning
Natural Language Processing
Context-Aware Computing
Computer Vision
By End-User
Consumer Healthcare
Pharmaceutical Companies
Research And Development Sector
By IBD Type
Crohn's Disease
Ulcerative Colitis
By Application
Diagnosis
Prognosis
Treatment
Monitoring
By Geography
North America
Europe
Asia-Pacific
Latin America
Middle East and Africa