The global artificial intelligence in military market size was exhibited at USD 7.93 billion in 2022 and is projected to hit around USD 22.62 billion by 2032, growing at a CAGR of 11.05% from 2023 to 2032.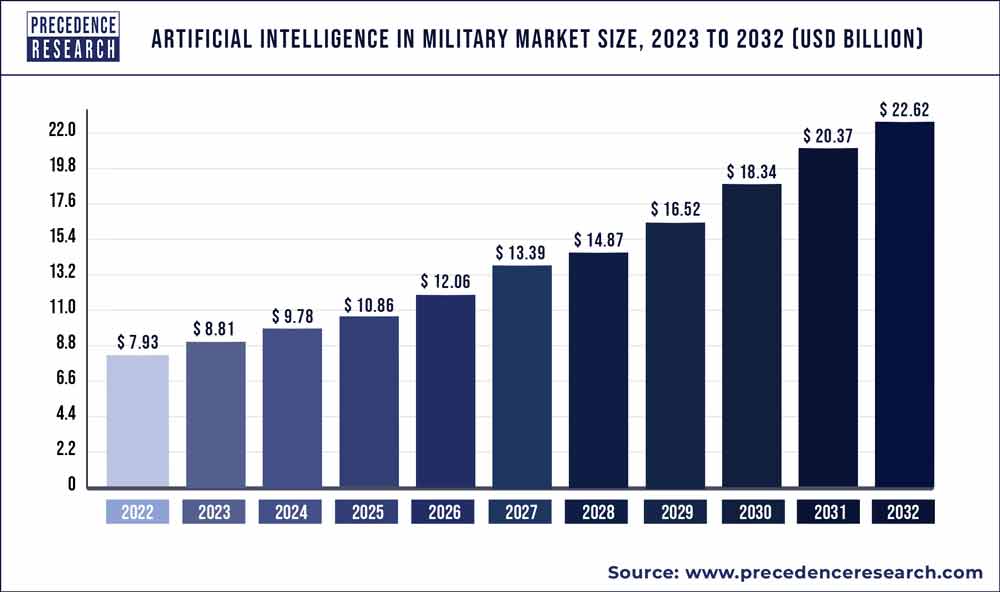 Key Insights:
North America has the biggest portion of the global market.
The software component segment is expected to be the largest share from 2023 to 2032.
The hardware component segment is projected to expand outstandingly from 2023 to 2032.
The advanced computing technology segment captured the largest market share in 2022.
The AI system technology segment is predicted to grow the fastest from 2023 to 2032.
The space platform segment is expected to have the highest CAGR from 2023 to 2032.
The new procurement installation segment generated more than 51% of the revenue share in 2022.
The warfare application segment will expand to the maximum market share in 2022.
The cybersecurity application segment is expected to grow at a significantly faster rate from 2023 to 2032.
Market Overview:
Modern warfare now includes artificial intelligence (AI) as a crucial component. AI has the capacity to manage massive amounts of military data effectively. It uses characteristics like computation and decision-making to improve the self-control, self-regulation, and self-actuation abilities of military systems. Additionally, the market has grown as a result of the military increasingly utilizing cloud services. Furthermore, the growing operational performance of autonomous systems may bring profitable changes to the sector. However, businesses are investigating low-cost and cutting-edge hardware solutions that effectively boost AI's performance and rhythm in the military sector; this is a key factor influencing the implementation of artificial intelligence in the military sector in the upcoming years.
Impact of COVID:
Despite the fact that COVID-19 caused massive havoc on economies around the world, artificial intelligence in the military industry persisted to grow. This is seen on the supply and demand sides, as leading companies such as IBM (US), Lockheed Martin (US), and Northrop Grumman (US), along with others, continued to finance heavily in emerging AI capabilities. At the same time, governments invested heavily in acquiring these techniques. This is due to governments recognizing the capability of further developed abilities that these artificial intelligence systems provide a defense fund as the worldwide AI arms competition tightens. Governments prioritize automation acceptance by focusing on cutting-edge technologies such as machine learning, 3D printing, artificial intelligence (AI), deep learning as well as machine vision, all contribute to long-term market growth.
Report Scope of the Artificial Intelligence In Military Market
| | |
| --- | --- |
| Report Coverage | Details |
| Market Size in 2023 | USD 8.81 Billion |
| Market Size by 2032 | USD 22.62 Billion |
| Growth Rate from 2023 to 2032 | CAGR of 11.05% |
| Base Year | 2022 |
| Forecast Period | 2023 to 2032 |
| Segments Covered | By Component, By Technology, By Platform, By Installation, and By Application |
| Regions Covered | North America, Europe, Asia-Pacific, Latin America and Middle East & Africa |

Market Dynamics:
Driver: Increased defense spending to enhance AI technologies by the government.
Most governments have established specialized departments or organizations to develop new capabilities and plan, launch, and integrate AI capabilities into military equipment. Moreover, the increasing use of artificial intelligence for predictive maintenance in military systems, as well as the incorporation of quantum mechanics into AI, is primarily responsible for generating an opportunity to develop artificial intelligence in the military sector. As international crises have increased, so have defense services. As a result of these battles, the use of sophisticated AI-enabled weapon systems has grown, and advanced inventions have been incorporated into existing systems to improve efficiency. For instance, the Ministry of Defense (MoD) declared the United Kingdom's Defense AI Strategy in June 2022, which mentioned the safe, ambitious, and responsible use of AI as well as a set of ethical guidelines to govern the military and defense sectors' use of AI. As a result, increased defense spending is propelling the growth of artificial intelligence in the military market.
Restraints: Concerns about the possibility of errors in complex battle situations
Concerns have been raised as various governments adopt AI-controlled systems for inspection and automation, declaring that human instruction on robots is essential for ensuring authority and humanitarian security. Humanitarian organizations such as Human Rights Watch are also concerned about whether government agencies are expanding "Automated Killer Robots" in order to win the AI weapons competition. Concerns have been raised, with some claiming that human monitoring of robots is required to ensure management and humanitarian protection as national authorities adopt AI-controlled schemes for automated processes and observation. All the aforementioned factors hinder market expansion.
Opportunities: Technological advancement in AI
Technological advancement is a key trend gaining traction in the military market for artificial intelligence. To strengthen their position, major players in the military artificial intelligence market are focusing their efforts on developing innovative technologies. For example, Raytheon Technologies, a US-based aerospace, and defense company, partnered with C3 AI's application platform in July 2022 to deliver next-generation artificial intelligence (AI) as well as machine learning (ML) capabilities for the US Army's Tactical Intelligence Targeting Access Node (TITAN) program. TITAN uses terrestrial and aerial sensors to collect data from high altitudes and space in order to provide targetable data and situational awareness.
Segment Insights:
Component Insights:
According to the component, the software sector is projected to be the largest during the forecast period. The importance of artificial intelligence software in developing the IT framework to prevent security infringements is linked to the expansion of this segment. Artificial intelligence technological advancement has resulted in the invention of novel Artificial Intelligence Software and linked software development devices, which are projected to propel AI in the military industry in the upcoming years. The AI software embedded in computers is in charge of performing complicated tasks; it generates information from hardware in order to produce a smart result.
The hardware sector is anticipated to expand significantly during the projected period because of the expanding use of artificial intelligence technology for complex processes and the increased demand for specialized hardware components like AI memory and processors. The processors of artificial intelligence are neuromorphic processing components that are more efficient and faster than conventional processors. For improving artificial intelligence, memory is a key technological advancement. AI along with machine learning generates and analyzes a rising number of mission records in real time, enabling autonomous cognitive digital wars and propelling the hardware segment forward.
Technology Insights:
Based on the technology, advanced computing is anticipated to hold the largest market share in 2022. AI support in data processing and recognition, intended to allow for timely decisions, is a primary factor driving segment growth. The combination of robotics with artificial intelligence boosts the need for the Military Artificial Intelligence (AI) Market. This artificial intelligence (AI) plans to support the military by proficiently attempting to identify weaknesses as well as facilitating settling human-level problems on the battlefield, which drives segment growth.
On the other hand, the AI system sector is projected to grow at the fastest rate over the projected period. Growing investment in AI technologies has contributed to the growth of the AI market. Many businesses are financing AI start-ups or AI technologies to improve the productivity of software, as AI allows them to execute better decisions as well as accomplish better results. Microsoft, for example, has invested approximately $1 billion in OpenAI, a San Francisco-based company. There is a growing investment in developing applied artificial intelligence systems, as well as a growing use of artificial intelligence technology in a variety of applications. These include robotics, virtual personal assistants, robotics-assisted driving, and autonomous vehicles.
Installation Insights:
In 2022, the new procurement sector had the highest market share of 51% on the basis of installation. This is due to the government's enhanced push to incorporate AI into the defense industry, as well as the emergence of novel developments in artificial intelligence technology in the war sector. For instance, the National Security Council Secretariat, in December 2021, manages critical political, economic, energy, and security issues, and assisted the Military in establishing the Quantum Lab at India's Military College of Telecommunication Engineering to improve AI training and research.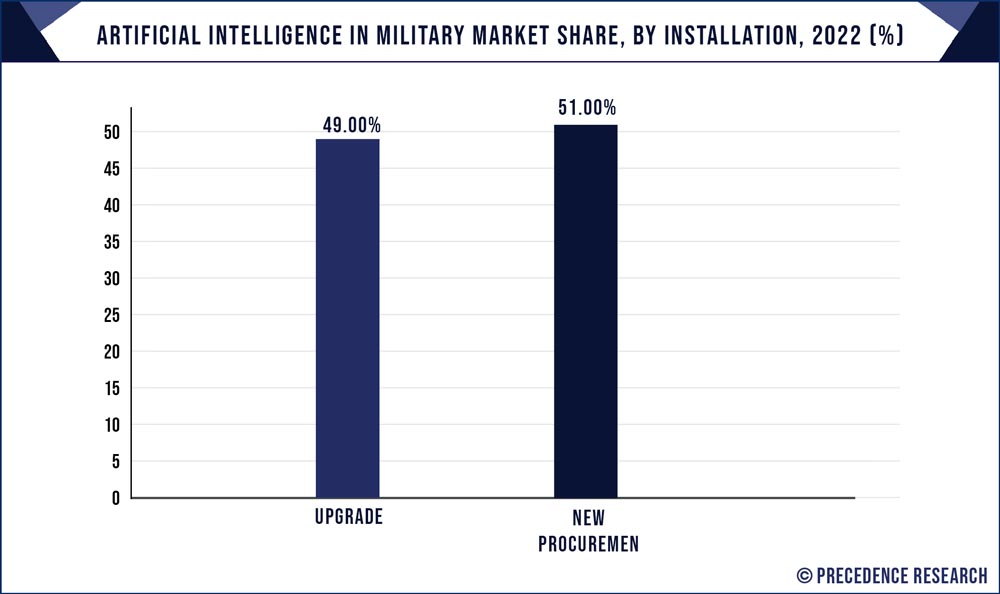 The AI upgrade is anticipated to expand at the fastest rate over the projected period. Integrating AI into military operations improves administration, logistics, maintenance, personal management, routine exercises or activities, and training which drives the expansion of the AI upgrade sector in the military industry over the predicted years. Moreover, it has the potential to decrease institutional workload as well as free up troops for primary operations. Defense AI advancement is changing war disputes to AI-robotized digitized conflict. Furthermore, worldwide powers are getting prepared for their armed units to use advanced IT to minimize the impact of war.
Applicational Insights:
The warfare sector is anticipated to expand at the largest market share in 2022. The market is expanding due to the rising demand for weapons of mass destruction. The increased testing of nuclear weapons by countries such as North Korea is also contributing to the proliferation of these weapons. As these weapons are biological, radiological, or chemical in nature, they are dangerous. The market is slowly expanding due to rising military demands ranging from intelligence, surveillance, and reconnaissance to offense/defense balances and nuclear weapons systems themselves.
The cybersecurity sector is anticipated to grow at a significantly faster rate over the predicted period. The global rate of cybercrime has increased due to the advancement of novel technologies and tools. State-wise cyberattacks also have increased significantly. Corporations and governments are rapidly adopting AI-based technologies that prevent, predict, and react to cyber risks. Machine learning and Deep learning are enabled by AI to execute predictive analytics; such AI technologies have enormous potential for military sectors and are projected to develop in critical areas which include cyber defense, decision-support systems, risk management, pattern recognition, and virus detection.
Platform Insights:
The space sector is anticipated to have the highest CAGR of artificial intelligence in the military market over the predicted period, based on the platform. Space artificial intelligence involves numerous artificial satellites that serve as the backbone of various communication technology. The combination of AI and space platforms allows for effective communication between spacecraft and ground stations, which is anticipated to drive the expansion of artificial intelligence in the military market in future years.
Autonomous war vehicles, autonomous war robots, and unmanned ground automobiles are all part of the land segment. During the projected period, the increase in the need for unmanned ground vehicles to execute civilian tasks and reduce risks to human life expectancy drives the growth of the land sector in Artificial intelligence in the military market. In war scenarios, the combination of war vehicles, as well as autonomy, is critical for avoiding fatalities.
Regional Insights:
North America has the largest portion of the global military artificial intelligence market. The region's growth is primarily due to greater funding in artificial intelligence technologies by nations such as the United States and Canada. The US is progressively investing in AI systems to preserve combat superiority and overcome the risk of potential threats to communications networks, and the US is planning to increase its defense funding on AI to gain a competitive advantage over other countries.
Asia-Pacific is estimated to observe the fastest expansion in the adoption of AI and machine learning (ML) technologies, as OEMs as well as operators increase their funding in AI integration activities throughout the supply chain. Japan, China, and South Korea have risen as the most innovative countries in the field of AI integration and development. Research is conducted on advanced AI applications in the aviation industry by numerous organizations in the region. Many aircraft and component manufacturing plants in Asia-Pacific have seen consistent benefits from the integration of AI technologies. For instance, the application of adaptive machining as well as cutting-edge robotic inspection techniques at Pratt & Whitney's Singapore facility has resulted in a consistent expansion in productivity volumes in the upcoming years.
Recent Developments:
The United States Air Force granted Soar-Tech an agreement in January 2021 to promote programmed discourse acknowledgment as well as intellectual specialist developing ability on the side of the Air Force Warning and Control System (AWACS) mission.
Boeing (U.S.) completed testing of five elite independent substitute planes with the ability to 'assist' the airplane's cerebrum in comprehending, analyzing, and communicating with various stages during missions in December 2020.
IBM along with Raytheon Technologies endorsed a collaboration agreement in October 2021 to develop cryptographic, advanced AI as well as quantum solutions for various industries.
Sea Machines Robotics and HamiltonJet contracted an agreement in March 2021 to build a novel pilot-assist technique for waterjets that use computer autonomous and vision command and control technologies.
The US Air Force awarded Boeing a contract in January 2021 to improve automatic communication recognition as well as cognitive agent instruction capability in assistance of the Air Force Warning and Control System (AWACS) mission.
Boeing (US) finished testing five high-performance automatic jets that can 'teach' the Aircraft's brain to analyze, understand, as well as communicate with other platforms in December 2020.
Key Market Players:
Machine Halo
Lockheed Martin
Northrop Grumman
Raytheon Company
Thales Group
Bae Systems
IBM
General Dynamics
Soartech
Nvidia
Sparkcognition
Saic
Charles River Analytics
Leidos
Boeing
GovBrain
ShieldAI
SuperFlex
SRI International
DARPA
PrecisionHawk
MRX Global Holding Corp.
Centaurus Technology
Hi-Tech Robotic System
Segments Covered in the Report:
(Note*: We offer report based on sub segments as well. Kindly, let us know if you are interested)
By Component
Hardware
Software
Services
By Technology
Advanced Computing
Ai Systems
Learning and Intelligence
By Platform
Airborne
Land
Naval
Space
By Installation
By Application
Cyber Security
Battlefield Healthcare
Logistics and Transportation
Information Processing
Warfare Platform
By Geography
North America
Europe
Asia-Pacific
Latin America
The Middle East and Africa