The global aseptic packaging market size was evaluated at USD 49.69 billion in 2022 and it is expected to attain around USD 142.99 billion by 2032, poised to grow at a CAGR of 11.2% from 2023 to 2032. Asia Pacific's aseptic packaging market was valued at USD 20.3 billion in 2022.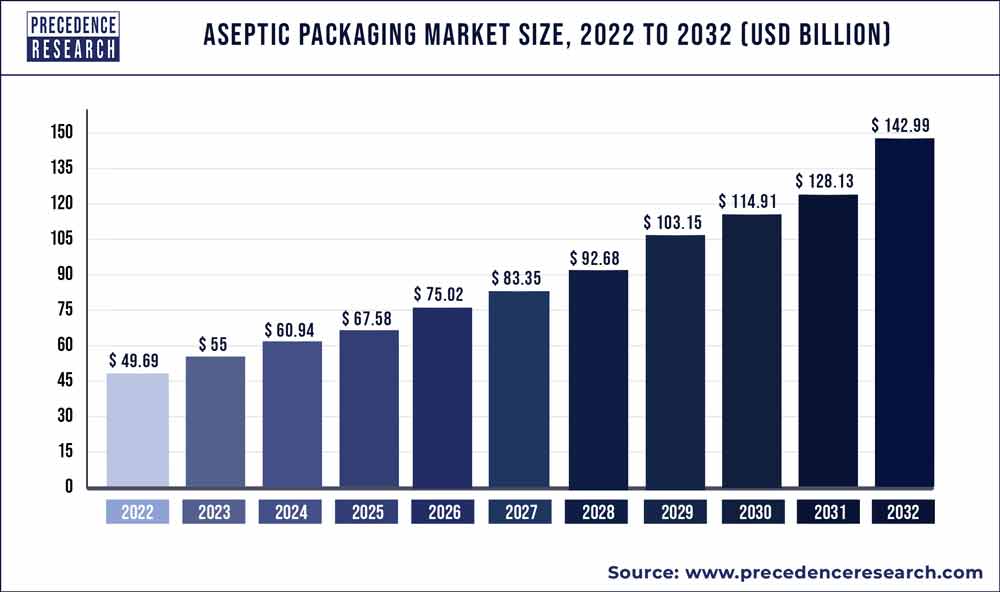 Access our Premium Real Time Data Intelligence Tool, Visit: Precedence Statistics
Key Takeaways:
Asia Pacific has captured a 36% revenue share in 2022.
Europe has generated a revenue share of over 26% in 2022.
By packaging type, the cartons segment had the largest revenue share of over 58% in 2022.
By material, the paper & paperboard segment has generated the highest revenue share 56% in 2022.
Market Overview:
Aseptic packaging is a process of packing an aseptic or sterile product, for instance, pharmaceuticals or food, in a sterile container while maintaining sterility. Aseptic packaging extends the shelf life of end products without requiring refrigeration, making it ideal for packaging beverages and medications.
This packaging was made primarily of recycled materials and used approximately 60% less plastic than comparable products, making it a sustainable option. The rapid expansion in food and beverages will propel the aseptic packaging market share. Aseptic packaging is most commonly used in the food, beverage, and dairy product segments, with rising demand in these industries.
Growth Factors:
The aseptic packaging market is expected to grow in accordance with the packaging industry. Aseptic packaging is a process that extends the shelf life of a product while minimizing aroma loss from edible packed foods. It maintains dairy products fresh and protects them from contamination, preserving freshness and quality while extending shelf life. It allows for cost savings by removing costly cold chain logistics. A few of the factors projected to impede the growth of the aseptic packaging market include volatile raw material costs, the availability of cheaper substitutes, and stringent government laws and regulations.
Tetra Pak International S.A., Greatview Aseptic Packaging Co., Ltd., and SIG dominate the packaging market, which has become highly organized. Domestic and new competitors will almost certainly face intense competition from these multinational companies. Rising customer concern about the environment will generate demand for bio-based, product-specific, and recycled aseptic packaging throughout the forecast. As expected, development, product innovation, and price competition are projected to be the most influential factors in buyer decisions.
During the forecasting period, the aseptic packaging market is anticipated to benefit from an increasing trend in global e-commerce sales and expansion opportunities in the new demands of emerging nations. Nevertheless, the aseptic packaging market is affected by the volatile costs of raw materials that comprise the packaging industry, such as polymer, paper, aluminum, board, glass, and steel. In addition, the COVID-19 outbreak seriously impacted the manufacturing, construction, and gas and oil companies, and construction activities were also slowed or severely restricted. Manufacturing and transportation activities, including their supply chains, were also impacted globally, limiting the development of the aseptic packaging market for a short period.
Report Scope of the Aseptic Packaging Market:
| | |
| --- | --- |
| Report Coverage | Details |
| Market Size in 2023 | USD 55 Billion |
| Market Size by 2032 | USD 142.99 Billion |
| Growth Rate from 2023 to 2032 | CAGR of 11.2% |
| Largest Market | Asia Pacific |
| Base Year | 2022 |
| Forecast Period | 2023 to 2032 |
| Segments Covered | By Material, By Packaging Type, and By Application |
| Regions Covered | North America, Europe, Asia-Pacific, Latin America, and Middle East & Africa |

Market Dynamics:
Driver:
Increasing demand for eco-friendly packaging
Growing consumer understanding of the importance of environmentally friendly packaging, strict government laws prohibiting the use of poor-quality plastics, and lowering the price of logistics in the cold chain will likely increase consumer interest in aseptic packaging. Growing urbanization has raised the need for dairy products, packaged beverages and food, and long-lasting products. Food without preservatives and raw foods are anticipated to drive consumer demand for aseptic packaging solutions.
On April 21, 2022, Atkins stated the launch of a Tetra Pak carton that is 78% sustainable and made from plant-based materials, resulting in a 17% reduction in carbon footprint when offering ready-to-drink shakes. Sugarcane, a plant-based polymer layer, is an essential component used in polyethylene cartons' outer and inner layers to make resealable carton caps.
Restraint:
Complex manufacturing processes result in high expenses for production
Aseptic food packaging production is complex and demands high-end machinery to maximize output while maintaining quality. Aseptic packaging slitting and winding solutions are complex and need advanced technology. Furthermore, oil-free electric machinery with slitter rewinders and food-grade components increases the cost of production and maintenance, limiting aseptic market packaging in the manufacturing process.
Although aseptic packaging is environmentally friendly, recycling can be costly in some countries. Nevertheless, all tetra-pack materials are not reusable or recyclable, increasing economic by products. With an international recycling rate of 26%, it is slightly better than plastic but 76% less eco-friendly than aluminium. Other factors anticipated to limit the expansion of market revenue during the forecast period include stringent plastic usage requirements and the availability of alternative packaging solutions.
Opportunity:
Processing of electronic logistics
The entire packaging supply chain, from package users to retailers, raw material suppliers, manufacturers, and consumers, is linked by electronic business processing. This provides timely and accurate information, simplifies logistics and inventory operations, reduces costs and time delays, and allows faster response to customer requests. This will help to speed up product delivery, which is critical for businesses.
Aseptic packaging sees opportunities for growth in this process because it has a similar supply chain that is becoming more dependent on electronic tracking and logistics. Aseptic packaging is also suitable for e-tracking due to its enabled high-quality printability, which assists in the utilization of codes and is also beneficial to the use of RFID. The market for aseptic packaging is expected to grow due to advances in electronic logistical systems.
Segments Insight:
Material Insights:
The segment with the highest revenue share in 2022 was paper & paperboard. Aseptic packaging solutions are anticipated to grow in popularity in this market due to rising consumer awareness of the importance of sustainability, preferences for eco-friendly goods, and a decline in solid plastic waste. Food products like juices, milk, and cereals are packaged in paperboard after being sterilized with hydrogen peroxide and hot air.
Plastic is widely used in traditional aseptic packaging to increase efficiency, processability, and cost-effectiveness. Packaging materials are sterilized, formed, filled, and sealed using chemicals, heat, and irradiation to increase the effectiveness and efficiency of the packaging. The manufacturing of bowls, trays, bags, foils, bottles, pots, cups, and pouches should drive demand for plastic.
Metals, such as aluminium and steel, make cans, coffee capsules, containers, pouches, trays, tubes, tubes, foils, and other products. Metal is used to create rigid and flexible packaging that preserves product freshness and aroma.
Packaging Type Insights:
The aseptic packaging market is divided into cartons, cans, pouches, prefilled syringes, bottles, bags, vials, ampoules, IV bags, and others based on the packaging used. Due to rising demand from the dairy and, beverage & food business sectors, the cartons segment had the largest revenue share in 2022.
Juices, soups, syrups, and milk can move freely due to aseptic carton packaging without losing their nutritional value or high-quality status as food. The first combi-style carton packaging in the United States was introduced on May 17, 2022, by Frimesa, a manufacturer of aseptic packaging, SIG, and a supplier of meat and dairy products.
During the forecast period, it is anticipated that the prefilled syringes, vials, and ampoules segment will experience rapid revenue growth. Pharmaceutical packaging choices, including Restricted Access Barrier Systems, isolators, and other biopharmaceuticals and pharma packaging operations, are utilizing the most recent technologies to ensure pathogen- and particle-free products, which is expected to boost aseptic packaging products in the medical sector.
This segment's rise in revenue is anticipated to be fueled by the utilization of aseptic packaging in sterile equipment for pharmaceutical applications, including irradiation apparatuses, in-vitro diagnostic reagents and equipment, medical supplies, electro-medical equipment, surgical instruments and implants, and dental products.
Application Insights:
The beverage segment has dominated the market with the highest revenue share in 2022. The effectiveness of using aseptic packaging is increased when it is used for various beverages, including juice, milk, and soups. Aseptic packaging is preferred among the six layers of packaging for its longer shelf life and climate change resistance.
During the forecast period, the dairy segment is anticipated to report a rapid revenue growth rate. They need to be adequately packaged for storing and transporting a wide range of milk products without compromising the product's quality.
For instance, to create technologies with UHT processing capability for providing human milk-based infant products in pharmaceutical-grade packaging, LactaLogics collaborated with Scholle IPN on January 6th, 2022. This partnership is anticipated to increase consumer preference for aseptically packaged baby food and other dairy products.
Pharmaceuticals are expected to be the most attractive segment of the market during the forecast period. The rising demand for aseptic packaging to maintain the hygiene of pharmaceutical products along with the rising preferences for sterile packaging, especially for liquid pharmaceuticals products are observed to maintain the growth of the pharmaceuticals segment.
Regional Insights:
According to regional analysis, the Asia Pacific market will have the largest revenue share during the forecast period. Due to the availability of inexpensive labor, manufacturers are expanding their aseptic packaging production facilities in the area.
For instance, UFlex Asepto announced on April 19, 2022, that it would introduce a U-shaped paper straw line in India and Gujarat for aseptic liquid cartons. With a capacity to produce 2.4 billion straws annually, UFlex promised to use Dutch technology that is fully automated to create a sustainable and safe environment.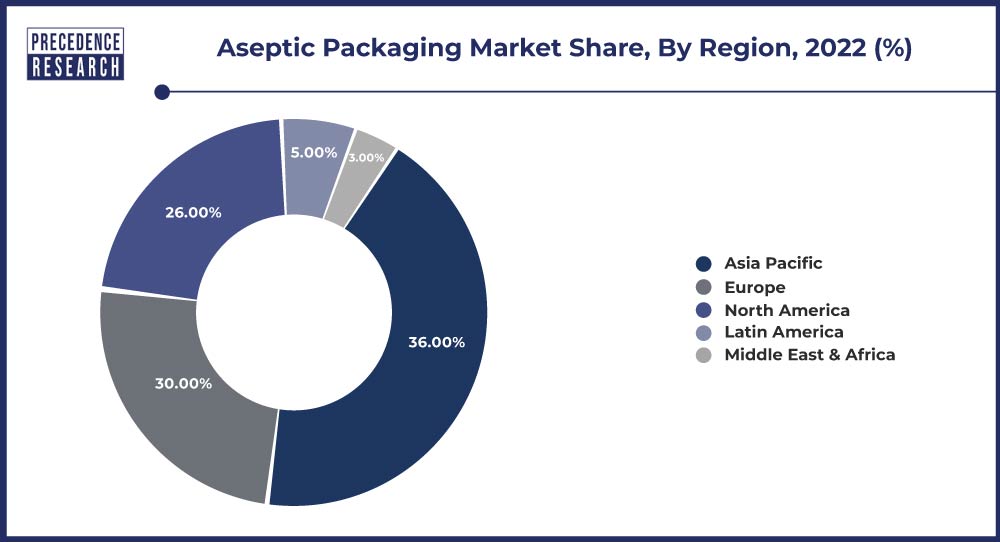 The North American market is anticipated to experience rapid revenue growth during the anticipated period. The demand for aseptic packaging and consumer demand for products with longer shelf lives and environmental concerns are expected to increase. Consumer preference for consuming chemical-free, unprocessed foods and rising awareness about consuming food preservatives with adverse health effects drive market revenue growth. It is anticipated that initial financial investments, investments in technological development, and the creation of new products will support market expansion in this region.
Due to the dominance of domestic companies in this sector, European nations such as France, the UK, Russia, and Germany are the top marketplaces for aseptic packaging, which include equipment and products. High-pressure manufacturing and expanding technological innovations are anticipated to fuel revenue growth in the aseptic packaging market in European nations.
Recent Developments:
In March 2023, Qatar-based leading producer of dairy-based beverages, Balanda, announced a strategic partnership with SIG, a packaging solution provider, in order to bring a new aseptic packaging solution. Under the agreement, companies will be producing aseptic packaging in the form of cartons, especially for white cheese.
In June 2022, Greatview announced its collaboration with INEOS and UPM Biofuels to bring an aseptic carton packaging solution made from FSC-certified paperboard and laminated with polymers.
Key Market Players:
Tetra Laval International S.A.
Amcor Limited
Jpak Group
Robert Bosch GmbH
Bemis Company, Inc.
Ecolean AB
Reynolds Group Holding Limited
E.I. du Pont de Nemours and Company
DS Smith
Industria Machine Automatiche S.P.A
Becton Dickinson and Company
ELOPAK Group
SIG Combibloc Group AG
Sealed Air Corporation
Goglio S.p.A
Krones AG
IPI srl
Printpack Inc.
Agropour Cooperative.
Shanghai Skylong Packaging Machinery Co., Ltd.
Scholle Ipn
Schott AG
Lamican International AY
Segments Covered in the Report:
(Note*: We offer report based on sub segments as well. Kindly, let us know if you are interested)
By Material
Plastic
Glass
Wood
Metal
Paper & Paperboard
By Packaging Type
Cartons
Bottles and Cans
Bags and Pouches
Ampoules
Others (Cup, Tray, Containers, etc)
By Application
Food
Beverage
Dairy
Pharmaceuticals
Others
By Geography
North America
Europe
Asia-Pacific
Latin America
Middle East and Africa