The global aviation asset management market size was estimated at USD 183.38 billion in 2022, and it is expected to be worth around USD 327.48 billion by 2032, expanding at a CAGR of 5.97% during the forecast period 2023 to 2032.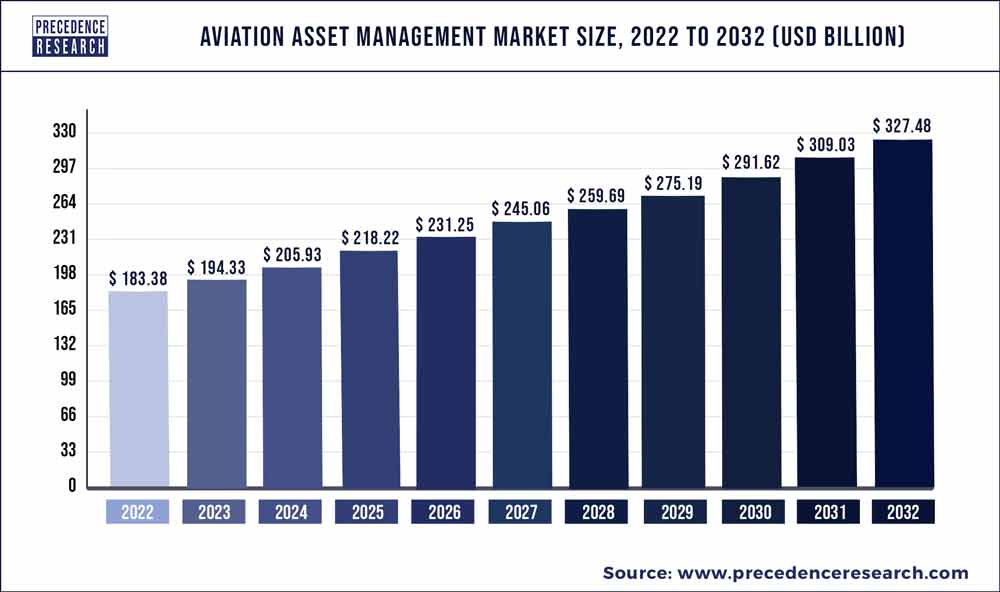 Access our Premium Real Time Data Intelligence Tool, Visit: Precedence Statistics
Key Takeaways:
Asia-Pacific generated more than 51% of the revenue share in 2022.
By Service, the leasing segment captured the maximum share in 2022.
By Type, the direct purchase segment is estimated to have a sizable market share from 2023 to 2032.
By End Use, the commercial platforms segment is estimated to have the biggest market share from 2023 to 2032.
Market Overview:
An advisory service for commercial aeroplanes is aviation asset management. Under this management, organisations like Aviation asset management limited (AAM) conduct surveys of leased aircraft and examine maintenance records. With an increase in air travellers, asset management is becoming more and more important. The increased focus of commercial airline operators on expanding their service offerings as a result of the increase in demand for aerial freight movement and in-flight passengers may be ascribed to the growth in the aviation asset management industry.
Major organisations that operate aircraft in commercial airspace are looking for ways to contract out services for aviation asset management. An important trend that is becoming increasingly popular in the aviation asset management market is technological development. Major players in the aviation asset management market are putting their attention on new technologies to create cutting-edge asset management software solutions in order to boost their market share.
Growth Factors:
The market is expanding as a result of an increase in air traffic, the purchase of new aircraft models with cutting-edge features, the growing importance of competitive intelligence and analytical solutions, and technical advancement. A rise in airline passenger traffic, upcoming aircraft deliveries, and a desire for lower fixed and variable management costs present investment opportunities.
Report Scope of the Aviation Asset Management Market:
| | |
| --- | --- |
| Report Coverage | Details |
| Market Size in 2023 | USD 194.33 Billion |
| Market Size by 2032 | USD 327.48 Billion |
| Growth Rate from 2023 to 2032 | CAGR of 5.97% |
| Largest Market | Asia Pacific |
| Base Year | 2022 |
| Forecast Period | 2023 to 2032 |
| Segments Covered | By Service, By Type, and By End Use |
| Regions Covered | North America, Europe, Asia-Pacific, Latin America and Middle East & Africa |

Market Dynamics:
Driver:
Rise in air traffic
The rise in air traffic is a crucial factor that has driven the growth of the market. Data from the International Civil Aviation Organisation (ICAO) predict that by 2035, both passenger traffic and freight volume will be doubled. Due to the comfort, convenience, and time savings provided by air travel, as well as the rising disposable income of the middle-class population, air travel is becoming more and more popular among passengers. Additionally, the availability of inexpensive airline tickets to well-liked tourist destinations around the globe is encouraging people to choose air travel. Many governments are making significant investments in the growth of the tourism sector and simplifying the visa application process for visitors from other countries.
The aviation sector benefits from the use of an asset management system since it lowers fixed and variable management expenses and is very efficient. In order to increase revenues and save costs in critical areas like fraud detection, marketing, data management, and tracking, market participants are also concentrating on enhancing their services by using intelligence and real-time analytical solutions. Therefore, over the next five years, it is anticipated that an increase in the number of passengers willing to travel via air transportation modes and supportive government policies and regulations will accelerate the growth of the global aviation asset management market.
Restraint:
Economic uncertainty
The state of the global economy as a whole has a significant impact on the aviation asset management business. Any economic unpredictability or volatility may have an effect on the aviation sector, which may therefore have an effect on the demand for asset management services in this sector. For instance, a financial crisis or recession may cause airline bankruptcies and a drop in demand for air travel, which will result in an excess of available aircraft and a drop in their value. Aviation asset management organisations may experience a decline in revenue as a result, which might limit their ability to develop new products or services.
Economic uncertainty can also impact the financing of aircraft, which is a critical aspect of aviation asset management. During times of economic uncertainty, lenders may become more cautious, making it more difficult for airlines to obtain financing to purchase or lease aircraft. This can impact the demand for aviation asset management services, as airlines may delay or cancel their orders for new aircraft. The lease rates for aircraft, which are a significant source of income for aviation asset management businesses, can also be impacted by economic instability. Leasing rates may drop during uncertain economic times as airlines try to save money. This may have an effect on the aviation asset management businesses' profitability, making it more challenging for them to invest in new aircraft or increase their service offerings.
Opportunity:
Growing demand for aircraft leasing
Recent years have seen a sharp rise in the market for aircraft leasing as airlines look to save costs and concentrate on their main business activities. There are several chances for aviation asset management organisations to diversify their offerings as the need for aircraft leasing keeps rising.
A wide range of services are offered by aircraft leasing businesses, including the management, financing, and purchase of aircraft. By offering services including aircraft evaluation, remarketing, and maintenance, aviation asset management firms may play a crucial part in the leasing of aircraft. Because they ensure that the leased aircraft are kept in good condition and continue to be appealing to potential lessees, these services are essential to the success of aircraft leasing companies.
Additionally, the rising demand for aircraft leasing is giving aviation asset management firms the chance to extend their clientele in new geographies. For instance, emerging nations with growing middle classes and rising air travel demand, like China and India, have a particularly strong demand for aircraft leasing. By offering their services to aircraft leasing firms operating in these areas, aviation asset management companies can access these markets.
Impact of COVID-19:
The COVID-19 epidemic, which has severely disrupted the aviation sector, has had a substantial effect on the market for aviation asset management. The epidemic has caused a significant drop in air travel, which has resulted in a lack of demand for new aircraft and an abundance of current aircraft. As a result, controlling the value and effectiveness of aviation assets has proven difficult for organisations in the asset management industry. The loss in aircraft value is one of the biggest problems aviation asset management firms are now facing.
A surplus of aircraft is now on the market as a result of airlines cutting back on operations and grounding their fleets. The value of aircraft has decreased as a result, which has hurt aviation asset management businesses' revenue. The demand for the services offered by aviation asset management firms, such as aircraft leasing, trading, and financing, has also decreased as a result of the fall in demand for aircraft.
Aerial maintenance and repair have also been impacted by the COVID-19 epidemic. The need for maintenance services has been reduced as a result of many airlines scaling back operations and grounding their fleets, which has led to a reduction in income for businesses that offer maintenance services. In addition to travel restrictions and social isolation measures, the pandemic has made it challenging for businesses to perform maintenance and repair work. The uncertainty surrounding the aviation industry's revival presents another difficulty for organisations that manage aviation assets. It is difficult to forecast when air traffic will resume its pre-pandemic levels while the pandemic is still active. Aviation asset management businesses have found it difficult to develop long-term planning and investments due to this uncertainty.
Despite these difficulties, the industry now offers some possibilities for firms that manage aviation assets. One chance is the rise in demand for cargo planes, which has been fueled by the expansion of e-commerce and the demand for food, medicine, and other necessities during the epidemic. In order to fulfil the demand, this has given aviation asset management businesses the chance to rent or sell cargo planes. As a result of the pandemic, innovative technologies in the aviation sector, such as remote monitoring and predictive maintenance, have been adopted more quickly. This has given airline asset management firms the chance to provide new services that make use of these technologies and boost the effectiveness of maintenance and repair procedures.
Segments Insight:
Service Insights:
Leasing services, technical services, and regulatory certifications make up the market's three service segments. Since so many businesses that operate aircraft in commercial airspace are looking for ways to outsource their aviation asset management services, leasing services held the maximum share in 2022 and are predicted to have the highest market share over the next projected years. Lease renewal, contract negotiation/renewal, and remarketing are some of the top leasing services in the aviation asset management sector.
Type Insights:
The market is segmented into a direct purchase, operational lease, financing lease, sale & lease back, and other types based on type. Given that the service providers are delivering the system at affordable prices and with a variety of features, the direct purchase segment is anticipated to have a sizable market share over the projection period. By acquiring the system, the market participants in the aviation sector may take full use of its advantages and save maintenance and operational expenses associated with employing many employees to perform the same task.
End-use Insights:
The market is divided into commercial platforms and MRO services based on end-use. The biggest market share is anticipated to be held by commercial platforms over the forecasted period. The need for commercial platforms is largely being driven by the ongoing increase in air traffic and the increased efforts made by the major authorities to build their respective nations' aircraft fleets to support economic development.
Regional Insights:
For the worldwide aviation asset management industry, the Asia-Pacific region is anticipated to be the most profitable market throughout the anticipated time. Developing nations' public and private actors are increasing their investments in building out the aviation industry and growing their fleet of aircraft. For instance, in order to make India the third-largest aviation market by 2024, the nation has reduced the customs tax on aircraft manufacture, engines, and parts from 2.5% to 0%.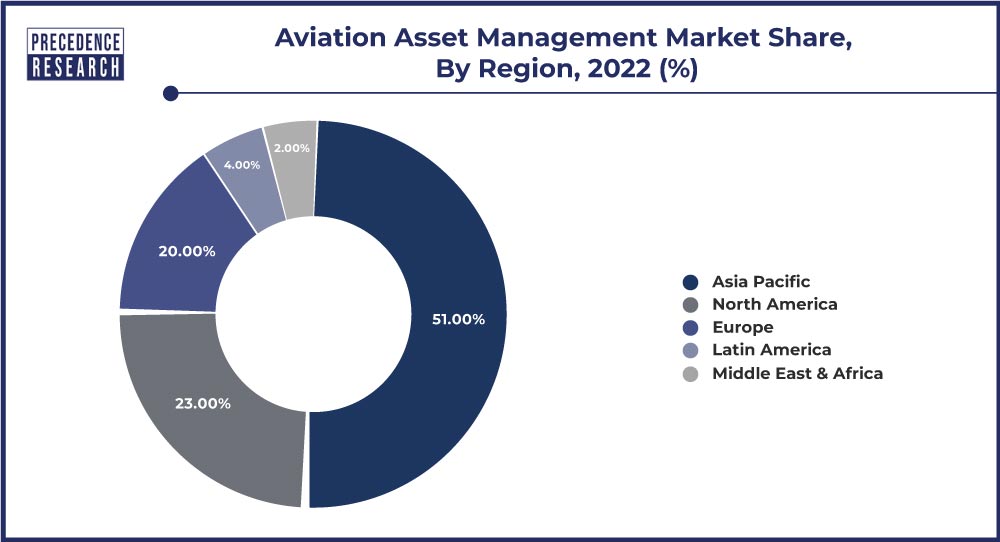 Additionally, by introducing supportive policies and allowing foreign direct investments in the expanding aviation industry, the leading authorities are promoting their travel and tourism industries. This is anticipated to fuel the growth of the global aviation asset management market through the year 2032.
Recent Developments:
In 2022, Flydocs, a UK-based provider of asset management solutions, teamed up with SGI Aviation Services, a Netherlands-based provider of aviation asset management services, to create a financial asset management software solution. This solution will be available to various owners of aviation assets through Flydocs' digitized asset management tools, maximizing the value of assets through the use of technology and support.
In February 2022, AirAsia agreed to lease at least 100 VX4 eVTOL aircraft from the Irish-based aircraft leasing firm Avolon. By enhancing passenger mobility in the air, this agreement is anticipated to assist the former in changing the way people travel by air. The airline will benefit from this and remain competitive.
Key Market Players:
Cumen Aviation
Aercap Holdings N.V.
Aerdata (Subsidiary of the Boeing Company)
Airbus Group
Aviation Asset Management, Inc.
BBAM LP
Charles Taylor Aviation (Asset Management) Ltd.
GA Telesis, LLC
GE Capital Aviation Services (Subsidiary of General Electric Company)
Skyworks Capital, LLC
Segments Covered in the Report:
(Note*: We offer report based on sub segments as well. Kindly, let us know if you are interested)
By Service
Leasing
Technical
Regulatory certifications
By Type
Direct Purchase
Operating Lease
Finance Lease
Sale & Lease Back
By End Use
Commercial Platforms
MRO Services
By Geography
North America
Europe
Asia-Pacific
Latin America
Middle East and Africa