The global aviation analytics market is projected to more than triple in size from USD 3.5 billion in 2022 to roughly USD 10.75 billion by 2032 with a remarkable CAGR of 11.86% from 2023 to 2032.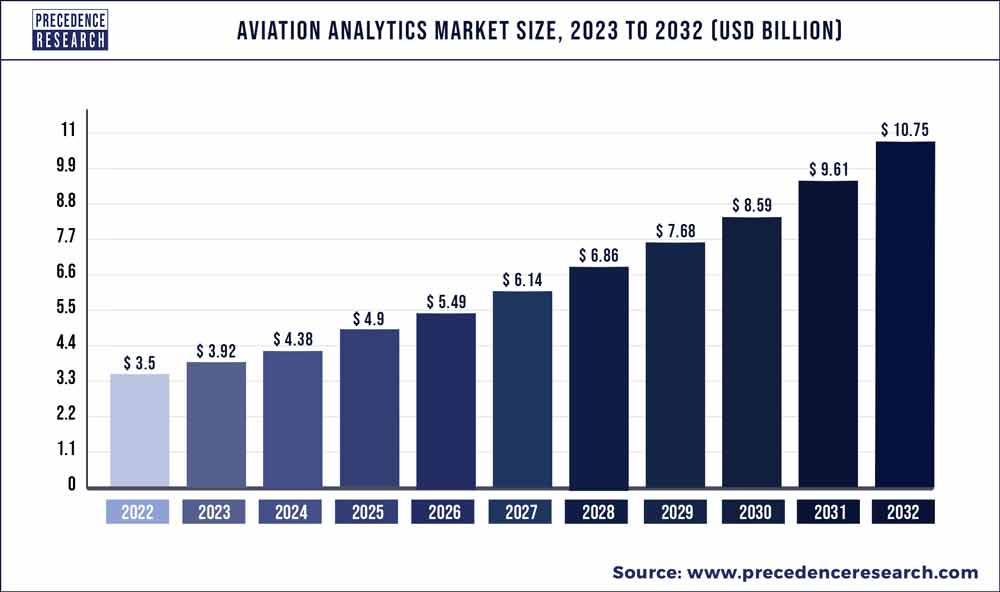 Access our Premium Real Time Data Intelligence Tool, Visit: Precedence Statistics
Key Takeaways:
Asia-Pacific will reach at a CAGR of 15.2% during 2023-2032.
By Business Function, the finance segment led the global market in 2022.
By End User, the airline segment dominated the global market in 2022.
By Component, the software segment contributed to the largest revenue share in 2022.
By Application, the customer analytics segment recorded to the biggest revenue share in 2022.
Market Overview:
The computational technology known as aviation analytics offers data statistics and information on operational activities, weather forecast data, and real-time flight data. It evaluates and analyses the enormous amount of data produced. Inventory, flight risk, fuel, revenue management, and customer analytics all make extensive use of it. Information can be analyzed, optimized, and managed using a variety of technologies, including monitoring and data and descriptive statistics.
It helps to improve operational strategy and execution while also promoting productivity, efficiency, transparency, maintenance, client satisfaction, and risk management. In order to give meaningful information to airports, airlines, aviation stakeholders, and other business sectors like marketing and sales, finance, maintenance, and repair, aviation analytics is frequently employed.
Growth Factors:
One of the main elements fostering a favorable outlook for the market is the considerable global growth of the aviation industry. The management of real-time data, such as navigation databases, connectivity, flight operational operations, and aircraft maintenance, is a common use of aviation analytics. Accordingly, the widespread use of products to cut operating costs and predict client preferences as a result of rising passenger traffic is promoting market expansion.
Also, a number of technical developments, such as the combination of big data and artificial intelligence (AI) to conduct mechanical analysis, boost productivity and security, and forecast unplanned failure, are fueling the market's expansion. Also, the market growth is being positively impacted by the rising need for real-time analytical solutions to boost profitability, tracking, fraud detection, and data management. In addition, it is projected that significant research and development (R&D) activities and the execution of several government initiatives to enhance aviation safety will propel the market toward expansion.
Report Scope of the Aviation Analytics Market:
| | |
| --- | --- |
| Report Coverage | Details |
| Market Size in 2023 | USD 3.92 Billion |
| Market Size by 2032 | USD 10.75 Billion |
| Growth Rate from 2023 to 2032 | CAGR of 11.86% |
| Largest Market | Asia-Pacific |
| Base Year | 2022 |
| Forecast Period | 2023 to 2032 |
| Segments Covered | By Component, By Business Function, By End User, and By Application |
| Regions Covered | North America, Europe, Asia-Pacific, Latin America and Middle East & Africa |

Market Dynamic:
Drivers:
Increased demand for corporate process optimization through the application of structured analytical solutions
The rising competitiveness in the aviation industry is motivating businesses to adopt advanced data analytics in order to maintain their market share globally. By utilizing data analytics, aviation companies can achieve high sales and operational profitability. With analytical tools like forecast analysis, profitability analysis, sales analysis, competitive analytics, and dependability analytics, businesses may gather, organize, analyses, store, and retrieve enormous volumes of data about their markets and consumers.
Restrain:
Absence of highly qualified personnel in the sector
As the use of real-time analytical solutions, particularly "Big Data" analytics, has recently increased, a workforce with analytical abilities is now necessary. Lack of competent labor could slow the overall aviation passenger traffic's explosive expansion. The expansion of the aviation analytics market is also restricted by a lack of experienced personnel, which is a key obstacle to current data and analytics initiatives despite the rise in data usage and consumption.
It is challenging to integrate traditional and contemporary aircraft equipment, and it takes a significant financial and technical effort. New gadgets can have various protocols that make them challenging to adopt. Due to a lack of adequate analytical capabilities, integrating old data systems with modern technology takes time and effort and may divert a company from its main business operations.
Opportunity:
Large-scale data production in the aviation sector
The amount of data used in the aviation industry is substantial and difficult to manage and evaluate. The FAA's Air Traffic Organization (ATO) manages over 2.8 million airline passengers and more than 50,000 flights per day across more than 30 million square miles of airspace. More than 2.5 million characteristics are gathered by sensors on a single aero plane, with engine data being one of the most important. Any business decision requires access to these enormous amounts of data.
Impact of Covid-19:
The COVID-19 pandemic has forced governments and aviation-related organizations to enact a number of stringent regulations to block the virus's spread. A reduction in airport traffic and economic damage for the aviation industry globally resulted from airports and air travel almost ceasing in the second quarter of 2020. Many other countries in other regions remain susceptible to new waves of illnesses, causing their administrations to once again declare partial or complete lockdowns, even though some have started to gradually restore substantial sectors of their economy.
Segments Insight:
Business Insights:
The aviation analytics market is divided into sales and marketing, finance, maintenance, repair & operations, and supply chain according to business function. The finance segment dominated the aviation analytics market in 2022. Airport finance analytics includes information on the airport's revenues, costs, profitability, payables and receivables, assets, and significant financial ratios. Airports are embracing and investing in this industry more and more as a result of these causes.
End User Insights:
The aviation analytics market is segmented into Airlines, Airports, and Others based on end-user. The airline sector led the aviation analytics market in 2022. Due to the rising need for aviation analytics across a range of commercial applications, airlines all over the world are employing them. The increasing popularity of air travel and the opening of new air routes are two major factors fostering the airline industry's expansion.
Component Insights:
The aviation analytics market is divided into two segments based on components: service and software. In 2022, the software sector gained a sizeable sales share in the aviation analytics industry. It is because businesses are investing more money in implementing cutting-edge software and solutions. The need for such upgraded items is also being fueled by the expansion of market participants. Also, such software would assist aviation businesses in enhancing their operations and increasing income.
Application Insights:
Flight risk management, fuel management, inventory management, revenue management, customer analytics, and navigation services are the various applications in the aviation analytics sector. In 2022, the aviation analytics market's highest revenue share was attained by the customer analytics segment. It is as a result of the great demand for drones with aviation analytics to satisfy consumer needs. In addition to embracing customer-centricity by using predictive analytics to improve decision-making, the airlines are investing a lot of money in learning about customer preferences and behavior.
Regional Insights:
Over the years, Asia-Pacific has developed into an important aviation center. Due to a rise in demand for air travel, the growing economies in the area, including China and India, are seeing enormous growth in their own civil aviation businesses. As a result, a significant growth rate in Asia-Pacific sales is anticipated during the forecast period. Because to strong domestic demand, China is driving the resurgence of commercial aviation worldwide and assisting airlines in experiencing financial recovery.
Due to high demand from both civilian and military customers, it has grown to be a significant aviation industry hub throughout time. Over the years, commercial aviation has made significant contributions to China's aviation industry. Due to an increase in domestic air passenger traffic, which is predicted to grow at a pace of 4.4% by 2040, China is currently the world's largest market for aviation. The expansion of the market would also be aided by an increase in the number of airports in the area. The development of 21 new greenfield airports in India was given the nod by the Indian Aviation Ministry in March 2022.
Recent Development:
In June 2022, OAG and The Pacific Asia Travel Association entered into a cooperation (PATA). Via the PATAmPOWER platform, this partnership aims to give PATA members better access to distinctive and trustworthy aviation data. Through analysis, events, and more data exchange, the agreement would also enable both organisations to provide the Asia Pacific visitor economy with additional insight and knowledge.
The largest oil and gas firm in Brunei Darussalam, Brunei Shell Petroleum, and Ramco Systems have partnered since May 2022. In accordance with this cooperation, Ramco would provide Brunei Shell Petroleum with its Aviation, Aerospace, and Military software. Moreover, Ramco's Aviation Software would give BSP components for Flight Operations, CAMO, Maintenance, Safety & Quality, and Technical Records, providing BSP with a cutting-edge digital platform.
In May 2022, SAS Institute and iCoupon, the world's top digital vouchering platform for airports, partnered. Through this collaboration, the airline and its clients would have easier access to its premier digital vouchering platform. Together, the businesses would integrate its automated vouchering system into SAS's current operations, giving customers on delayed flights a simple, streamlined vouchering option.
A cooperation between GE Aviation and the British multinational armaments, security, and aerospace corporation BAE Systems was established in April 2022. To design, test, and provide energy management components for GE's recently announced megawatt (MW) class hybrid electric propulsion system in development, BAE Systems was chosen by GE Aviation as part of this alliance.
Market Key Players:
Accelya Group (Vista Equity Partners)
SAS Institute, Inc.
OAG Aviation Worldwide Limited
IGT Solutions Pvt. Ltd.
Mu Sigma, Inc.
SAP SE
Oracle Corporation
IBM Corporation
General Electric (GE) Co.
Ramco Systems Limited
Segments Covered in the Report:
(Note*: We offer report based on sub segments as well. Kindly, let us know if you are interested)
By Component
By Business Function
Sales & Marketing
Finance
Maintenance
Repair & Operations
Supply Chain
By End User
By Application
Customer Analytics
Flight Risk Management
Fuel Management
Revenue Management
Inventory Management
Navigation Services
By Geography
North America
Europe
Asia-Pacific
Latin America
The Middle East and Africa