The global baking ingredients market size accounted for USD 18 billion in 2022 and is expected to hit around USD 31.48 billion by 2032, poised to grow at a CAGR of 5.8% during the forecast period 2023 to 2032.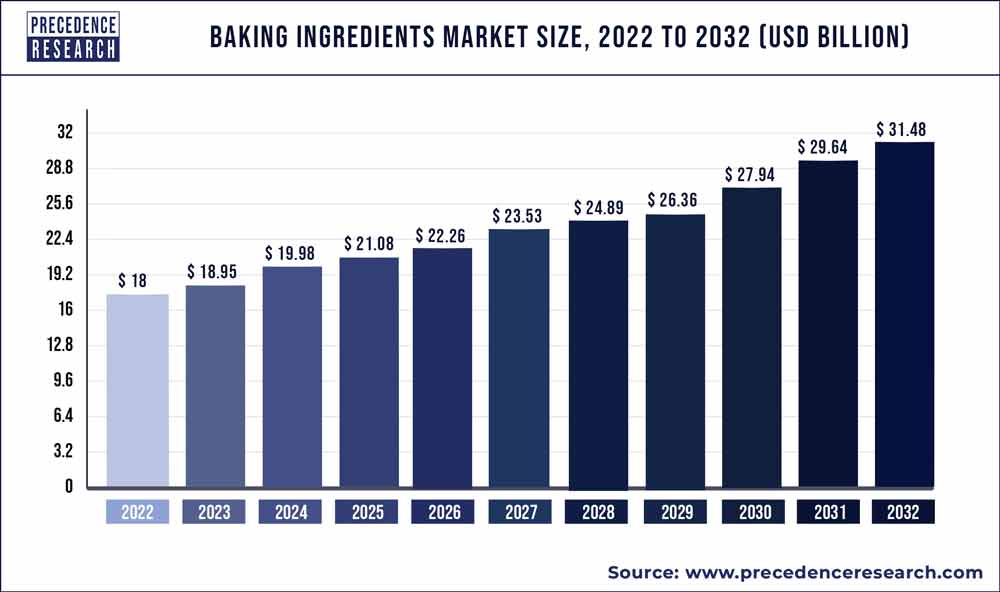 Access our Premium Real Time Data Intelligence Tool, Visit: Precedence Statistics
Key Takeaways:
By type, the dry baking mix segment generated a revenue share of around 18.5% in 2022.
By application, the bread segment hit the highest revenue share of 70% in 2022.
Europe region accounted for the highest revenue share 39.5% in 2022.
North America region accounted for 28.3% revenue share in 2022.
By type, the dry baking mix was valued at USD 2,491.6 million in 2022 at a CAGR of 5.8% over the forecast period.
By application, the bread segment reached USD 8,956.7 million in 2022 and registered growth at a CAGR of 5.6% in the coming years.
By region, Europe accounted for USD 5,214.8 million in 2022 and is growing at a CAGR of 5.5%.
Baking ingredients are foods that help maintain freshness, sweetness and flavor; improved shelf life; and increased protein content in baked goods. These commodities are available in various grades in the market and are considered the major source of human nutrition in the world. Baking ingredients have been used since ancient times and are of prime importance today because nothing can be baked without them. The choice of ingredients and preparations determines the taste and texture of the cooked food product. Demand for products, such as bread and biscuits, is growing at a remarkable rate and is expected to provide lucrative growth opportunities for the growth of the global ingredients market in the coming years. In the mature baking ingredient markets in North America and Europe, the demand for ingredients that are healthy and contain little or no artificial ingredients is growing massively.
The novel coronavirus/COVID-19 pandemic has had a significant impact on the entire food and beverage industry, of which the baking industry is a part. This pandemic has resulted in production shutdowns and disruptions in supply chain also affecting the economy.
In early 2020, sales of disinfectants, paper goods, toilet paper, and hand sanitizers, were in high demand. Edible products, such as meat products, bread, and many other shops went bankrupt because of an insufficient supply of cakes and many bakeries closed due to lack of manpower. The disruption of the logistics facilities due to the lockdown created more problems in the market as consumers did not receive the quality products, which negatively affected the market. But in some regions the demand experienced spike. The Covid-19 lockdowns imposed in various countries led to a surge in demand for baking ingredients such as cocoa powder, baking soda, and other spices, as consumers stuck at home have actively switched to baking. Bakery raw material manufacturers and retailers such as Cargill (USA) and Kerry Group Plc (Ireland) report that sales of these products have increased significantly since the blockade compared to the same period last year. With the recent influx of international cafes and bakery chains, dining on the go is becoming more and more popular.
Another factor that also affects the market is the lack of availability of raw materials, so the production of products is not suitable. Manufacturers of baking ingredients also face similar problems, such as labor shortages, supply chain disruptions, and unavailability of raw materials. Due to these issues, small bakers in the unorganized segment are most affected. However, over time, the government began to allow shops to reopen. Demand for bakery products, especially bread and other products, has increased, as they are essential products, used in the daily diet, mainly for breakfast and evening snack. As a result, demand for bakery products increased from households. On the other hand, the catering sector faces a market decline for bakery products which are considered as one of the fastidious products of the catering sector.
Growth in the frozen bakery product market is also expected to boost consumption of baking ingredients during the forecast period. The increasing acceptance of frozen baked goods is due to factors such as convenience, speed of cooking, availability of products, and low cost. The growth of the bakery ingredient market is also supported by increasing demand from coffee shops and large and small grocery chains. Frozen bakery products are expected to have potential demand in emerging markets such as India and China due to rising disposable income and the increasing population purchasing power parity (PPP) of these countries.
Report Scope of the Baking Ingredients Market
| | |
| --- | --- |
| Report Coverage | Details |
| Market Size in 2023 | USD 18.95 Billion |
| Market Size by 2032 | USD 31.48 Billion |
| Growth Rate from 2023 to 2032 | CAGR of 5.8% |
| Base Year | 2022 |
| Forecast Period | 2023 to 2032 |
| Segments Covered | Type, Application, Form, Geography |
| Companies Mentioned | British Bakels, Cargill, Associated British Foods plc, Corbion, Kerry Group plc, AAK AB, IFF, Archer Daniels Midland Company, Dawn Food Products, Inc., Koninklijke DSM N.V. |

Type Insights
Baking powder and mixes is the major segment in the baking ingredients industry. Baking powder is a mixture of carbonate and a weak acid. Bases and acids are prevented from prematurely reacting by including a buffer such as corn starch. Baking powder is mainly used to add volume as well as to lighten the food texture of baked goods.
Baking mix is a complex, ready-to-use mixture of dry baking ingredients used to make breads, cakes, waffles, pizza dough, cookies and muffins. Baking mix ingredients can include flour, baking powder, bread flour, sugar, baking soda, and salt, depending on the type of food.
Preparation powder is a special dry matter treatment device that is a combination of carbonate or bicarbonate and a helpless caustic alkali. The base and caustic alkali prevent premature reaction by including pillow lava cornstarch. The prepared powder is used to expand the volume of the heated product and brighten the surface. The swelling of the damp compound drains the rise.
Application Insights
By application, bread has the largest share of baking ingredients. Bread is one of the oldest human staple foods. Breads and baked goods are widely consumed as part of the traditional diet and are an important source of food energy. Bread is also a good source of carbohydrates, protein and vitamins B and E, and is increasingly consumed around the world. However, this requirement applies to whole wheat products. The reason is that the population is sensitive to a healthy diet that minimizes income from carbohydrates, fats, and cholesterol in their meals and maximizes income from complex carbohydrates, fiber, and plant proteins. A 2010 European Commission study found the European bakery industry to be 32 million tones across 27 EU countries. There is more and more demand for breads than ever before with the development of whole wheat breads, of which oat and bran are increasingly popular in European countries. There is also a trend towards increased production of sliced and packaged bread in a number of countries in Europe, including Germany and France.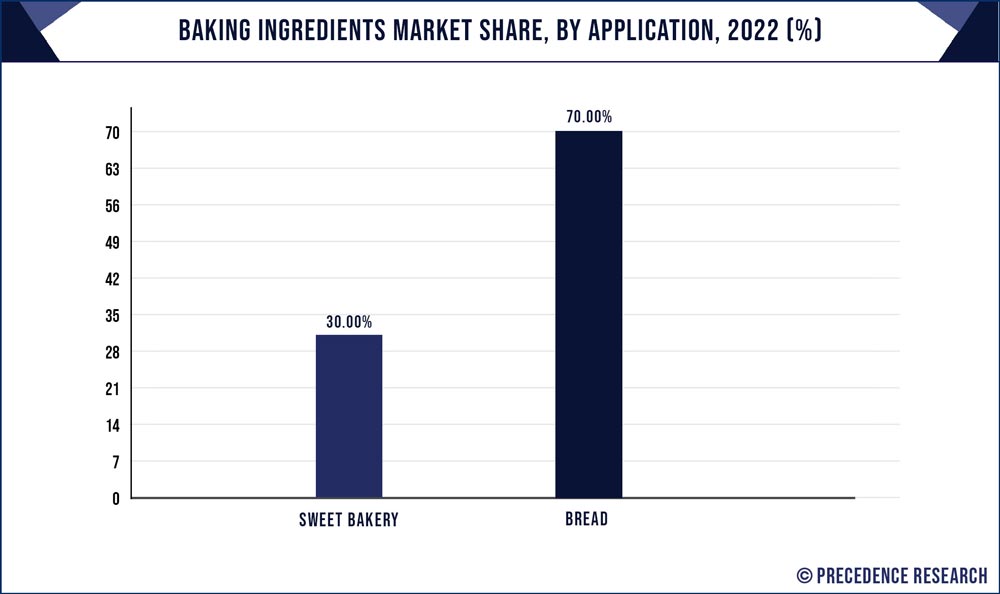 Bread and baking ingredients are usually consumed as part of a normal diet and are an important source of dietary energy. Bread is also a source of sugar, protein, vitamins B and E and is being consumed more and more around the world. Anyway, this interest is in the whole grain article. The explanation is that good nutritional awareness minimizes the content of carbohydrates, fats and cholesterol in the diet and increases complex levels of starch, dietary fiber and plant-based proteins.
Form Insights
Dry Ingredients hold the largest share of baking ingredients by form. Dry ingredients are not measured accurately due to the nature of many dry ingredients. To accurately measure dry ingredients, it is essential to use a set of measuring cups. The increase in the quality of supermarket and commercial bakery products along with a number of artisan bakeries in Asian countries has led to an increase in demand for wet and dry baking ingredients.
Baking Ingredients Market Share, By Region, 2022 (%)
| | |
| --- | --- |
| Regions | Revenue Share in 2022 (%) |
| North America | 28.3% |
| Asia Pacific | 23% |
| Europe | 39.5% |
| Latin America | 6.2% |
| MEA | 3% |

Asia-Pacific is the fastest growing market during the forecast period.
The Asia-Pacific region is expected to witness the fastest growth in the Bakery Ingredients Market. The trends of the global bread industry are changing as the North American and European markets mature and new global regions emerge with many growth opportunities.
The APAC region is expected to be a dynamic and fast-growing area for the baking ingredients market in the coming years. According to the Federation of Indian Bakers (IBF), biscuits are the best-selling product in India, followed by sliced bread, cupcakes, cakes and macaroons. In addition, an increasing number of baked goods are being sold on the shelves of supermarkets in the area. This visibility makes these bakery products the top choice among consumers in developing countries, such as Singapore, Hong Kong, South Korea and India.
Germany, France and the United Kingdom are expected to significantly support the development of the bakery raw material industry here. The consistent development of bake ware kitchen utensils by central members is expected to drive the market here. North America is also expected to have a huge supply in the global market. The growing consumer interest in rushing ingredients will drive the development of the baked confectionery industry around here. Nevertheless, the Asia Pacific region is expected to register the highest CAGR during the chart time frame.
Key market developments in the bakery ingredients market
In January 2021, Cargill launched its first innovation center in India. The innovation center spans approximately 18,000 square feet and includes a sensory laboratory and demonstration kitchen with features for the beverage, bakery, dairy, and convenience food industries.
In February 202, DuPont launched the DuPont POWER Bake 6000 and 7000 series enzymes specifically designed for European recipes. According to the company, these enzymes can be used in improved homes and bakeries that offer unique emulsification solutions that meet customer demands for cleaner labels while preserving the flavor and quality of white bread and bread. That is.
Cargill released SimPure 92260 soluble rice flour with the same taste, texture and functionality as maltodextrin, a commonly used ingredient in bulking agents and flavors In October 2021. This ingredient has the same quality as maltodextrin and can be used in a variety of applications, including baked goods.
Key market players in the dairy alternatives market
British Bakels
Cargill
Associated British Foods plc
Corbion
Kerry Group plc
AAK AB
IFF
Archer Daniels Midland Company
Dawn Food Products, Inc.
Koninklijke DSM N.V.
Segments covered in the report
(Note*: We offer report based on sub segments as well. Kindly, let us know if you are interested)
By Type
By Application
By Form
By Geography
North America
Europe
Asia-Pacific

China
India
Japan
South Korea
Malaysia
Philippines

Latin America

Brazil
Rest of Latin America

Middle East & Africa (MEA)