The global biochemical market size was estimated at USD 65.9 billion in 2022 and is projected to hit around USD 179.66 billion by 2032, growing at a CAGR of 10.6% during the forecast period from 2023 to 2032.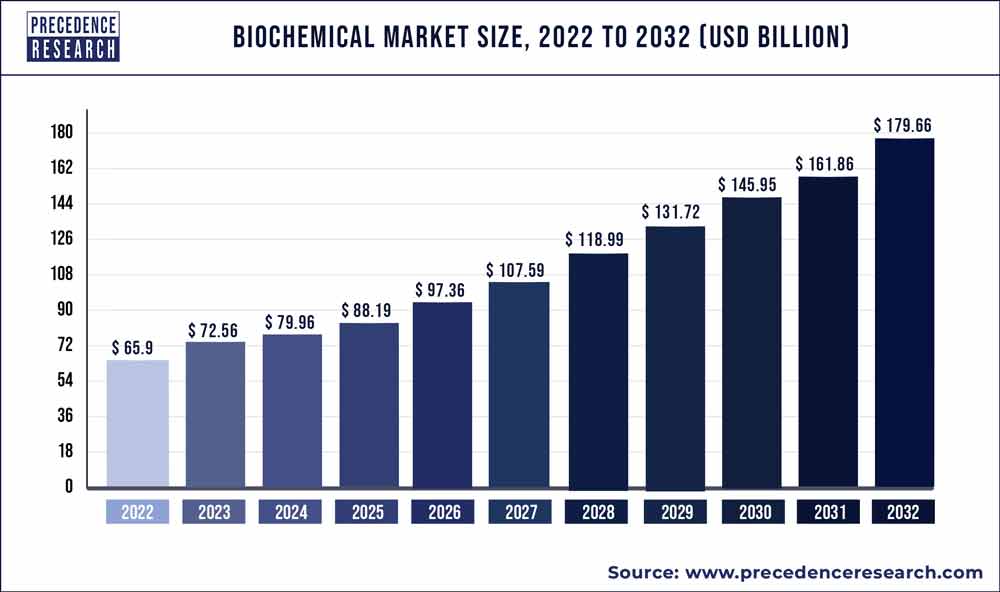 Key Insights
The biodiesel sector is projected to have the largest market share by type from 2023 to 2032.
In 2022, By application, the automotive segment has contributed the largest market share.
By geography, the Asia-Pacific region accounted for the majority of revenue share from 2023 to 2032.
The bio-chemicals are produced using a variety of raw materials, including corn, sugarcane, sugar beet, wheat, and cassava. Overall, it is less expensive to make bio-based chemicals than conventional, non-renewable chemicals due to the low manufacturing costs of these raw materials. Furthermore, there are no barriers to mass synthesizing these fundamental elements. Biochemical refers to any chemical compound, whether it is produced artificially using industrial biotechnology or organically. Biochemicals are more environmentally friendly than chemicals made from fossil fuels. These bio-based chemicals may share structural characteristics with other chemicals already in use or they may have whole unique structures that open up innovative possibilities. Bio-chemicals are becoming more popular among sustainable businesses, which is why their demand is rising. Leading packaging manufacturers are implementing sustainable techniques to provide environmentally friendly products in an effort to prevent plastic pollution.
Growth Factors
Biochemicals are on the rise as a result of governments putting more emphasis on environmental issues. For long-term, sustainable growth, nations, and industry are looking for renewable materials. It is anticipated that biochemicals like hormones and enzymes would be crucial in triggering, catalyzing, and inhibiting a variety of biochemical and physiological responses.
The growing demand for cleaner fuels.
Increasing demand for fine chemicals.
Report Scope of the Biochemical Market
Report Coverage
Details
Market Size in 2023
USD 72.56 Billion
Market Size by 2032
USD 179.66 Billion
Growth Rate from 2023 to 2032
CAGR of 10.6%
Base Year
2022
Forecast Period
2023 to 2032
Segments Covered
Regions Covered

North America
Europe
Asia-Pacific
Latin America
Middle East & Africa

Key Market Drivers
Rising demand for cleaner fuels - The growing demand for cleaner fuels is expected to drive growth in the biodiesel market during the forecasted period. Biodiesel is a fuel for diesel engines that are made from fats and oils like leftover cooking oil and soybean oil. It is domestic, healthy, environmentally sound, and regenerative. An advanced biofuel of exceptional quality that complies with ASTM D6751 criteria is produced using a chemical process known as transesterification. The B20 and lower blends, as well as blends up to the B100, have been effectively employed by both modern older diesel engines and brand-new versions that have just rolled off the production line. Biodiesel, renewable diesel, and renewable jet fuel are examples of renewable fuels with enhanced performance and emissions that will all be approved as standard low-carbon fuels. The National Biodiesel Board estimates that by 2030, more than six billion gallons of the fuel will have been utilized for on- and off-road, aviation, and home heating purposes, resulting in an approximately 35 million metric ton yearly reduction in greenhouse gas emissions. By 2050, the use will increase to 15 billion gallons due to advances in the feedstock. This is expected to increase market expansion in the future.
Rising demand for phytochemicals - The aging population, particularly in the European region, is becoming increasingly interested in the nutraceuticals industries' rapid incorporation of phytochemicals and plant extract ingredients into their product lines for the treatment of chronic diseases, health supplements, and anti-aging products. The need for phytochemical goods is being continuously increased as a result of this. Plant extracts and phytochemicals have seen significant expansion in the dietary supplement sector.
Key Market Challenges
Laws and regulations - New legislation and regulations are required in order to expand the market for biochemicals. There is also a lack of information on the usage of biochemicals as alternatives to currently utilized chemicals. These factors are anticipated to hurt the biochemical market.
Key Market Opportunities
Environmental issues and the exhaustion of traditional energy sources - In response to public demand to cut emissions and replace fossil fuels due to environmental concerns, the largest-ever spectrum of biofuels, including ethanol, bio-methanol, biodiesel, and other green fuels, has been produced. The fuel's lubricity and cetane number are both increased by biodiesel. Fossil fuels today provide the majority of our energy demands. These energy sources are not replenishable and are exhausting incredibly quickly. However, because biodiesel is a renewable fuel, it can be utilized in place of traditional energy sources because it is a renewable source of energy. Because of the expanding population and rising demand for cars, conventional fuels are in greater demand. Governments are limiting the use of conventional fuel and have established limitations for the production of dangerous gases, so there are plenty of chances ahead.
Biodiesel can be used directly in diesel engines or combined with petroleum diesel because they are miscible in all ratios. Key biodiesel manufacturers are finding chances in the market thanks in large part to the eco-friendly characteristics of biodiesel and laws limiting toxicant emissions.
Segments Insight
Type Insights
The biodiesel sector is anticipated to have the greatest market share by type in the upcoming years since it has historically dominated the market with the highest revenue share and is anticipated to continue to expand strongly in that time. The increasing demand for clean and renewable fuel sources and the increase in global energy consumption are the primary drivers of the segment's growth. A thriving automobile industry is another significant factor that promotes growth.
Growing environmental consciousness and consumer comprehension of its benefits have led to the widespread use of biodiesel throughout the world. A further factor encouraging the use of biodiesel is the limited availability and rising expense of non-renewable energy sources including gasoline, diesel, and liquefied petroleum gas (LPG). A number of technological advancements are also painting a positive picture for the market, such as the arrival of third-generation biofuels generated from algae, which can produce a wide variety and a significant volume of ethanol in contrast to earlier feedstocks.
Application Insights
On the basis of application, the automotive segment has captured the largest market share in 2022. Because of rising disposable money and excellent living standards, the automotive industry is expanding. Because consumers are more likely to live opulent lives, the automotive industry is anticipated to dominate the biochemicals market due to the demand for biodiesel.
Food processing use is anticipated to expand significantly. Food ingredients, which are used in the food processing sector, are produced using bio-based chemicals. The Middle East's growing packaged food industry is predicted to increase demand for food ingredients, which is further predicted to increase demand for bio-based chemicals.
Regional Insights
On the basis of geography, Asia-Pacific is expected to continue to be among the most alluring markets and this region is accounted for the majority revenue share in the market throughout the projection period. The Asia Pacific region is now the largest region in terms of the worldwide market for biochemicals due to the enormous growth in the demand for biofuels.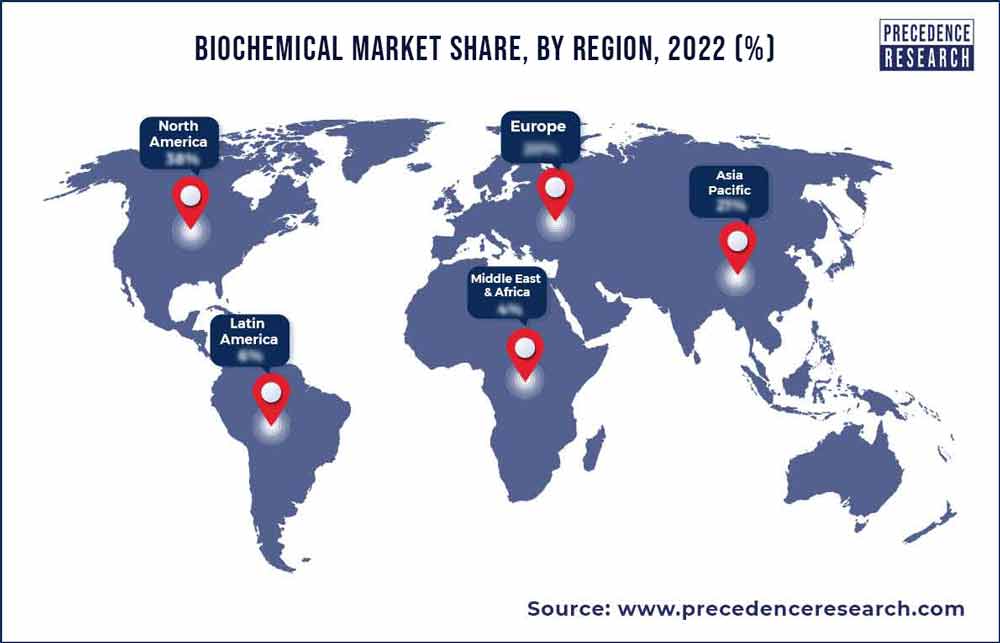 The use of biochemicals in the pharmaceutical and food processing industries is on the rise, which is good news for the Asia Pacific biochemical industry. The consumer trend toward eco-friendly products is projected to soon produce promising growth opportunities for the Indian biochemical market. The promotion of cleaner fuels by the Indian government is expected to enhance the use of biodiesel. The railways, the transportation sector, and other organizations use biodiesel in India.
This can be attributed to a surge in consumer spending in the region, the adoption of a healthy lifestyle, and the rapid expansion of end-use industries including nutraceuticals, pharmaceuticals, personal care, and cosmetics. The regional market is anticipated to grow as a result of expanding amino acid production and rising feed additive exports from significant countries like China and Japan. Amino acids are mostly used to treat liver and cardiovascular diseases, as well as to slow down the degeneration and weariness of muscles. Because of the growing populations in emerging countries like China and India as well as the presence of a young population, there is a high need for amino acids.
Recent Developments
In December 2020 – Nestle and Carson announced cooperation. One of the first companies to offer renewable diesel in Oregon (U.S.) when the state's Clean Fuels Program was established was Neste, the largest producer of renewable diesel and sustainable aviation fuel in the world.
Key Market Players
Archer Daniels Midland
Marathon Petroleum Corporation
Hansen A/S
LIPO Foods
Neste
Shell Plc
Ajinomoto Co., Inc.
KYOWA HAKKO BIO CO., LTD.
Evonik Industries AG
AMINO GmbH
HERO BX
Ag Processing Inc.
VERBIO
Renewable Energy Group, Inc.
NOVAOL, Italy
ARGENT ENERGY
MOL Group
Dupont De Nemours & Co ltd
Martin Bauer GmbH &Co. KG
Cargill Inc.
Naturex SA
Indena SpA
Linnea SA
BASF SE
Arboris LLC
Cargill Inc.
Segments Covered in the Report
(Note*: We offer reports based on sub-segments as well. Kindly, let us know if you are interested)
By Type
Biodiesel
Amino Acids
Fine Chemicals
Phytochemicals
Antibiotics
Dyes & Stains
By Application
Pharmaceuticals
Dairy
Automotive
Agriculture
Textile
Food Processing
By Geography
North America
Europe
Asia-Pacific
Latin America
Middle East & Africa (MEA)