The global biodegradable packaging market size was estimated at USD 440 billion in 2022 and it is expected to hit around USD 814.35 billion by 2032, anticipated to reach a registered CAGR of 6.4% over the time frame 2023 to 2032.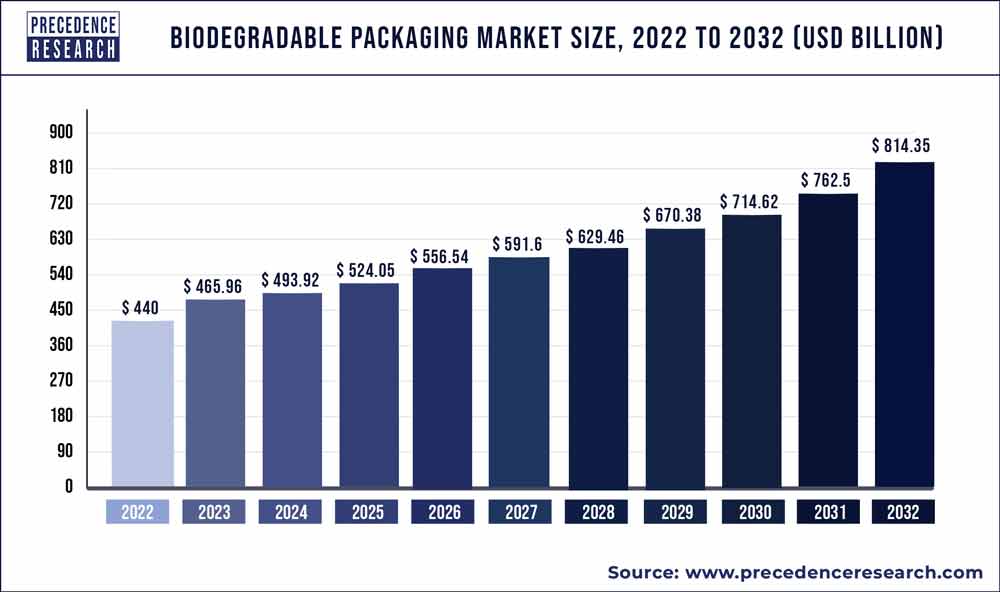 Key Takeaways:
The Asia Pacific region accounted for 42.5% of the revenue share in 2022.
By end-use, the food segment has held 42% of the total revenue share in 2022.
The German biodegradable packaging market is growing at a CAGR of 4.6% over the forecast period.
Demand for environmentally friendly food packaging surged in 2020, and it is predicted that it will decline in 2021. The global surge in demand for packaged foods during the coronavirus epidemic is largely to blame for the rise in demand. Furthermore, because food production and allied industries were seen as critical services, they kept running during the lockdown. Additionally, several businesses have implemented a variety of tactics to deal with the situation.
Governments all around the world are adjusting to other sources, such as biodegradable packaging, in response to the rising amount of packaging trash produced globally. Despite having only 4% of the world's population, the United States produces 12% of the world's municipal solid waste (MSW). According to another estimate, each American generates roughly 106.2 kg of plastic garbage annually.
The US Plastic Waste Reduction and Recycling Act states that the government wants to decrease plastic waste, promote research into and infrastructure for recycling technologies, and assure US leadership in the establishment of national and worldwide standards. Future restrictions governing the production of plastic may be more stringent for US-based packaging firms as a result of the act's ongoing research into microplastics.
Additionally, the use of renewable resources as opposed to limited ones and other environmental implications over the course of their whole life cycles make bio-based products potentially advantageous for greenhouse gas balances. The usage of biodegradable materials is meant to promote sustainability and lessen the environmental damage caused by the disposal of polymers made of oil.
Growth Factors
With the constant need for bottled water and non-alcoholic drinks, it is projected that the market for biodegradable packaging in the beverage industry would expand. The demand for bottled water is attributed to three factors: customers' predisposition to want high-quality drinking water specifically; their fear of contracting illnesses after drinking tainted tap water; and the portability and convenience that bottled water offers.
Additionally, bottled water is preferred in many established and emerging nations and drinking water instead of soft drinks has recently become more popular due to its health benefits. After consuming 13.8 billion gallons of bottled water in 2018, the International Bottled Water Association (IBWA) said that Americans prefer it over other packaged beverages. More than 90% of Americans anticipate seeing bottled water wherever other beverages are offered, according to a recent national study conducted online by The Harris Poll on behalf of the International Bottled Water Association (IBWA).
The Environmental Audit Committee estimates that only in the United Kingdom alone, 700,000 bottles are left lying around every day. Such data highlight the urgent need for beverage container options that degrade naturally.
Recyclable PET bottles have been used by companies in the beverage industry, such as PepsiCo. In North America and internationally, 30% and 7%, respectively, of packaging volume is made up of recyclable PET bottles from PepsiCo. The use of recyclable PET for beverage packaging, however, is expected to be constrained in developing nations like India because to expensive production and recycling costs. For instance, in July 2020, PepsiCo joined a group of multinational consumer products businesses, including Unilever, to advance and commercialize the first recyclable paper bottle ever created, which was first developed by Diageo and Pilot Lite.
Scope of the Biodegradable Packaging Market
| | |
| --- | --- |
| Report Coverage | Details |
| Market Size in 2023 | USD 465.96 Billion |
| Market Size by 2032 | USD 814.35 Billion |
| Growth Rate from 2023 to 2032 | CAGR of 6.4% |
| Largest Market | Asia Pacific |
| Fastest Growing Market | North America |
| Base Year | 2022 |
| Forecast Period | 2023 to 2032 |
| Segments Covered | Type, Material Type, Packaging Format, Application, Distribution Channel, and Geography |
| Companies Mentioned | Amcor, Be Green Packaging, DS Smith, DuPont, Evergreen Packaging, Mondi, Nampak, Ball Corp., Sealed Air, Tetra Laval |

Key Market Drivers
Food on the go is in trend
Food delivery and takeout have spread around the world as a result of people's busy lifestyles, which has increased demand for the biodegradable food packaging industry. Another trend that is driving the demand for biodegradable food packaging is food on the move.
Customers are seeking more sanitary and clean packaging that they can reuse and recycle easily as a result of the global epidemic of COVID-19, which is causing the market for biodegradable food packaging to expand.
Environmental concerns
People are being forced to give up non-biodegradable and throwaway packaging due to environmental concerns including pollution and global warming. The marine ecology is harmed by the waste of plastics and other toxic packing materials, and aquatic species die from ingesting or being entangled in the waste.
Many packing materials include BPA and benzene, which are harmful to human health as well and can sometimes lead to cancer, blood pressure problems, and issues with the respiratory system. Consumers now choose biodegradable packaging materials over other unsustainable packaging materials since they are aware of all the negative consequences of packaging.
The market for biodegradable food packaging is anticipated to grow even more due to changing customer tastes and an expanding global population. New packaging materials including cellulose, bamboo, corn starch, and seaweed have entered the market as a result of research and inventions in the biodegradable food packaging sector. The market's demand for biodegradable food packaging is expected to increase as a result of further research in this area.
Key Market Challenges
Environmental hazards and threats to health - Undoubtedly, the prohibition on plastics has encouraged customers to choose biodegradable packaging alternatives, but the market's potential development will be hampered by the high costs associated with making and recycling biodegradable packaging materials. Due to the lack of affordable biodegradable packaging options, market participants in end-use sectors face significant difficulties.
Key Market Opportunities
The government's rising initiatives - The market for compostable packaging is anticipated to grow quickly as a result of the government's increasing measures for the production of biodegradable materials for packaging. The market for biodegradable packaging will expand profitably as a result of the rising investments in sustainable packaging options. Additionally, the rise of emerging new markets and strategic alliances would work as market drivers and expand beneficial chances for the industry's growth rate.
Segments Insight
Type Insights
Reusable packaging came in second on the market share list behind packaging with recycled content. Gains in recycled content packaging would be facilitated by expanding collection and processing capabilities as well as greater usage of recycled content packaging by businesses seeking to differentiate their goods and demonstrate environmental sustainability. The expansion of the market will be aided by initiatives by industry associations, brand owners, packaging businesses, and others to promote sustainability programs that will raise the recycling rates of different kinds of packaging materials.
The majority of reusable transport packaging is designed for business-to-business applications; however, the growth of e-commerce and home delivery applications creates opportunities for the effective use of reusable packaging for the domestic transport of products.
Application Insights
The market for green packaging worldwide is dominated by the food and beverage industry. Due to its mobility, extended shelf life, and simple manufacture, convenience food is primarily driving the market for food and beverage packaging. Frozen foods, snacks, finger foods, drinks, and other goods are included in convenience food categories. The meal items are often supplied in hot, ready-to-go containers and require less time to prepare.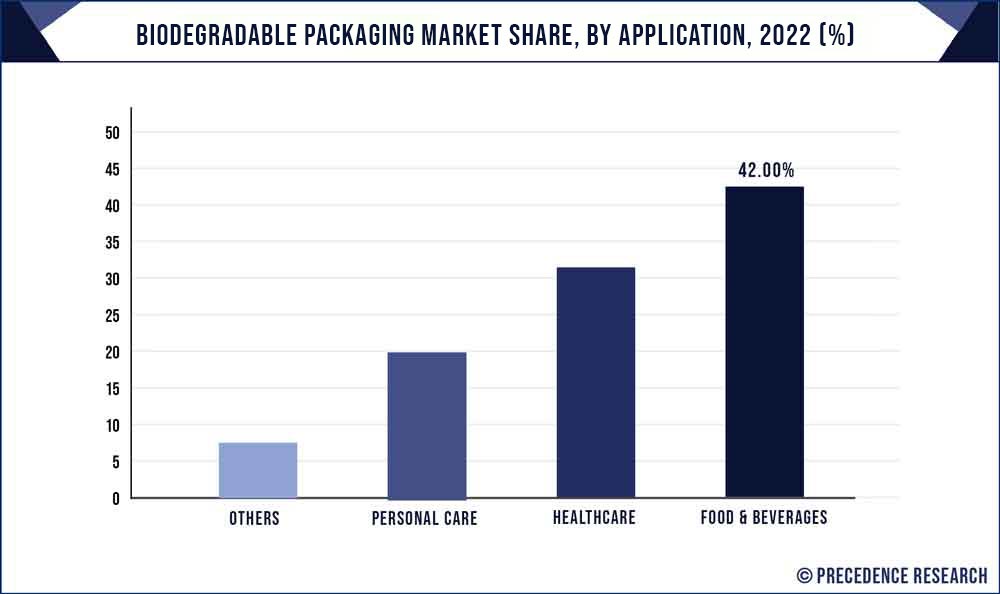 Consumers prioritize nutritional content, package simplicity, product attractiveness, and product safety when choosing convenience foods. Innovative packaging and cutting-edge technologies have expanded the range of easily available food alternatives, including packaged food, frozen food, chilled food, etc. Product safety and sustainability are the primary concerns of the majority of package makers. Consumer packaged goods businesses are increasingly packaging food, which has changed people's preferences for convenience foods.
By minimizing the quantity of plastic used in packaging, several chemical suppliers are shifting toward more environmentally friendly choices. Customer understanding of the significance of sustainability is one of the factors behind the transition.
Fast-moving consumer goods (FMCG) companies and manufacturers are aggressive in making lofty pledges to increase package sustainability and reevaluate their packaging layouts. Regulators are taking action.
Biodegradable Packaging Market Share, By Region, 2022 (%)
| | |
| --- | --- |
| Regions | Revenue Share in 2022 (%) |
| North America | 19.3% |
| Asia Pacific | 42.5% |
| Europe | 25.8% |
| Latin America | 7% |
| MEA | 5.4% |

Regional Insights
Throughout the forecast period, Asia Pacific is anticipated to maintain its leadership and occupy the top spot in the worldwide market for green packaging. Due to the increased population density, convenient meals and drinks are being consumed more often. Additionally, the regional market is projected to increase as a result of the green packaging producers in China, India, Japan, and South Korea placing a greater emphasis on environmentally friendly packaging options in response to rising consumer environmental concerns. In South-East Asia, it is simple to get the raw materials needed to make cartons, bags, boxes, and other packaging equipment. Positive market effects are also anticipated as a result of this.
Due to strict legislation promoting eco-friendly and sustainable packaging, North America is predicted to have considerable market growth. For instance, in order to adopt and put SMM policies and practices into effect, the Environmental Protection Agency (EPA) created a sustainable material management program in 2017.
One of the key geographical areas in the industry is Europe. The local market is being driven by the rising demand for eco-friendly and comparatively affordable sustainable packaging materials. Additionally, the regional market will be driven by the expanding R&D supporting the usage and development of bioplastic by ASIA PACIFIC USD 99.46 Billion the European-based firms like Tetrapak, Mondi Plc, and others. During the projection period, Latin America is anticipated to have significant growth. During the projection period, Latin America is anticipated to have significant growth. The market will develop as a result of rising food and beverage consumption per person in places like Brazil, Argentina, and the Caribbean.
The Middle East and Africa are anticipated to have moderate growth as a result of the evolving economic climate. The need for green packaging is soaring due to the rising popularity of canned goods due to their ease of use and longer shelf life. Additionally, it is anticipated that the local companies that provide a variety of canned goods would increase demand for packaging goods.
Recent Developments
June 2021: In South America, Amcor introduced an eco-friendly chocolate package. The business created and produced recyclable plastic containers for cocoa powder. Compared to the prior packaging, the packaging lowered the carbon impact by 53%.
Market Segmentation
(Note*: We offer reports based on sub-segments as well. Kindly, let us know if you are interested)
By Type
Recycled Content Packaging
Reusable Packaging
Degradable Packaging
By Material Type
Plastic

Starch-Based Plastics
Cellulose-Based Plastics
Polylactic Acid (PLA)
Poly-3-Hydroxybutyrate (PHB)
Polyhydroxyalkanoates (PHA)
Other Plastics

Paper & Paperboard

Kraft Paper
Flexible Paper
Corrugated Fiberboard
Boxboard

Bagasse
By Packaging Format
Bottles & Jars
Boxes & Cartons
Cans
Trays & Clamshells
Cups & Bowls
Pouches & Bags
Films & Wraps
Labels & Tapes
Others (Stick pack, Sachets, etc.)
By Application
Food & Beverages
Personal Care
Healthcare
Others
By Distribution Channel
Wholesalers
Retailers
Distributors
Resellers
Others
By Geography
North America
Europe
Asia-Pacific
Latin America
Middle East & Africa (MEA)