The global biostimulants market size was valued at USD 3.5 billion in 2022 and is projected to reach around USD 10.25 billion by 2032, growing at a CAGR of 11.40% during the time frame 2023 to 2032. The Europe market has accounted highest revenue share 39% in 2022.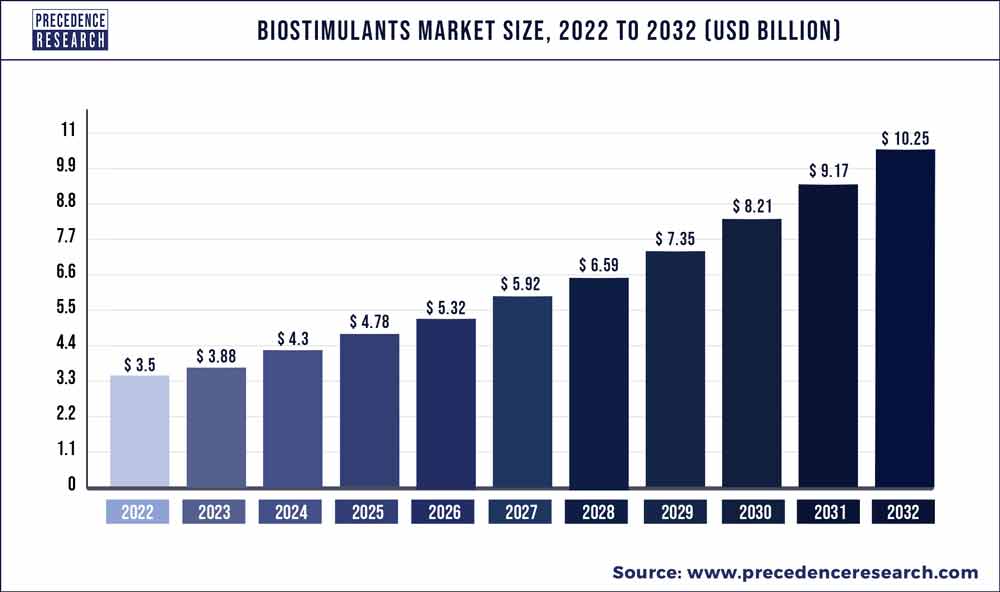 Access our Premium Real Time Data Intelligence Tool, Visit: Precedence Statistics
Key Takeaway
By active ingredient, U.S. biostimulants market was valued at USD 491.5 million in 2022.
Europe biostimulants market was valued at USD 925.30 million in 2022.
By geography, Europe accounted largest market share 38% in 2022.
Germany is expected to reach valuation US$ 520 million by 2032.
By type, the row crops and cereals segment accounted market share of 61% in 2022.
By active ingredients segment, the acid-based segment accounted for 51% of market share in 2022.
Based on form, liquid segment is expected to reach USD 2 billion by 2032.
By application, the foliar segment is anticipated to grow at a CAGR of 10.8% from 2023 to 2032.
The foliar treatment application segment accounted revenue share of around 80% in 2022.
The acid based active ingredients segment value is projected to reach at US$ 4,317.4 million by 2032.
Microbial amendments segment accounted for a revenue share of 116% in 2022.
Food and farming creation frameworks all over the planet are confronting extraordinary difficulties because of rising food interest for a developing populace, rising yearning and hunger, negative environmental change impacts, overexploitation of regular assets, loss of biodiversity, and food misfortune and waste. There is a developing longing for reasonably created food that has less manufactured synthetic substances and more biologicals. Thus, biostimulants are assisting with settling this issue in a reasonable way by offering pressure security and subsequently helping plant development. The business' extension is being filled generally by breaking down soil condition and expanded interest for natural and top notch items. Moreover, due to its ability to increment agrarian result, there is a rising craving for manageable and eco-accommodating elective choices. This, thusly, is supposed to increment interest for biostimulants all through the projected period.
Biostimulants are any mixtures or microorganisms that are provided to plants to further develop food productivity, abiotic stress resilience, crop quality, elements, and aggregates, paying little heed to healthful substance. Food and rural creation frameworks all over the planet are confronting phenomenal difficulties because of rising food interest for a developing populace, rising craving and hunger, negative environmental change impacts, overexploitation of regular assets, biodiversity misfortune, and food misfortune and waste. There is a developing longing for food that is delivered in a more maintainable way, with less engineered synthetic compounds and more biological. Therefore, biostimulants are helping with resolving this issue in a supportable way by giving pressure security and consequently supporting plant development.
Growth Factor
During the spread of the COVID-19 pandemic, shopper buying designs exhibited a mindful shift from non-natural to natural, which is as yet happening today. A developing accentuation on safeguard medical care is gradually yet consistently causing a change in overall conventional farming strategies, with makers encouraged to create seriously utilizing supportable techniques and assets. This, thusly, is powering the worldwide market for biostimulants. It helps with the creation of excellent harvests and is hence usually used in current farming strategies to accomplish a respectable and rewarding yield. They additionally add to establish advancement. They differ from manures in that they are utilized as a plant supplement. Biostimulants contain many dynamic substances, including amino acids, fulvic acids, kelp concentrates, and nutrients. The business' extension is being filled for the most part by disintegrating soil condition and expanded interest for natural and top notch items.
Moreover, due to its ability to increment farming result, there is a rising craving for maintainable and eco-accommodating elective choices. This, thus, is supposed to increment interest for biostimulants all through the projected period. Biostimulants are any mixtures or microorganisms that are provided to plants to further develop food productivity, abiotic stress resilience, crop quality, elements, and aggregates, paying little heed to nourishing substance.
Report Scope of the Biostimulants Market
| | |
| --- | --- |
| Report Coverage | Details |
| Market Size by 2032 | USD 10.25 Billion |
| Growth Rate from 2023 to 2032 | CAGR of 11.40% |
| Europe Market Share in 2022 | 39% |
| Active Ingredients Segment Market Share in 2022 | 51% |
| Base Year | 2022 |
| Forecast Period | 2023 to 2032 |
| Segments Covered | Form, Active Ingredient, Crop Type, Application, Geography |
| Companies Mentioned | BASF SE, UPL, Gowan Group, ILSA S.p.A, Haifa Group, Rallis India Limited, FMC Corporation, Valagro S.p.A |
Crop Type Insights
Fruits & Vegetables
Crop development is a costly undertaking, particularly for crops that require water system and marking. There is negligible wiggle room when joined areas of strength for with interest for imperfection free item. Thus, ranchers are progressively looking for arrangements that will help them accomplish reliably great results. This is expanding interest for biostimulants, which can increment crop quality, timeframe of realistic usability, variety, and type of foods grown from the ground. Vegetables and organic product cultivators tend to have huge, long haul interests in their ranches, and their harvests are exceptionally transient. Accordingly, cultivators are especially open to the up-sides related with biostimulants, like expanded plant wellbeing, protection from bugs and illnesses, more prominent dry season resilience, and better returns.
Cereals & Grains
In present day farming, tracking down harmless to the ecosystem strategies to support plant improvement and increment horticultural result is a top objective. Biostimulants are a class of regular mixtures that can increment plant result and supplement retention while limiting dependence on counterfeit composts. Making biostimulants from squander open the way for rubbish reusing and decrease, helping makers, the food business, enrolment and conveyance firms, and customers. Durum wheat is fundamentally developed for the assembling of pasta and semolina. High protein content gives grains characteristics that are significant in the baked good industry's change cycle. Expanded N treatment builds the extent of proteins in grains. Ranchers, then again, are worried about the limits that accompany ecological challenges. The Nitrates Directive in Europe endeavours to defend ground and surface water from nitrate defilement. To address both modern and natural necessities, elective yield nourishment the executives frameworks should be laid out.
Turfs & Ornamentals
Turf & ornamental segment is estimated to reach over USD 789 million by 2030. The development of horticultural bio energizers in the turf and ornamentals market is driven by variables like promising yield, quality, and efficiency results, the necessity to fulfill the expanded need for appeasing and warming environmental factors, and the requirement for soil reclamation. Be that as it may, requirements like an absence of information among turf and fancy ranchers, as well as extreme government standards and guidelines, are projected to restrict the market's overall development. Arising economies like China, Brazil and India are probably going to be productive business sectors for farming biostimulants in turf and ornamentals. Because of rising use in nations like China and India, the horticultural bio energizers in grass and ornamentals market in the Asia-Pacific locale has developed essentially. The horticultural bio energizers in turf and ornamentals market in Asia-Pacific are supposed to create at a CAGR of 14% from 2015 to 2020, with India overwhelming the market with a 35% offer in 2014.
Oilseeds & Pulses
Plant developmental transformations for more proficient and powerful seed dispersal for endurance confine the creation of podded harvests, for example, oilseed assault (OSR). Dehiscent dry organic products that break along an uncommonly specific intersection at carpel edges have developed in these plants. A scope of methods, including unit sealants, GMOs, and mixtures, have been investigated with little accomplishment to diminish the effect of case break on crop creation. It has been exhibited that plant biostimulants influence plant development.
Application Insights
Biostimulants are a wide group of particles that incorporate substances or microorganisms that advance plant development, yield, and compound creation while likewise working on biotic and abiotic stress resilience. Hydrolysates of plant or creature protein and other nitrogen-containing synthetics, humic substances, kelp extricates, biopolymers, microbial-determined compounds, phosphite, and silicon are among the main plant biostimulants. The epidermis and stomata situated on the outer layer of the leaves help in assimilation. Biostimulants utilized in foliar medicines are commonly in fluid structure to work with application and retention. The seed treatment application is proficient and fruitful, and it requires less work input than different techniques, making it a financially savvy choice. Besides, factors like rising populace, expanded interest for natural items, and government support for the utilization of biostimulants are main impetuses in the business.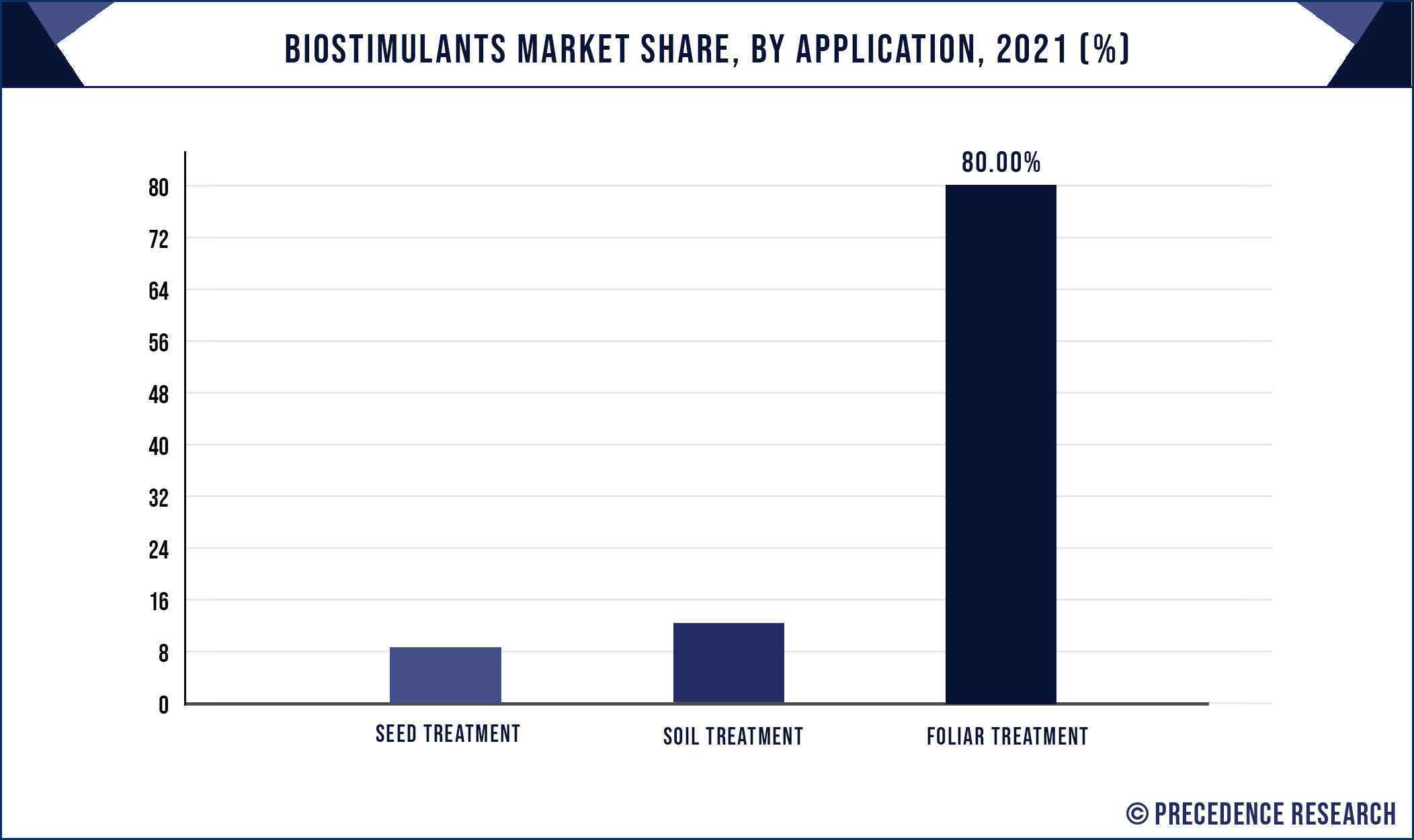 In 2022, the dirt treatment class represented a sizable income share. Biostimulants are utilized in the dirt to expand development, richness, and efficiency as a feature of the treatment. Soil treatment comprises of four significant procedures: physical, mechanical, compound, and natural. The systems engaged with the defensive impacts of biostimulants change contingent upon the compound or potentially crop and are for the most part connected with worked on physiological cycles and plant morphology perspectives, for example, upgraded root development and stretching, expanded supplement take-up, further developed seed germination rates and better yield foundation, expanded cation trade, diminished draining, weighty metal detoxification, and components engaged with. The sythesis of these biostimulants may guarantee suitably high pace of plants development and their expanded protection from stress factors, yet it should be accentuated that each plant assortment might answer contrastingly to biostimulants application.
Components Insights
Biostimulants are produced using many synthetic substances tracked down in unrefined components. While essential metabolites are normally present in many arrangements, the presence of optional metabolites is more specific and is vigorously subject to the natural substance used. Amino acids, carbs, nucleotides, and lipids are instances of essential metabolites. Optional metabolites are created by different essential metabolic pathways, like glycolysis, the Krebs cycle, aliphatic amino acids, the pentose-phosphate and shikimate pathways, which are the essential wellsprings of sweet-smelling AA and phenolic compounds, terpenoids/isoprenoids, nitrogen-containing mixtures, and sulfur-containing compounds. Plant chemicals or chemical like mixtures, amino acids, betaines, peptides, proteins, sugars, aminopolysaccharides, lipids, nutrients, nucleotides or nucleosides, humic synthetic compounds, and advantageous microorganisms are instances of biostimulants.
Geography Insights
Europe has dominated the market with largest revenue share of over 38% in 2022. The developing pattern toward nursery cultivation as an escalated cultivating strategy for developing harvests with less water, at a controlled temperature, and shielded from normal climatic and natural circumstances will likewise invigorate the development of biostimulants, for example, protein hydrolysates, humic and fulvic acids.
China will be a vital market with a CAGR of 15% during the exploration time frame, inferable from the nation's situation as the world's biggest agrarian economy and solid state help for the utilization of harmless to the ecosystem rural data sources. The Chinese government focuses on rancher training to expand comprehension of yield financial matters and hazard the executives, as well as to stay aware of new forward leaps in innovation, science, and business.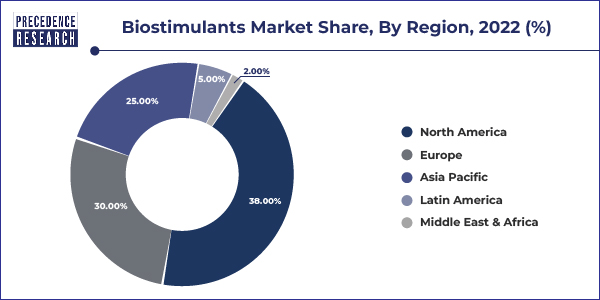 South and Central America are supposed to have the second-most elevated income development rate all through the projected period. Albeit the region is presently extending at a sluggish speed, it has critical improvement potential because of the presence of farming based economies like Brazil. The business is supposed to fill dramatically in the locale over the determined period for all sections because of rising populace, utilization of new innovation in agribusiness, expanding rancher mindfulness, and declining utilization of counterfeit synthetic manures, which corrupt soil quality, and broad utilization of practical and eco-accommodating other options.
Key Market Players
BASF SE
UPL
Gowan Group
ILSA S.p.A
Haifa Group
Rallis India Limited
FMC Corporation
Valagro S.p.A
Key Market Developments
UPL Australia declared another series of Bio stimulant arrangements in view of GoActiv Technology in June 2021, fully intent on tending to specific yield physiological or abiotic stressors in natural products, vegetables, plants, and tree crops. GoActiv Technology depends on a 100% unadulterated concentrate of the ocean growth
UPL AgroSolutions Canada declared in February 2021 that OHM Biostimulant, its most memorable biosolutions item in Canada, has been enlisted with the Canadian Food Inspection Agency. OHM is a front line, exceptionally focused fluid type of Ascophyllum nodosum kelp separate that further develops supplement usage productivity for further developed plant development and improvement Ascophyllum nodosum.
In 2020 March, Valagro reported the send-off of Talete a new biostimulant, beginning from the select GeaPower innovation stage, to increment crop water efficiency; in five extra nations at a worldwide computerized occasion went to by specialists, clients, ranchers and assessment pioneers from in excess of 12 nations across 5 mainlands. The extra nations are China, Australia Colombia, Greece and France.
Segments covered in the report
(Note*: We offer report based on sub segments as well. Kindly, let us know if you are interested)
By Form
By Active Ingredient
Humic substances
Seaweed extracts
Microbial amendments
Amino acids
Others
By Crop Type
Cereals & grains
Fruits & vegetables
Turf & ornamentals
Oilseeds & pulses
Others
By Application
Foliar Treatment
Soil Treatment
Seed Treatment
By Geography
North America
Europe
Asia-Pacific

China
India
Japan
South Korea
Malaysia
Philippines

Latin America

Brazil
Rest of Latin America

Middle East & Africa (MEA)

GCC
North Africa
South Africa
Rest of the Middle East & Africa