The global bitumen market size was exhibited at USD 105.77 billion in 2022 and is projected to hit around USD 161.9 billion by 2032, growing at a CAGR of 4.41% during the forecast period from 2023 to 2032.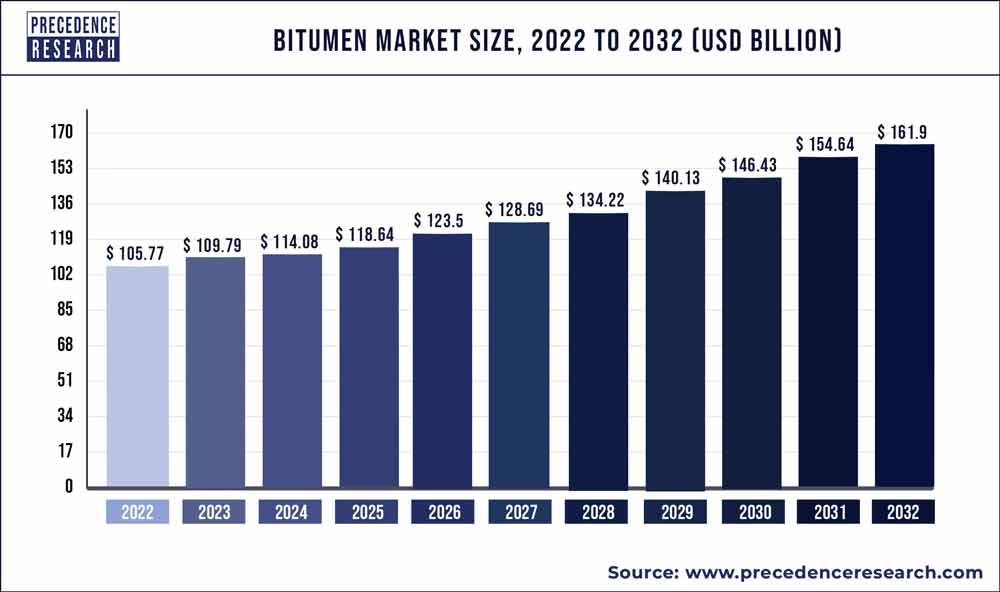 Key Takeaways:
By product, the paving segment has captured revenue share of around 60.50% in 2022.
By application, the roadways segment has generated revenue share of around 84% in 2022.
Bitumen sometimes referred to as asphalt, is a naturally occurring or petroleum distillation-derived black, sticky mixture of hydrocarbons. It is sprayed as glue and combined with fine aggregates to create concrete blocks in a variety of applications, including road building. Other uses for waterproof goods include the creation of insulation, adhesives, and roofing felt. Because of its high viscous, adhesion, and moisture qualities, bitumen is a crucial raw material in the architectural & manufacturing industries for making water dams, tanks, and bridges. During the coming years, bitumen share of the market will be driven by rising government spending and legislation towards roads and infrastructure development employing Publicly Owned Collaboration models throughout industrialized and emerging countries. They contribute to the greater use of bituminous materials in the construction and maintenance of roads. The establishment of new manufacturing units and expanding infrastructure in emerging regions are favorable to the demand for the products. One of the things boosting the development of a bitumen industry is the fact that bitumen is utilized in paints and coatings, dyes & pigments, and other industries because of its features like waterproofing & thickness.
Growth Factors:
The expansion of the roadway & construction projects industries is a primary driver of the bitumen market's expansion in India. The building of several motorways or airport runways increases the need for bitumen throughout the nation. Asphalt is created by processing bitumen for highway construction. The State Road Transport Development Company, the six-landing of congested stretches of both the Heavenly Equilateral triangles, a special software package for the improvement of road connectedness in Naxal-affected areas, the advancement of Visakhapatnam Ranchi Route, and efforts to provide last-mile connectivity are additional projects that are expected to increase govt investment in the construction of national highways and expressways. In addition, bitumen is frequently used for roofing in the construction sector due to its physical characteristics, including stickiness, waterproofing, toughness, flexibility, and increased elastic modulus. As a result, the need for bitumen increased across the nation as a result of expansion in the building industry because of a rise in the urban population and a need for new homes. Additionally, government programs like the Pradhan Awas Yojana, which involves building homes for low-income individuals residing in both urban and rural areas, are projected to raise the need for bitumen, fuelling the expansion of the Indian bitumen industry. However, bitumen-related environmental and human health concerns are shifting crude oil prices globally. The market's growth is anticipated to be constrained by the rising use of bitumen substitutes such as cement in an application involving the construction of roads. Additionally, it is projected that the introduction of bio-based bitumen with an EME binder would offer the profit potential for the industry's continued growth.
Report Scope of the Bitumen Market
Report Coverage
Details
Market Size in 2023
USD 109.79 Billion
Market Size by 2032
USD 161.9 Billion
Growth Rate from 2023 to 2032
CAGR of 4.41%
Base Year
2022
Forecast Period
2023 to 2032
Segments Covered

By Product
By Application

Regions Covered

North America
Europe
Asia-Pacific
Latin America
Middle East & Africa

Key Market Drivers
Bitumen is used more frequently for waterproofing - Bitumen is frequently used in the construction industry for roofing due to its physical properties, including adhesion, resistance to water, toughness, flexibility, and a greater breaking point. The asphalt market expanded across the nation as either a result of extension in the building projects brought on by an increase in urban population and the necessity for additional housing. Additionally, it is anticipated that the introduction of bio-based bituminous with EME binders will offer appealing possibilities for further market expansion.
Increasing construction demand - Because of bitumen's physical characteristics, including its toughness, stickiness, waterproofing, elasticity, and greater elastic modulus, roofs are typically covered with it in the construction industry. This increasing supply of bitumen around the world is projected to promote the bitumen industry's expansion.
Wider application of waterproofing - Bitumen is typically utilized as a waterproofing solution just on the roofing of residential and commercial structures because of its high viscosity and sticky character. Bitumen waterproof guards the roof against leaks and water intrusion. Before roofing or construction, bitumen is applied to shield the roofing decking from the elements.
There is a demand for road construction - Businesses in the bitumen sector are making a lot of money from the construction of roads. Due to its many benefits and qualities, bitumen is mostly utilized in the construction of roads. Bitumen is produced with several special qualities already built in. Bitumen is utilized as a raw resource in adaptable road building, which often utilizes bitumen in road building. While being installed, bitumen is less expensive than concrete. On bitumen pavements, the loose rocks, however, increase road noise and accelerate tire wear. However, bitumen could be reused as opposed to being dumped in a landfill. Bitumen works well for resurfacing roads with light traffic. Businesses in the bitumen sector are making money from the construction of roads. Bituminous macadam, which is made of broken aggregate and bitumen binders heated and combined in a warm mix facility at a predetermined temperature, is seeing an increase in production from producers.
Key Market Challenges
Reduced supply of raw materials as a result of the drop in oil prices - The drop in oil prices has produced a reduction in the supply of raw materials which has led to rate instability and fluctuations in the bituminous industry, which would impede industry growth over the entire forecast period. Due to bituminous being a durable substance with a long distribution chain, major suppliers that started selling straight to the refineries are challenging this provision. The future expansion of the bitumen industry is also constrained by manufacturing procedures and tight environmental restrictions regarding usage. During the projection period, fluctuating prices of oil & petrochemical pricing may have an impact on bitumen market rate patterns. However, the growth of bio-based bitumen is examined to produce fresh growth prospects for industry participants.
Pollutants are released during bitumen processing and extraction - The fact that bitumen is generated through a variety of methods that have severe adverse effects on the environment, animals, and public health is a major problem that is anticipated to significantly slow market revenue and profit. Sulfur dioxide, volatile organic compounds, and hydrogen sulfide are released into the air during bitumen processing and extraction creating a negative impact on the environment. The structure of the asphalt mix, the surrounding temperatures, and the degree of stress all have a significant role in whether bitumen irreversibly deforms under heavily loaded circumstances. Additionally, bitumen quickly oxidizes, making asphalt more brittle and perhaps leading to surface or road breaking. Throughout the projection timeframe, these important variables are anticipated to limit future growth to some degree.
Key Market Opportunities
Bitumen creates great and smooth road surfaces - Bitumen is typically utilized as a chemical component in a variety of products, such as black paint as well as solvent. With the addition of chemicals, bitumen helps varnishes and paints work more efficiently and makes waterproof chemicals viscous. Additionally, emulsifiers use chemically altered bitumen like a candy-coated ingredient. Bitumen contributes to providing superior bonding strength when combined with biological amides or amines, and if combined using wood ash & lime, it creates good and smooth road surfaces. As a result, it is anticipated that these variables will boost the bitumen industry in the approaching years.
Segments Insight
Product Insights
In terms of value, pavement bitumen will control close to 61% of the market by 2032. Due to its durability and quick repairability, asphalt concrete is utilized as the binder with around 86% of all bitumen produced for roads, parking lots, asphalt, & footpaths. A Paving quality bitumen with a bitumen percentage of 65–75% is produced through meticulously controlled refining processes employing properly selected crude oils. To create concrete blocks, coarse and fine materials, including pebbles or crushed rock, must be combined with asphalt, which serves as the binder material.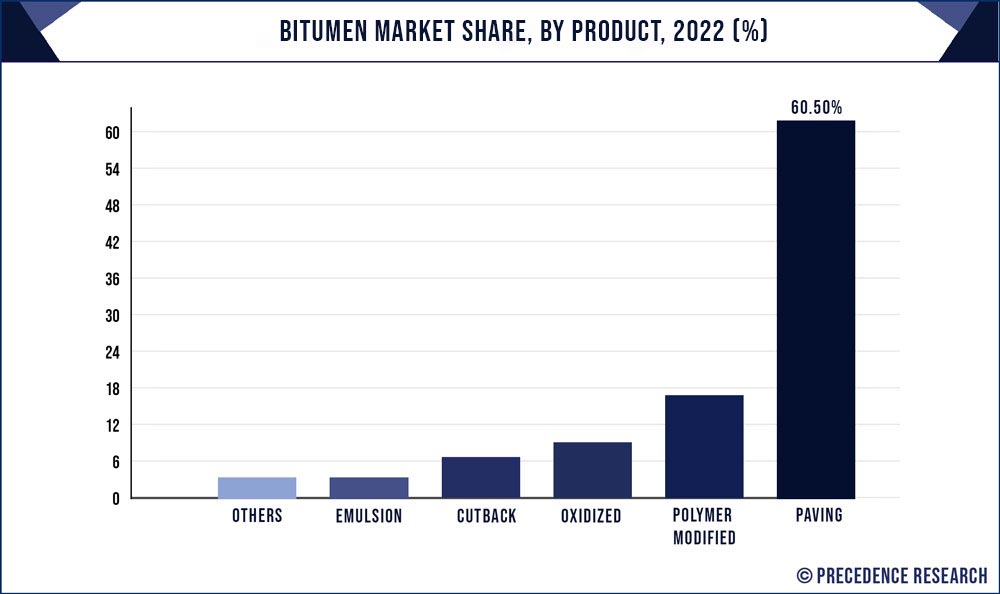 The demand for highway building will significantly increase in the next years due to the increasing number of automobiles in the world, particularly in the expanding countries of North America & Asia Pacific. Bitumen's marketplace worth will increase because of its widespread accessibility and inexpensive cost on the road of building projects all over the world. Because of its many uses, the market for bitumen used in paving is anticipated to increase at a 4.07 CAGR during the forecast period.
Application Insights
The highways usage segment held the largest share and produced the most money in 2022. Bitumen was most commonly employed in highway construction, where it serves as binding for the production of asphalt pavement Platforms. This section discusses using bitumen to build new roadways and pave existing ones, including overflights, freeways, and airport runways. The need for a larger highway and road infrastructure with numerous tracks to facilitate all vehicles throughout peak times would emerge from an increase in vehicular traffic around the world caused by rising Purchasing power Equality in emerging nations. The urbanization process and industrialization will also improve rural and urban areas' connectivity, increasing the need for road construction projects.
Regional Insights
Due to the expanding use of bitumen compounds in several industries, Asia Pacific will surpass in 2032. Due to the rising automotive penetration and regional development, the highway and road construction sector in APAC nations like India, China, and Australia has been expanding quickly. The country's increase in passenger and freight motor traffic, followed by manufacturers, would further encourage road construction. The country's bituminous industry revenue has also been greatly impacted by expanding investments in manufacturing industries. Due to significant road network-building measures implemented by the Government for India within North India Area, including federal highways developments in Uttar Pradesh & Punjab, North India represented the majority of the India bitumen share of the market in 2021.
Additionally, it is anticipated that the upkeep and repair of rural roads built under The Pradhan Mantri Gram Sadak Yojana in the states of Haryana, Uttarakhand, Rajasthan, and Himachal Pradesh will increase the demand for bitumen in each of these regions, propelling the expansion of the bitumen industry in Northern India. Due to an increase in road-building development operations across the nation in 2021, the pavement quality bitumen sector was responsible for the majority of sales. Bitumen content's need is driven by federal initiatives like Bharatmala, numerous national road constructions, and the development of various special economic zones throughout several states. Additionally, the Legislature of India's programs to build rural roads, including the Pradhan Mantri Gram Sadak Yojana, as well as to upgrade, maintain, and repair existing country roads, major roads, and major highways, are expected to increase demand for bitumen throughout India and propel the expansion of the country's bitumen industry.
Recent Developments:
Shell unveiled a new bitumen solution in 2019 to reduce the goal of reducing the negative effects of paving and asphalt production on the local air quality. It has been discovered that Rids Bitumen Fresh Air can lower pollution of several particles and gases of asphalt mix throughout production and paving by 40%.
In May 2021, the Indian engineering firm Praj Industries, which has operations in North America, Africa, and LATAM, created a unique method for producing bio-bitumen predicated on lignin. This was another significant development for the business in terms of creating cutting-edge innovation for bitumen production. The process turns unprocessed phenol into bio-bitumen, which can lessen reliance on bitumen derived from fossil fuels and provide an ecologically viable solution.
Key Market Players:
AMT Techno
Athabasca Oil Corporation (Canada)
Baker Hughes
Bouygues Groups (France)
Bp p.l.c (UK)
CEMEX S.A.B. de C.V.
Chevron Corporation (US)
China Petroleum and Chemical Corporation
ENEOS Corporation (Japan)
ExxonMobil Corporation (US)
Gazprom- Neft (Russia)
Gulf Petrochem
IKA Group
Imperial Oil Limited (Canada)
Indian Oil Corporation Ltd (India)
JX Nippon Oil & Energy Corporation
LN Petrochem
Marathon Oil Company (US)
Maruti Group
MBD Industries
Nippon Oil Corporation,
NuStar Energy L.P (US)
Nynas AB (Sweden)
PetróleosMexicanos (Mexico)
Ratnamani Industries
Roadstar
Royal Dutch Shell plc (UK)
Sasol Ltd.
Shell Bitumen (UK)
Sinopec Corporation (China)
Suncor Energy Inc, (Canada)
Syncrude Canada Ltd. (Canada)
The Richmond Group
Tiki Tar Industries
Total Energy (France)
United Refining Company
Valero Energy Corporation
Veekay Industries
Villas Austria GmbH (Austria)
Segments Covered in the Report:
(Note*: We offer reports based on sub-segments as well. Kindly, let us know if you are interested)
By Product
Oxidized
Paving
Emulsion
Cutback
Polymer Modified
Others
By Application
Waterproofing
Roadways
Insulation
Adhesives
Others
By Geography
North America
Europe
Asia-Pacific
Latin America
Middle East & Africa (MEA)