The global blood transfusion devices market size was valued at USD 5.4 billion in 2022 and is expected to hit around USD 9.62 billion by 2032, poised to grow at a CAGR of 6% from 2023 to 2032. The North America region accounted for 43.7% of revenue share in 2022.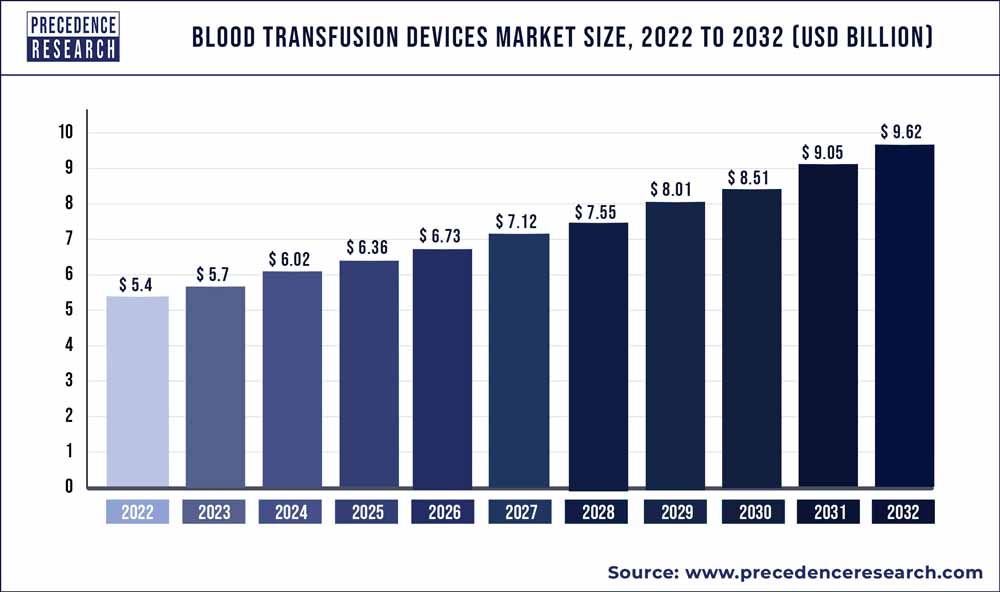 Access our Premium Real Time Data Intelligence Tool, Visit: Precedence Statistics
Globally, the COVID-19 epidemic has put an enormous strain on everyone on the planet. Not only is the public healthcare system overburdened with patients, but the general populace is terrified and confined in their movement, and their everyday lives have been drastically altered. According to Jennifer N. S. Leung ET a research report, published in the International Society of Blood Transfusion in April 2020, the first three months of the year 2020 in China were difficult and stressful in managing both blood safety and supply.
Furthermore, the blood transfusion service has considerable challenges in maintaining a safe blood supply. The public and donors' trust in blood donation has been restored thanks to precautionary measures. However, when mobility limitations are tightened, it will be difficult to collect enough blood to satisfy patients' transfusion needs. According to a research article published in the ISBT in December 2020 by Andre Loua et al., the African area, like the rest of the globe, experienced socioeconomic upheaval as a result of the COVID-19 epidemic. It has a substantial influence on the delivery of healthcare services. Overall, the study found that the region's safe blood supply and demand were under threat due to a decline in these activities in the majority of respondent nations, particularly during the start of the COVID-19 pandemic. As a result, the COVID-19 epidemic has reduced blood-related activity in Africa, including supply and demand.
Growth Factors
Some of the reasons driving market expansion include an increase in the number of surgical operations, an increase in the number of accidents and trauma cases, an increase in the number of blood diseases, and technological advancement.
To collect and re-infuse the patient's blood, transfusion devices are frequently employed. These mechanisms are crucial for cell recovery. Procedures that make it possible to transfuse autologous blood to lessen the danger of infections brought on by transfusions of allogeneic blood. These Devices are used in invasive procedures such as cardiovascular, orthopedic, neurological, obstetrical, and gynecological. based on the systems can be divided into intraoperative systems, post-operative systems, and dual-mode systems based on their usefulness. Cardiovascular operations, C-section procedures, and trauma and accident injuries are the most common surgeries that require blood transfusion. According to World Health Organization updates in 2021, worldwide caesarean section rates have increased from roughly 7% in 1990 to 21% now, and are expected to climb further over the next decade. If current trends continue, Eastern Asia (63%), Latin America and the Caribbean (54%), Northern Africa (48%) Western Asia (50%), Southern Europe (47%), and New Zealand, Australia (45%) would have the highest rates by 2030. As a result, the increasing number of surgical procedures is expected to raise the demand for blood transfusion equipment.
Report Scope of the Blood Transfusion Devices Market
| | |
| --- | --- |
| Report Coverage | Details |
| Market Size in 2023 | USD 5.7 Billion |
| Market Size by 2032 | USD 9.62 Billion |
| Growth Rate from 2023 to 2032 | CAGR of 6% |
| Base Year | 2022 |
| Forecast Period | 2023 to 2032 |
| Segments Covered | Product, Application, End Use, and Geography |
| Companies Mentioned | Immucor, Inc. (U.S.), BD (U.S.), B. Braun Melsungen AG (Germany), Terumo Corporation (Japan), Grifols, S.A. (Spain), Fresenius SE & Co. KGaA (Germany), Haemonetics Corporation (U.S.), Teleflex Incorporated (U.S.), Redax (U.S.), Medtronic (Ireland), LivaNova PLC (U.K.), Brightwake Ltd. (U.K.), Advancis Surgical (U.K.), Atrium Medical Technologies (U.S.) |

Key Market Drivers
Rise in the number of blood disorders
lymphoma, Leukemia, myeloma, and myelodysplastic syndromes (MDS) are cancers that affect the bone marrow, blood cells, lymph nodes, and other lymphatic system components. Apheresis technology was seen to be used to lower the amount of white cells until they could be regulated by other drugs. For example, leukemia is characterized by an abnormal increase of white blood cells, which causes the blood to thicken.
According to the Leukemia & Lymphoma Society (LLS), one person in the United States is diagnosed with blood cancer every three minutes. In the United States, a total of 186,400 persons are predicted to be diagnosed with leukaemia, lymphoma, or myeloma in 2021. In 2021, new instances of leukaemia, lymphoma, and myeloma are predicted to account for 9.8 percent of the estimated 1,898,160 new cancer cases in the United States.
Growth in the number of various types of surgeries in all worldwide locations
The number of different sorts of procedures has increased dramatically in recent years in all parts of the world. C-section surgeries, cardiovascular procedures, trauma, and accident injuries are some of the primary surgical procedures that require a lot of blood transfusion. As a result of the growth in the frequency of the aforementioned types of operations, the worldwide blood transfusion devices market is predicted to witness an upward demand curve over the assessment period.
The increased frequency of renal illnesses is expected to produce massive sales potential in the blood transfusion device market in the coming years.
Key Market Challenges
Increased demand for minimally invasive surgery and the use of hemostatic devices to restrain the growth
Patients' preferences are gradually shifting away from invasive treatments and toward minimally invasive surgeries. Certain variables, such as lower reduced hospital stays, lower costs, faster patient recovery, and greater patient comfort are projected to enhance the popularity of minimally invasive surgery.
Invasive procedures are expected throughout the predicted timeframe The increasing use of minimally invasive operations is expected to minimise the There is no requirement for blood conservation or allogeneic transfer since very little blood is lost during these operations.
As per the German Heart Surgery Report, about 55.2% of isolated mitral valve surgeries will be conducted in 2020. Using minimally invasive access, demonstrating a significant increase over the previous year Furthermore, using hemostatic Devices to prevent significant blood loss are projected to limit worldwide market growth.
Key Market Opportunities
Technical improvements - According to the American Cancer Society, around 1.32 million individuals are now living with leukemia and lymphoma. According to the National Kidney Foundation, chronic kidney disorders impact around 10% of the world's population. The growth in chronic illness occurrences has boosted demand for blood and blood products, which is expected to drive the blood transfusion devices market. Furthermore, technical improvements in apheresis devices, infusion pumps, blood warmers, and transfusion filters have made safe and highly purified blood more accessible to patients.
During the projected period, the market will be driven by the introduction of enhanced diagnostics and kits - With technical breakthroughs in the healthcare area, improved and dependable diagnostics, as well as reagents and kits for blood transfusion, are being introduced. Market participants are working on incorporating technological improvements in testing methodologies. Plasma fractionation is one such example of technical progress. These aspects are expected to create multiple potential for market expansion. Furthermore, factors such as rising demand for molecular-based illness screening and the introduction and approval of sophisticated systems have the potential to drive the market throughout the projection period.
Segments Insight
Product Insights
The autotransfusion systems segment will dominate due to increased use in both developed and developing countries. The market is divided into two categories: autotransfusion systems and consumables and accessories. Autotransfusion systems are further divided as intraoperative autotransfusion systems, perioperative autotransfusion systems and post-operative autotransfusion systems. Autotransfusion systems with two modes The growing use of autotransfusion devices in both developed and developing countries as a result of Their effectiveness in blood transfusion is likely to drive growth in this category throughout the forecast period.
Additionally, increased flexibility, transfusion report generating, technological developments for better clinical results, and by 2032, connectivity is expected to promote the growth of the dual-mode autotransfusion systems market. Furthermore, increased acceptance and use of autotransfusion systems are expected to provide significant potential for the global market for consumables and accessories is expanding. This, together with the rising emphasis on intraoperative cell therapy, Salvage during big invasive procedures is likely to drive this segment's growth throughout the forecast period.
Application Insights
Cardiovascular Surgeries will take the lead, supported by an increasing number of surgical procedures. The market is classified into cardiovascular surgeries, orthopedic surgeries, neurological operations, and obstetrics. Gynecological procedures, among other things
The cardiovascular surgeries category is expected to lead the worldwide market in terms of revenue, owing to increased adoption of these devices used during cardiovascular surgery operations. Furthermore, the growing number of cardiovascular treatments, such as coronary angioplasty, CABG (coronary artery bypass grafting), ICD & pacemaker implantations, heart transplants, valve replacements Replacement operations, among other things, will help this market flourish.
The use of post-operative cell salvage in orthopedic operations is predicted to fuel the orthopedic surgeries segment's growth. Furthermore, the rising number of invasive operations, such as caesarian section and others is expected to fuel the obstetrics & gynecology market. The market category with the greatest CAGR in 2022 is gynecological surgery.
End-Use Insights
The increasing number of surgical procedures performed in hospital settings will drive segment growth. The market is divided into hospitals, specialized clinics, and others based on end-user. Over the projected period, the hospitals sector is expected to dominate the worldwide market. The growing prevalence of cardiovascular and Obstetrics and gynecological procedures performed in hospitals are expected to boost market growth throughout the forecast period. Furthermore, several aspects such as emerging nations' improving healthcare infrastructure and an increasing number of sophisticated healthcare institutions are projected to increase the usage of autotransfusion equipment in user hospitals, which may eventually accelerate the expansion of the hospital sector in the worldwide market.
However, the increasing use of intraoperative and post-operative cell salvage in specialty clinics, particularly in industrialized countries, is concerning. By 2032, the specialist clinics and other category are expected to drive significantly.
Regional Insights
According to the American Association of Blood Banks' guidelines, Postoperative and intraoperative transfusion should be administered in procedures when 20% of the total surgical bleeding occurs is to be expected.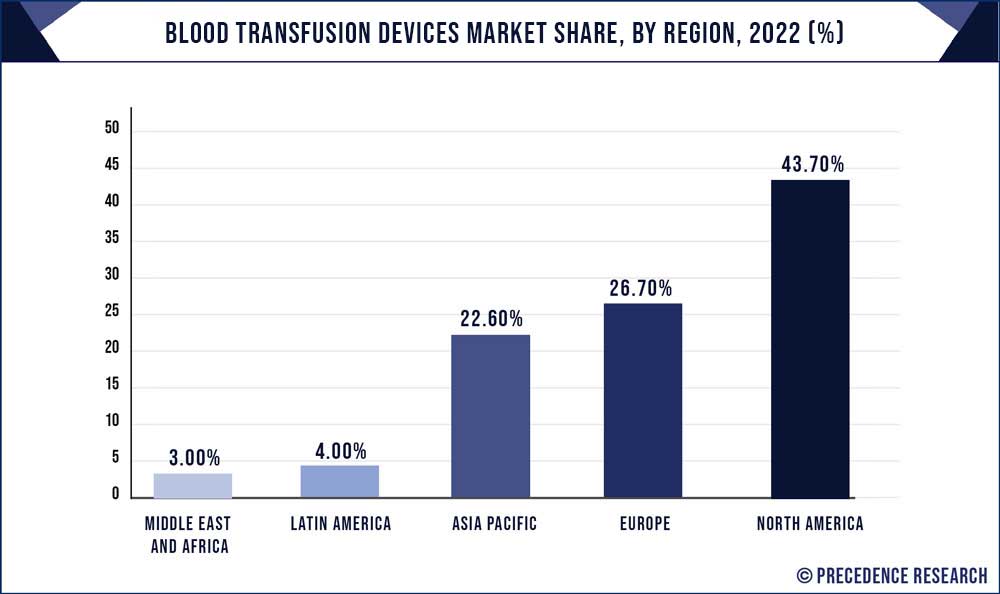 In Europe, a healthy economy and the fast-rising number of surgeries in important nations like the U.K., France, and Germany putting an emphasis on using intraoperative and postoperative cell salvage procedures is anticipated to provide the industry with significant opportunities.
Recent Developments
January 2020 - The Dominican Republic's transfusion and apheresis disposables factory received a EUR 30 million expansion from Fresenius Kabi. The business invested in the expansion to keep up with the growing demand for these premium disposables. Additionally, Vitestro anticipates launching the new technology on the European market in 2024 after starting a critical clinical study for regulatory clearance in Europe in 2023.
Market Segmentation
(Note*: We offer report based on sub segments as well. Kindly, let us know if you are interested)
By Product
Autotransfusion
Systems and Consumables & Accessories
By Application
Cardiovascular Surgeries
Orthopedic Surgeries
Neurological Surgeries
Obstetrics & Gynecological Surgeries
Others
By End Use
Hospitals
Specialty Clinics
Others
By Geography
North America
Europe
Asia-Pacific
Latin America
Middle East & Africa (MEA)