The global cadmium telluride market size was valued at USD 7.6 billion in 2022 and is anticipated to reach around USD 20.28 billion by 2032, poised to grow at a CAGR of 10.32% during the forecast period from 2023 to 2032.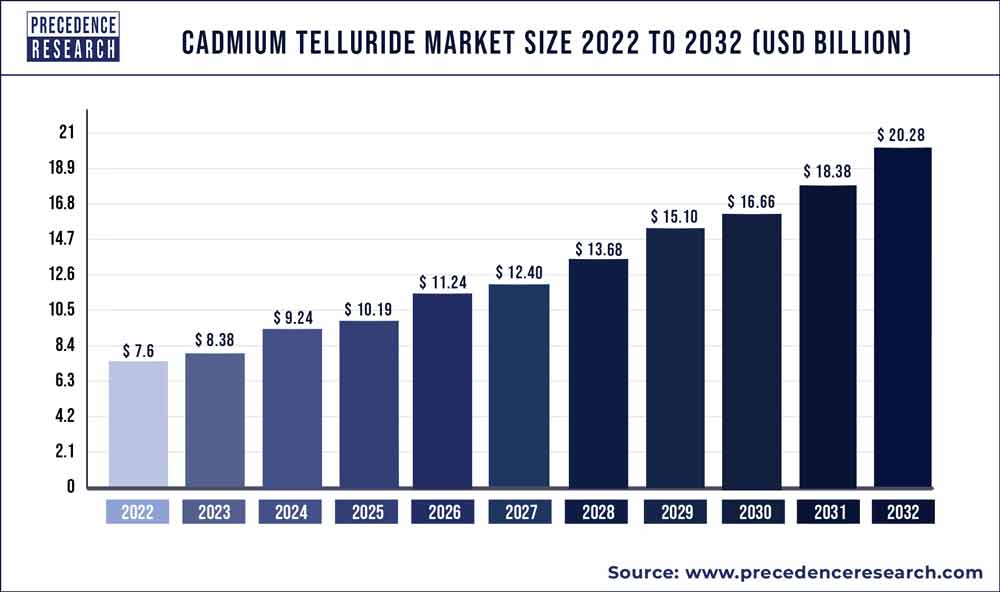 Access our Premium Real Time Data Intelligence Tool, Visit: Precedence Statistics
Key Takeaways
North America led the market with the biggest market share of 42% in 2022.
Asia-Pacific is projected to expand at the fastest CAGR during the forecast period.
By Source, the tellurium segment has held the major revenue share of 63% in 2022.
By Source, the cadmium segment is anticipated to grow at a remarkable CAGR of 7.8% during the projected period.
By Application, the solar PV segment contributed more than 39% of revenue share in 2022.
By Application, the nuclear spectroscopy segment is estimated to grow at the fastest CAGR over the projected period.
By End Users, the commercial segment had the largest market share of 57% in 2022.
By End Users, the industrial segment is anticipated to grow at the fastest CAGR over the projected period.
Cadmium Telluride Market Overview
Cadmium telluride (CdTe) is a semiconductor material used in thin-film photovoltaic (PV) solar cells. It has gained prominence in the solar industry due to its cost-effectiveness and high energy conversion efficiency. CdTe solar cells are constructed by depositing a thin layer of CdTe material onto a substrate. They absorb sunlight to generate electricity, making them suitable for solar panels. CdTe solar cells are known for their relatively low production costs and good performance in real-world conditions, especially in areas with high sunlight exposure. However, concerns about the toxicity of cadmium have prompted ongoing research into safety and recycling processes for these solar cells.
Cadmium Telluride Market in the U.S. 2023 To 2032
The U.S. cadmium telluride market size was valued at USD 2.23 billion in 2022 and is expected to grow to USD 5.96 billion by 2032, growing at a CAGR of 10.32% from 2023 to 2032.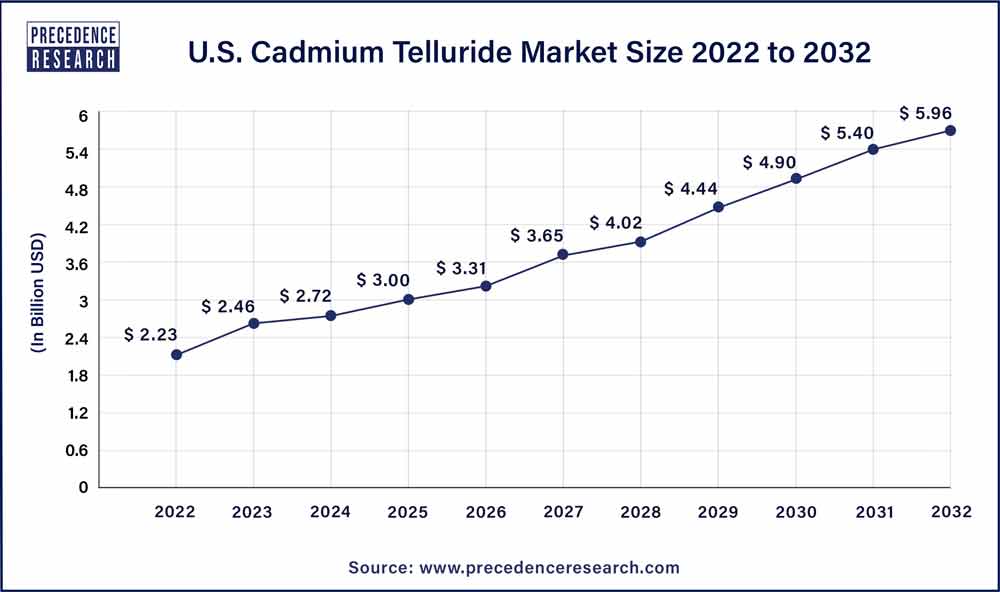 North America has held the largest revenue share 42% in 2022. The North American cadmium telluride (CdTe) market is witnessing substantial growth, driven by increased awareness of renewable energy and environmental concerns. The United States, in particular, is a key player, with CdTe technology gaining traction for its cost-effectiveness and efficiency.
A notable trend is the integration of CdTe solar systems into commercial and residential buildings, contributing to energy sustainability goals. Government incentives and a growing number of utility-scale projects are fueling the adoption of CdTe technology, making it a prominent player in the region's renewable energy landscape.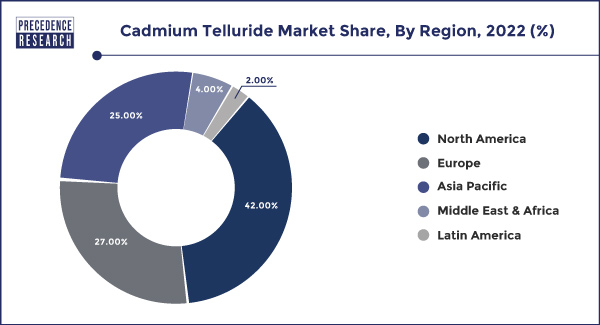 Asia-Pacific is estimated to observe the fastest expansion. The Asia-Pacific CdTe market is experiencing rapid expansion, primarily powered by countries like China and India. Governments in the region are actively promoting solar energy as part of their renewable energy agendas. A notable trend is the development of large-scale CdTe solar installations, both grid-tied and off-grid, to meet the surging energy demands. Technological advancements and decrease in installation costs are making CdTe technology an attractive choice. Moreover, the region's solar potential and increasing energy needs are propelling CdTe's prominence in Asia-Pacific's renewable energy transition.
Growth Factors
These solar cells are notably lauded for their cost-effectiveness and remarkable energy conversion efficiency, positioning them as an attractive option for solar panel production. A primary catalyst for the market's expansion is the affordability factor associated with CdTe solar cells, offering a cost-efficient alternative to conventional silicon-based panels. This affordability plays a pivotal role in democratizing solar energy access, making it more attainable for a wider spectrum of consumers and businesses, consequently expediting the adoption of renewable energy sources.
Moreover, CdTe solar cells exhibit robust energy conversion efficiency, particularly in regions with ample sunlight, making them well-suited for various applications. As a thin-film technology, CdTe cells offer flexibility and lightweight characteristics, expanding their usability beyond traditional solar panels. Additionally, the environmental benefits of CdTe technology, with a lower carbon footprint compared to some alternatives, align with sustainability goals and contribute to their growing popularity.
However, the industry also faces notable challenges. Cadmium, a key component in CdTe cells, raises concerns due to its toxicity. To address this, significant efforts are underway to develop recycling and safe disposal solutions. Moreover, CdTe technology encounters competition from other thin-film technologies and traditional silicon-based solar panels. Nonetheless, opportunities lie in ongoing research and development efforts to improve CdTe solar cell performance and sustainability.
Additionally, expanding into emerging markets with a growing demand for affordable and efficient solar solutions presents lucrative business prospects for CdTe manufacturers. In conclusion, the CdTe market's growth trajectory is driven by cost-efficiency, efficiency gains, and environmental benefits, though it must navigate challenges while capitalizing on emerging opportunities in the dynamic solar energy landscape.
Cadmium Telluride Market Scope
| | |
| --- | --- |
| Report Coverage | Details |
| Growth Rate from 2023 to 2032 | CAGR of 10.32% |
| Market Size in 2023 | USD 8.38 Billion |
| Market Size by 2032 | USD 20.28 Billion |
| Largest Market | North America |
| Base Year | 2022 |
| Forecast Period | 2023 to 2032 |
| Segments Covered | By Source, By Application, and By End User |
| Regions Covered | North America, Europe, Asia-Pacific, Latin America, and Middle East & Africa |

Cadmium Telluride Market Dynamics
Driver
High energy conversion efficiency and thin-film advantages
High energy conversion efficiency and thin-film advantages are two pivotal factors propelling the market demand for cadmium telluride (CdTe) solar technology. The remarkable energy conversion efficiency of CdTe solar cells makes them highly sought after in the renewable energy sector. These cells exhibit a strong ability to convert sunlight into electricity, especially in regions blessed with abundant sunlight. This translates into higher electricity production from a given area of solar panels, resulting in increased energy yields. In a world where maximizing energy generation is crucial, the high efficiency of CdTe cells positions them as a top choice for solar panel installations.
Moreover, the thin-film characteristics of CdTe solar cells confer several advantages. Their lightweight and flexible nature allows for versatile applications, including integration into building materials and the development of flexible solar panels. This flexibility in design and installation expands the potential deployment scenarios for CdTe technology, making it adaptable to various settings and paving the way for innovative solar solutions. As a result, the market demand for CdTe technology continues to surge, driven by the desire for high energy yields and the versatility afforded by its thin-film attributes. These factors position CdTe as a competitive and favored option in the solar energy landscape, contributing to its growing prominence.
Restraints
Competition from silicon and toxicity concerns
The cadmium telluride (CdTe) market, while witnessing significant growth, faces notable restraints that influence its market demand. One key challenge is the intense competition posed by traditional silicon-based solar panels. Silicon solar cells have long been the dominant technology in the solar industry and enjoy a well-established market presence. The familiarity and trust in silicon technology can make it difficult for CdTe to gain widespread acceptance, despite its cost-efficiency and efficiency gains. CdTe manufacturers need to continuously innovate and demonstrate superior performance to compete effectively with silicon.
Additionally, concerns regarding the toxicity of cadmium, a key component in CdTe solar cells, pose a substantial restraint. Environmental and health concerns have prompted regulatory scrutiny and public apprehension. To address this issue, the CdTe industry must invest in research and development to reduce cadmium usage, develop recycling programs, and implement safe disposal methods. Overcoming these concerns and differentiating itself from silicon-based competitors will be crucial for CdTe technology to realize its full market potential and drive sustainable growth in the solar energy sector.
Opportunities
Technological advancement and grid integration
Technological advancements and grid integration play pivotal roles in surging the market demand for cadmium telluride (CdTe) technology. Continuous technological advancements in CdTe solar cells have led to improved efficiency and performance, making them a more attractive option for solar energy generation. Apart from this, research and development efforts are focused on enhancing the energy conversion efficiency of CdTe cells, narrowing the performance gap with traditional silicon-based cells. As CdTe technology evolves, it becomes more competitive and cost-effective, driving greater adoption across residential, commercial, and industrial sectors.
Moreover, the seamless integration of CdTe solar systems into existing grids is a critical factor driving market demand. CdTe technology offers the flexibility to connect to grid networks efficiently. As governments and utilities worldwide invest in expanding renewable energy sources, CdTe's compatibility with grid integration solutions ensures a stable and reliable energy supply. This integration is crucial for balancing energy production and demand, particularly in regions with fluctuating weather conditions. As a result, CdTe technology contributes to grid stability and reduces reliance on non-renewable energy sources, further accelerating its market demand.
Impact of COVID-19
The cadmium telluride (CdTe) market, like many industries, experienced the impacts of the COVID-19 pandemic. The initial disruptions included supply chain interruptions, factory closures, and logistical challenges, which led to temporary slowdowns in manufacturing and project installations. Uncertainty in the financial markets also affected investment decisions and delayed some solar projects. However, the pandemic also underscored the importance of resilient and sustainable energy sources.
Governments and organizations recognized the value of renewable energy, including CdTe technology, in ensuring a more resilient energy infrastructure. As a result, stimulus packages and policy support were directed toward renewable energy initiatives, bolstering the CdTe market's recovery.
Additionally, remote work and the digitalization of industries highlighted the importance of reliable and efficient energy sources, further driving interest in solar technologies like CdTe. While the pandemic posed initial challenges, it ultimately accelerated the transition to renewable energy sources, making CdTe solar technology a critical component of the global energy landscape.
Source Insights
According to the source, the Tellurium segment held 63% revenue share in 2022. Tellurium, a rare metalloid, is a vital component in CdTe solar cells. It enables efficient sunlight absorption and conversion into electricity. The CdTe market's growth is influenced by the availability and supply of Tellurium, which can be limited due to its scarcity. Therefore, efforts are being made to explore alternative materials or recycling methods to ensure a stable Tellurium supply.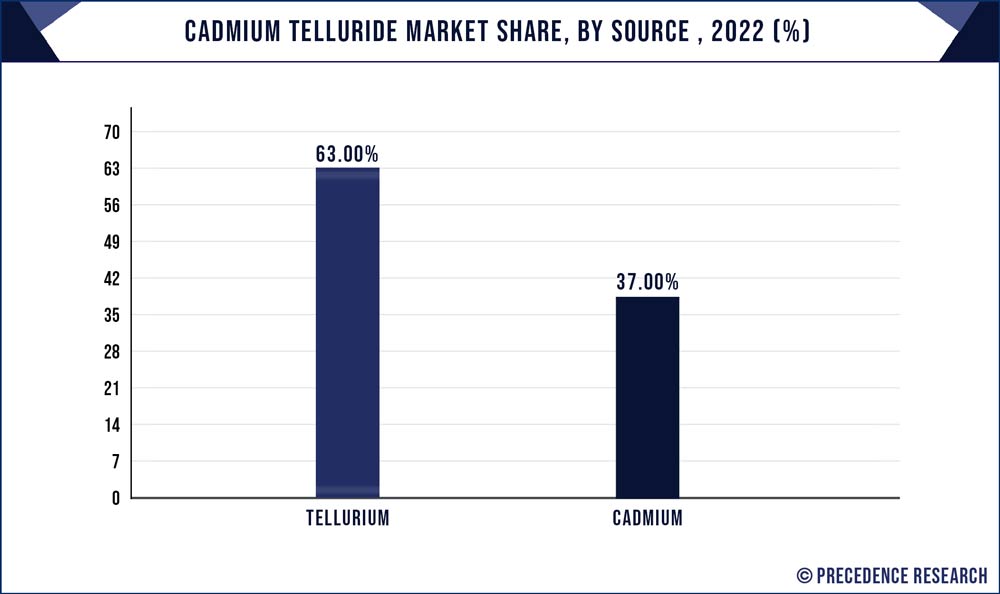 The cadmium segment is anticipated to expand at a significantly CAGR of 7.8% during the projected period. Cadmium, a heavy metal, forms the other component of CdTe solar cells. While CdTe cells offer cost-effective solar solutions, the toxicity of Cadmium raises environmental and health concerns. As a result, the industry is focused on reducing Cadmium usage and developing recycling and safe disposal methods, aligning with sustainability trends in the solar energy sector. These trends emphasize the importance of sustainable material sourcing and environmental responsibility in the CdTe market.
Application Insights
Based on the application, solar PV segment is anticipated to hold the largest market share of 39% in 2022. Cadmium telluride (CdTe) solar cells are extensively employed in the solar photovoltaic (PV) sector due to their compelling cost-efficiency and impressive energy conversion efficiency. A significant trend in this application is the relentless pursuit of enhancing CdTe technology to boost its efficiency while simultaneously driving down production costs. This dedication to innovation positions CdTe solar cells as a competitive and sustainable option for generating electricity from sunlight.
Furthermore, another noteworthy trend in the CdTe market is the growing integration of CdTe PV systems into a diverse range of projects. These include residential, commercial, and utility-scale installations, collectively contributing to the substantial expansion of global solar energy capacity. This widespread adoption underscores CdTe technology's versatility and adaptability, making it a key player in the ongoing transition towards renewable energy sources and sustainable power generation solutions.
On the other hand, the nuclear spectroscopy segment is projected to grow at the fastest rate over the projected period. Nuclear spectroscopy relies on CdTe detectors to analyze gamma-ray emissions in diverse scientific and industrial settings. A notable trend in this field centers on enhancing detector performance, with a focus on achieving higher resolution and sensitivity for more precise measurements.
The CdTe market in nuclear spectroscopy thrives on its reputation for reliability and accuracy in identifying nuclear materials and monitoring radiation levels. This reliability finds applications in various sectors, including nuclear research, medical diagnostics, and security. The CdTe technology's ability to provide precise and dependable data makes it an indispensable component in these critical fields.
End Users Insights
In 2022, the Commercial segment had the highest market share of 57% on the basis of the installation. In the commercial sector, there is a growing trend toward integrating CdTe solar panels into buildings' architectural designs. This trend, known as building-integrated photovoltaics (BIPV), allows commercial structures to generate renewable energy while maintaining aesthetic appeal. Additionally, commercial properties are increasingly using CdTe solar technology to offset energy costs and reduce their carbon footprint, contributing to sustainability goals.
The Industrial segment is anticipated to expand at the fastest rate over the projected period. Industrial facilities are leveraging CdTe solar systems to meet their energy demands efficiently. Large-scale industrial complexes are installing CdTe panels on rooftops and unused spaces to generate clean electricity for their operations. The industrial sector's focus on energy efficiency and environmental responsibility aligns with the adoption of CdTe technology, which offers cost-effective and eco-friendly energy solutions. As a result, the CdTe market is witnessing increased uptake by both commercial and industrial users, driven by sustainability goals and cost savings.
Recent Developments
In 2023, JinkoSolar signed a MoU with Failte Solar to provide 200 MW of N-Type Tiger Neo Modules for the Irish Distribution Generation Market, highlighting their commitment to supplying renewable energy solutions.
In 2023, QCells, a South Korean company, intends to establish a comprehensive silicon-based solar supply chain in the U.S. The plan includes breaking ground in Georgia in the first quarter for a facility capable of manufacturing 3.3 GW of solar ingots, wafers, cells, and finished panels.
In 2020, Trina Solar has successfully acquired Nclave, a Spanish solar tracker system manufacturer. Nclave's smart tracker system is a key component of Trina Solar's comprehensive smart photovoltaic solution, TrinaPro, further strengthening their position in the solar industry.
Key Market Players
First Solar, Inc.
Abound Solar
PrimeStar Solar
Antec Solar Energy AG
Calyxo GmbH
Lucintech, Inc.
Global Solar Energy, Inc.
Xunlight Corporation
Advanced Solar Power (Hangzhou) Co., Ltd.
Astronergy Solar
AVANCIS GmbH & Co. KG
NexPower Technology Corp.
Xian Longi Silicon Materials Corp.
China Sunergy Co., Ltd.
Hanwha Q CELLS Co., Ltd.
Segments Covered in the Report
By Source
By Application
Solar PV
Optical Lenses and Windows
Electro-Optic Modulator
Nuclear Spectroscopy
Infrared Optical Material
By End User
Residential
Commercial
Industrial
Utility
By Geography
North America
Europe
Asia-Pacific
Latin America
Middle East and Africa