The global central lab market size was estimated at USD 3.1 billion in 2022 and it is projected to hit over USD 5.4 billion by 2032, poised to grow at a compound annual growth rate (CAGR) of around 5.71% during the forecast period 2023 to 2032. The U. S. central lab market will reach at USD 1.53 billion by 2030.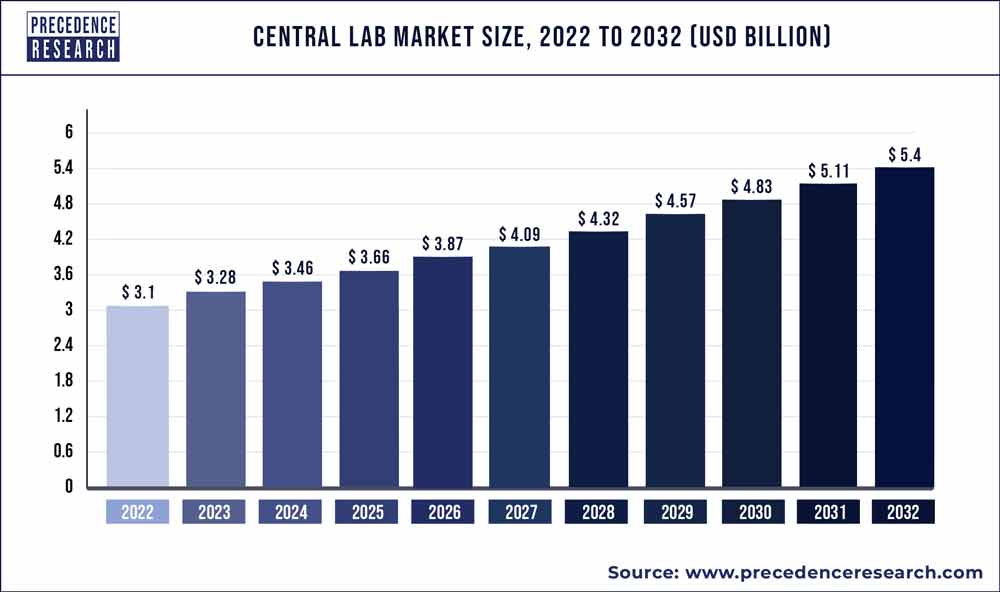 Access our Premium Real Time Data Intelligence Tool, Visit: Precedence Statistics
Central laboratory is defined as a medical laboratory that serves several facilities or institutions. The definition also includes laboratories that serve only one hospital or institution but are not located onsite; these act as service providers for clinical laboratories within healthcare facilities. Other terms used to define central lab services include "corporate-type labs" and "national reference laboratory systems." This report describes different types of central lab services according to their organizational structure and management, the functions they perform and their relationships with healthcare institutions.
The main objectives of a central lab service are: to provide efficient and appropriate testing; to assure quality control and maintain continuous monitoring; to reduce costs by coordinating, controlling, and consolidating purchasing; to promote accountability for results; and to support training in hematology, clinical chemistry, serology/immunology/mycobacteriology, microbiology, virology/parasitology/mycology and molecular biology. The provision of these services involves several steps: development of technical protocols or procedures that guarantee standardization in each procedure performed in the lab; proper environmental conditions created through training, equipment and supplies; the availability of trained staff who are properly supervised by a more technically qualified person; coordination with other healthcare providers in order to ensure that specimens are collected at appropriate times of stability for analytes being tested.
Global Central Lab Market Share, By Player (2020)
| | |
| --- | --- |
| Players | Market Share (%) |
| Covance | 24.11% |
| Q2 Solutions | 12.92% |
| ACM Global Central Lab | 1.18% |
| Barc Lab (Cerba Research) | 3.62% |
| Bioscientia (Sonic Healthcare) | 2.52% |
COVID-19 Impact
The pandemic has led to a rise in the number of hospitalizations and acute illnesses. However, many elective surgical procedures have been postponed or rescheduled by healthcare institutions via telehealth visits instead. This has definitely impacted laboratory testing for central laboratories across the globe with different needs from personnel to analyzers and reagents. It may provide guidance on how best these trends can be handled going forward as well as making decisions during future periods of increased COVID-19 cases or other types of outbreaks potentially brought about through a new strain.
Market Drivers
Central Lab Increase New Product Development Efficiency & Speed
Central laboratories increase the speed at which new products come onto the market by carrying out early-stage development work such as pre-clinical testing. Central laboratories are designed with the specific requirements of the API in mind.
Central Laboratories Reduce Manufacturing Costs
Central labs can reduce costs by removing unnecessary handling steps involved when transporting API between facilities, thus reducing reagent consumption which results in less waste.
Central Lab Increase Manufacturing Flexibility
By decentralizing API manufacture to several central locations, companies have far greater flexibility for when they decide to bring a new product onto the market. There is no need to wait until sufficient production capacity has been installed at one site before bringing out a new product range which further reduces time to Market.
Central Lab Lead to Improved Resource Efficienct & Product Quality
The improved resource efficiency that comes from moving manufacturing closer to markets means that companies can be more environmentally conscious by reducing carbon emissions and packaging waste. Allowing local HQ to have greater oversight of the products being made also leads to product quality being improved.
Market Opportunities
Central Labs Bring New Opportunities for Multinational Companies
Multinational companies with R&D centers around the world benefit from central labs because they enable them to bring new compounds onto the market more quickly by removing unnecessary steps in transport, thus leading to a huge increase in speed and efficiency. Central lab manufacturing facilities can be built relatively quickly which means that a company can begin work on a compound without having long term plans about where it will manufacture the finished product.
One of the key questions for multinational corporations is to determine which areas of their business are ripe for centralization. Now, central labs bring new opportunities to various corporations, whether it is certain industries or centralizing entire laboratories. With this concept, many companies will be able to compete with industry leaders by centralizing specific areas of their business. Central labs are particularly useful for industries that have never been centralize before. For example, centralizing R&D for new products is one of the most important issues that many corporations struggle with today. This concept can be centralization into a central lab to make sure that projects are centralize to produce the best possible product.
Regional Analysis
Based on region, the north america region was valued at USD 995.48 million in 2020 and expanding growth at a CAGR of 5.5% from 2021 to 2027.
The US and Canada are both encouraging more central labs to open up, as a way of helping doctors make better clinical decisions. The American health care system is experiencing an unprecedented increase in demand for laboratory services due to multiple factors, including extraordinary growth in the number of people gaining access to affordable, quality health care through new insurance options under the Affordable Care Act."-Prepared excerpt 2: Central lab demand is on the rise. As new insurance options—including health care reform, Medicaid expansion and private insurance—individuals are gaining access to high quality, affordable health care services.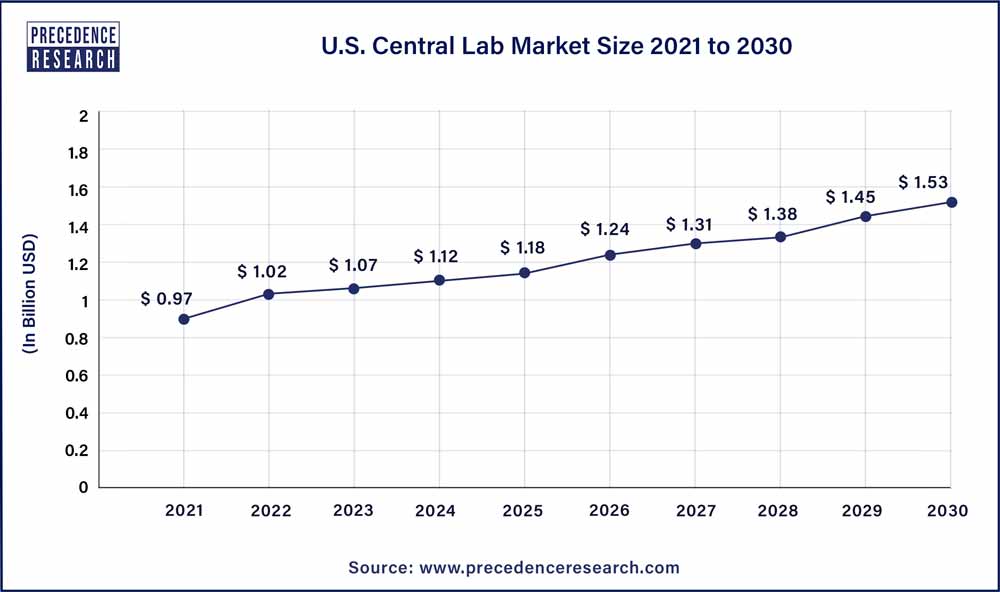 The United States has several centralized laboratories that are available for processing all incoming specimens, including some specialized tests related to specialized insurance billing codes known as Revenue Codes. Centers for Disease Control and Prevention (CDC) Laboratories are part of the U.S. public health system which allows access to the same reference standards used by government agencies worldwide, with identical or similar test methods used by its reference and clinical laboratories. U.S. reference and clinical laboratory standards used by the CDC and state and territorial public health laboratories are identical because access to the same materials is required to assure comparability of results; this allows clinicians anywhere in the nation to obtain results using CDC's Laboratory Response Network (LRN) for infectious disease detection, which could be crucial when waiting for a test result could mean life or death.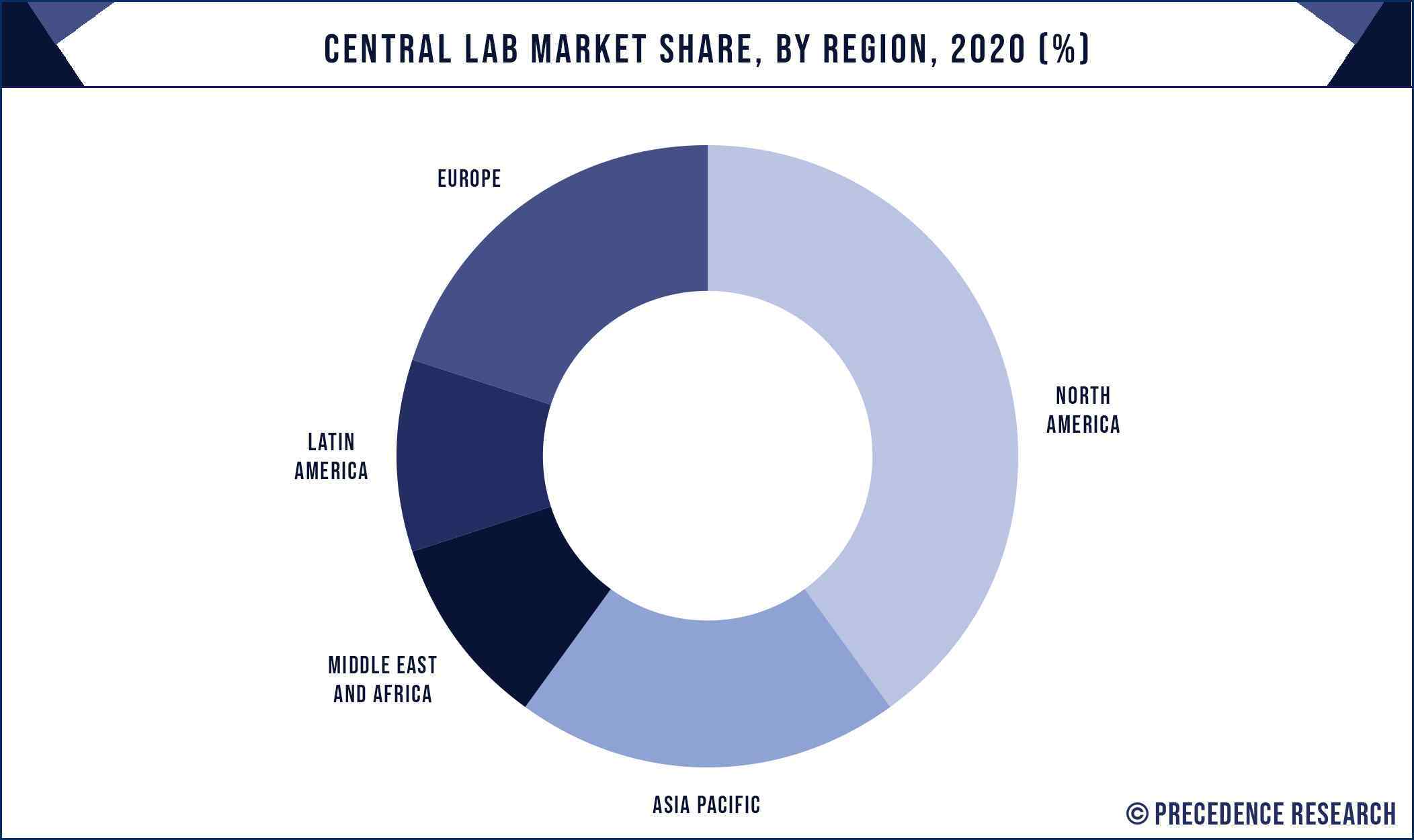 The adoption of central laboratory services has increased over the past decade; however, use remains low compared with those observed in other developed regions such as Europe. Factors affecting organizations' decisions include the impact of Clinical Trial Regulations, time to patient recruitment, cost savings, and centralized quality management. In North America, clinical laboratory services are offered to the general public and health care professionals by a variety of organizations that may be either for-profit corporations or not-for- profit institutions. The U.S. Bureau of Labor Statistics estimates that there were more than 994,000 laboratory professionals in the United States in 2018 (Bureau of Labor Statistics 2009). These laboratorians worked primarily in hospitals or freestanding laboratories, where they performed hematology, serology/immunoassay, chemistry and toxicology testing; microbiological procedures; and cytogenetic and molecular procedures.
In Canada, approximately 41% of all medical laboratory technologists work within Hospitals. Central laboratories offer a large number of services to physicians and health care professionals. Services include general chemistry, hematology, coagulation, immunoassays such as ELISAs and multiplex assays, urinalysis and toxicology screening. Generally speaking, these tests are performed on automated analyzers from companies such as Beckman Coulter Inc., Roche Diagnostics Corp., Siemens Medical Solutions USA or Ortho Clinical Diagnostics L.P.
U.K. central lab market size was valued at USD 194.93 million in 2022 and it is expected to reach at a CAGR of 7.9% from 2022 to 2030.
China central lab market size was valued at USD 181 million in 2022 and it is expected to reach at a CAGR of 7.4% from 2022 to 2030.
Japan central lab market size was valued at USD 151.79 million in 2022 and it is expected to reach at a CAGR of 6.1% from 2022 to 2030.
Korea central lab market size was valued at USD 60.13 million in 2022 and it is expected to reach at a CAGR of 6.4% from 2022 to 2030.
Product Analysis
Based on product type, the biomarkers services segment accounted largest revenue share of over 39% in 2022. This segment was valued at USD 1031.86 million in 2020 and registered CAGR of 6% from 2021 to 2027.
Central lab biomarker tests allow a healthcare professional to measure individual differences in response to medication or disease. The central lab analyzes a patient's blood, urine, stool, saliva and/or other types of samples looking for biomarkers that can indicate disease risk and/or activity as well as provide information about how individuals may respond to treatment. In one central lab biomarker test, for example, researchers analyze the metabolites found in urine samples from patients with neurodegenerative disorders such as Parkinson's disease by conducting High-Performance Liquid Chromatography (HPLC). In this central lab assay, the metabolite profiles are compared with those from healthy participants without neurodegeneration. Through these experiments researchers have been able to develop metabolite panels that accurately distinguish patients with Parkinson's disease from unaffected individuals.
End User Analysis
Based on end user, the pharmaceutical companies segment dominated the global central lab market with revenue share of over 46.13% in 2022. This pharmaceutical companies segment was estimated at USD 945.44 million in 2020 and registered CAGR of 6.9% from 2021 to 2027.
The number of central lab-based trials has gone up since 2009, when an average of six to eight trials were outsourced to central labs every month. Nowadays, more than 70% of all clinical trials are using central laboratories.
The pharmaceutical industry is on the brink of another milestone in big data. The latest analysis of the American Association of Clinical Research shows that last year, more than 50% of clinical trials were done through central labs, while outsourcing laboratories only had about 29%. Pharmaceutical studies before central lab were used in clinical research, clinics had to send samples back and forth between different laboratories for testing. This process is cumbersome and time-consuming; it can also cause problems in preventing laboratory workers from sharing information about participant samples with each other, which may lead to errors or bias when analyzing data.
However, this is no longer an issue because more clinical trials are done through centralized laboratories. The centralization of data enables better coordination between the various phases of the trial so that all researchers involved know what stage participants have reached at any given time. That means there are fewer delays in processing and analysis.
Central lab also has its own advantages: It can provide access to a large number of samples and research data as well as the capability to perform complex tests such as genetic sequencing, which can show how different drugs interact with genetic material. In addition, central lab is able to run long-term studies that monitor participants over an extended period. This means that researchers can collect more detailed information for each individual participant and reduce errors and bias when analyzing data.
Pharmaceutical companies are now making use of central labs because they want to develop new products, which can be finished even faster than before. Central labs are also more efficient and cost saving for big multinational pharmaceutical companies which have their own R&D centres around the world. Manufacturing has moved out from developed countries like Japan and Germany to developing countries like China (and other countries in Asia). The following discusses why this is happening:
The motivation for this change is threefold: first, companies are no longer satisfied with the existing product range. Second, there is a strong urge to reduce time to market through product innovation. Third, outsourcing to an external provider was often required by general management due to limitations at internal R&D centers.
- Manufacturing has moved out from developed countries like Japan and Germany to developing countries like China (and other countries in Asia).
- Product innovation encourages pharmaceutical companies to move their manufacturing sites into many more locations around the globe.
- The new challenges are located near customers, have global supply chains and are economically attractive for local or regional activities of pharmaceutical companies. This means expanding upstream beyond chemical synthesis, downstream beyond final production steps to include API and drug product manufacturing, as well-as additional managerial tasks at the partner site.
Key Players
ACM Global Central Lab
ICON
PPD
Barc Lab (Cerba Research)
Bioscientia (Sonic Healthcare)
Celerion
CIRION BioPharma Research
Clinical Reference Laboratory
Lab Corp
Eurofins Central Laboratory
Frontage Laboratories, Inc
icon central labs
INTERLAB Central Lab Services
LabConnect
Medpace
Market Segmentation
By Product Type
Genetic Services
Biomarker Services
Microbiology Services
Anatomic Pathology/Histology
Specimen Management & Storage
Special Chemistry Services
Clinical Research & Trial Services
Others
By End User
Pharmaceutical Companies
Biotechnology Companies
Academic & Research Institutes
Others
By Geography
North America
Europe
Asia-Pacific

China
India
Japan
South Korea
Malaysia
Philippines

Latin America

Brazil
Rest of Latin America

Middle East & Africa (MEA)

GCC
North Africa
South Africa
Rest of the Middle East & Africa