The global cloud analytics market size was evaluated at USD 26.8 billion in 2022 and is expected to surpass around USD 143.17 billion by 2032, growing at a CAGR of 18.24% between 2023 and 2032.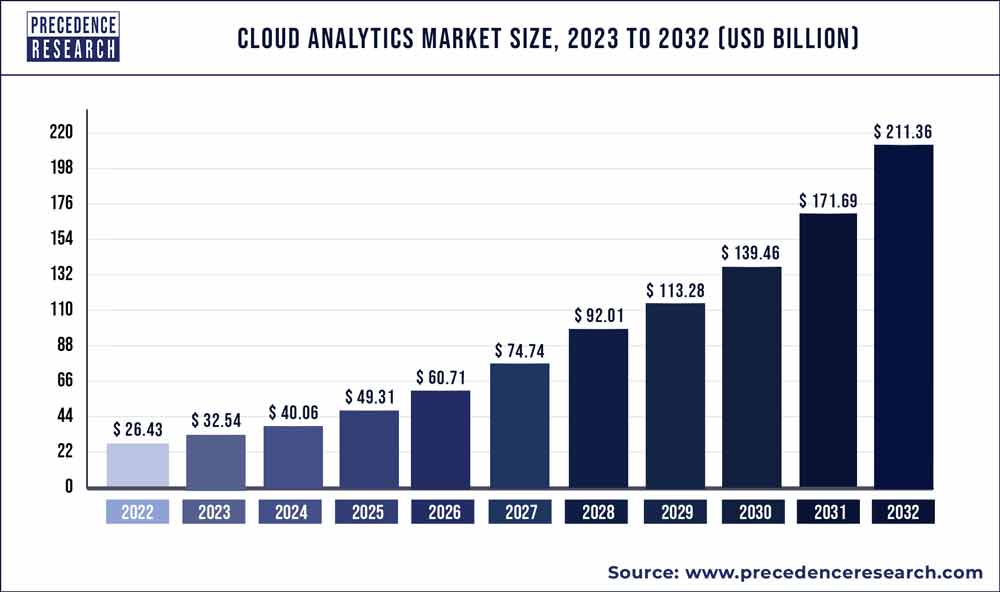 Access our Premium Real Time Data Intelligence Tool, Visit: Precedence Statistics
Key Takeaways:
By geography, North America generated more than 51% of total sales in 2022.
By geography, the Asia Pacific region is anticipated to have the largest CAGR at a13% from 2023 to 2032.
By component, the solutions segment generated more than 72% of the total revenue share in 2022.
By deployment, the private segment captured more than 30% of revenue share in 2022.
By organization size, the SME segment accounted for more than 45% of revenue share in 2022.
By industry vertical, the BFSI segment generated more than 35% of the total share in 2022.
By industry vertical, the healthcare and life sciences segment accounted for over 10% of revenue share in 2022.
By application, the sales and marketing segment generated more than 38% of the revenue share in 2022.
By application, the customer service segment contributed more than 13% of revenue share in 2022.
Cloud analytics continues to be well-liked as a better alternative to on-premises analytics. On-premises analytics are complicated and expensive to manage, whereas cloud analytics enables customers to scale up and promote cost reductions inside the firm. Due to the requirement for handling big data sets for businesses, the market for cloud analytics has also shown to be a reliable option for processing these enormous data volumes and producing meaningful information. Future occurrences can be predicted with it, and it can also produce meaningful data that is helpful to decision-makers. The user also benefits from not having to pay upfront for infrastructure thanks to pay-as-you-go pricing and the use of data connectivity in hybrid and multi-cloud models. The cloud platform, however, provides the benefit of public clouds with the potential for automatic, infinite scaling.
Recent assessments show that the majority of corporate firms in a variety of non-IT and non-telecommunications industries lack the IT personnel required to manage the complexity of the cloud computing environment. Additionally, because of the significant financial investment required, they do not want to purchase expensive hardware equipment and other hardware-related instruments. The cloud is these firms' greatest option for managing enormous amounts of data without requiring a lot of specialized IT staff, tools, or processes. The primary driver currently driving increasing public cloud computing contact or adoption is enterprises that are digitally transitioning (63%). Security is the main issue, according to 66% of IT experts, when it comes to creating a business cloud computing strategy.
Market Growth
The cloud analytics market has not been significantly impacted by the COVID-19 outbreak. This can be ascribed to the rising use of big data technologies, increased reliance on the culture of working from home, the boom in social media usage, and the acceptance of mobile applications. In addition, several industries have seen the advantages of cloud services to improve their capabilities, including healthcare, BFSI, and media & entertainment. Healthcare firms were compelled to swiftly reevaluate their technology and advance preparations for digital transformation as COVID-19 started to proliferate.
Accelerating the implementation of cloud technologies was one of the top priorities for healthcare firms in order to better manage the flood of patient data, assure faster workplace procedures, and make information sharing easier. The cloud's predictive analytics can help those managing the supply chain better understand where shortages exist and where they will soon be so that they can allocate before there is a problem. As organizations look to provide essential healthcare equipment to those in need, such as PPE and ventilators, the cloud's predictive analytics can help. Predictive services can be easily combined with matching algorithms to cut down on waste in the supply chain while giving suppliers and procurers real-time visibility.
Report Scope of the Cloud Analytics Market
| | |
| --- | --- |
| Report Coverage | Details |
| Market Size in 2023 | USD 31.69 Billion |
| Market Size by 2032 | USD 143.17 Billion |
| Growth Rate from 2023 to 2032 | CAGR of 18.24% |
| Base Year | 2022 |
| Forecast Period | 2023 to 2032 |
| Segments Covered | By Component, By Deployment. By Organization Size, By Industry Vertical, and By Applications |
| Regions Covered | North America, Europe, Asia-Pacific, Latin America and Middle East & Africa |

Market Dynamics:
Market Drivers
The advent of cloud computing environments, where data is remotely stored in distributed storage systems, has made it possible to quickly scale up or scale down the IT infrastructure. These ecosystems also make pay-as-you-go arrangements possible. Because of this, companies that need to process enormous amounts of data and have high storage and processing requirements can do so without having to make a significant investment in building out their IT infrastructure. A better option would be for businesses to license the storage and processing power they need and only pay for what they really use. Because of this, most significant organizations that handle vast volumes of data are making use of cloud computing to offer their goods to enterprises.
However, a corporation must go through a challenging and time-consuming process to move data from an on-premises solution to the cloud. The companies must take several weeks or months to synchronize their data sources and systems before the relocation is finished. These factors aren't putting people off from embracing cloud-based solutions; rather, they're accelerating the growth of hybrid and multi-cloud deployments. Early adopters are leveraging their cloud storage for dynamic workloads, while on-premises solutions are still highly useful for steady workloads. Businesses are developing multi-cloud strategies to take advantage of the many best-suited technologies and solutions that are accessible in a variety of deployment options.
Market Restraints
Corporate organizations worldwide working in and across a number of industries are growing more concerned about data security risks as cloud technology is embraced (such as data theft and loss of industry-specific information). The multi-tenancy infrastructure of cloud analytics allows a variety of different commercial companies to share data that is transported from various cloud providers. The cloud infrastructure servers are virtually accessible and shared across numerous lines in an organization rather of being used by just one line. Throughout this procedure, numerous data security issues are brought up. Breach of cyber security is the main concern for cloud-based environments. Cyberattacks might lead to customer churn and the eventual extinction of well-known brands if consumers decide to shop at other companies.
Market Opportunities
In February 2022, Teradata and Microsoft joined up to connect Microsoft Azure with the Teradata Vantage data platform. The partnership aims to carry out cloud activities, update business data analytics workloads, and collaborate on data analytics issues. Additionally, in November 2021, the industry-leading supplier of cloud data management, Informatics, unveiled its cutting-edge cloud analytics software on Microsoft Azure. The platform is available to customers who need to migrate their on-premise data warehouse and ETL workloads to IDMC on Azure and Azure Synapse Analytics and who have a combined Microsoft and Informatics PowerCenter.
Segments Insight:
By Component Insights
In 2022, the category for cloud analytics solutions will account for roughly 72% of total revenue. The demand for cloud analytics solutions is rising. These include cloud BI tools, enterprise information management, governance, risk, and compliance, enterprise performance management, and analytics solutions. The enterprise performance management solution aids businesses in gaining insights, improving agility and planning across HR, finance, sales, and supply chain, streamlining financial techniques, and producing better results and decisions.
The service industry has a market share of about 45% in 2022. The businesses that provide cloud analytics services provide managed and professional services. The service providers provide services for data management, analysis, and organization that give clients information for making business decisions. Over the course of the forecast period, market growth is anticipated to be driven by the growing demand of SMEs and large enterprises to manage data and quality insights.
By Deployment Insights
In 2022, the private cloud segment's revenue share was close to 30%. The advantages, particularly for large businesses, include service customization and greater control due to the cloud infrastructure being dedicated to a single-user organization, enabling privacy and increased security. About 42% of income in 2022 will come from the hybrid cloud. By combining the deployment of private and public clouds, the hybrid cloud offers services.
Based on changes in demand for process computing, users of a hybrid analytics cloud solution can seamlessly transition resources from on-premises private infrastructure to public cloud. To address short-term demand without investing in cloud infrastructure, businesses are implementing hybrid cloud architecture. The advantages provided by the hybrid cloud, such as low-risk exposure, cost-efficiency, and scalability, are anticipated to increase demand for hybrid cloud platforms during the projected period.
By Organizational Size Insight
The SMEs market was responsible for over 45% of total revenue in 2022. Due to its scalability and ability to support both online and regional development without having an adverse financial impact, SMEs are embracing public and hybrid clouds. It decreases or eliminates downtime while allowing organizations to operate more efficiently without spending money on infrastructure. Large companies accounted for over 69% of the revenue share in 2022.
Businesses are implementing cloud analytics to boost profitability and pinpoint areas that are operating well and poorly in order to inform their future business plans. Data is password-protected and routinely backed up by cloud analytics systems on servers spread across various locations, improving security. Additionally, it is projected that the advantages, such as enhanced collaboration and sharing, will accelerate industry growth during the forecast period.
By Industry Vertical Insights
The BFSI sector contributed over 35% of total income in 2022. Businesses are using cloud analytics to enhance user experience as a result of the fiercer competition in the BFSI sector. Businesses use cloud analytics to improve customer acquisition, engagement, and targeting. To enhance the user experience and achieve a competitive edge, the BFSI sector is implementing cloud analytics solutions such as sales analytics, website analytics, performance analytics, and financial analytics. The healthcare and life sciences sector controlled over 10% of the market in 2022.
Cloud analytics tools assist the healthcare and life sciences industries in using gathered healthcare data to make critical choices. It enables management and healthcare teams to quickly evaluate personnel, financial, and operational performance in any area of a healthcare company, taking into account variations, trends, and potential future effects. Analytics tools make it possible for medical staff to quickly combine data from many sources, reducing the amount of time required for analysis and reporting and improving patient care.
By Application Insights
Nearly 38% of the revenue share in the application segment in 2022 was accounted for by sales and marketing. The market is expanding as a result of new trends like text analytics and social analytics as well as an increase in demand for information to help with better company planning. The platform is tailored for manufacturing, health & life sciences, financial services, retail & consumer products. It offers artificial intelligence (A) driven insights to improve visibility and forecast correct pipeline information.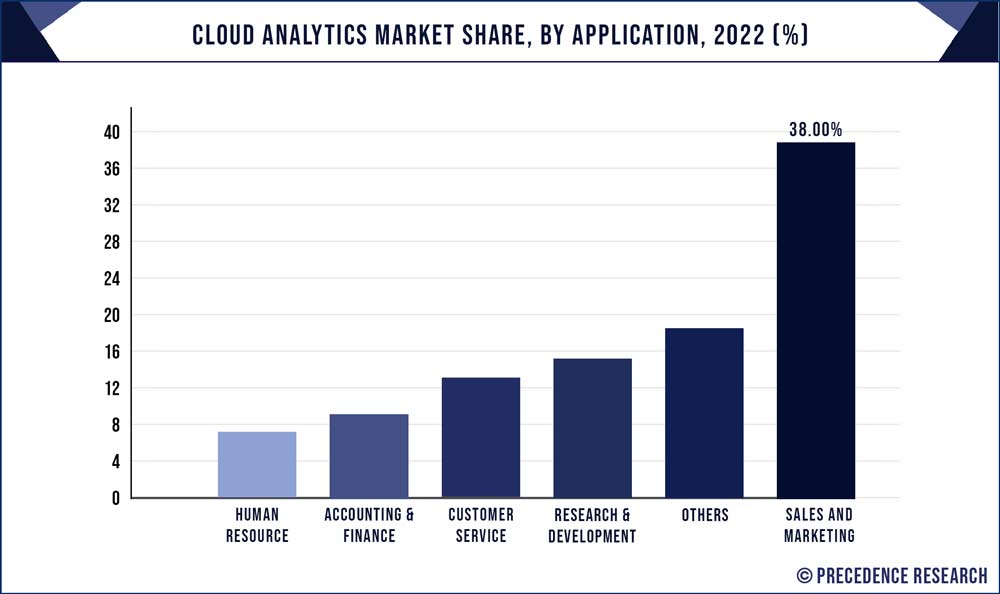 In 2022, the customer service segment's revenue share was close to 13%. The increase in demand for individualized services by the client and key performance measures like total time resolution (TTR), first reaction time (FRT), and customer satisfaction (CSAT) by the client are credited with the growth. The segment is expanding as a result of the growing use of customer journey analytics, customer retention analytics, and customer engagement analytics to comprehend different facets of customers.
Cloud Analytics Market Share, By Region, 2022 (%)
| | |
| --- | --- |
| Region | Revenue Share In 2022 (%) |
| Asia Pacific | 20% |
| North America | 51% |
| Europe | 23% |
| Latin America | 3.6% |
| MEA | 2.4% |

Regional Insights
In 2022, North America accounted for over 51% of total sales. The expansion is credited to the greater use of the most recent technologies in postal services and the presence of important firms in the area. Additionally, businesses are adopting automation due to growing labor costs and a lack of workers, which is fueling the market's expansion. Government, BFSI, and other sectors are increasingly in need of postal automation services, which is boosting the sector's expansion in the area. The highest CAGR, at about 13%, is anticipated in Asia Pacific throughout the anticipated period. A highly advanced e-commerce logistics sector is now necessary due to the rapid growth of the e-commerce sector in nations like Japan, China, and India. Additionally, there are several potential for postal automation systems to flourish in the Asia Pacific region due to rising BFSI sector demand.
Recent Developments:
In January 2021, Data Analyzer, Plan Process Management with flexible modeling of calendar activities and processes, Story Exploration with improved View Time Story Tool Bar, Smart Discovery, and Voice to Insight are some of the new features added to SAP Analytics Cloud. The Voice to Insight function allows you to use Natural Language Query to ask business-related inquiries about the data.
In June 2020, Microsoft Corp. and SAS announced their strategic alliance. They will give clients the tools they need to quickly operate their SAS® workload in the cloud, expand their business solutions, and unlock significant value from their efforts to engage in digital transformation. As part of their partnership, the companies will move their industrial and analytical applications from SAS to Microsoft Azure as their chosen cloud provider for the SAS Cloud. SAS' business solutions and expertise will benefit Microsoft customers more in the financial, healthcare, and other industries.
In November 2020, IBM recently released a number of data and automation upgrades for its Hybrid Cloud software portfolio that would help company's foster innovation and quicken the digital transformation process.
In February 2021, With Ford Motor Co., Google has a six-year agreement that will add cloud services to the Ford manufacturing floor and Android technology to Ford cars.
In June 2019, to increase its client base, Google paid $ 2.6 billion to purchase Looker Data Sciences Inc. With this deal, Google will be able to offer its clients more cloud storage and software.
Market Key Players:
Microsoft Corporation
IBM Corporation
Oracle Corporation
Google, LLC
SAP SE (Germany)
TIBCO Software, Inc.
Salesforce.com
SAS Institute, Inc.
AWS
MicroStrategy
Cloudera
Alteryx, Inc.
Sisense (U.S.)
Atos (France)
Qlik (U.S.)
Segments Covered in the Report:
(Note*: We offer report based on sub segments as well. Kindly, let us know if you are interested)
By Component
By Deployment
By Organization Size
By Industry Vertical
BFSI
IT & Telecommunication
Manufacturing
Healthcare & Life Sciences
Government
Energy & Utilities
Others
By Application
Sales and Marketing
Research & Development
Customer Service
Accounting & Finance
Human Resource
Others
By Geography
North America
Europe
Asia-Pacific
Latin America
The Middle East and Africa