The global CNG powertrain market size was exhibited at USD 82.14 billion in 2022 and is projected to hit around USD 407.85 billion by 2032, growing at a CAGR of 17.38% during the forecast period 2023 to 2032.
A form of motor that burns compressed natural gas (CNG) instead of gasoline or diesel fuel is referred to as a CNG powertrain. In comparison to petroleum and diesel, CNG burns cleaner and emits fewer toxic gases.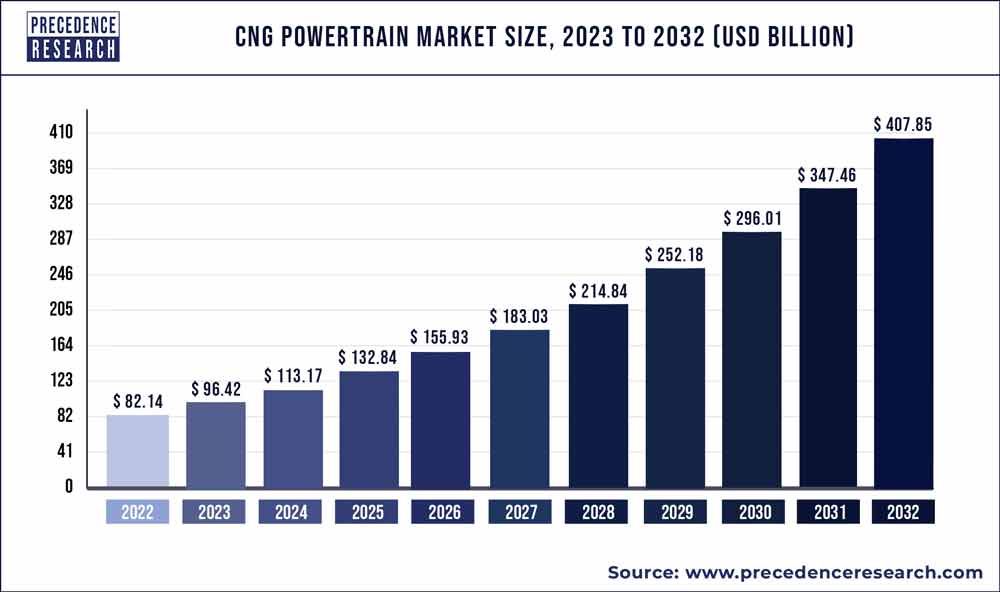 Access our Premium Real Time Data Intelligence Tool, Visit: Precedence Statistics
Key Takeaways:
Asia Pacific region dominated the market and generated more than 66% of the revenue share in 2022.
Latin America is predicted to grow at the highest compound annual growth rate (CAGR) of 18.7% from 2023 to 2032.
By drive type, the front-wheel drive segment captured more than 51% of revenue share in 2022.
By drive type, the all-wheel drive segment is expected to expand at the greatest CAGR of 18.4% from 2023 to 2032.
By fuel type, the bi-fuel segment generated more than 82% of revenue share in 2022
By fuel type, the mono-fuel market is predicted to grow at a remarkable CAGR of 19.4% from 2023 to 2032.
By vehicle type, the passenger car segment contributed more than 76% of revenue share in 2022.
By vehicle type, the commercial car segment is expected to expand at a profitable CAGR of 19% from 2023 to 2032.
Growth Factor:
The goal of net-zero carbon pollution is being driven by the increasing desire for alternative transitional fuel. Since particle matter is a significant contributor to vehicle pollution, compressed natural gas (CNG) has lower carbon emissions and no particulate emissions. As a consequence, it is anticipated that CNG will surpass other fuels like petroleum, gasoline, and LPG as the dominant energy source. The implementation of planned programs by governments in various regions to offer tax breaks, refunds, and other benefits to CNG vehicle owners is expected to boost demand for CNG powertrain cars over the projection period. Greater use of natural gas vehicles can aid nations with domestic natural gas resources in reducing their reliance on shipments of liquid fuel. Because LNG and CNG are less costly than gasoline or diesel in many countries, natural gas cars are also a financially sensible choice. Applications that use a lot of energy can particularly benefit from this expense advantage. Commercial cars fueled by natural gas are also much cleaner than those with conventional powertrains. This opens up the possibility of using natural gas vehicles, for instance, for late-night transportation in cities and villages. Because of this, lawmakers and other individuals are starting to favor natural gas as a fuel substitute, enabling businesses to enter previously untapped market segments.
Internal combustion engines with spark ignition are common in both vehicles that operate on fuel and those that run on compressed natural gas (CNG). It functions in a manner comparable to a gasoline motor. The gasoline canister, or cylinder, for natural gas is typically located in the rear of the car. High-pressure gas is transported by the CNG fuel system from the fuel canister through the fuel lines to a pressure limiter, which reduces the pressure to a level suitable for the fuel injection system of the motor. The fuel is then squeezed and pumped into the combustion chamber or intake manifold, where it mixes with the air and burns when a spark electrode is inserted. Buses and vehicles that frequently visit bases for refilling are frequently powered by CNG. CNG is also used as fuel for vehicles. CNG cars require specialized compressors that are connected to a main source of natural gas in order to be refueled. The gasoline canister, or cylinder, for natural gas, is typically located in the rear of the car. A pressure limiter in the CNG fuel system reduces the high-pressure gas to a level compatible with the engine's fuel injection system after it is transported from the fuel storage via the fuel lines.
The demand for cleaner and greener transit choices is one of the main factors influencing the development of CNG powertrains.
Compared to the cost of gasoline and diesel, the price of natural gas has remained comparatively stable, making compressed natural gas (CNG) an appealing fuel choice for fleet cars and transit businesses seeking to reduce fuel expenses.
Some areas have also put policies and incentives in place to promote the use of CNG powertrains, including financing for the construction of natural gas filling facilities as well as tax breaks and subsidies for the acquisition of CNG cars.
Report Scope of the CNG Powertrain Market
| | |
| --- | --- |
| Report Coverage | Details |
| Market Size in 2023 | USD 96.42 Billion |
| Market Size by 2032 | USD 407.85 Billion |
| Growth Rate from 2023 to 2032 | CAGR of 17.38% |
| Largest Market | Asia Pacific |
| Base Year | 2022 |
| Forecast Period | 2023 to 2032 |
| Segments Covered | By Drive Type, By Fuel Type, and By Vehicle Type |
| Regions Covered | North America, Europe, Asia-Pacific, Latin America and Middle East & Africa |

Key Market Drivers:
A Growing Industry Will Be Driven by a Temporary Alternative Source
The rising demand for alternative transitional fuels is advancing the aim of reaching zero carbon pollution. Compared to other fuels like diesel, gasoline, and liquefied petroleum gas, compressed natural gas (CNG) releases less carbon dioxide into the atmosphere (LPG). Particulate matter, a major contributor to smog, is absent from it. As a consequence, it is expected that CNG will soon replace these other fuels as the main source of energy. Governments all over the world are taking calculated actions to provide citizens with tax breaks, grants, and other benefits, so it is anticipated that a sizable demand for CNG powertrain cars will appear during the projection period.
Key Market Challenges:
Expensive operating and capital expenses limit market expansion
Due to the extra components required for CNG and LPG vehicles, their powertrains are usually more costly than those of standard gasoline vehicles. Because most of these cars lack lubrication, they require more frequent upkeep, which over time increases the cost because some components degrade more quickly than in gasoline-powered cars. The components also need to be replaced more frequently than those in gasoline-powered cars, whose lifetime is usually longer. For instance, truck operators who frequently travel for business purposes might use CNG. Only when they are used regularly can CNG and LPG cars be considered cost-effective.
Key Market Opportunities:
Low Operating Expenses to Improve Market Potential
Compared to petroleum-powered vehicles, CNG and LPG vehicles have considerably reduced operating expenses. Alternative fuels are more economical, particularly for drivers who travel frequently, as petroleum costs rise as a result of rising demand and diminishing sources. This is due to the fact that, based on how often the vehicle is driven, the original cost can be quickly recovered in a few years. While CNG and LPG costs have risen by much lesser amounts, the price of petroleum has sharply increased. This could become one of the most significant variables affecting the market share of CNG and LPG cars in the future. Diesel vehicles can go about 17 kilometers per liter, while gasoline vehicles can go about 15 kilometers per liter. CNG Engines can go about 21 kilometers per kilogram of fuel. As a result, CNG and LPG Powertrain may drive farther for less money, lowering their running costs.
Manufacturers' top priority is increasing engine performance to expand market opportunities
The development of more effective engines for CNG powertrains is a top priority for the industry. By lowering the percentage efficiency loss, speeding up flame spread, and lowering fuel evaporation from the engine, they are making an investment in enhancing the engine's performance. Leading manufacturers are also incorporating innovative devices into their CNG vehicles. For instance, S-CNG technology is added to passenger cars to increase gasoline efficiency. To do this, the fuel-to-air ratio is modified, and the intelligent fuel infusion system is synchronized with the electronic control units.
Segment Insights:
Drive Type Insights
With a revenue share of more than 51%, the front wheel drive category ruled the market as a whole in 2022. The advantages of front wheel drive cars, such as their light weight, improved fuel economy, and balanced weight distribution, which improves the car's all-around stability in challenging topography, are credited with the segment's development. A front wheel drive is also a more affordable choice for customers because drivetrains need less upkeep and the engine provides better fuel economy; these lucrative features are helping to fuel the substantial segment development.
Over the projection period, the all-wheel drive category is anticipated to grow at the greatest CAGR of 18.4%. The all-wheel drivetrain evenly transfers power to all four corners of the car, improving the vehicle's ability to maintain traction, enhancing acceleration, and improving control. All-wheel drive CNG powertrains are generally favored over other options because the better traction forces remove the chance of a vehicle sliding on snowy, damp, and sloppy roadways.
Fuel Type Insights
In 2022, the bi-fuel ruled the industry as a whole, accounting for more than 82% of share. The increased usage of cutting-edge technologies like S-CNG technology, which allows for simple switching between gasoline and CNG without impacting engine performance, is credited with the sector development. Sales of bi-fuel CNG powertrains have grown further as a result of the creation of fuel injection technology that enables direct injection of CNG into the current combustion chamber.
From 2023 to 2032, the mono-fuel market is anticipated to grow at a profitable Rate of 19.4%. Significant benefits of using CNG as a fuel include a decrease in main and tailpipe pollution. Additionally, while the cost of gasoline and diesel is extremely variable, the price of CNG per gallon is cheap, which is a relief for proprietors of CNG vehicles. A mono-fuel CNG engine car is therefore anticipated to be in high demand given the economics of CNG.
Vehicle Type Insights
In 2022, the passenger car market made up more than 76% of total income. The segment's development is largely attributable to the CNG vehicle's cheaper starting cost compared to other greener alternatives like electric powertrain cars. The industry is divided into commercial and passenger cars based on the sort of vehicle.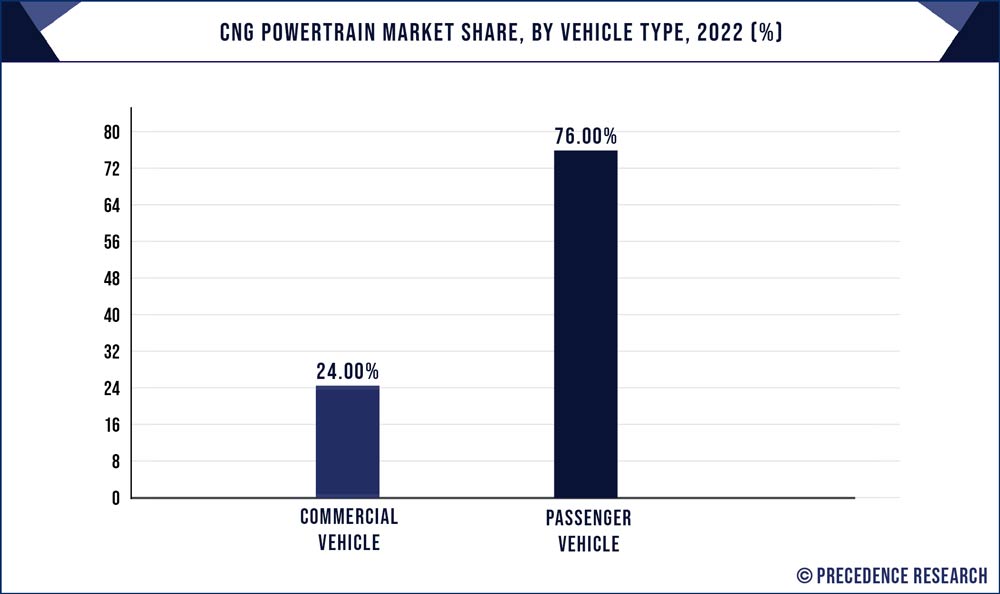 Over the projection period, the business car market is expected to grow at a profitable CAGR of 19%. In order to lessen environmental degradation, CNG-powered vehicles are becoming more and more popular for use in public transit and schools. For instance, the Indian government intends to bring 100 CNG engine A.C. buses to the nation's capital in March 2022. These vehicles are anticipated to lower the overall level of vehicular pollution in the city because they are ecologically favorable. Therefore, such government efforts in developing countries will increase the use of CNG commercial cars and are expected to boost the market's demand for CNG powertrains.
Regional Insights
In 2022, the Asia Pacific region dominated the market, holding over 66% of the total share, owing to the rapid growth of the automotive industry in countries like China and India. The region is also witnessing significant technological advancements, particularly in CNG infrastructure expansion, with major regional companies such as Maruti Suzuki incorporating S-CNG technology into their passenger vehicles. These vehicles are equipped with an efficient fuel injection system and a CNG engine that delivers optimal performance and enhances all-terrain maneuverability.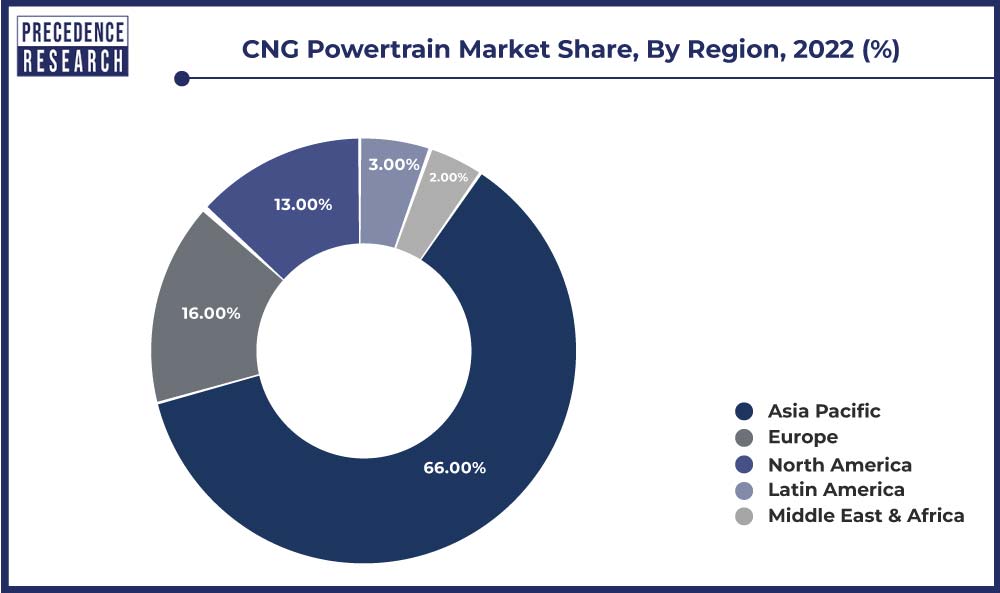 Between 2023 and 2032, Latin America is anticipated to exhibit the highest compound annual growth rate (CAGR) of 18.7%. Rising per capita incomes of consumers in countries like Argentina, Brazil, and Colombia have led to increased spending on automobiles. Compressed natural gas-powered cars are becoming increasingly popular among consumers in the region due to their affordability, environmental friendliness, and viability. Furthermore, the government of Argentina has initiated the "Conectar Gas Industria" program, allocating USD 517,000 to build CNG infrastructure and install 25 new CNG stations nationwide to promote the use of CNG powertrain vehicles.
Recent Developments:
The debut of Cummins' X15N engine, a 15-liter natural engine for heavy-duty trucks that is a specifically modified bi-fuel engine and can operate on both diesel and CNG, was revealed for October 2021. To guarantee the creation of a completely integrated natural gas drivetrain, the X15N engine model also incorporates Eaton automatic gearbox technologies and Cummins fuel distribution system. The company's plan to achieve zero emissions relies heavily on the Cummins-built engine because it will provide outstanding performance and lower total cost of ownership when combined with the carbon-neutral powertrain choice.
Key Market Players:
Cummins Inc.
AB Volvo
Robert Bosch GmbH.
FPT Industrial S.P.A.
Ford Motor Company
Maruti Suzuki India Limited
Volkswagen AG
Hyundai Motor Company
Nissan Motor Co., Ltd.
Honda Motor Company
Segments Covered in the Report:
(Note*: We offer report based on sub segments as well. Kindly, let us know if you are interested)
By Drive Type
All-wheel Drive
Rear Wheel Drive
Front Wheel Drive
By Fuel Type
By Vehicle Type
Passenger Vehicle
Commercial Vehicle
By Geography
North America
Europe
Asia-Pacific
Latin America
The Middle East and Africa