The global cognitive automation market size was estimated at USD 11.99 billion in 2022 and it is expected to hit around USD 36.09 billion by 2032, growing at a CAGR of 11.7% during the forecast period 2023 to 2032.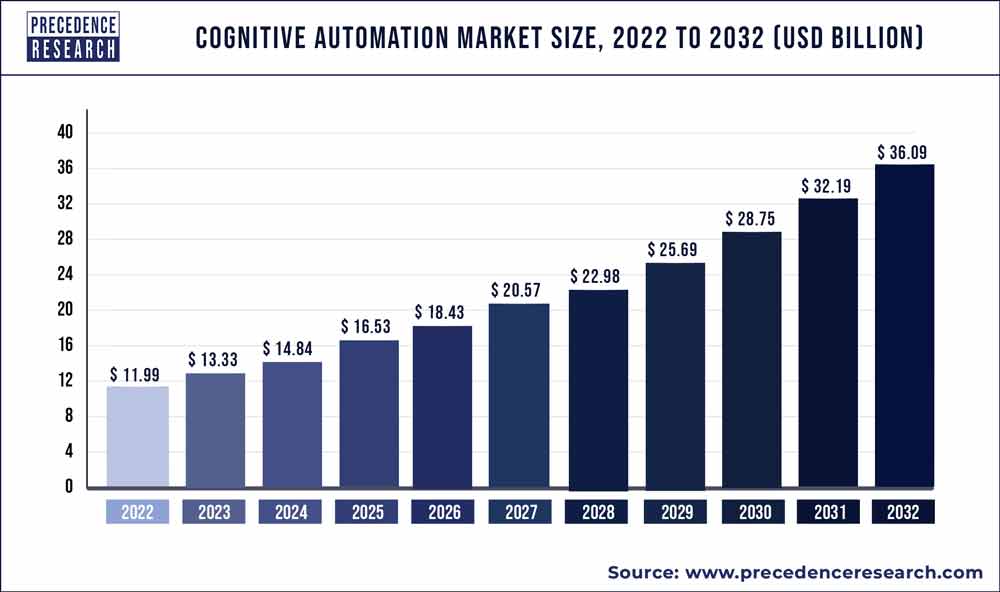 Access our Premium Real Time Data Intelligence Tool, Visit: Precedence Statistics
Cognitive automation refers to a variety of approaches to combine artificial intelligence (AI) with process automation technologies in order to improve business outputs. It represents a range of ways to improving automation's ability to gather data, automate evaluation, and scale automation. It also provides a method of packing AI and automation capacities for best - practice capture, reuse, or as part of the AI service application store.
There are various dimensions to it such as, using optical character recognition (OCR), machines vision, natural language processing, or natural language understanding to combine intelligent data collection with automated processes. This is commonly referred to as IPA or DPA. Using AI decision algorithms to supplement or replace existing business rules monitoring systems or enterprise resource planning systems to automate configuration and decisions. These self-driving corporate solutions essentially introduce self-driving capabilities to enterprise solutions.
Cognitive automation is most commonly associated with characteristics provided as part of a commercialized software system or service tailored to a certain use case. For example, a company may purchase an invoice-reading service for a given sector to improve its capacity to ingest invoices and then integrate this data into typical business operations in that industry. Basic cognitive activities are frequently modified rather than created from the ground up. This makes it easier for business users to provide and configure cognitive automation to match their knowledge and experience with the company. In practice, they may be required to collaborate with tool specialists to guarantee that the services are durable, secure, and meet any privacy standards.
More advanced automated cognitive processes need a higher level of engineering skill. These use cases are most usually controlled by a dedicated team or automation centre of excellence that is familiar with best practices for growing automated systems. This can eliminate company risks like unanticipated cloud fees for systems that expanded up faster than intended. Any procedure that might be enhanced by utilizing AI to acquire data or automating more complicated choices is included in cognitive automation use cases. These are some examples:
Product information from diverse sources is automatically classified and combined into a single global collection of relational database. Copying data from variously structured invoices into a consistent format and then entering it into accounting software.
Using speech recognition and natural language comprehension, automatically obtaining consumer or support information in response to an ongoing service contact. To improve the customer experience, use AI recommendation engines to collect data about a customer's purpose.
Growth factors
Some abilities, such as technology and social and emotional skills will be in more demand, while others, such as mechanical and manual skills, will be in lower demand. These shifts will need employees all across the world expanding or learning new skills. Companies must also reconsider how work is organized inside their organizations. Automation and Cognitive computing will alter the work atmosphere over the next ten to fifteen years as consumers increasingly engage with ever-smarter robots. These technologies, and the human-machine interaction they enable, and can provide several benefits such as increased productivity, GDP growth, enhanced business performance, and new affluence, but they will also transform the required skills of human employees.
Research projected skill shifts moving ahead to 2030 to quantify automation and AI skill shifts and discovered that they accelerated. While the need for technology skills has been increasing since 2002, it will accelerate between 2017 and 2030. The need for social and emotional abilities will rise at a comparable rate. In contrast, both fundamental cognitive talents and physical and manual skills will be in short supply. All technology abilities, both advanced and fundamental, will experience a significant increase in demand. People who comprehend how advanced technologies function and can create, develop, and adopt them are needed. According to analysis, time spent utilizing sophisticated technology skills will grow by 50% in the United States and 41% in Europe by 2030. It is anticipated the greatest increase in demand for sophisticated IT and programming abilities, which may increase by up to 90% between 2016 and 2030. Individuals with these abilities will always be in the minority.
Most physical and manual skills will be in short supply, but they will continue to be the most important category of labor abilities. For the past 15 to 20 years, role of physical and manual abilities has been falling, and this trend is expected to continue with automation. Between 2016 and 2030, demand for these talents will decline by 11% in the United States and by 16% in Europe. Depending on how much labor can be mechanized, the balance of physical and manual abilities necessary in vocations will shift.
Financial services are at the forefront of technological adoption, and the banking and insurance industries are projected to witness drastically shifting skill requirements through 2030. Automation has a wide range of potential applications in the financial services business, particularly in risk forecasting and tailoring product marketing to clients. As automation is used, the number of personnel such as tellers, accountants, and brokers will decrease. The demand for workers with only basic cognitive skills, such as data input and processing, basic literacy, and basic mathematical ability, will likely decline, while the number of technology experts and other experts, as well as occupations requiring interaction with customers and management, will likely increase. This rise will result in a significant increase in the need for social and emotional abilities.
Automation is allowing corporations to access new deposits while also increasing extraction and production efficiency. Manual labor and administrative positions involving data processing, such as meter reading, will be vulnerable to displacement, but demand for technical jobs will be strong. Physical and manual abilities, as well as fundamental cognitive skills, are projected to decline, while higher cognitive, social and emotional, and technical skills are expected to increase.
Cognitive manufacturing completely leverages data lying across equipment, systems, and processes to generate actionable knowledge throughout the whole value chain via various processes ranging from design to production to support operations. Built on the fundamentals of IoT and utilizing analytics paired with cognitive technology, Industry 4.0 or cognitive manufacturing promotes important productivity gains in the industrial environment's dependability, quality, and efficiency.
Industries throughout the world are progressively catching on to this trend and embracing Cognitive Automation in order to gain the most insight into the data and generate the highest levels of customer/client satisfaction.
Report Scope of the Cognitive Automation Market
Report Coverage
Details
Market Size in 2023
USD 13.33 Billion
Market Size by 2032
USD 36.09 Billion
Growth Rate from 2023 to 2032
CAGR of 11.7%
Base Year
2022
Forecast Period
2023 to 2032
By Type

Robotic Process Automation
Intelligent Automation

By End Users

BFSI
Pharma & Healthcare
Retail & Consumer Goods
Information Technology (IT) & Telecom
Communication and Media & Education
Manufacturing
Logistics and Energy & Utilities
Others

Companies Mentioned

Automation Anywhere, Blue Prism, Edge Verve Systems Ltd., FPT Software, KOFAX, Inc., NICE, NTT Advanced Technology Corp., OnviSource, Inc., Pegasystems, UiPath

Type Insights
In terms of types market is segmented into Robotic Process Automation and Intelligent Automation.
RPA is the technology that makes it simple to create and manage software robots (or bots) that can mimic human activity on a computer. These robots can grasp what's on the screen, recognize data, and do a variety of tasks that would usually require a human to complete, such as filling out the forms or harvesting data. The benefit of utilizing RPA bots (rather than humans) is that the activities they are employed to accomplish are monotonous, repetitive, and time-consuming, freeing up your team to undertake the more useful, fascinating, clever work that robots cannot do.
Robotic Process Automation (RPA) solution use has skyrocketed in recent years as a result of such value creation. Report has issued a study analysis on the RPA industry outlook. According to this estimate, RPA software investment will exceed $1.5 billion this year and will continue to increase at a double-digit percentage rate for the foreseeable future. It is also presented with statistics and anecdotal data that support the claims. According to study, RPA will reach practically universal usage in the commercial sector by 2023. Large enterprises will triple the capacity of their existing RPA portfolios by 2024. This expanded capacity will include additional additions from their original seller or partners. As firms see excellent results, they aim to increase licensing to run RPA software on additional servers and add more cores to meet the strain. This is a logical result of the increased demands on an organization's 'everywhere' infrastructures.
RPA is included in intelligent process automation, but it goes much farther. IPA also includes digital process automation (DPA) and Artificial Intelligence (AI) analysis to help RPA bots execute jobs more efficiently - while also assisting all of the humans in the organization. IPA essentially adds the data layer. RPA, on the other hand, automates certain activities and operations, whereas DPA functions as an orchestrator, automating the flow of data between people and bots across your business. It unites all of your company's workers, apps, devices, and diverse pools of information under a single secure platform.
End Users Insights
In terms of end users, in 2022, the BFSI sector had the highest share of the revenue, contributing for 29% of the total market. Tier one banks spend more than a billion dollars each year on regulatory compliance and fines. That is, by the way, more than 10% of their total operating costs. So, for the total sector, it's roughly $270 billion every year. Meanwhile, using Cognitive Automation in banking organizations can help to reduce earnings loss owing to regulatory difficulties.
Bots scan, validate, and comprehend regulatory texts without the need for human intervention. They may determine if the requirements apply to the organization, which business sectors will be affected, and who needs to analyses the acquired data. So, minimizing risk through automation in banking entails collaborating with digital employees to obtain full audit trials and compliance checks 24 hours a day, seven days a week.
Finance, with its repetitive, computer-based processes (such as invoice processing), proved good ground for the enterprise's adoption of cognitive automation. As the finance department looks to expand its use cases, cognitive automation and its process efficiencies are projected to spread quicker into other business units. Human resources and customer service are two prime examples Companies increasingly use hundreds of apps to achieve high levels of customer satisfaction, and the ability to scan across many applications to detect possible bottlenecks and sources of friction is crucial. HR is another conventional sector where cognitive automation has the potential to extend its applications, particularly because it still entails a significant amount of manual, repetitive labor. Cognitive automation may improve the process by finding workflow automation and re-engineering possibilities.
Region Insights
North America had contributed for 38% of sales in 2022 and to expand gradually during the projection period. This is based here on region's strong penetration of automation technologies and process management across government organizations and businesses. Moreover, the deployment of RPA amongst North America's SMEs is accelerating sales growth due to expanding awareness about improving various company operations such as data input, financial reporting, procuring detail, maintaining records, and numerous other HR-related functions. Furthermore, according to a poll done in 2020 by Signavio (Germany), an automation vendor, around 1,000 people from the United States opposed shifting job positions and were hesitant to convert from manually to automated, which is expected of the country's market growth.
In June 2021, FPT Software announced collaboration with Sitecore, a digital experience software supplier located in the United States, to push Sitecore digital marketing services to a larger variety of enterprises in Japan through automated processes, digital/IT transformation, and minimal code. Several Japanese businesses will benefit from the collaboration. Furthermore, FPT Software is able to access to Sitecore's business ecosystem, which includes prominent firms in advertising and marketing, as well as IT consulting and services. As Asia is regarded as a powerhouse for IT, outsourced services, and manufacturing industries, which have enormous need for automation to eliminate repetitive tasks, this elevated area has multiple significant suppliers attempting to extend their footprint and market share.
Key Market Developments
Zomato Ltd., an Indian online food delivery firm, lay off 13% of its workers in 2020 as it utilised high-tech automated methods to absorb the shock of the COVID-19 pandemic and minimise the superfluous labor.
Key market players
Automation Anywhere
Blue Prism
Edge Verve Systems Ltd.
FPT Software
KOFAX, Inc.
NICE
NTT Advanced Technology Corp.
OnviSource, Inc.
Pegasystems
UiPath
Segments covered in the report
(Note*: We offer report based on sub segments as well. Kindly, let us know if you are interested)
By Type
By End Users
BFSI

Pharma & Healthcare

Retail & Consumer Goods

Information Technology (IT) & Telecom

Communication and Media & Education

Manufacturing

Logistics and Energy & Utilities

Others
By Geography
North America
Europe
Asia-Pacific

China
India
Japan
South Korea
Malaysia
Philippines

Latin America

Brazil
Rest of Latin America

Middle East & Africa (MEA)