The global cognitive computing market size was reached at USD 32.6 billion in 2022 and it is projected to hit around USD 238.1 billion by 2032, poised to grow at a CAGR of 22% during the forecast period 2023 to 2032.
Access our Premium Real Time Data Intelligence Tool, Visit: Precedence Statistics
Technology systems that are built on cutting-edge technology, particularly artificial intelligence (AI) and signal processing in general, are referred to as cognitive computing (CC). Additionally, CC is a brand-new approach to computing that seeks to enhance theories of how the human brain and mind sense, analyze, and react to stimuli. The technology satisfies the prerequisite for sectors like healthcare, retail, and financial organizations to assess massive volumes of data effectively in real time.
Growth Factor:
Cognitive computing solutions are anticipated to expand as artificial intelligence and combined cloud platforms become more widely adopted. Throughout the forecast period, this element is anticipated to drive the industry's expansion. An additional factor accelerating industry development is the growing need for all major business organizations to evaluate massive amounts of data to determine the risk involved with any strategic venture.
The requirement for businesses in sectors like healthcare, retail, and financial organizations to evaluate massive amounts of data optimally in real time is thought to benefit the sector. Dispensing systems are adopting cutting-edge methods like automatic reasoning and machine learning due to the spread of technology.
The theoretical foundations of artificial intelligence and signal processing form the basis of the technological framework known as cognitive computing. The most widely used technology is Natural Language Processing (NLP), which has the ability to handle natural language exchanges.
The more impressive advancement of data science has been made possible by the expanded application of automatic reasoning, big data, and machine learning technologies, along with artificial intelligence and probability logic. With its numerous uses in the creation of interactive software platforms, the Internet of Things (IoT) is evolving and has contributed to an acceleration in the market's development.
Data analytics is now commonplace and will continue to be essential to the development of new technologies and creative strategies. The data analytics sector is, however, exposed to escalating cyber security risks. Cloud services and mobile messaging are on the rise, giving hackers a new target. The International Cyber Security Protection Alliance (ICSPA) makes it easier to direct money, knowledge, and support toward reactivating law enforcement's fight against cybercrime in both local and foreign markets. Participants in the industry are likely to highlight developments in data analytics to sort through network data and foresee security incidents.
The widespread usage of cutting-edge computing platforms by significant business organizations is anticipated to drive the market's expansion through the effective analysis of enormous amounts of data and the quantification of the risk associated with any strategic endeavor.
The incorporation of cutting-edge technology like the Internet of Things (IoT) is expected to drive market growth due to its wide range of uses in the creation of engaging software platforms.
During the projection period, increased usage of cloud-based technologies is anticipated to create lucrative market possibilities.
Report Scope of the Cognitive Computing Market
| | |
| --- | --- |
| Report Coverage | Details |
| Market Size in 2023 | USD 39.77 Billion |
| Market Size by 2032 | USD 238.1 Billion |
| Growth Rate from 2023 to 2032 | CAGR of 22% |
| Largest Market | North America |
| Base Year | 2022 |
| Forecast Period | 2023 to 2032 |
| Segments Covered | By Technology, By Application and By Deployment |
| Regions Covered | North America, Europe, Asia-Pacific, Latin America and Middle East & Africa |

Key Market Drivers:
Growing demand for cloud-based cognitive technology
One of the market's emerging trends is the shift in corporate objectives toward the use of cloud-based cognitive technology. Businesses benefit from cognitive cloud computing's ability to increase revenue, reduce costs, and enhance organizational efficiency.
To satisfy the needs of real-time user cases like supply chain optimization and product development, companies are also focusing on implementing cognitive cloud computing solutions and other types of cloud-based services. To meet the rising demand from different industries and commercial groups, the main market participants are concentrating on developing the cognitive cloud computing platform.
Key Market Challenges:
Security threats to data
Data security concerns continue to be a significant obstacle for the market for cognitive computing. The Insurance Information Institute (III) U.S. reports that there were 68% more data breaches in 2021 than there were in 2020. Database management and supervision are largely under the control of suppliers of cognitive computing solutions. Databases contain a variety of sensitive user information as well as financial information like address, picture ID, and debit or credit card information. Some hackers use cyberattacks like malware, Distributed Denial-of-Service (DDoS), phishing, and SQL injection attempts to break into networks and take the passwords of real users.
As a consequence, events might have a negative impact on the stock price and image of the business. These elements are preventing the market for cognitive computing from expanding. A capable crew is also needed for the setup and running of cognitive computing systems. Additionally, the implementation of cognitive computing within a company calls for knowledge and specific skill sets, particularly proficiency in Natural Language Processing (NLP) and Machine Learning (ML).
A talent disparity prevents 34% of businesses from implementing AI in their operations. There are surprisingly few seasoned experts with an understanding of AI deployment techniques worldwide. As a consequence, during the projection period, a lack of skilled labor is likely to restrain the growth of the global cognitive computing market.
Key Market Opportunities:
Predictive analytics increasingly needs cognitive computing to cut company running costs.
Cognitive computing has developed quickly as a result of advances in AI and computer science, and it is anticipated that this sector will grow over the projection period. Cognitive computing's main objective is to help businesses make choices, and it is the perfect way to carry out smooth business operations by implementing ML tools like predictive analytics.
Because predictive analytics is a potent instrument for delivering precise results, many company users are utilizing these potent predictive analytics tools in carrying out regular business operations. By the beginning of 2030, 30% of company processes are anticipated to be computerized. Additionally, by suggesting goods and services to specific consumers based on historical data, predictive analytics tools increase income. By lowering company administrative costs, these business tactics are producing a return on investment.
The market for cognitive computing, a subset of AI, is growing rapidly as AI is increasingly used in a variety of corporate use cases. Research indicates that 35% of businesses worldwide will be using AI in 2021. More than any other technology introduced in the past two decades, artificial intelligence is allowing cognitive computing, and its pervasive integration is changing how productive businesses are.
Processing and transforming a large amount and diversity of data, including numerical, textual, and linguistic patterns, as well as sensory stimuli like pictures, videos, and noises in real-time, is another important aspect of the expanding cognitive computing market. In addition to encouraging businesses to develop new goods and services and finding new business possibilities by reducing risk, these solutions are also improving the employee and customer experiences. These aspects are anticipated to drive demand in the cognitive computing market.
Segments Insight:
Technology Insights:
The biggest income share in 2022 more than 42.5% was accounted for by the natural language processing sector. During the forecast period, the natural language processing sector is anticipated to hold a sizable worldwide market position. According to the current trends, the development of NLP has aided in the globalization of IT infrastructure through cognitive technology. Additionally, the use of predictive text and the soaring demand for smart companions like Siri and Alexa have increased the reach of cognitive computing solutions.
The market for cognitive computing is predicted to expand thanks to machine learning technology, largely because of the rising demand to make human contact easier. Machine learning for adaptive and dynamic learning is expected to gain momentum on platforms for cognitive computing technology. Industry insiders anticipate the use of NLP and machine learning to create better tools for translation and interpretation. Stakeholders would also look into chances to identify business openings and evaluate new trends.
Application Insights:
In 2022, the BFSI segment's income portion was over 25%, which was the highest. In the BFSI industry, cognitive computing solutions are being adopted at an incredible rate. The BFSI application category had a market valuation of more than USD 6.45 billion in 2022 and is anticipated to expand at a CAGR of more than 28.7% between 2023 and 2032. Adopting cognitive solutions necessitates the use of powerful data analytics tools that are tailored to the needs of the business entity.
During the projection period, the healthcare sector is also anticipated to display a respectable CAGR of over 26.6%. By minimizing the necessary papers, cognitive solutions help doctors focus on treating patients. The goal of cognitive computing systems will remain to support human analysis and encourage decision-making with a human touch. The system will continue to be helpful in providing a data-driven therapy suggestion with the evaluation and collection of data from medical publications, reports, and diagnostic tools.
Deployment Insights:
Over the projection period, the cloud sector, which had a market valuation of over USD 18.5 billion in 2022, is expected to expand at a CAGR of 28.2%. The evolution of customized cloud solutions, such as private and public clouds, and the new creation of data storage facilities, such as integrated cloud storage facilities, have bolstered market growth. Additionally, businesses and groups are turning to cloud options as a result of the exponential growth in data. There may be numerous possibilities for stakeholders to lower the cost of cognitive computing as a result of the usage of cloud solutions.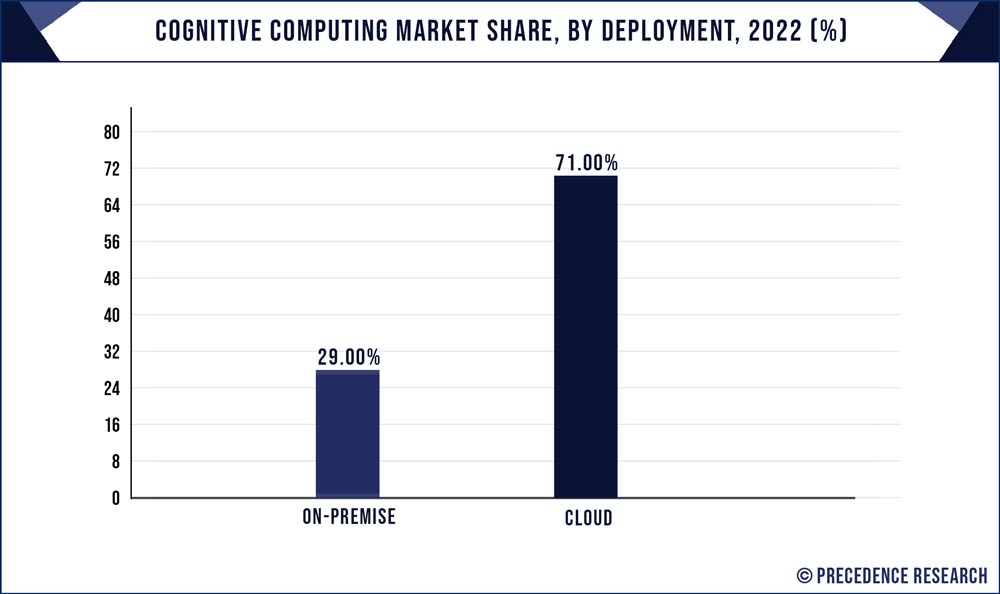 The development of on-premises storage solutions, which support the conventional file and block storage platforms, is receiving substantial investment from major companies. On-premise storage is expected to expand significantly during the projection period, with a CAGR of 26.8%. Leading businesses might demand total freedom and customization in the server setup. The current patterns may entice companies to invest money in the on-premise infrastructure. For instance, IBM stated in June 2022 that it was considering buying Randori to strengthen on-premise and cloud settings.
Cloud segment has held revenue share of over 71% in 2022.
On-premise segment has generated 29% revenue share in 2022.
Regional Insights:
The cognitive computing market was led by the North American area in 2022, with a revenue share of over 39.8%. The rapid uptake of integrated cloud systems and the rise of new business models are credited with this increase. The importance of data security is likely to be promoted by strong government policies in the United States and Canada, hastening the implementation of these systems in the area.
During the assessment era, the Asia Pacific is anticipated to expand at the fastest rate. Some positives have boded well for the regional prognosis, including the skyrocketing internet usage and the growing number of startups in India, China, Australia, and Japan.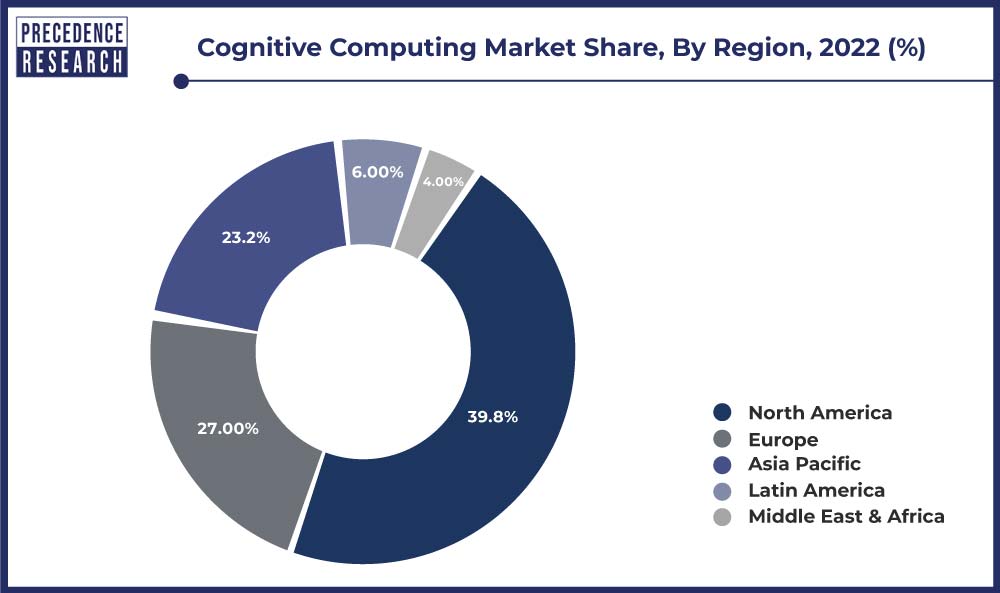 Due to the tendency for IoT, 5G, and other technological developments across the area, leading companies are anticipated to investigate possibilities in cognitive computing solutions. Significantly, machine learning has boosted regional development by serving as a precursor to the augmentation of cognitive solutions. Investments are expected to increase as machine learning adoption soars in both developed and developing countries.
Recent Developments:
VERSES Technologies Inc., a cognitive computing business specializing in advanced artificial intelligence technologies, has announced a partnership with SVT Robotics to facilitate the deployment of AI-powered robots in warehouses and distribution centers. This collaboration aims to enhance the efficiency and productivity of these facilities. The announcement was made in February 2023.
IBM revealed the addition of improvements to Watson Discovery's natural language processing in November 2021. The business anticipates it will assist companies, including those offering banking, legal, and insurance services.
Key Market Players:
Expert System S.p.A.
SparkCognition Inc
Microsoft Corporation
Numenta
International Business Machines Corporation
Cisco Systems
DeepMind Technologies Limited
CustomerMatrix Inc
Planet labs
Airware
Google
CognitiveScale
Saffron Technology
Enterra Solutions LLC
ColdLight Solutions
Palantir Technologies
Hewlett Packard Enterprise
Orbital Insight
Vicarious
DigitalGenius
DataRobot
Cylance
Vicarious
Darktrace
Ross Intelligence
Indico
Cyberlytic
Segments Covered in the Report:
(Note*: We offer report based on sub segments as well. Kindly, let us know if you are interested)
By Technology
Natural Language Processing
Machine Learning
Automated Reasoning
Information Retrieval
By Application
BFSI
Healthcare
Security
Retail
IT & Telecom
Aerospace & Defense
Others
By Deployment
By Geography
North America
Europe
Asia-Pacific
Latin America
The Middle East and Africa