The global industrial automation and control system market was estimated at USD 151 billion in 2022 and it is estimated to grow at a CAGR of 9.40% due to the rapid shift of industries toward smart manufacturing.
The global industrial automation and control system market size is projected to reach around US$ 369.10 billion by 2032.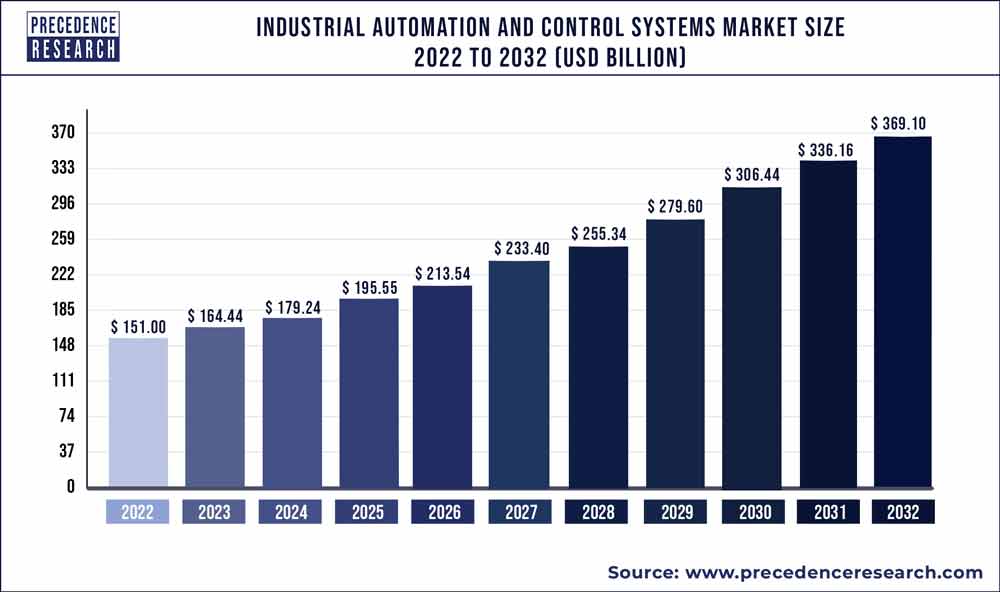 Access our Premium Real Time Data Intelligence Tool, Visit: Precedence Statistics

Industrial Automation and Control Systems Market Size in the Asia Pacific 2023 To 2032
The Asia Pacific industrial automation and control systems market size was estimated at USD 57.38 billion in 2022 and is expected to hit around USD 141.55 billion by 2032, poised to grow at a CAGR of 9.50% during the forecast period from 2023 to 2032.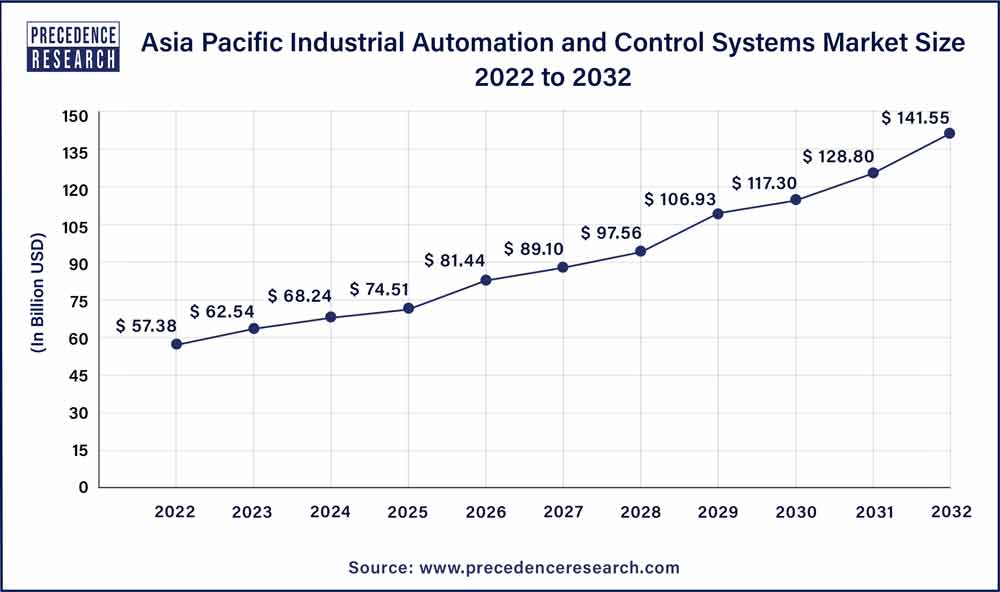 Based on the region, the Asia Pacific dominated the market followed by North America and Europe. Investors are seeking for other manufacturing destinations as the cost of production in China rises and the Yuan strengthens against the dollar. India aspires to be the preferred manufacturing destination for multinational corporations. However, it must concentrate on high-quality production (zero defects) and environmentally friendly manufacturing to achieve this (zero effect). Only through a thorough understanding and implementation of industrial automation are both of these things achievable.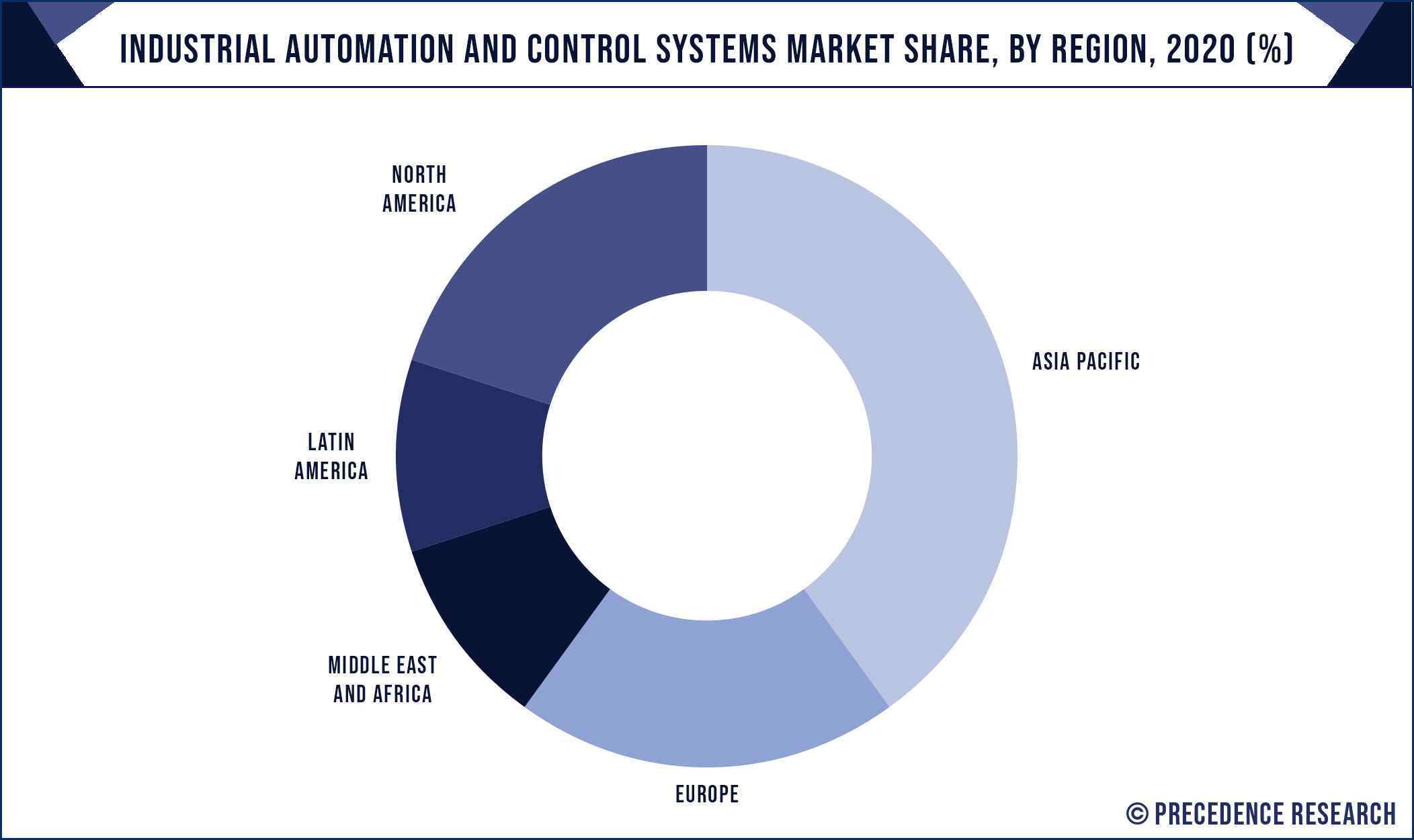 The Make in India initiative is also projected to have a significant impact on the country's adoption of factory automation technology. With significant investments projected in India's manufacturing sector, the demand for factory automation solutions is expected to grow.
Growth Factors
Manufacturers are constantly looking for solutions that can help them raise productivity with little assets, driven by the constant demand to improve profitability. In this case, industrial automation serves as a catalyst for increased dependability and efficiency, resulting in a higher return on investment (ROI). By adopting innovative and integrated technologies, industrial automation improves production rate and quality while also lowering production costs. It takes mechanization a step further by substituting computer programming and automation devices for human labor, resulting in a performance that is superior to manual operation.
Automation solutions automate industrial processes without requiring human interaction, using equipment such as programmable logic controllers (PLCs), industrial personal computers (PCs), and programmable automation controllers (PACs). According to the McKinsey Worldwide Institute, automation might boost global productivity by as much as 1.4 percent every year. Furthermore, all vocations have the potential for partial automation because a large amount of their operations can be automated.
COVID-19 Impact
The recent new coronavirus (COVID-19) epidemic has wreaked havoc on the global economy and changed the way many businesses work on a daily basis. Companies must examine and adapt their preparedness and response methods for cyber-incidents as work-from-home protocols are deployed and shelter-in-place directives continue to spread. This is especially true for firms that use industrial control systems (ICS) to monitor and control key equipment and processes (e.g., DCS, SCADA, or PLS). Organizations will be focused on the need to automate faster in the medium term as a result of COVID-19, not least to assist bridge the productivity gap. Projects such as Industry 4.0 will have a significant impact. Projects like Industry 4.0 will have an important role to play. It is a pressing task, made all the more urgent by COVID-19.
Component Insights
Based on the component the market is classified as HMI, industrial robots, control valves, sensors and other components. The control valve type is the most dominating in the year 2022 due to the rapid growth in the technologies and it is expected to continue in the forecast period. Environmental, economic, and competitive issues are becoming more prevalent in modern process facilities. As a result, an increasing number of industrial enterprises are investing in cutting-edge technology and instruments in order to obtain a competitive advantage. Technology advancements have resulted in creative solutions that can help process facilities become more productive by optimizing their operations. Control valves and valve automation solutions suppliers will continue to create products and procedures that solve these new issues as industry requirements evolve and change.
The industrial robotics is gaining immense popularity due to the adoption of industrial internet of things (IIOT) technology which provides profitability and productivity. These smart sensors and actuators at the edge of production to capture data that was previously unavailable to manufacturers are used by robots. This trend is currently under progress, and it will result in new levels of efficiency and production. Apart from capturing and analyzing data in real time, the driving principle behind IIoT is that smart devices are better than people at transmitting crucial information that can be used to make accurate and faster business decisions.
Control System Insights
On the basis of control system, the DCS has the most prominent share in the industrial automation and control system market due to its advantages in the automation and control system. A distributed control system (DCS) is a platform for automating plant or industrial process control and operation. A DCS combines the HMI, logic solvers, history, common database, alarm management, and a common engineering suite into a single automated system.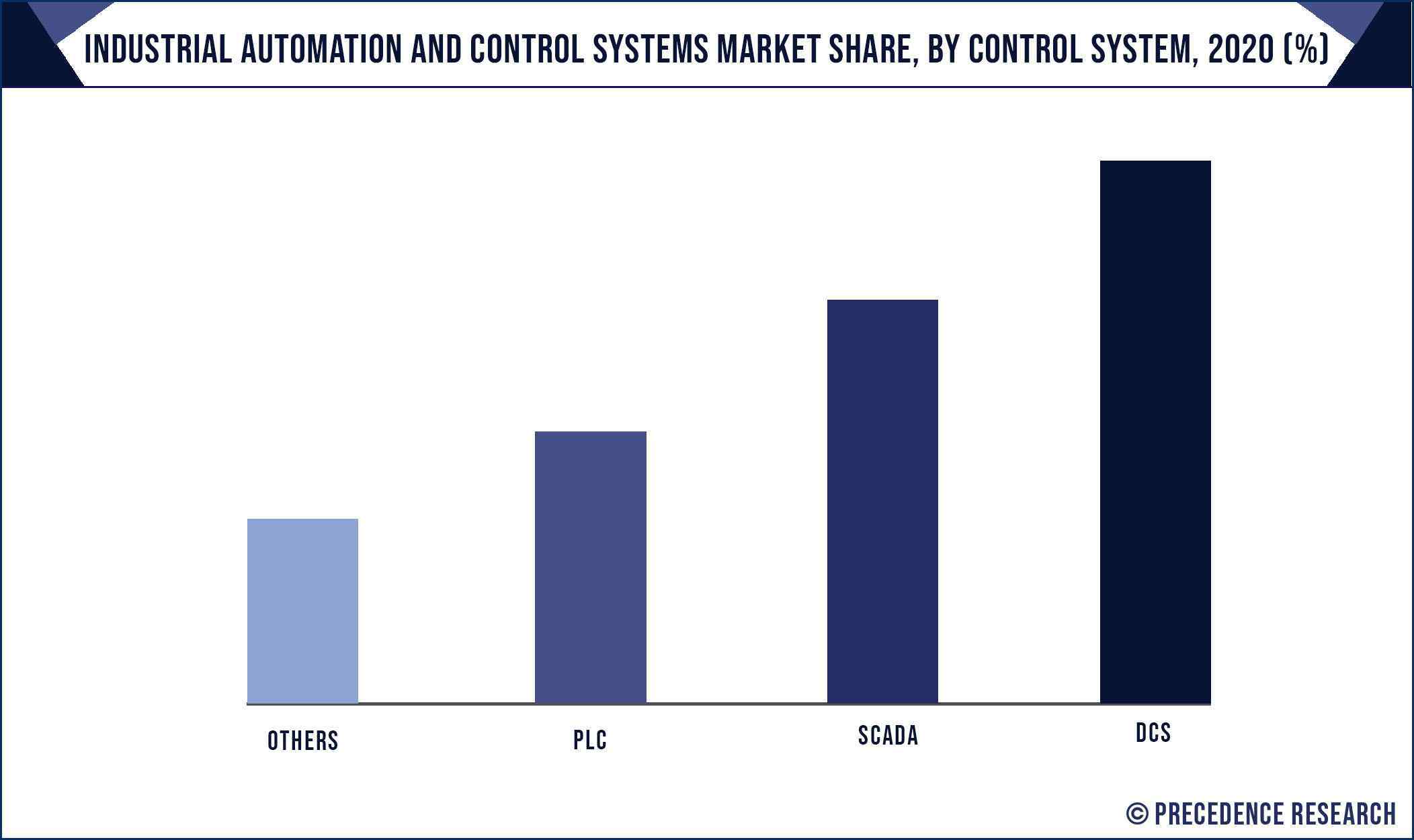 The shift of consumers towards such PLCs that handle greater responsibility in overall machine control, PLCs are now being designed with an emphasis on enhanced functionality. PLCs are now capable of performing a major amount of motion control tasks, allowing programmers to utilize the same language for motion control as they use for PLCs, simplifying the setup process. As consumers want PLCs that handle greater responsibility in overall machine control, PLCs are now being designed with an emphasis on enhanced functionality. PLCs' rising processing capacity allows them to do a major amount of motion control tasks, allowing programmers to use the same motion control language as the PLC.
Vertical Insights
The vertical segment is classified into aerospace & defense, automotive, chemical, energy & utilities, food & beverage, healthcare, manufacturing, mining & metal, oil & gas, transportation and others. The manufacturing sector has the significant share in the industrial automation and control system market. Manufacturing industry trends are in the spotlight as the industry undergoes its most significant transformation in recent years. Automation firms are rehiring more workers every day as a result of the latest technology in the manufacturing industry.
Further, the healthcare industry is the fastest growing in the market due to the increase in investment and the urgent need for advanced digital solutions.RPA in healthcare can improve workflows by automating rule-based tasks and processes, according to the Institute for Robotic Process Automation (IRPA). Bots used for automation can perform tasks such as data storage, data manipulation, transaction processing, and system calibration. Above all, healthcare automation can enhance outcomes and eliminate system faults caused by inefficient operations and manual processing.
Key Companies & Market Share Insights
The market for industrial automation and control systems is highly competitive, with several major players. The market is dominated by the key players in the market. These market leaders are concentrating their efforts on expanding their customer base in foreign countries. These businesses are relying on strategic collaborative initiatives to increase their market share and profitability. Furthermore, new companies are expanding their presence in this market.
Recent Developments
ABB and ETH Zurich will expand their robotics research collaboration in March 2021 as part of ETH's RobotX project. The RobotXprogramme, which was started in 2019, aims to establish ETH as a leader in robotics research institutions. ABB's Robotics and Discrete Automation business will contribute to the initiative.
Emerson finalized its acquisition of Progea Group, a market-leading provider of industrial internet of things (IIoT), plant analytics, human machine interface (HMI), and supervisory control and data acquisition (SCADA) technologies, in October 2020.
Some of the major players in the industrial automation and control system market include:
ABB

Emerson Electric Co.

Rockwell Automation, Inc.

Schneider Electric

Siemens AG

Honeywell International, Inc.

Kawasaki Heavy Industries, Ltd.

Mitsubishi Electric Corporation

OMRON Corporation

Yokogawa Electric Corporation

General Electric
Scope of the

Industrial Automation and Control Systems Market Report
| | |
| --- | --- |
| Report Highlights | Details |
| Market Size By 2032 | USD 369.10 Billion |
| Market Size in 2023 | USD 151 Billion |
| Growth Rate | CAGR of 9.40% from 2023 to 2032 |
| Largest Market | Asia Pacific |
| Fastest Growing Market | Europe, North America |
| Base Year | 2022 |
| Forecast Period | 2023 to 2032 |
| Segments Mentioned | Component, Control System, Vertical, Region |
| Companies Covered | ABB, Emerson Electric Co., Rockwell Automation, Inc., Schneider Electric, Siemens AG, Honeywell International, Inc., Kawasaki Heavy Industries, Ltd., and Mitsubishi Electric Corporation |
Segments Covered in the Report
By Component
HMI

Industrial Robots

Control Valves

Sensors

Others
By Control System
By Vertical
Aerospace & Défense

Automotive

Chemical

Energy & Utilities

Food & Beverage

Healthcare

Manufacturing

Mining & Metal

Oil & Gas

Transportation

Others
By Geography
North America

Europe

Asia Pacific

China

India

Japan

South Korea

Rest of the World