The global contract packaging market size was valued at USD 74.70 billion in 2022, and it is expected to reach around USD 160.52 billion by 2032, poised to grow at a CAGR of 8% over the forecast period 2023 to 2032.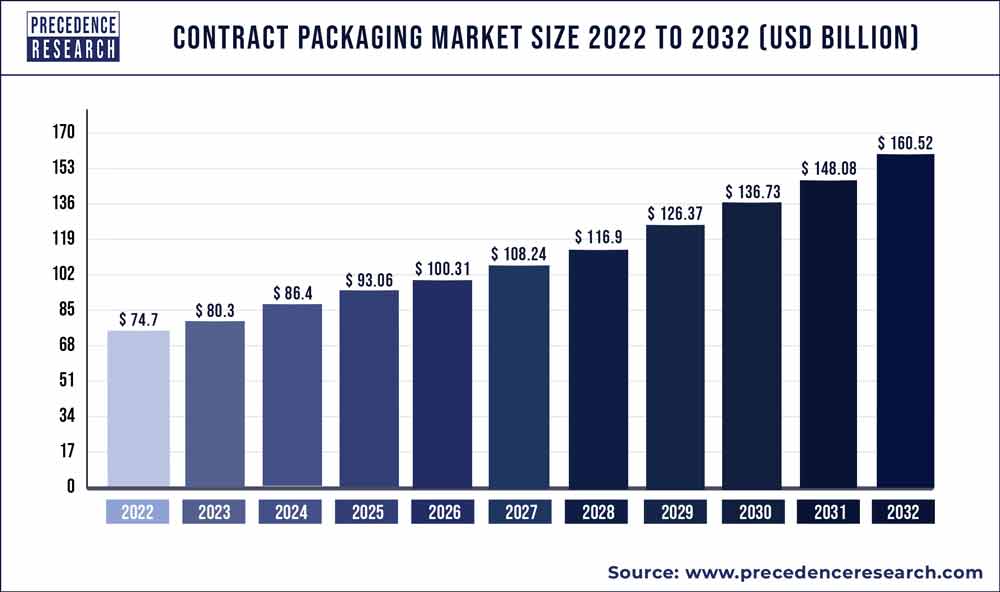 Access our Premium Real Time Data Intelligence Tool, Visit: Precedence Statistics
Key Takeaways:
By product, the blisters & clamshells segment is expected to grow at a CAGR of 9% from 2023 to 2032.
The food & beverage segment is projected to cover a market share of 72% in 2022.
The bottling segment held market share of around 29.2% in 2022.
The Asia Pacific contract packaging market is expected to grow at a CAGR of 9% from 2023 to 2032.
North America region accounted market share of around 39% in 2022.
Contract bundling alludes to the bundling administrations gave to clients by rethought partners for the various bundling arrangements that they give. Contract Packaging organizations are basically "outsider suppliers" who have practical experience in bundling undertakings. Contract bundling alludes to the bundling administrations gave to clients by revaluated accomplices for the various bundling arrangements that they give. Contract bundling firms are basically outsider suppliers who have practical experience in bundling. As of late, makers have started to re-appropriate bundling related undertakings and other non-center administrations to outsider suppliers. Organizations habitually decide for this sort of re-appropriating in light of the fact that they come up short on fitting abilities, information, staff, or framework for such administrations. The advantage of this is that the firm might zero in more on its center exercises without the superfluous cost of bundling related assignments. This can assist a business with turning out to be more effective and useful.
Bundling is expected to guard the item during travel and capacity. Bundling is a fundamental part of each and every unmistakable item. Nonetheless, item bundling requires a colossal measure of assets and early ventures. To conquer this issue, makers utilize outsider bundling organizations, frequently known as agreement bundling organizations, to bundle their items. Besides, contract bundling gives bundling experience and assets. Subsequently, a development in the quantity of little and medium-sized organizations all through the world, as well as the advantages given by contract bundling associations, are supposed to fuel interest in the agreement bundling industry. The ascent of the web based business has likewise added to an expansion in the requirement for tertiary bundling all through the world, well influencing the agreement bundling market. Moreover, different bundling serious enterprises like drug, buyer products, food and refreshments, and gadgets are encountering a flood popular because of various factors like expanded discretionary cashflow, populace development, and positive government strategies toward organizations in numerous nations.
Growth factors
The changing inclinations of assembling endeavors, which frequently re-appropriate pressing administrations to outsider players, drive development in the overall agreement bundling industry. This is because of makers' expanded spotlight on cost effectiveness and center business. Contract pressing has various benefits. First off, it brings down the producers' functional costs. It is anticipated that by re-appropriating bundling undertakings to contract packagers and bringing down machine and human costs, working expenses can be cut by as much as 6% to 8% as a rule. One of the essential drivers of the agreement bundling industry has been the always expanding specialized improvement. Contract bundling firms are exceptional with the fundamental framework as well as the fundamental ability for effective item bundling. The cutting edge computerization and hardware important for bundling assignments can assist with helping the organization's business. Different variables affecting the overall agreement bundling market incorporate the development of different corporate store all through the world, the development of internet business firms, etc. The expense component is one of the primary obstacles for the overall agreement bundling industry. Dealing with the costs related with contract bundling is a troublesome undertaking. Besides, fabricating associations may initially re-appropriate bundling related errands to contract bundling organizations, however over the long haul, such organizations might lay out their own in-house bundling unit for their items. This might help them more than outsider merchants. Thus, this may be a boundary to the extension of the agreement bundling area.
Report Scope of the Contract Packaging Market
| | |
| --- | --- |
| Report Coverage | Details |
| Market Size by 2032 | USD 160.52 Billion |
| Growth Rate from 2023 to 2032 | CAGR of 8% |
| North America Market Share in 2022 | 39% |
| Food & Beverage Segment Market Share in 2022 | 72% |
| Base Year | 2022 |
| Forecast Period | 2023 to 2032 |
| Segments Covered | Type, Material, Service, End User, Geography |
| Companies Mentioned | Sharp Packaging, Aaron Thomas Company Inc., AmeriPac Inc., Assemblies Unlimited Inc., Assured Edge Solutions, co-pak packaging corp., Deufol, DHL, Green Packaging Asia, Hollingsworth, Jones Packaging, Kelly Products Inc., Sonic Packaging Industries, Stamar Packaging, Sterling Contract Packaging Inc., Silgan Holdings Inc., Wepackit Inc. |

Type Insights
The agreement bundling business is partitioned into three classifications in light of bundling type: essential, auxiliary, and tertiary. The worldwide market is overwhelmed by essential bundling, which is utilized as the underlying degree of pressing to shield the item from penetrates, scratches, and scraped area. Bottles, drink jars, tins, paper envelopes, wraps, and rankle packs are instances of primary bundling things. Following essential bundling are tertiary bundling and optional bundling. Vials, bottles, rankle packs, ampoules, and different kinds of essential bundling are accessible. This type of bundling is supposed to rule the overall drug contract bundling market before very long because of the combined re-appropriating of essential bundling tasks because of an absence of in-house capabilities and limit.
Essential bundling is the underlying layer of bundling that comes into contact with the things. The crucial objective of essential bundling is to limit, secure, and save the things. The motivation behind essential bundling is to safeguard against pollution and imperfections. Rankle bundling for non-prescription medications is an illustration of essential bundling. These materials safeguard the item. They likewise inform clients assuming that pollution has occurred. Essential bundling is often the last component eliminated by the customer. Essential bundling gives both insurance and marking potential open doors, which increments item allure. The essential bundling is the bundling that has direct touch with the items it is conveying. The real item will be taken care of by a business that has some expertise in essential bundling. The business that does the fluid filling is the head packager for a brand of filtered water. Frequently, the item maker will do the primary bundling in-house. Stream wrapping, rankle pressing, and mollusk shell bundling are likewise unmistakable essential bundling procedures.
The essential bundle's external bundling is known as auxiliary bundling. Auxiliary bundling safeguards the essential pressed objects by adding an additional layer of security. Optional bundling, like cardboard boxes, might be utilized to transport the products. Therefore, optional bundling is a typical decision for eCommerce undertakings. Optional bundling is frequently produced using at least two materials. Boxes, air pads, sacking, pressing peanuts, and other similar bundling supplies are instances of these materials. Optional bundling is habitually printed or marked to recognize different items. Optional bundling, then again, is portrayed as the activities in the bundling system that occur after the item has been set in its essential pressing. Auxiliary bundling is utilized to package things for shipment while likewise safeguarding the item and the essential pressing. Optional bundling is now and again disposed of before it arrives at a definitive client. This is the psychologist wrap that packs individual containers into instances of water in the case of filtered water fabricating. A few makers will try and lead the optional pressing in-house, however there are numerous circumstances when it is better for an organization to re-appropriate these methods to bundling specialist co-ops known as "contract packagers."
End User Insights
The food and drink area is the world's biggest agreement bundling market as far as end-use industry. In 2022, the food and refreshment class is supposed to represent 72% of the market. The increment is connected to rising dispensable salaries, lessening family size, an expansion in the working class populace, and an expansion in longing for new and refreshing comfort dinners, as well as advantages like areas of strength for an against microorganisms and peelable qualities. Subsequent to assembling and pressing, the key activity that an organization should direct is deals and promoting. End client ventures incorporate the food and drink businesses and the individual consideration areas, which procure the administrations of these outsider suppliers. The new Covid immediately spread all through various countries and regions, affecting individuals' lives and the overall local area. It started as a human medical problem and developed into a significant risk to worldwide exchange, financial matters, and money. The COVID-19 episode upset agreement bundling ventures' tasks inferable from assembling movement imperatives.
The financial downturn originally affected yield in agreement bundling undertakings' different end-client areas. Notwithstanding, the power of the COVID-19 pandemic has been significantly diminished because of the arrival of a few inoculations. The quantity of COVID-19 patients has definitely diminished by mid-2022. This has brought about the returning of assembling and agreement bundling businesses at full limit. Besides, it has been over a long time since the pestilence started, and a few organizations have previously showed critical signs of recuperation. Overall populace development and urbanization have brought about expanded interest for bundled and prepared to-eat food, which is probably going to help the worldwide agreement bundling industry. Besides, the heavy drinker and non-cocktail enterprises, which use terminations, covers, jugs, jars, and pockets, are anticipated to drive this market during the following seven years. On account of the expanded production of meds universally, the food and drink business is trailed by the drug area.
Geography Insights
The agreement bundling industry in North America is rapidly extending in light of the fact that to expanded interest for bundling in enterprises, for example, food and beverages, drugs, excellence care, and others. A few agreement bundling firms in the United States and Canada have figured out how to adjust to troublesome business conditions. Organizations are likewise turning out to be more conscious of the furious worldwide rivalry, cost difficulties, and incredibly fluctuating OEM request. The agreement bundling industry in the United States is extending quickly because of this environment.
Numerous European firms, as Langen Group and Persson Innovation, have recently made interests in the United States. The agreement bundling industry in the United States is anticipated to increment consistently because of market solidness, developing interest, and a change in assembling endeavors' inclination for contract packagers. What's more, the United States government has ordered various guidelines and guidelines administering medication marking and bundling. Since few drug organizations in this district have an in-house bundling plant, this could impact interest for contract bundling.
Key market developments
Huge Beverages Contract Manufacturing reported the initiation of its new drink co-pressing plant in North Carolina in February 2020. BBCM will start with one high velocity can-line equipped for assembling 1,200 jars each moment at their new office, with plans to add lines two and three over the course of the following year and a half. BBCM plans to offer an extensive variety of canned refreshment products to large public and local clients. BBCM will be totally functional before the second's over quarter of 2020, and its most memorable assembling line is as of now 80% sold out.
MSI Express, supported by HCI Equity Partners and situated in the United States, purchased Power Packaging in January 2020. MSI Express is an agreement bundling and agreement producing organization that works with notable brands in the rack stable human and pet food businesses. MSI Express' topographical reach, abilities, and client connections have all been extended because of the acquisition of Power Packaging. MSI Express ventures into extra food classes with Power, including powdered refreshments, soups and bases, baking blends, drink blends, espressos teas, foodservice drinks, dinner units, pasta, rice, side dishes, and salad dressings.
Key market players
Sharp Packaging
Aaron Thomas Company Inc.
AmeriPac Inc.
Assemblies Unlimited Inc.
Assured Edge Solutions
co-pak packaging corp.
Deufol
DHL
Green Packaging Asia
Hollingsworth
Jones Packaging
Kelly Products Inc.
Sonic Packaging Industries
Stamar Packaging
Sterling Contract Packaging Inc.
Silgan Holdings Inc.
Wepackit Inc.
Segments covered in the report
(Note*: We offer report based on sub segments as well. Kindly, let us know if you are interested)
By Type
Primary
Secondary
Tertiary
By Material
Plastic
Metal
Glass
Paper and Paperboard
By Service
Bottling and Filling
Bagging/Pouching
Lot/Batch and Date Coding
Boxing and Cartoning
Wrapping and Bundling
Labelling
Clamshells and Blisters
Others
By End User
Pharmaceuticals
Food & Beverage
Agriculture
Personal Care
Others
By Geography
North America
Europe
Asia-Pacific

China
India
Japan
South Korea
Malaysia
Philippines

Latin America

Brazil
Rest of Latin America

Middle East & Africa (MEA)

GCC
North Africa
South Africa
Rest of the Middle East & Africa