The global controlled release drug delivery market size accounted for USD 51.22 billion in 2022 and it is expected to hit around USD 124.17 billion by 2032, expanding at a CAGR of 9.26% between 2023 and 2032.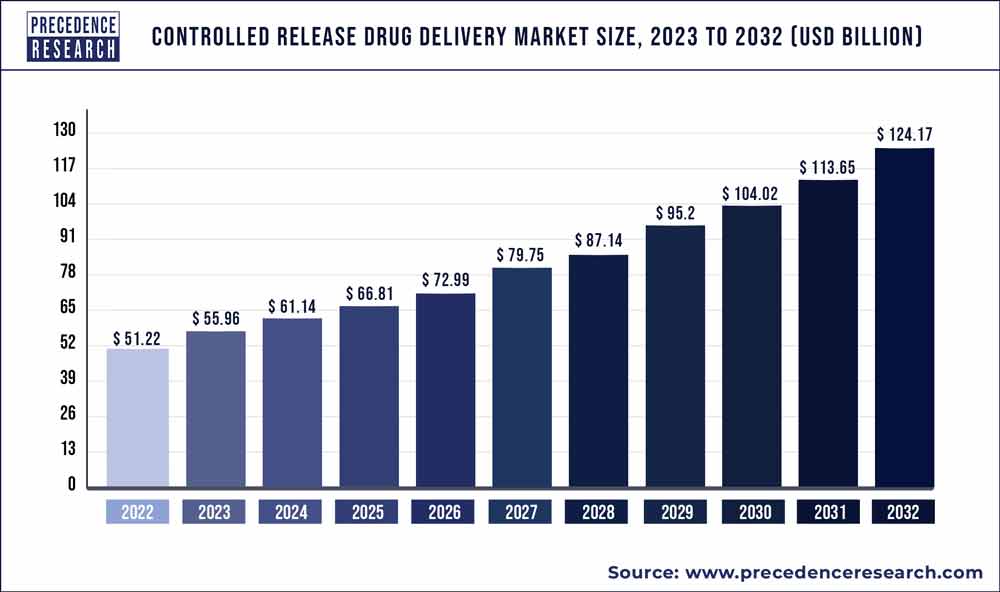 Key Takeaways:
By geography, The North America captured more than 43% of revenue share in 2022.
By technology, the targeted delivery segment captured more than 24% of revenue share in 2022.
By release mechanism, the feedback-regulated drug delivery systems segment contributed more than 27% of revenue share in 2022.
By application, the oral-controlled segment generated more than 37% of total revenue in 2022.
Market Overview
Throughout the projection period, predictably, changing prescription patterns would result from doctors choosing controlled-release medication delivery over conventional systems due to advantages such as better patient compliance, greater therapeutic efficacy, and lower treatment costs. Additionally, due to their aggressive response to the shifting market demands and ongoing investments in developing controlled-release drug delivery systems, pharmaceutical companies, who operate in a fiercely competitive and fragmented industry, have significantly increased demand.
For the forecast period, pharmaceutical development businesses' consistently expanding R&D spending, which aims at creating effective treatments for chronic and non-communicable problems like cancer, diabetes, and hypertension, is anticipated to drive market expansion. For instance, the pipeline medicine TAR-200 (Gemcitabine) from Taris, a biomedical business focused on research and development, has a controlled-release drug delivery system and is recommended for the treatment of bladder cancer. Johnson & Johnson also finalized the acquisition of Taris Biomedical in 2019. One of the primary drivers behind the purchase is reportedly its lead experimental product, TAR-200.
One of the main drivers of market expansion is the growing worldwide elderly and pediatric population, partly attributable to the high rate of non-adherence to prescription regimens in these age groups. The impaired mental, physical, and biological processes that plague geriatric populations impact how they take their medications. Additionally, their bodies cannot handle excessive dosages and adverse side effects. Consequently, as the patient population rapidly increases, demand for controlled-release drug delivery devices will increase.
Controlled-release drug administration enables a significant decrease in dose and dosing frequency, minimizes aberrant variations in plasma drug levels, increases efficacy, boosts patient compliance, and provides uniform medication effects. Drugs are delivered at the target site at predetermined times with predictable drug release kinetics using control releases drug delivery systems, which, in contrast to conventional administration methods, offer a prolonged therapeutic impact. As a result of the controlled release delivery system's additional advantages, their use will likely grow significantly during the forecast period.
Report Scope of the Controlled Release Drug Delivery Market
| | |
| --- | --- |
| Report Coverage | Details |
| Market Size in 2023 | USD 55.96 Billion |
| Market Size by 2032 | USD 124.17 Billion |
| Growth Rate from 2023 to 2032 | CAGR of 9.26% |
| Base Year | 2022 |
| Forecast Period | 2023 to 2032 |
| Segments Covered | By Technology, By Release Mechanism and By Application |
| Regions Covered | North America, Europe, Asia-Pacific, Latin America and Middle East & Africa |

Covid-19 Impact:
The COVID-19 outbreak boosted market expansion due to the rising need for solutions that deliver controlled-release drugs. For instance, the September 2021 publication of an article with the heading "Role of Novel Drug Delivery Systems in Coronavirus Disease-2019 (COVID-19): Time to Act Now" demonstrates the impending increase in the use and demand for novel drug delivery systems and technologies.
Likely, several newly introduced cutting-edge drug delivery methods and devices could help repurpose currently available medications to treat various viral infections. The ongoing research on using COVID-19 drug delivery systems is growing, and the COVID-19 pandemic will favour market expansion.
Segments Insight
Technology Insights
Because a sizable number of market participants have a robust portfolio for the technology, targeted delivery held the most significant market share of more than 24% in 2022. Targeted delivery allows placing medications away from areas where they can cause drug toxicity and offers the intended site of action. It is a frequently selected drug delivery technology because these systems boost bioavailability and localize the medication, which improves absorption, reduces fluctuations in circulating drug levels, and lowers the risk of side effects.
Over the forecast period, the microencapsulation market is anticipated to expand because of the growing desire to extend the shelf life and achieve controlled medication release of unstable and highly complex compounds such as proteins, vitamins, and antioxidants. For instance, vitamin A has poor chemical stability and water solubility; nevertheless, when it is microencapsulated, the product's shelf life rises, contributing to controlled drug release.
Implantable devices guarantee linear medication delivery over a predetermined duration while improving efficiency, reducing adverse effects, and providing convenience. As carriers of proteins and small molecule medications, coacervates represent a novel drug delivery system. Coacervates, made of heparin, hold artificial polycations for the regulated release of growth factors. Due to their rising utilization, these systems will likely command a sizeable portion of the controlled-release medication delivery market soon.
Release Mechanism Insights
The feedback-regulated drug delivery systems segment generated more than 27% of revenue share in 2022 due to their effectiveness in treating diseases, including diabetes. Additionally, rising R&D efforts to take advantage of the potential of the controlled methods of drug delivery that are feedback-regulated as countermeasures will support market expansion.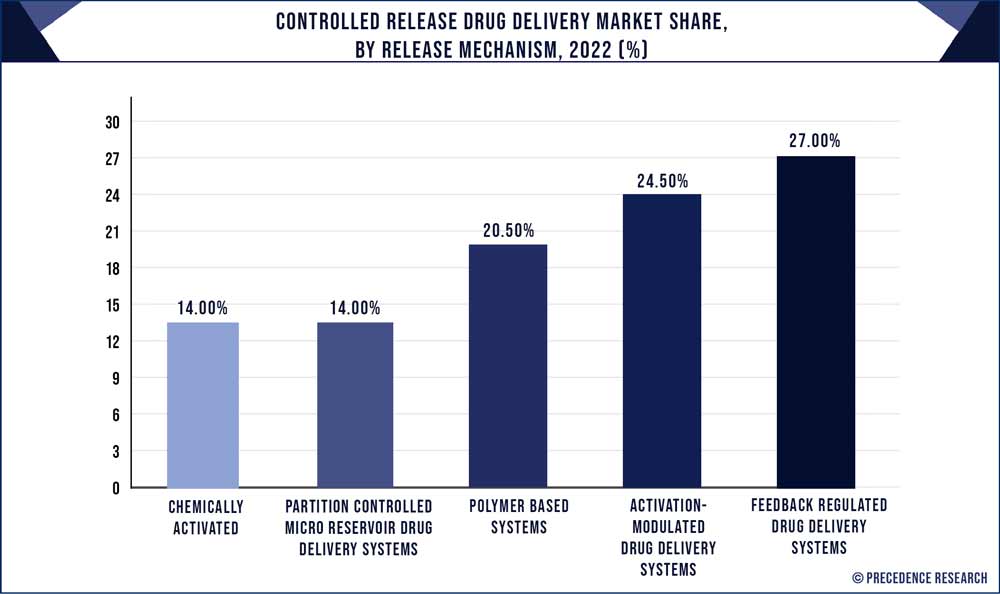 Hydrolysis-activated, pH-activated, and enzyme-activated systems are all examples of chemically activated systems. The ability to quickly and precisely react to the target metabolite, leading to enhanced pharmacological therapy, is causing the segment to flourish. For instance, an enzyme-activated release mechanism achieves optimal and controlled insulin release in hyperglycemic patients.
Chemically activated delivery systems have become extremely popular in recent years, and market participants are also investing in the industry to bolster their portfolios. For instance, chemically triggered delivery systems with the controlled release are used in QuilliChew ER chewable tablets and Pfizer, Inc.'s LYRICA Pregabalin. The category will likely have a sizable market share throughout the projection period.
Application Insights
Due to its availability and frequent use, the oral-controlled segment had a share of more than 37% of total revenue in 2022. Another attractive market that will likely expand significantly throughout the predicted period is meter dose inhalers. The rising frequency of respiratory illnesses, regular product innovation, and technological improvements will fuel long-term market growth. For instance, in 2019, the medical technology company Gofire Inc. Unveiled a metered dose inhaler with a unique dose completion alarm signal to ensure precise administration.
In addition, three medications in Aradigm Corporation's current development pipeline use metered dosage inhalers, a reasonably simple drug administration method, to treat cystic fibrosis, bronchiectasis, and smoking cessation.
Due to the extensive product diversity and utilization in treating numerous ailments, the injectable category will likely develop at the quickest rate throughout the projection period. Long-acting injectables are preferred to conventional delivery forms. They offer several benefits, such as a predictable drug release profile over a specific period, improved patient compliance, ease of application, enhanced systemic availability of drugs, and a consequent overall decrease in medical costs.
Controlled Release Drug Delivery Market Share, By Region, 2022 (%)
| | |
| --- | --- |
| Region | Revenue Share In 2022 (%) |
| Asia Pacific | 24.5% |
| North America | 43% |
| Europe | 26.5% |
| Latin America | 4% |
| MEA | 2% |

Regional Insights
North America was the most important regional market globally, with a market share of more than 43% in 2022. Government programs that encourage the development of controlled-release drug delivery and rising R&D spending will likely fuel market expansion in the area. In addition, the presence of significant market participants helps to encourage the use of controlled-release medication delivery systems.
The burden of chronic illnesses like cancer, diabetes, and heart ailments is rising, fostering market expansion. One of the major factors driving the growth of the regional market is the spiraling use of controlled-release medication delivery systems for hypertension treatment.
Due to increased research and development activities and significant regional pharmaceutical businesses, Europe accounted for the second-largest share in 2019. With the considerable increase in patients with chronic illnesses like diabetes, cancer, and COPD, the local market will likely experience substantial expansion during the ensuing years. The predicted period is likely to have the greatest CAGR in Asia Pacific.
The region has been attracting attention worldwide as the pharmaceutical industry continues to grow. The market in the area is benefiting from the pharmaceutical industries' rapid expansion in China and India. Another significant element driving product acceptance in Japan is the country's sizable elderly population.
Key Companies and Competitive Analysis
Different businesses employ a wide variety of methods to ensure controlled discharge. Major pharmaceutical corporations also use controlled release techniques to broaden their customer base and deepen the penetration of their products. As a result, there is fierce competition between the market's numerous players and newcomers.
Moreover, mergers and acquisitions by prominent players broaden their current product offerings. For instance, Capsugel announced the completion of the purchase of Xcelience and Powdersize in January 2016, which helped the business segment focus on the dosage form solutions of the company to extend its existing resources.
As numerous developers work to create medications that address particular patient needs, the market is tremendously fragmented. Major players are also working on cutting-edge controlled-release medication delivery systems. For instance, Capsugel announced the introduction of enTRinsic drug delivery technology in October 2015, which offers various compounds complete enteric protection and targeted delivery into the upper gastrointestinal tract. Leading companies in the global market for controlled-release medication delivery include:
Merck and Co., Inc.
Orbis Biosciences, Inc.
Johnson and Johnson
Alkermes plc
Corium International, Inc.
Coating Place, Inc.
Pfizer, Inc.
Depomed, Inc.
Capsugel
Aradigm Corporation
Segments Covered in the Report:
(Note*: We offer report based on sub segments as well. Kindly, let us know if you are interested)
By Technology
Coacervation
Wurster Technique
Implants
Micro Encapsulation
Targeted Delivery
Transdermal
Others (Liposomes, Microelectromechanical Technology)
By Release Mechanism
Partition Controlled Micro Reservoir Drug Delivery Systems
Polymer Based Systems
Drug Delivery Systems, which are Feedback Regulated
Drug Delivery Systems that are Activation-modulated

Hydrodynamic Pressure Activated
Osmotic Pressure Activated
Magnetically Activated
Vapor Pressure Activated
Mechanically Activated

Chemically Activated

Hydrolysis Activated
pH Activated
Enzyme Activated
By Application
Injectable
Metered Dose Inhalers
Infusion Pumps
Ocular and Transdermal Patches
Oral Controlled-drug Delivery Systems
Eluting Drug Stents
By Geography
North America
Europe
Asia-Pacific
Latin America
The Middle East and Africa