The global conversational AI market size is expected to hit around USD 86.42 billion by 2032 from USD 10.08 billion in 2022 and is poised to grow at a CAGR of 23.97% during the forecast period 2023 to 2032.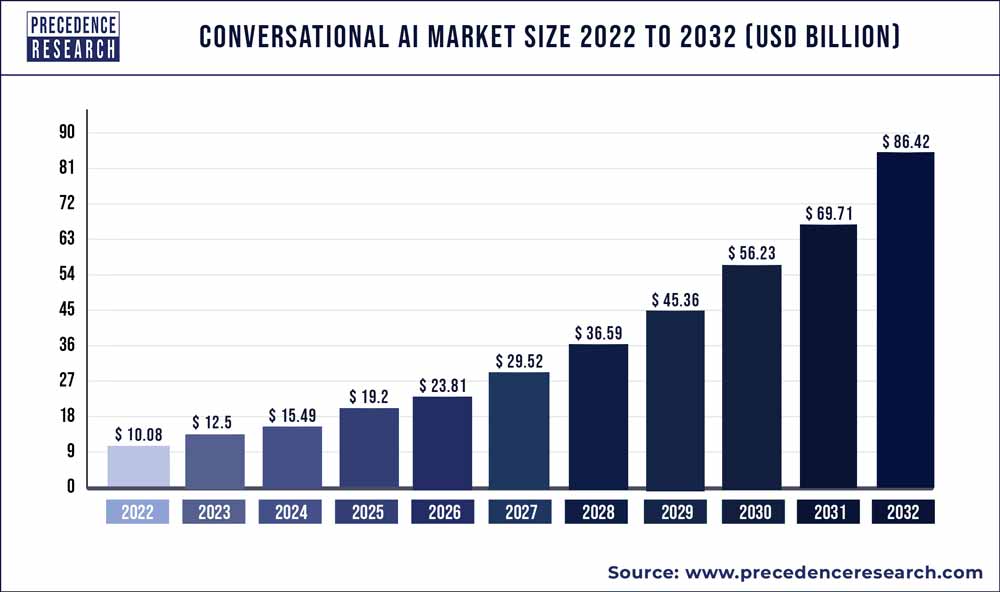 Key Takeaways:
North America led the global market and contributed more than 30% of revenue share in 2022.
By Component, the on-premises segment is expected to capture the largest market share over the forecast period.
By Type, the chatbot segment is expected to dominate the market during the forecast period.
By Deployment, the on-premises segment is expected to capture the largest market share over the forecast period.
By Technology, the natural language processing (NLP) segment is expected to dominate the market during the forecast period.
By End-user, the retail & ecommerce segment is expected to lead the market growth over the projected period.
Market Overview:
Conversational AI refers to the use of artificial intelligence and natural language processing technologies to enable computers or software systems to engage in human-like conversations with users. It aims to create human-computer interactions that feel natural, allowing users to communicate with machines using spoken or written language as if they were interacting with another human being. Conversational AI systems are designed to understand and interpret the user's input, whether it's in the form of text or speech, and generate appropriate responses or actions. These systems use a combination of machine learning algorithms, deep learning models, NLP techniques and dialog management strategies to achieve this functionality.
According to Gartner, Inc., conversational artificial intelligence (AI) implementations within contact centers will save labor expenses for agents by $80 billion by 2026.
Growth Factors:
Some common examples of conversational AI applications include chatbots, virtual assistants, customer support automation, and voice-controlled devices like smart speakers. These systems can be used in various sectors such as customer service, healthcare, e-commerce, BFSI, education and others to enhance user experiences, provide information, and automate tasks through natural language interactions. Conversational AI is a rapidly evolving field that continues to advance, making human-computer interactions more seamless and efficient, and it plays a significant role in the development of human-centric AI applications. The conversational AI market is driven by several factors including the growing product launches, rising mergers & acquisitions, growing number of start-ups, increasing digital transformation and enhanced customer engagement.
Report Scope of the Conversational AI Market:
| | |
| --- | --- |
| Report Coverage | Details |
| Market Size in 2023 | USD 12.5 Billion |
| Market Size by 2032 | USD 86.42 Billion |
| Growth Rate from 2023 to 2032 | CAGR of 23.97% |
| Largest Market | North America |
| Base Year | 2022 |
| Forecast Period | 2023 to 2032 |
| Segments Covered | By Component, By Type, By Deployment, By Technology, and By Technology |
| Regions Covered | North America, Europe, Asia-Pacific, Latin America, and Middle East & Africa |

Market Dynamics:
Driver:
The growing need for customer support services driven by AI
Customers who used customer services often request assistance through call centers, websites, emails, and apps. However, as conversational AI technology develops, businesses are using it to provide customers with high-quality services. The strategy of businesses has changed from providing customer care via emails or texts to using digital chatbots that assist businesses in enhancing the client experience. NLP-enabled chatbots that are driven by AI may converse with customers in real time and give support. To provide proactive insights and more individualized experiences based on account activity, they assist firms in obtaining business knowledge about customer preferences, opinions, and purchase behaviors. Businesses may also deploy AI-powered chatbots and virtual assistants to automate routine, labour-intensive tasks like making orders, balance inquiries, general questions, technical assistance, and other customer services. Automation can help businesses increase productivity while employing fewer staff members. Thereby, driving the market growth.
Restraint:
Data privacy and ethical considerations
Strict standards for handling and securing user data are imposed by privacy rules like GDPR and CCPA. To gain users' confidence, conversational AI systems must provide strong data security and adhere to these laws. Additionally, conversational AI systems may unintentionally reinforce biases found in training data, resulting in replies that are prejudiced or discriminating. It is a major problem to address these prejudices and ensure ethical AI conduct. Thus, this is expected to hamper the market growth during the forecast period.
Opportunity:
Widespread use of large language models
An advanced kind of artificial intelligence known as a large language model is capable of comprehending and producing human language. These models may be used for a range of language-related tasks, including question-answering, text summarization, and language translation. This will make interactions more natural and intuitive and make the task of AI trainers easier by giving them fresh intents and material to strengthen the business model. Conversational AI systems will be better able to understand and respond to human language as a result.
Segments Insight:
Component Insights:
Based on the component, the global conversational AI market is segmented into solutions, managed services and professional services. The solutions segment is expected to hold the largest market share over the forecast period. The majority of this segment is ascribed to businesses' extensive internal conversational AI technology installation. Additionally, AI-enhanced support systems may provide consumers with access to services and round-the-clock help, allowing businesses to provide trustworthy customer care.
For instance, in January 2022, Visionstate Corp. unveiled the cutting-edge Vicci 2.0, a customer care kiosk driven by conversational chatbot AI. This technology is being incorporated by Visionstate into their Vicci 2.0 platform to provide AI-influenced on-site customer support. Due to its flexibility in supporting different languages, the Vicci 2.0 platform can accommodate a wide range of users. Thereby, driving the market growth.
Type Insights:
Based on the type, the global conversational AI market is segmented into Chatbots and Intelligent Virtual Assistants (IVA). The chatbot segment is expected to dominate the market during the forecast period. Chatbots are specific applications or implementations of Conversational AI. They are computer programs designed to simulate human-like conversations with users, primarily through text-based interactions, although voice-based chatbots also exist. Chatbots can answer questions, provide information, perform tasks, and assist users with various inquiries or actions.
They can be rule-based (using predefined scripts) or AI-driven (leveraging machine learning and NLP). This is used across various industries for customer support, lead generation, e-commerce assistance, troubleshooting, and more. They are often integrated into websites, messaging platforms, mobile apps, and customer service channels. For instance, according to secondary sources, 84% of businesses believe AI chatbots will become more important for consumer interaction. Thus, this is expected to be the main reason for the chatbot's dominance.
Deployment Insights:
Based on the deployment, the global conversational AI market is segmented into on-premises and cloud. The on-premises segment is expected to capture the largest market share over the forecast period. On-premises conversational AI refers to the deployment of conversational AI technologies, including chatbots and virtual assistants, within an organization's own physical or private cloud infrastructure. This approach is chosen for reasons such as data security, compliance, and customization. Moreover, the advantages offered by the on-premises chatbots such as greater control over data and security. Businesses may have total control over their data and security with an on-premises chatbot.
For industries who deal with sensitive or confidential information, such as financial records, logistics, customer information, employee information, and other business-sensitive data, this is extremely important. As opposed to cloud-based chatbots, which may need to utilize third parties to host and operate the service, these providers may have access to the chatbot's servers. On-premise chatbots provide organizations with more control over the hardware and software the chatbot operates on for better performance. Businesses can choose the precise system resources that best meet their needs and monitor the chatbot's performance in real-time. Additionally, real-time monitoring enables businesses to act quickly in the case of any security problems, ensuring that the chatbot operates at peak efficiency and gives the company its intended outcomes. Thereby, driving the segment growth over the forecast period.
Technology Insights:
Based on the technology, the Natural Language Processing (NLP) segment is expected to dominate the market during the forecast period. It carries the development of algorithms that enable machines to understand and generate human language. NLP offers numerous benefits across various applications and industries.
NLP technology can scan a wide range of documents, internal systems, emails, social media data, online reviews, and more, processing large volumes of data rapidly and effectively. An analysis done manually might take days or weeks. Additionally, NLP technologies allow users to employ as much or as little processing power as they need by automatically scaling up or down based on their needs.
It is simple to track, route, and even respond to customer support requests because of the integrations between MonkeyLearn and CRM systems like Zendesk, Service Cloud, HelpScout and Freshdesk. By doing NLP analysis on customer satisfaction surveys, they may immediately discover how pleased their customers are at every stage of the customer journey. Thus, this is expected to drive the segment expansion over the forecast period.
End User Insights:
Based on the end user, the retail & ecommerce segment is expected to lead the market growth over the projected period. Conversational AI has gained significant traction in the retail and e-commerce industry due to its potential to enhance customer engagement, streamline operations, and improve overall shopping experiences. Chatbots and virtual assistants provide 24/7 customer support, answering common queries, helping with order tracking, and addressing customer concerns in real time.
This ensures that customers receive timely assistance and information. Moreover, conversational AI systems use customer data and behavior analysis to offer personalized product recommendations. By understanding user preferences, these systems can suggest relevant items, increasing the likelihood of sales. Furthermore, shoppers can use conversational interfaces to place orders, modify orders, or inquire about order status and delivery times. This streamlines the purchasing process and reduces the need for customers to visit separate webpages or apps. Thus, this is expected to propel the segment growth during the forecast period.
Regional Insights:
North America is expected to dominate the market over the forecast period. Regional market expansion is being fueled by both the broad adoption of cutting-edge technology and the quickly rising demand for customer support services driven by AI. Additionally, most businesses in North America are making investments in new technology to support and meet the needs of their clients. The population's fast-rising health consciousness is another factor driving the desire for conversational AI. Artificial intelligence (AI), robots, and augmented reality (AR) are being implemented in the healthcare sector in North America. This would support the provision of knowledgeable services and technology for evidence-based health care with an emphasis on preventative and collaborative care.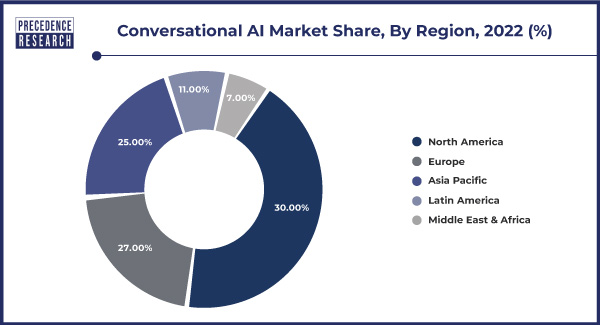 Asia Pacific is expected to grow at the highest CAGR during the forecast period. The region comprises a wide range of economies, from developed nations like Japan and South Korea to emerging markets like India, China, and Southeast Asian countries. This diversity offers a varied landscape for Conversational AI adoption. Moreover, the e-commerce and retail sectors in Asia Pacific are experiencing significant growth. Conversational AI is widely used in these sectors for customer support, personalized shopping experiences, and product recommendations.
For instance, according to corporate experts, 27% of companies in the region are actively working with CPaaS platform suppliers to create contextualized client interactions that not only increase profitability but also promote emotionally satisfying engagements. This pattern demonstrates the growing significance of utilizing these technologies to satisfy client needs and achieve corporate success. Thereby, driving the market growth in the region.
Recent Developments:
In February 2023, the AI technology that powers ChatGPT, Microsoft's chatbot, was updated and included in the company's new Bing search engine. A fresh experience for exploring the web and obtaining information online is promised by the firm as it introduces the product with new AI-enhanced capabilities for its Edge browser.
In August 2023, Toronto-based Horizon Software, which offers simple-to-embed interactive product demonstrations, was acquired by Texas-based Inbenta. After the acquisition, the Horizn technology will be included in the Inbenta AI customer experience platform.
Key Market Players:
Oracle
IBM
Amazon Web Services, Inc.
Microsoft
Avaamo
Nuance Communications, Inc.
FIS
SAP SE
Artificial Solutions
Kore.ai, Inc.
Google
Conversica, Inc.
Jio Haptik Technologies Ltd.
Rasa Technologies Inc.
Segments Covered in the Report:
(Note*: We offer reports based on sub-segments as well. Kindly, let us know if you are interested)
By Component
Solutions
Managed Services
Professional Services

Training & Consulting
System Integration & Implementation
Support & Maintenance
By Type
Chatbots
Intelligent Virtual Assistant (IVA)
By Deployment
By Technology
Natural Language Processing (NLP)
ML and Deep Learning
Automatic Speech Recognition (ASR)
By End User
BFSI
Healthcare
IT & Telecom
Retail & eCommerce
Education
Media & Entertainment
Automotive
Others
By Geography
North America
Europe
Asia-Pacific
Latin America
Middle East and Africa