The global dairy alternatives market size was estimated at USD 24.93 billion in 2022 and is expected to surpass around USD 75.03 billion by 2032, poised to grow at a compound annual growth rate (CAGR) of 11.7% between 2023 to 2032.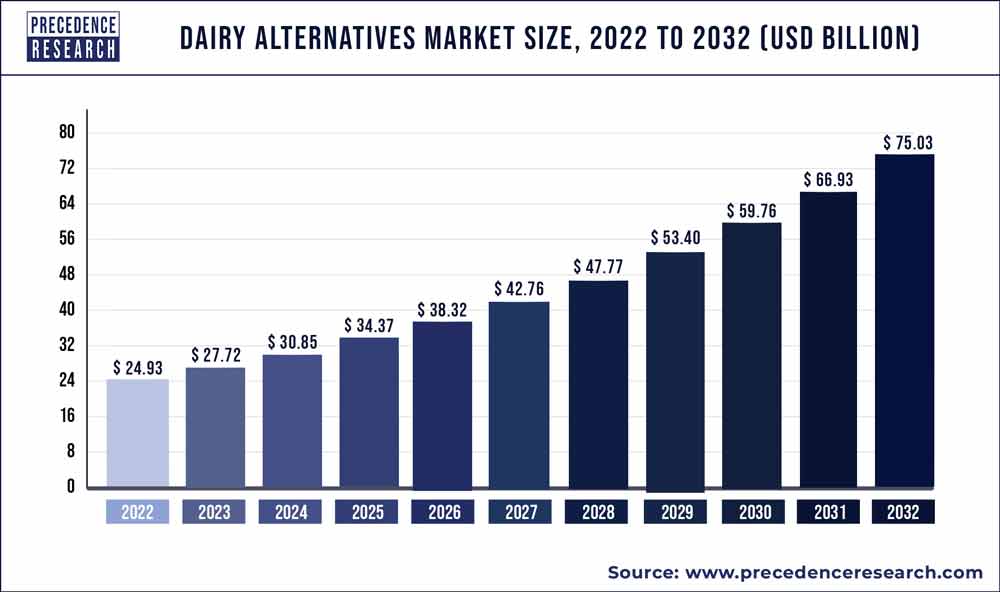 Access our Premium Real Time Data Intelligence Tool, Visit: Precedence Statistics
Key Takeaways
By source, the soy segment held a revenue share of 35.5% in 2022. However, the almond segment is registering growth at a CAGR of 14.5% from 2023 to 2032.
By product, milk generated 66% revenue share in 2022 with a notable CAGR of 13.5% between 2023-2032.
By distribution channel, the supermarkets and hypermarkets segment had the highest revenue share of 41% in 2022.
Asia Pacific region dominated the market with a revenue share of 41.5% in 2022.
Dairy alternatives are foods and beverages that can replace dairy products. These products are made with plant-based milk that resembles dairy milk in texture and taste, and contains fewer calories, fat, and sugar than regular milk. Plant-based milk is derived from plant sources such as soybeans, coconuts, almonds, peas, and cashews. Soy milk, rice milk, and almond milk are some of the most popular alternatives to milk worldwide. Cheese, butter, ice cream, and yogurt, among other products, can be made from plant-based milk.
Globally, the health benefits of dairy alternatives have led to their widespread adoption in many applications. In addition, the functional properties presented by dairy-free products contribute to improved texture, resistance to fatigue, stress, aging and many other problems. The market is on the rise and is in high demand due to changing consumer eating habits and changing food trends. Increasing cases of milk allergy and lactose intolerance are expected to drive demand for milk alternatives during the forecast period. Dairy alternatives are considered healthy due to the presence of several essential vitamins and minerals. They're also low in fat, cholesterol, and lactose-free. Therefore, these food products are especially suitable for consumers with lactose intolerance. As a result, many food and beverage products use dairy alternatives to attract a growing number of customers who opt for plant-based alternatives and dairy alternatives.
This is expected to contribute to the growth of the market as fitness savvy consumers increase globally. Changing lifestyles, increasing health awareness, increasing number of lactose allergy cases and growing application areas is also a crucial factor driving the growth of the market.
The food and beverage sector has faced unexpected challenges due to the COVID-19 pandemic. Various government-imposed restrictions in the countries such as lockdowns and production shutdowns severely disrupted global supply chains in 2022. Lack of raw materials and shortage of labor force hindered the production of many small varieties and large-scale products as well as small scale food and beverage manufacturers. However, healthcare and wellness trends have changed dramatically due to the COVID-19 pandemic as people become more and more concerned about their health and immunity, which has created a need for large for herbal products of plants. Health and wellness are the main drivers for the adoption of alternative or plant-based proteins, which has driven the growth of the dairy alternativess market.
In addition, in 2022, manufacturers are allowed to operate at full capacity, which helps them close the gap between supply and demand. This factor is expected to give the dairy alternativess market players plenty of opportunities during the forecast period. As a result, the COVID-19 pandemic has had a mixed effect on the milk substitutes market, and in the long run, it is expected to open up significant opportunities.
The vegan population has increased significantly in recent years. People are shifting their focus to a vegan diet, due to growing health concerns. Many nutritionists and health professionals recommend switching to a vegetarian diet to reduce the risk of chronic health problems, such as obesity, heart disease, high blood pressure, high blood pressure, and digestive disorders. According to Google Trends, vegan was one of the top 5 most searched terms on Google in 2019 in the UK and globally. As a result, the growing trend of veganism and vegetarianism is driving the growth of the market for plant-based products. The nutritional benefits such as lower cholesterol levels, improved heart health and diabetes control from plant-based dairy alternatives have increased their intake. Soybean sourced milk is consumed as a vital source of protein, omega-3 fatty acids, and fiber. Plant based milk alternatives to dairy products tend to contain fewer calories, less fat, more water. Some plant based products are fortified with vitamins and other nutrients. These nutritional benefits are contributing to the growth of the milk substitutes market.
The growing popularity of dairy alternatives as dietary supplements among the young population to maintain healthy lifestyle goals will drive demand for these products. The high consumption of dietary supplements to regulate body weight as well as the increase in obesity in adults will positively affect the dairy alternative market. In addition, the increasing use of coconut and soy-enriched products by professional athletes and fitness enthusiasts as a substitute for whey protein will boost the market share of dairy alternative products. The rapid shift of health cautious consumers to western diets in many developing countries, including Argentina, China, India, and Russia is one of the important factors contributing the growth of the dairy alternatives market. The vegan diet is mainly based on dairy products such as milk, cheese, and butter. Furthermore, benefits such as low sugar content, low calorie content and presence of water in dairy alternatives are driving its demand globally.
Report Scope of the Dairy Alternatives Market
| | |
| --- | --- |
| Report Coverage | Details |
| Market Size in 2023 | USD 27.72 Billion |
| Market Size by 2032 | USD 75.03 Billion |
| Growth Rate from 2023 to 2032 | CAGR of 11.7% |
| Base Year | 2022 |
| Forecast Period | 2023 to 2032 |
| Segments Covered | Source, Product, Type, Formulation, Distribution Channel, Distribution Channel, Geography |
| Companies Mentioned | are ADM, Blue Diamond Growers, Califia Farms, LLC, DAIYA FOODS INC., Danone S.A., Earth's Own Food Company Inc., Eden Foods, Inc., Freedom Foods Group Ltd., Living Harvest Foods Inc., Nestle SA, New Barn, Nutriops, S.L., Oatly Inc., Organic Valley Family of Farms, Pacific Foods, Ripple Foods, SunOpta Inc., The Hain Celestial Group, Inc., The Whitewave Foods Company, Vitasoy International Holdings Limited |

Source Insights
Based on source, the market is segmented into almond, soy, coconut, oat and others. Soybean segment holds the largest market share; however, the almond segment is becoming an important segment. Almonds have a nutty flavor and can be consumed by vegans, consumers with lactose intolerance and those allergic to soy milk. Almond products are rich in fat, fiber and protein, which explain their popularity among consumers.
In addition, almonds are also rich in B vitamins, which increase the body's basal metabolic rate, allowing it to burn fat and calories more efficiently. Growing demand for almond milk alternatives due to these nutritional benefits is contributing to the growth of the segment. Soy milk is expected to gain popularity in the United States among older consumers and women because it contains isoflavones, which are believed to reduce the risk of heart disease and breast cancer. Soy also contains phytoestrogens, which act similarly to estrogen, a female hormone. Drinking soy milk is popular as an alternative therapy among women to increase estrogen levels, which is expected to drive the market further. Almond milk is becoming increasingly popular among health-conscious young people who follow diets, such as the ketogenic and vegan diets. Almond milk is a rich substitute for dairy products due to its high fat, fiber and protein content, and is expected to be adopted by consumers widely. Additionally, almond milk helps regulate blood pressure and provides additional benefits for the skin, kidneys, and heart. It is increasingly being consumed in food as a means of preventing related diseases.
Product Insights
On the basis of product, the dairy alternativess market is segmented into food (milk, ice cream, yogurt, cheese and others) and beverages. The milk segment holds the largest market share; however, the yogurt segment is expected to achieve the highest CAGR during the forecast period. Vegan yogurt is a healthy creamy food that helps vegans and people with lactose intolerance meet their nutritional needs without depending on dairy products. It is enriched with nutrients such as important vitamins, minerals, amino acids and lipids, which help reduce inflammation and boost metabolism. Vegetarian yogurts are currently in high demand due to the growing vegan trend and easy availability of yogurts in various flavors such as vanilla, strawberry, raspberry, strawberry blend and others.
Growing demand for cheese products made with dairy alternatives, such as soy and almond cream cheese, sour cream and regular cheese, is expected to drive demand for dairy alternativess during the forecast period. Lactose-intolerant and dairy-allergic consumers are turning to almond and soy cheeses, which are leading the market. Growing health and wellness awareness, hectic lifestyle and growing demand for vegan products by millennial spurred the consumption of dairy-free beverages. Dairy alternatives such as almond milk, soy milk, oat milk and others are widely used in beverages to increase texture and creaminess.
Distribution Channel Insights
On the basis of distribution channel, the market is segmented into supermarkets & hypermarkets, online retailers, convenience stores, and others. The supermarket and hypermarket segment is the largest market segment. Supermarkets & hypermarkets offer a wide range of food products, groceries, beverages, and wide variety of household items. Products of different brands are available at reasonable prices at these stores, allowing shoppers to quickly find the right product. Moreover, supermarkets usually offer huge discounts, and variety of options for payments. Manufacturers of milk substitutes often prefer to sell their products in supermarkets and hypermarkets due to the high traffic to these stores.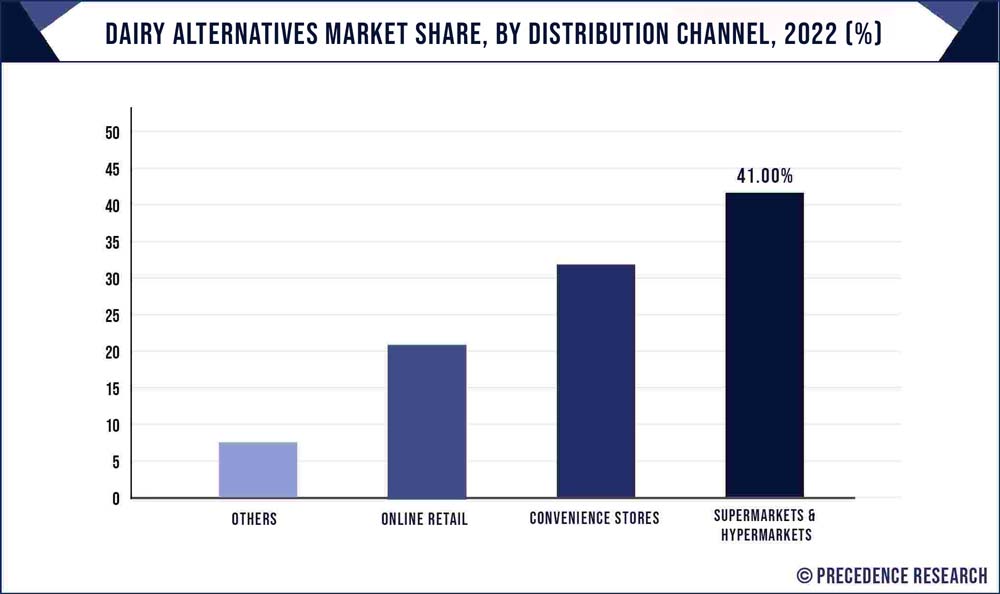 Convenience stores often offer lower discounts than hypermarkets, supermarkets, and online stores due to low volumes from manufacturers or suppliers. Also, convenience stores mainly focus on everyday items, so the limited availability of shelf sizes makes it impossible for them to hold a large stock of dairy alternatives. Due to the limited availability of milk substitute brands in convenience stores, consumers mainly prefer other distribution channels, so this is expected to hold back the growth of this segment in the forecast period. However, convenience stores provide better traction for raw milk, as consumers generally prefer it for everyday use.
Dairy Alternatives Market Share, By Region, 2022 (%)
| | |
| --- | --- |
| Regions | Revenue Share in 2022 (%) |
| North America | 30% |
| Asia Pacific | 41.5% |
| Europe | 18% |
| Latin America | 7% |
| MEA | 3.5% |

Regional Insights
Why Asia-Pacific held highest market share?
In 2022, Asia-Pacific held the largest share of the global dairy alternatives market, and the Middle East and Africa are estimated to record the fastest CAGR during the forecast period. Increasingly health-conscious consumers and growing vegetarianism are a few factors contributing to the demand for dairy alternatives in the region.
Dairy alternatives are low in fat, calories, and cholesterol, appealing to health-conscious, vegan, and lactose-intolerant customers. Lactose intolerance is common in most of Asia, ranging from 58% in Pakistan to 100% in Korea. People with lactose intolerance are advised to avoid dairy products and switch to plant-based dairy products. This factor is significantly driving the growth of the milk substitutes market across the Asia-Pacific region.
Why North America region reach significant share in the dairy alternatives market?
North America is one of the main markets for milk alternatives, as many dairy alternatives, such as ice cream and yogurt, are widely consumed. Flavored milk accounts for more than two-thirds of dairy products sold in North American schools. The growing consumer demand for sweetened soy and almond milk is expected to be a key driver for the alternative milk industry.
Dairy-based milk substitutes are used to produce various food and dessert products, which are expected to drive the industry during the forecast period in the North American region. Although dairy ice cream is seeing moderate demand in North America compared to dairy ice cream, the growth of this product category is expected to be much higher than the forecast period. As a result, demand for milk substitutes by ice cream manufacturers is expected to increase significantly during the forecast period.
Why Europe region is growing faster?
The European market is expected to witness growth due to the growing demand for healthy food and beverages in the region. Milk substitutes are often used to replace dairy beverages. Manufacturers are focusing on developing new products, including soy water mixes and fresh soy drinks.
In addition, an increase in the consumption of dairy-free foods by the vegan population will increase the demand for these products. The growing vegetarian population is driving the growth of the milk substitute market, especially in Europe and Asia-Pacific countries.
Recent Developments
Hershey India developed Sofit Plus, a plant protein drink which is made up of soy ingredients and is aimed at meeting the nutritional requirements of underprivileged children.
Hain Celestial Corporation sold its North American dairy-free beverage brands Dream and WestSoy to SunOpta Inc.
SunOpta Inc. announced the opening of a new plant-based beverage facility in the Dallas-Fort Worth, Texas metro area. The new manufacturing facility, which will be located in Midlothian, Texas, will initially cover 285,000 square feet, with the option to expand to 400,000 square feet.
Key Market Players
ADM
Blue Diamond Growers
Califia Farms, LLC
DAIYA FOODS INC.
Danone S.A.
Earth's Own Food Company Inc.
Eden Foods, Inc.
Freedom Foods Group Ltd.
Living Harvest Foods Inc.
Nestle SA
New Barn
Nutriops, S.L.
Oatly Inc.
Organic Valley Family of Farms
Pacific Foods
Ripple Foods
SunOpta Inc.
The Hain Celestial Group, Inc.
The Whitewave Foods Company
Vitasoy International Holdings Limited
Segments covered in the report
(Note*: We offer report based on sub segments as well. Kindly, let us know if you are interested)
By Source
Soy

Almond

Coconut

Oats

Rice

Others
By Product
Food

Milk

Ice Cream

Yogurt

Cheese

Others

Beverages
By Formulation
By Distribution Channel
By Geography
North America
Europe
Asia-Pacific

China
India
Japan
South Korea
Malaysia
Philippines

Latin America

Brazil
Rest of Latin America

Middle East & Africa (MEA)