The global fruit preparation for dairy market size was valued at USD 5.31 billion in 2020 and is predicted to reach USD 9.48 billion by the end of 2030, representing impressive CAGR of 6.1% during the forecast period 2021 to 2030.
Crucial factors accountable for market growth are:
Increasing demand for high quality natural spreads and fruit snacks
Rising consumption of natural flavored dairy products such as yogurts, ice creams and desserts
Innovations in texture, taste, and flavor in fruit based dairy products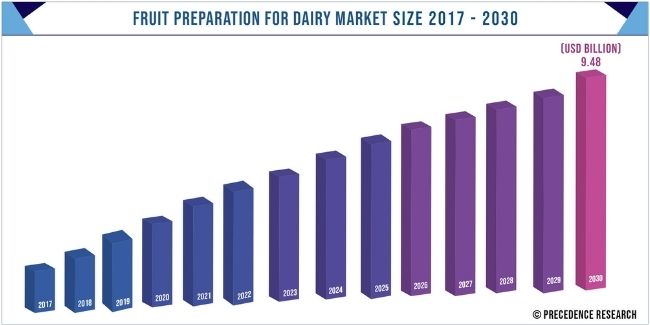 Key market Insights:
Growing adoption of high-quality natural spreads and fruit snacks, along with increasing consumption of natural flavored dairy products are among major factors driving growth of the global market. Inclination towards customized dairy-based fruit infused food and beverage products is major factor expected to generate new opportunities to market players operating in the global market. In order to cater customized demand of the consumers, the major companies operating in the global fruit preparation for dairy market are focusing on launching customized and innovative products. Food products are basically customized for specific flavor profile, color, melt characteristics, fruit variety, and cheese variety, among others.
COVID-19 Impact on Global Fruit Preparation for Dairy Market
The COVID-19 explosion has had an impact on world's primary markets. The effect of COVID-19 on the global industry is adverse. The North America is largest fruit preparation for dairy market, but supply and demand for the fruit preparation for dairy has decreased with spread of COVID and lockout situations in the U.S. Because of COVID-19, instability of the supply chain, volatility in the supply of raw materials, inadequate manpower in the production facility and less demand for end-use customers have hindered the growth of the target industry in developed and developing economies worldwide. Throughout the early phases of the lockdown limits in most of the foremost nations, milk sales and procurement were impacted because of supply chain disruptions. However, despite these disruptions, the demand for fruit based dairy products has increased after unlock situations for a number of reasons including a growing interest nutritive dairy product which has led to increased demand for milk, yogurt, cheese, cream, dairy desserts, etc.COVID-19, however, is increasingly resolving the situation and most companies are beginning facility at maximum capacity.
Future of Global Fruit Preparation for Dairy Market
Main target-industry firms, such as Cargill, Incorporated, Cesarin S.p.A. among others, Ltd. focuses on commercial development by implementing approaches such as innovative product introductions, volume expansion, and weighty manufacture investments are expected to grow in the near future with the global fruit preparation for dairy market growth. In the next 10 years, this tendency is projected to continue in global fruit preparation for dairy industry. For instance, in 2017, frulat acquired 5ensesinfood which is a leading player in food ingredients. Further, in same year Dohler Group acquired Herb's International Service, it is a French leader in natural health ingredients.
| | |
| --- | --- |
| Report Highlights | Details |
| Market Size | US$ 9.48 Billion by 2030 |
| Growth Rate | CAGR of 6.1% From 2021 to 2030 |
| Base Year | 2020 |
| Forecast Period | 2021 to 2030 |
| Segments Covered | Application, Distribution Channel, Fruit Type, Ingredient Type |
| Regional Scope | North America, Europe, Asia Pacific, Middle East & Africa, Latin America |
| Companies Mentioned | ADM WILD Europe, Döhler GmbH, ZENTIS GMBH, Chr. Hansen Holding, AGRANA Beteiligungs-AG, Presad, Cesarin S.p.A., ORANA A/S, INGREDION |
Segment Analysis:
Fruit Pieces Segment is estimated to take over the Ingredient Type Segment of Fruit Preparation for Dairy Market Revenue
Fruit Pieces ingredient type segment will boost growth of the target industry during the forecast period of time. The segmental development will be powered by increasing adoption of the fresh fruit-based products in the consumption patterns among the customers across the globe.
Dairy Segment Is Foreseen To Lead the Application Segment of Fruit Preparation For Dairy Market By Revenue
Dairy segment is dominant in terms of revenue during the forecast period of time. Growing population across the developed as well as emerging economies is leading to increasing consumption of dairy products including yogurt, milk, cheese, cream among others. This is the major driver for the growth of the dairy application segment.
North America is projected to be the Biggest Market for Fruit Preparation For Dairy
The research study deals with the industry prospects of fruit preparation for dairy products around regions including Europe, North America, Latin America, Asia-Pacific, and Middle East and Africa. Fruit preparation for dairy market is taken by North America owing to increasing demand for fruit spreads such as jam, marmalade in the countries of the North America, particularly in the U.S. of the North America. Addition to this, presence of leading players in the region along with strategies that are implemented by the major players in the countries of North America is expected to witness substantial growth in the target industry in the near future. Asia Pacific is likely to list the noteworthy CAGR, on account of rising interest in nutritive fruit based and natural dairy products in the region among the Asian population.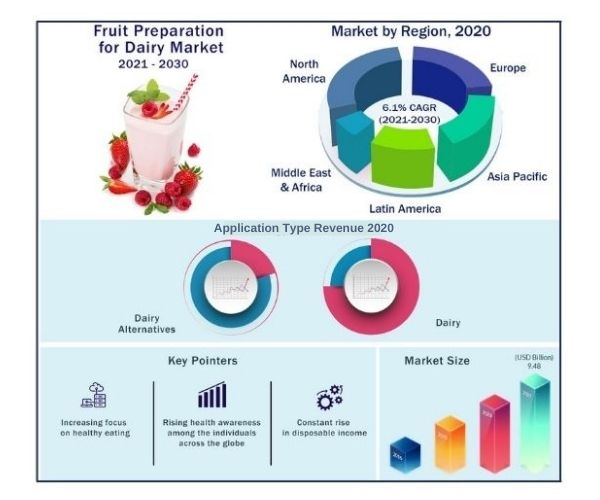 Top Players contending in the Market:
The key companies are aiming towards advanced innovations and are predictable to dominate the target market. Foremost players inspiring in global fruit preparation for dairy market are as follows:
ADM WILD Europe
Döhler GmbH
ZENTIS GMBH
Chr. Hansen Holding
AGRANA Beteiligungs-AG
Presad
Cesarin S.p.A.
ORANA A/S
INGREDION
chb.gr
Cargill, Incorporated
DDW The Color House
Tree Top, Inc.
Frulact
For the superior understanding the current condition of the worldwide market, Precedence Research calculated the upcoming development of the aiming market. This research study deals quantifiable insights on international market and estimate of market size.
Key Market Developments:
In January 2020, Agrana acquires us-based organic distribution company Marroquin Organic international.
Major Market Segments Covered: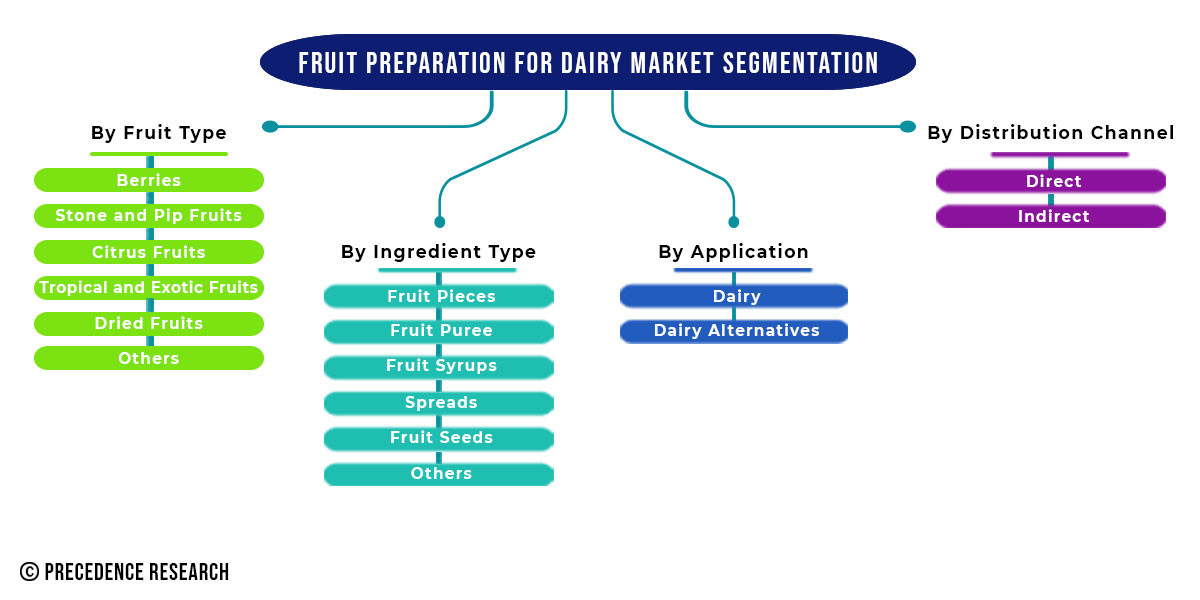 By Fruit Type
Berries
Stone and Pip Fruits
Citrus Fruits
Tropical and Exotic Fruits
Dried Fruits
Others
By Ingredient Type
Fruit Pieces
Fruit Puree
Fruit Syrups
Spreads
Fruit Seeds
Others
By Application
By Distribution Channel
By Geography
North America
Europe

Germany
France
United Kingdom
Rest of Europe

Asia Pacific

China
Japan
India
Southeast Asia
Rest of Asia Pacific

Latin America

Brazil
Rest of Latin America

Middle East & Africa (MEA)

GCC
North Africa
South Africa
Rest of Middle East & Africa