The global data center colocation market size was evaluated at USD 57.97 billion in 2022 and is projected to hit around USD 144 billion by 2030, growing at a CAGR of 12.05% during the forecast period from 2022 to 2030.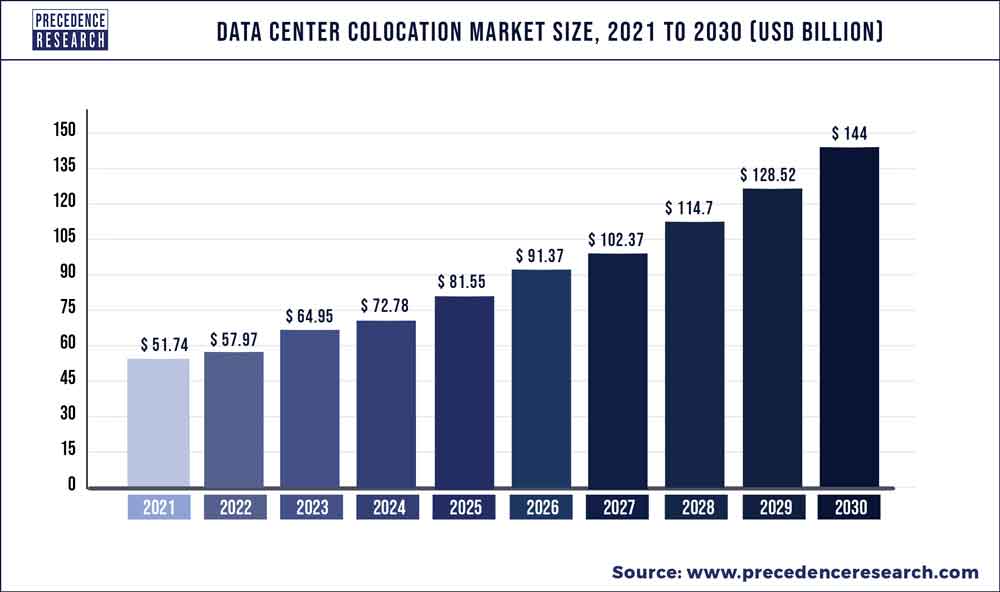 Access our Premium Real Time Data Intelligence Tool, Visit: Precedence Statistics
Key Takeaway:
By colocation type, the retail type segment has accounted revenbue share of around 74% in 2022.
By enterprise size, the large enterprises segment has captured 63% revenue share in 2022.
By end-use, the IT & telecom segment has accounted revenue share of 27.9% in 2022.
The North America region has garnered revenue share of around 44% in 2022.
Growth Factors
Quick digitization all through enterprises, along with the developing use of crossover distributed computing and virtualization frameworks, is one of the key components driving the development of the center colocation commercial center. Datacenter colocation offices are found away from the shopper premises and might be overseen somewhat in the event of disappointments to get the records. Furthermore, the colossal reception of dependable, versatile, and secure foundation for proficient information recuperation and endeavor coherence prerequisites, is giving a push to the commercial center development. Furthermore, the rising measure of data from web-based entertainment and beyond preposterous stages has expanded the interest in incenter colocations and colocation administrations.
The amount of vivacious clients via online entertainment is developing dramatically and, in this manner, adding to the developing information from those stages. Besides, the Covid-19 pandemic has brought about the rising use of OTT and real-time features prompting sped-up information volumes, that are anticipated to fuel the commercial center development. Besides, with the developing number of little and medium-sized undertakings (SMEs), explicitly in the developing economies, there's a colossal ascent in the organization of secluded center colocations to stay aware of the developing organization's intricacies. Likewise, SMEs have financial constraints, in light of which, cost decrease will turn into something essential for the association's development.
Furthermore, colocation center colocation execution assists private companies with saving working charges and overheads. Thus, little and medium-sized organizations feel it is fitting to colocation center colocation offices as opposed to purchasing and working with them to drive market development. Aside from this, center colocation is one such arrangement that assists little undertakings with a plausible and low-evaluated chance of leasing center colocation space, which is expected to drive the commercial center blast over the figure period. Different variables, which incorporate the creating interest for information storage spaces from the e-exchange industry, alongside boundless improvements in the IT foundation, are anticipated to drive the commercial center further.
Be that as it may, unreasonable starting and arrangement costs and organizational data transmission issues is the significant limiting factor for the commercial center worldwide. Notwithstanding the arrangement, an in-house center colocation requires ordinary working consumption and an exorbitant level of dealing with information well-being and respectability. The arrangement and security of an in-house center colocation address a major responsibility of money-related and actual well-being for organizations. This challenge is accurately tended to through colocation administration sellers who convey rack space, power, cooling, organizing, data transfer capacity accessibility, firewalls, and different such offices in exchange for a month-to-month lease, which consequently eliminates the capital incentive for organizations. Moreover, developing security worries for the venture and developing reception of the half-breed cloud and virtualization set out open doors for the commercial center around the world during the estimated time frame.
Report Scope of the Data Center Colocation Market
Report Coverage
Details
Market Size in 2022
USD 57.97 Billion
Market Size by 2030
USD 144 Billion
Growth Rate from 2022 to 2030
CAGR of 12.05%
Base Year
2021
Forecast Period
2022 to 2030
Segments Covered

By Type
By End-User
By Industry

Regions Covered

North America
Europe
Asia-Pacific
Latin America
Middle East & Africa

Market Dynamics
Drivers: Reduction in the general IT cost
The method involved in facilitating a server farm foundation on location requires gifted IT representatives to run the tasks. Without hesitation facilitating likewise includes different consumptions for serving the board and framework support. Besides, setting up another server farm office requires a lot of starting speculation and builds the general CAPEX of the ventures. Accordingly, endeavors are progressively becoming circumspect of the CAPEX spent on authorizing crucial server farm offices and are searching for ways of lessening cost and further developing Return on Investment (ROI). This strain to reduce the IT expense is one of the significant impetuses that urge endeavors to investigate new IT framework choices. In this manner, endeavors are progressively changing to server farm colocation suppliers for power, space, transmission capacity, and Value-Added Services (VAS, for example, interconnection administrations, web arrangements, and talented oversaw IT administrations in light of their size and necessity. The rising number of undertakings embracing server farm colocation can likewise be seen by the study directed by Uptime Institute, LLC, wherein they viewed that 26% of endeavors in 2015 settled on server farm colocation administrations, rather than 25% in 2015.
Limitation: High startup and support cost
The expense expected for starting the set-up of IT hardware in the server farm offices is fundamentally high. Endeavors picking to rent colocation offices need to buy their own IT gear. The ventures likewise need to transport the gear to the colocation places. This cost of delivery of the gear relies upon the size and weight of the hardware. In addition, the expense and intricacy associated with the underlying organization of information foundation arrangements are fundamentally higher. After sending this hardware to the colocation offices, endeavors are likewise answerable for support exercises related to the gear. These support exercises are performed off-site at the server farm area, which further expands the related expense. The colocation offices are outfitted with remote help for support exercises and offer types of assistance like remote hands and brilliant hands. Nonetheless, these administrations are likewise connected with an extra expense for the clients. This extra startup and upkeep cost is supposed to go about as an obstruction to the development of the worldwide server farm colocation market.
Opportunity: Increasing calamity recuperation and business progression necessities
Calamity recuperation is the main issue for server farm clients, across the globe. IT framework offices are inclined to fiascos, for example, seismic tremors, security assaults, fire blackouts, and other impromptu occasions. For organizations to not experience the ill effects of uncommon misfortunes attributable to such catastrophes, there should be legitimate calamity recuperation estimates set up. Server farm colocation offices are found away from the client's premises and are less inclined to fiascos. These offices can be controlled from a distance, adding to their unwavering quality in misfortune recuperation measures. Hence, colocation offices are expected to turn into an ideal reinforcement and recuperation choice since they empower organizations to house key information in a far-off area. In this manner, because of the presence of a strong and safe colocation office, business progression can be accomplished, which is the reason these offices are supposed to observe developing interest.
Challenge: Government guidelines and security necessities
Server farms are constantly confronting the need to conform to severe unofficial laws from government and state specialists. Government bodies are forcing different guidelines that arrange with energy effectiveness, water use, and the effect of server farms on the climate. Besides, Data Center Optimization Initiative (DCOI), laid out to satisfy the Federal Information Technology Acquisition Reform Act (FITARA), requires organizations to create and report their server farm systems and builds the requirement for stricter compliance too. Server farms likewise need to conform to specific security prerequisites and administrators should be proactive on the security front. Server farms are expected to give the observation of natural frameworks combined with actual admittance to security frameworks, like card or biometric access, movement sensors, and CCTV frameworks. The establishment and activity of these frameworks require extra expense and ability. These moves with the consistency of extra administrative and security necessities might confine the market development.
Segments Insight
Industry Insights
The developing requirement for decreasing IT consumption is one of the elements driving the development of the market. There is a rising requirement for decreasing the IT consumption spent on dispatching strategic center colocation offices. Server farm colocation administrations give the necessary versatility and cost-adequacy for dealing with the day-to-day information prerequisite. This goes about as one of the significant drivers of the center colocation market. Be that as it may, high starting expenses might keep down the end clients from taking on these arrangements.
Type Insights
Retail colocation is supposed to represent the biggest piece of the pie during the conjecture time frame. The retail colocation type in the center colocation market is supposed to have the biggest piece of the pie during the estimated time frame. Retail colocation gives power, space, cooling, cabling, and support administrations. It additionally gives adaptability to regarding IT framework and consequently demonstrates benefits for Small and Medium-Sized Enterprises (SMEs). This utility of retail colocation is supposed to drive its piece of the pie in the worldwide center colocation.
End-User Insights
Enormous endeavors are assessed to have the biggest piece of the pie during the estimated time frame The center's colocation end clients incorporate SMEs and huge ventures, wherein enormous undertakings are supposed to have the biggest piece of the pie during the estimated time frame. Huge endeavors are leaning toward embracing colocation administrations, as they can rent enormous spaces on rent and meet their power and computational necessities. Besides, colocation administrations assist enormous endeavors by having unlimited authority over the center colocation framework. These administrations additionally help in business coherence because of their fiasco recuperation benefits. This is supposed to fuel the center colocation market during the gauge time frame.
Regional Insights
North America is overwhelming the center colocation market in the year 2021 and it will proceed with this pattern during the gauge period. This development is credited because of the weighty presence of enormous scope IT organizations, for example, Amazon.com, Google LLC, and Facebook in the locale which needs immense space to store information and builds prerequisite of colocation center colocation. Be that as it may, the Asia-Pacific is supposed to show the most noteworthy development in 2021 and proceed with this pattern during the center colocation market conjecture period, attributable to solid financial development alongside the continuous advancement in the IT and telecom area, which drives associations to put vigorously in center colocation to support the development and further develop efficiency.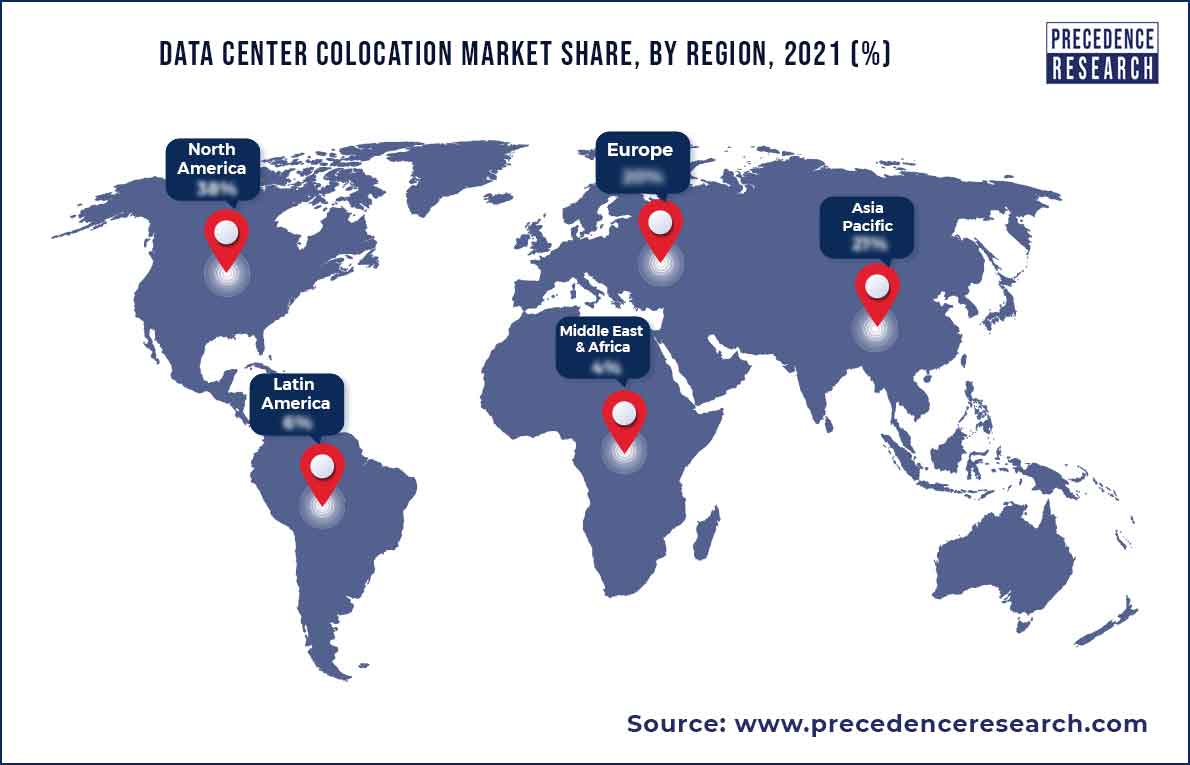 Also, factors like the significant shift toward computerized change, ascend in cloud sending and mechanical headway among little and medium organizations, and progressing modernization of center colocation and utilization of huge information examination in the association drive weighty interest in center colocation in arising economies. Moreover, undertakings in Asia-Pacific are zeroing in on upgrading their tasks and expanding their general effectiveness to remain serious on the lookout, as most would consider normal to give worthwhile open doors to the development of the market during the conjecture time frame.
Key Market Developments
In June 2017, NTT extended its center colocation network by sending off a 10Gbps huge volume organization to associate NTT's Enterprise Cloud for undertakings gathered at over 30 center colocations all over the planet.
In May 2017, NTT sent off its Germany Munich 2 Data Center in Germany. The send-off offers server space extended to 5,600 square meters.
The key market players are constantly engaged in various developmental strategies like a partnership, collaborations, new product launches, and acquisitions to strengthen their market position and gain market share.
Some of the Prominent Players:
China Telecom Corporation Limited
Coresite Realty Corporation
Cyrusone, Inc.
Cyxtera Technologies, Inc.
Digital Realty Trust, Inc.
Equinix, Inc.
Global Switch
KDDI Corporation
Ntt Communications Corporation-
Verizon Enterprise Solutions, Inc.
Segments Covered in the Report:
(Note*: We offer reports based on sub-segments as well. Kindly, let us know if you are interested)
By Type
Retail Colocation
Wholesale Colocation
By End-User
Small and Medium-Sized Enterprises (SMEs)
Large Enterprises
By Industry
Banking, Financial Services, and Insurance (BFSI)
IT and Telecom
Government and Defense
Healthcare
Research and Academics
Retail
Energy
Manufacturing
Others (media and entertainment, and transportation and logistics)
By Geography
North America
Europe
Asia-Pacific
Latin America
Middle East & Africa (MEA)