The global data fabric market size was evaluated at USD 2.1 billion in 2022 and it is projected to hit around USD 8.9 billion by 2032, poised to grow at a CAGR of 15.54% during the forecast period 2023 to 2032.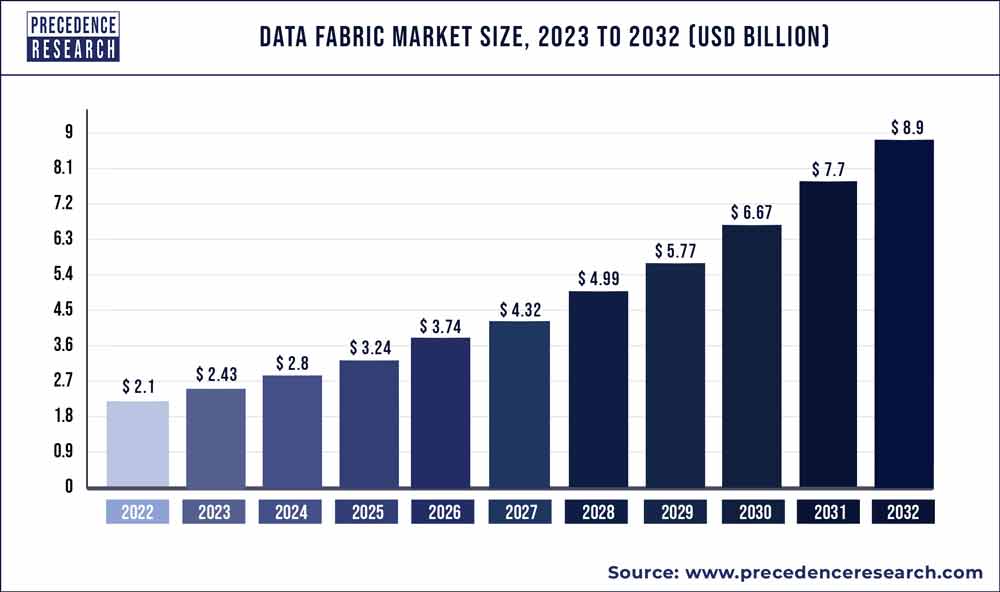 Access our Premium Real Time Data Intelligence Tool, Visit: Precedence Statistics
Data fabric is a single environment that consist of a unified architecture technology or services running on that architecture helping organizations manage their data more efficiently.
Growth Factor:
Increased internet utilization and the number of connected devices, including cellphones, laptops, tablets, and PCs, have a direct effect on the amount and diversity of business data. For instance, sensors and webcams continuously gather position information for surveillance. Data is gathered from the data network for analytics reasons, and businesses use data analytics as a result of the rising demand for insightful data analysis. Data generation has accelerated due to the rise of online networks and digital transformation.
Recent months have seen a lot of interest from academics and practitioners in big data analytics. A million dollars have been invested globally in big data analytics from both public and commercial sources.
The creation and adoption of technologies like artificial intelligence (AI) and the internet of things, as well as the fast rise in data volume and complexity caused by growing cloud computing and mobile data traffic, are what are driving the demand for big data analytics technologies (IoT). Many of the activities involved in data discovery, integration, ingestion, and preparation are expected to be automated as businesses create a data network to enable enterprise-wide data and analytics.
Businesses are now searching for creative ways to recoup swiftly from the COVID-19 pandemic and are paying attention to the pressing need for access to enough data in emergencies. In order to provide flexible payment conditions for loans and mortgages, banks have also begun digital outreach to clients and shifted to remote sales and support employees.
While many schools now use digital classrooms and online learning, grocery companies mainly concentrate on online ordering and delivery. These tactics have led to a rise in the volume and variety of corporate data. The market for data fabric is growing as a result of the rising demand for real-time streaming analytics, business agility, and data portability, among other things.
The architecture's practical powers are enhanced by the incorporation of artificial intelligence and machine learning tools.
To support data management strategies, the data and analytics sectors are spending in cutting-edge technologies.
To handle ongoing complicated, disparate environments, as well as novel micro service-based and existing apps, large companies are adopting fabric technology.
Report Scope of the Data Fabric Market
| | |
| --- | --- |
| Report Coverage | Details |
| Market Size in 2023 | USD 2.43 Billion |
| Market Size by 2032 | USD 8.9 Billion |
| Growth Rate from 2023 to 2032 | CAGR of 15.54% |
| Largest Market | North America |
| Base Year | 2022 |
| Forecast Period | 2023 to 2032 |
| Segments Covered | By Content Type, By Deployment Type, By Type, By Enterprise Size, By Business Applications and By Industry |
| Regions Covered | North America, Europe, Asia-Pacific, Latin America and Middle East & Africa |

Key Market Drivers:
More and more different types of company data
The amount and diversity of corporate data produced by the proliferation of connected devices has grown proportionately. For instance, sensors and cameras are used to track location and constantly watch the space. As a result, businesses now have a much greater need to derive valuable insights from the collected data, which in turn is driving the growth of data analytics among companies.
Data fabric is frequently used as an addition to the analytics framework, which is in charge of managing and integrating data from various sources in a singular setting. As a result, during the forecast period, the usage of big data analytics will expand along with the demand for analytics.
Key Market Challenges:
A lack of data management
Data is a crucial component of businesses that are data-driven and serve a variety of uses. The design immediately links data with the functional sections of business such as finance, human resource, sales, operations and more. These links, however, do not keep track of previous data transactions. For data scientists, business analysts, and machine learning engineers, this deal may be useful.
Its design is missing the component needed to include this info. The inability to directly manage data stored in the cloud also restricts the visibility of that data. The absence of visibility is probably going to have an effect on the governance and security of the stored data, which will slow down the market's total development.
Key Market Opportunities:
Increased demand for data accessibility and company speed
Big data options that organize data and offer immediate access to information are preferred by businesses. Data accessibility has replaced the need for big data platform adoption with quick data accessibility designs like data fabric due to the capabilities of big data platforms that are progressively opening up new possibilities for sectors. Data fabric has experienced significant development because it offers a comprehensive strategy to handle data securely, effectively, and in a way that is future-proof. This in turn significantly promotes company agility and data accessibility, which in turn spurs the expansion of the worldwide market in the upcoming years.
Segments Insight:
Component Insights:
In 2022, the solution sector held a revenue share of roughly 81%, dominating the data fabric market. Throughout the forecast period, the sector is expected to retain the largest share. A rise in the popularity of data fabric systems can be attributed to improvements in corporate data administration. By removing the obstacle created by data divisions and enabling real-time streaming analytics, the design also supports business agility.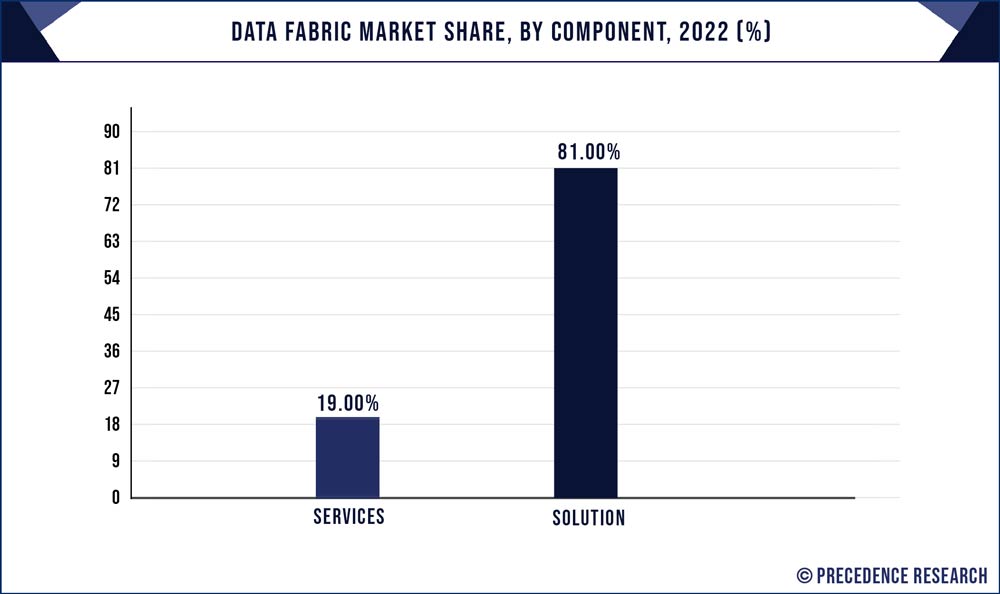 The service segment has held a 19% revenue share in 2022. During the projection period, the services sub-segment is anticipated to experience exponential growth. Market participants provide consumers with expert services. Traditional data integration cannot satisfy the needs of today's companies due to real-time connectivity, self-service, automation, and ubiquitous business transformations. Despite the fact that many organizations are capable of gathering data from various sources, they often battle to integrate, organize, curate, and transform it. As a result, it is anticipated that the services sector of the data fabric market will grow.
Deployment Type Insights:
In 2022, the on-premises market group held the majority with a sales share of more than 62%. At the conclusion of the projection period, on-premises implementation appears to have a smaller market share than cloud due to its high initial capital costs as well as ongoing support and running expenses. In addition, because the software must be loaded on distinct servers and devices, the installation process takes longer.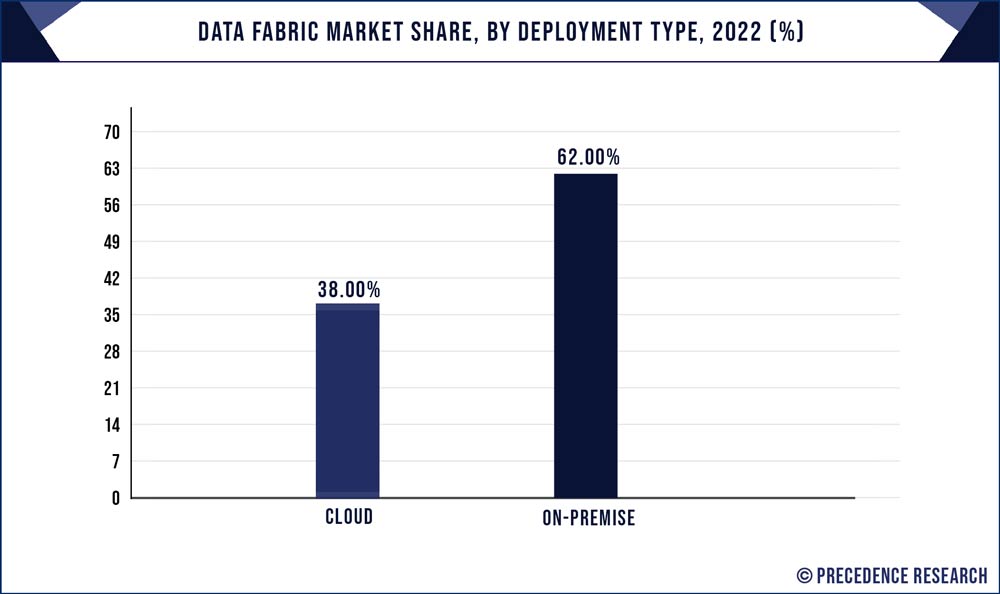 For instance, SAP released SAP data intelligence 3.1 in December 2020. This version includes intelligent processing, control and information pipeline modeling, integration and connectivity, and delivery and implementation. It is a version of the SAP data intelligence technology that is installed on-site.
The cloud segment has held a 38% revenue share in 2022.
Type Insights:
With a revenue share of more than 78.7% in 2022, the disk-based sub-segment topped the data fabric type sector. Throughout the forecast period, the sector is anticipated to keep a sizeable share. Disk-based data fabric is anticipated to dominate the market due to growing demands for data administration across various data sources and data integration, as well as lower costs associated with data compliance and control. Since in-memory databases are quicker than disk-based databases, rapid development is expected.
Since in-memory databases store data in hardware memory and can be used in the cloud or on-premises with commodity hardware environments, they save time when examining the data. It is expected that this usage will increase demand for in-memory databases. For instance, Oracle released Oracle Coherence version 14.1.1 in March 2020 as an option. The answer introduces vital new uses to the sector. Container and orchestration platforms like Kubernetes and Docker are completely interoperable with the technology.
Enterprise Size Insights:
With a revenue share of over 69.5% in 2022, the big business segment had the highest revenue share. Larger companies use a lot of digital data, and this trend is growing. Additionally, these companies frequently integrate and handle their data. There is a need for design to maximize the value of the immense amounts of data present in data structures with the introduction of numerous data management technologies like data pipelining, data governance, data orchestration, and data catalog. Thus, it is anticipated that demand for data fabric will increase in the upcoming years.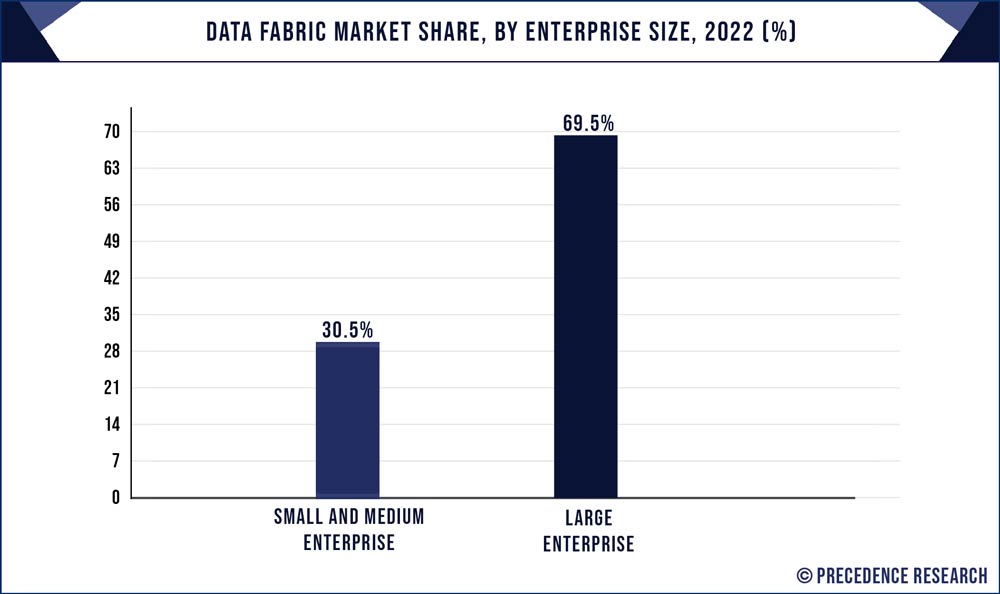 The SME segment has held a 30.5% revenue share in 2022 and it is expected to expand significantly within the forecast period. The sector is anticipated to develop as a result of the expanding demand for data analytics and the optimization of the data already accessible within the company. Data administration procedures are standardized by data fabric across on-premises, cloud, and peripheral devices. Additionally, it is anticipated that advertising offers like free samples will accelerate the uptake of the data fabric design in small and medium-sized businesses.
Business Application Insights:
With a revenue share of about 27% in 2022, the fraud detection sector had the highest revenue share. One of the pillars of a cybersecurity environment is a business data fabric that is resilient. Data fabric improves business process effectiveness while enhancing data security with appropriate defensive measures. Big Data platforms are able to evaluate claims and transactions in real-time, while also spotting unusual user behavior and large-scale trends across numerous transactions.
Throughout the forecast period, the sector for governance, risk, and compliance management is anticipated to maintain a sizable share. Data governance seeks to ensure that you are compliant with data protection limitations and have a clear understanding of the data that is present, where it lives, and what it can be used for. When handling data fabrics that cover numerous clouds or hybrid environments, compliance with governmental, industry, and business policies is crucial. The characteristics of data fabric, which extract all data resources simultaneously regardless of where they are located, are what jointly fuel the segment's expansion.
Industry Insights:
In 2022, the BFSI sector had the highest income share of over 23%. The exchange of consumer data with an agreement to enhance the customer experience, spur innovation, and boost productivity is encouraged by many state laws. Open banking's solution, data fabric, makes it simpler for companies to handle data. Data is safely handled, kept, and viewed in a consistent manner.
Pilot projects in the energy and electricity sectors have been the extent of digitalization efforts; no large-scale initiatives have been put into action. It is primarily caused by aging IT networks that rely on traditional methods. Costs have been significantly reduced while allowing data transparency, scalability, and development speed across many complicated client companies thanks to the addition of data mesh to existing DWH technologies.
Regional Insights:
In 2022, North America had the largest income share of over 47%. The North American area controls a lion's portion of the data fabric market due to the large number of companies offering data management solutions in the U.S. The area is also known for being among the first to embrace cutting-edge solutions. The main driving forces behind the U.S. market are the presence of the majority of data centers and the increase in the gathering of data from unorganized sources.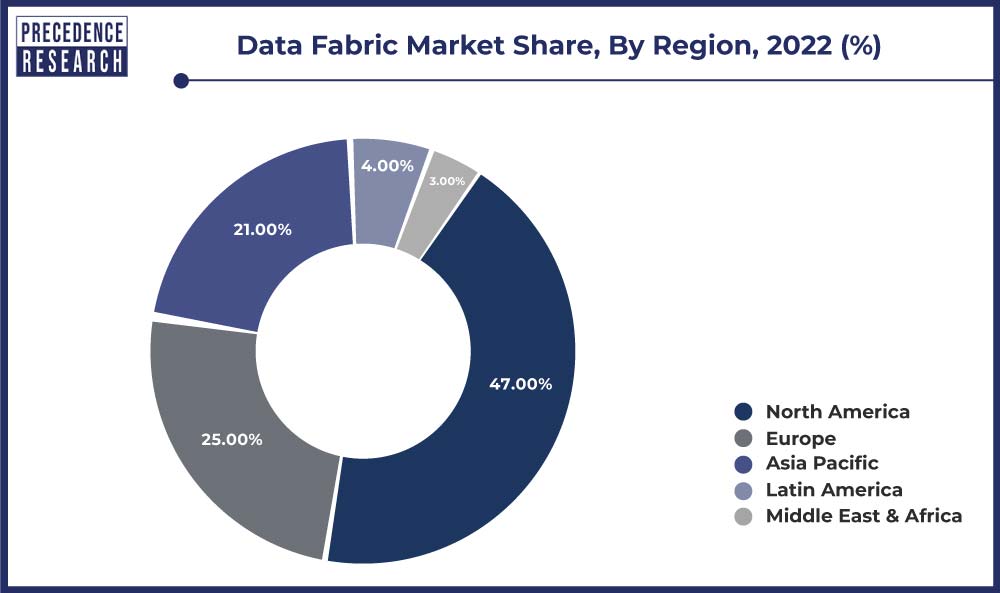 The area with the quickest growth is predicted to be Asia Pacific. Some of the factors that might encourage the usage of the data fabric solution in Asia Pacific include a rapid change toward digitization and an increase in the number of data centers. In terms of the usage of data centers, the United States is the first-place global leader, followed by China. The research predicts that in the upcoming years, China's big data sector will continue to experience stable growth.
Recent Developments:
Precisely stated in March 2021 that Clearlake and TA Associates would purchase the bulk of the company. Their previous dominant shareholder, Centerbridge Partners, would own only a small portion of the company. The transaction is anticipated to use merger and acquisition (M&A) methods to address challenging company issues.
Key Market Players:
Atlan Pte. Ltd
IBM
Oracle
Talend
SAP
Informatica inc.
Cloudera inc.
TIBCO Software Inc.
Amazon Web Services, Inc.
data.world, Inc.
Segments Covered in the Report:
(Note*: We offer report based on sub segments as well. Kindly, let us know if you are interested)
By Component
By Deployment Type
By Type
Disk-based Data Fabric
In-memory Data Fabric
By Enterprise Size
Small and Medium Enterprise
Large Enterprise
By Business Applications
Fraud Detection and Security Management
Governance, Risk and Compliance Management
Customer Experience Management
Sales and Marketing Management
Business Process Management
Other Applications
By Industry
BFSI
Telecommunications & IT
Retail & Ecommerce
Healthcare
Manufacturing
Transportation & Logistics
Media & Entertainment
Others
By Geography
North America
Europe
Asia-Pacific
Latin America
The Middle East and Africa