The global demister market is surging, with an overall revenue growth expectation of hundreds of millions of dollars from 2023 to 2032.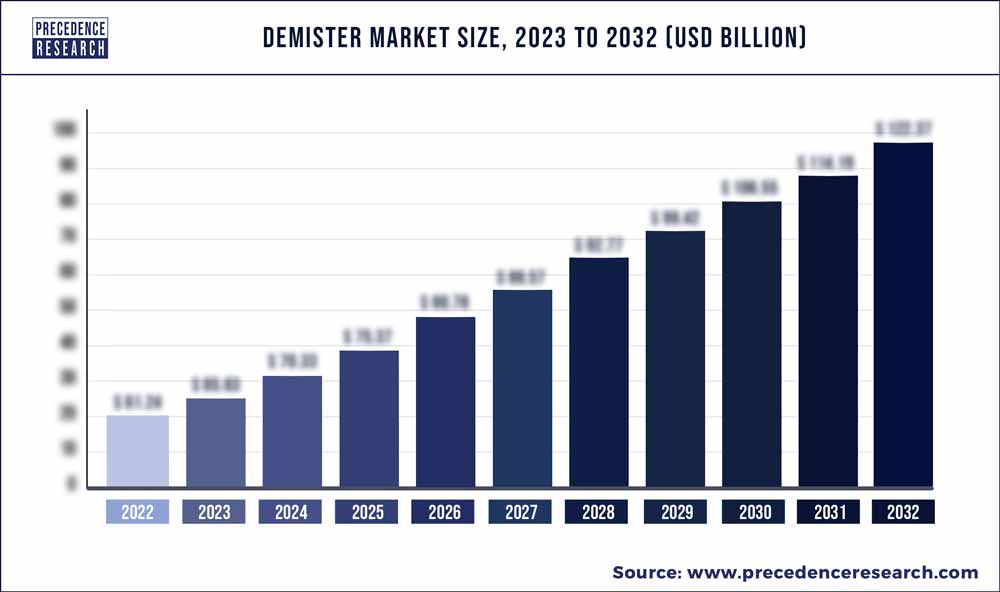 Access our Premium Real Time Data Intelligence Tool, Visit: Precedence Statistics
Key Takeaways:
North America region generated the maximum revenue share in 2022.
The Asia-Pacific region is expected to expand at the highest CAGR from 2023 to 2032.
By application, the petrochemical segment dominated the global market in 2022.
Factors such as increasing environmental regulations, growing demand for energy efficiency, and increasing adoption of demisters in emerging economies are also expected to drive growth in the demister market.
A demister, also known as a mist eliminator or an entrainment separator, is a device used to remove liquid droplets from gas streams. The demister market refers to the industry that produces and sells demisters to various industrial applications. The product is used in various industries such as oil and gas, chemical processing, power generation, pharmaceuticals, and food and beverages. Demister is used to remove the mist and fog from gas streams so that the number of pollutants that are being released in the environment can be reduced and the efficiency of equipment can be improved.
The market includes a wide range of products, including wire mesh demisters, vane type demisters, fiber bed demisters, and centrifugal demisters. Each type of demister has its own advantages and disadvantages and is suited for different types of applications. The demister market is expected to grow in the coming years owing to the increasing demand for demisters in industries such as oil and gas, chemical processing, and power generation.
Report Scope of the Demister Market
| | |
| --- | --- |
| Report Coverage | Details |
| Largest Market | North America |
| Fastest Growing Market | Asia Pacific |
| Base Year | 2022 |
| Forecast Period | 2023 to 2032 |
| Segments Covered | By Type, and By Application |
| Regions Covered | North America, Europe, Asia-Pacific, Latin America and Middle East & Africa |

Market Dynamics:
Key Market Drivers
Growing demand from various end-use industries – The demand for the demister from various industries such as oil and gas, chemical processing, power generation, pharmaceuticals, and food and beverage is increasing at a significant rate. The rise in the demand for demister among these industries is owing to the growing need for improved efficiency, reduced emissions, and improved product quality. Demister helps in improving efficiency by removing liquid droplets from gas streams, demisters can improve the efficiency of equipment such as turbines and heat exchangers. This can help to reduce energy consumption and operating costs. It helps in reducing emissions by removing mist and fog from gas streams. This can help industries to comply with environmental regulations and standards. It results is improved quality in industries such as pharmaceuticals and food and beverage by removing contaminants from gas streams.
Increasing environmental regulations - Environmental regulations and standards are becoming increasingly stringent, which is driving demand for demisters. For instance, The United States Environmental Protection Agency's (EPA) Maximum Achievable Control Technology (MACT) standards for hazardous air pollutants, which require industries to use technologies such as demisters to reduce emissions. MACT standards require industries to use the most effective and technically feasible control technologies to reduce emissions of hazardous air pollutants. Demisters are a proven technology for reducing emissions of certain pollutants, such as particulate matter and volatile organic compounds (VOCs), which can be present in gas streams. Demisters can help industries comply with regulations by reducing the amount of pollutants released into the environment. Such benefits of demisters coupled with a rise in environmental regulations by the governments is expected to further propel the demister market demand.
Rise in the demand for energy effeciency - There has been a surge in the demand for energy efficiency as governments are focusing towards it. For instance, according to the report of the Eurostat statistics explained, "the European Union (EU) committed to a 20 % reduction of energy consumption by the year 2020 compared with baseline projections. For 2030 the binding target is a reduction of at least 32.5 %." Demister can help in the energy efficiency in various ways such as reduced pressure drops, improved heat transfer, and reduced fouling. Such benefits of demister in the efficient usage of energy is expected to boost the demand for the demister market.
Key Market Challenges:
Competition from alternative technologies - The demand for the demister may hamper owing to various other technologies which can substitute it such as cyclones, electrostatic precipitators, and scrubbers. The cyclones are a type of mechanical separator that can be used to remove particulate matter and mist from gas streams whereas electrostatic precipitators use an electric charge to remove particulate matter and mist from gas streams. Scrubbers use a liquid to remove particulate matter and mist from gas streams. They work by spraying a liquid into the gas stream, which causes the droplets and particles to be absorbed or dissolved into the liquid. The presence of such alternatives coupled with high prices of demister may hamper the growth of the demister market.
Complex operating environments - Demisters can have complex operating environments owing to various factors such as gas composition, operating temperatures, pressure, maintenance requirements, and size and shape. For instance, gases that contain corrosive or abrasive materials can cause wear and damage to the demister materials over time, which can affect their performance whereas high temperature can cause materials to degrade or break down over time, which can affect the efficiency of the demister. Demisters can be used in a range of sizes and shapes, depending on the application. In some cases, this can make it difficult to design and install demisters in complex operating environments. Consumer may resist themselves from buying demister owing to such complex operating environments which may hamper the growth of the market.
Market Opportunities:
Adoption of Industry 4.0 technologies - Industry 4.0 technology refers to the integration of advanced technologies into industrial processes, such as artificial intelligence, the Internet of Things (IoT), robotics, and automation. The adoption of Industry 4.0 technologies is a trend that is driving innovation and growth in many industries, including those that use demisters owing to its various advantages such as improved efficiency, increased safety, predictive maintenance, and remote monitoring and control. The adoption of Industry 4.0 technologies such as the Internet of Things (IoT) and artificial intelligence (AI) could help drive growth in the demister market by enabling more efficient and effective monitoring and control of demister performance.
Increasing demand for clean energy - The shift towards clean energy sources such as wind and solar power is expected to drive demand for demisters. Demisters can help in clean energy production by removing impurities and particulate matter from the flue gas produced by power plants and other industrial processes. This is important because flue gas often contains pollutants such as sulfur dioxide, nitrogen oxides, and particulate matter, which can have harmful effects on the environment and public health. The benefits off demister in providing clean energy coupled with rising demand for clean energy is expected to create an opportunity for the growth of the market.
Segment Insights
Type Insights
On the basis of type the demister market is segmented into baffle type demisters, and wire-mesh demister. The baffle-type demister made up of a honeycomb-patterned metal sheet. The configuration creates ample space for water droplets to gather and drain out of mesh apertures that are placed in the front wall by dividing the flow into various channels. A number of parallel steel wires attached to two diagonals and running around the perimeter make up the wire-mesh demister. The non-woven or rubber coating on the mesh collects and separates water droplets from the air.
Application Insights
On the basis of application, the demister market is segmented into chemical industry, power & gas processing industry, and petrochemical industry. The petrochemical industry dominated the demister market in 2022. Demisting extends the operational life of process equipment and boosts energy efficiency in oil and gas processing units by reducing corrosion brought on by condensation of water droplets on such equipment.

The second most typical use area for demisters is the chemical sector. Demisting gas streams in chemical plants improves heat transfer efficiency, which lowers equipment corrosion, guarantees safe operation, speeds up production, and saves energy. The third most popular application category for demisters in diverse locations is the electricity and gas processing sector. In power plants, demisting compressed air lowers the cost of corrosion, saves energy, and lessens equipment wear while also increasing the effectiveness of heat transfer.
Regional Insights
On the basis of geography, North America accounted for the majority of the demister market. This is primarily due to the region's widespread industrialization and the consequent rise in demand for energy resources like oil and gas. Throughout the projected period, the rising industrial activity and expanding population are anticipated to fuel the expansion of the worldwide demister market.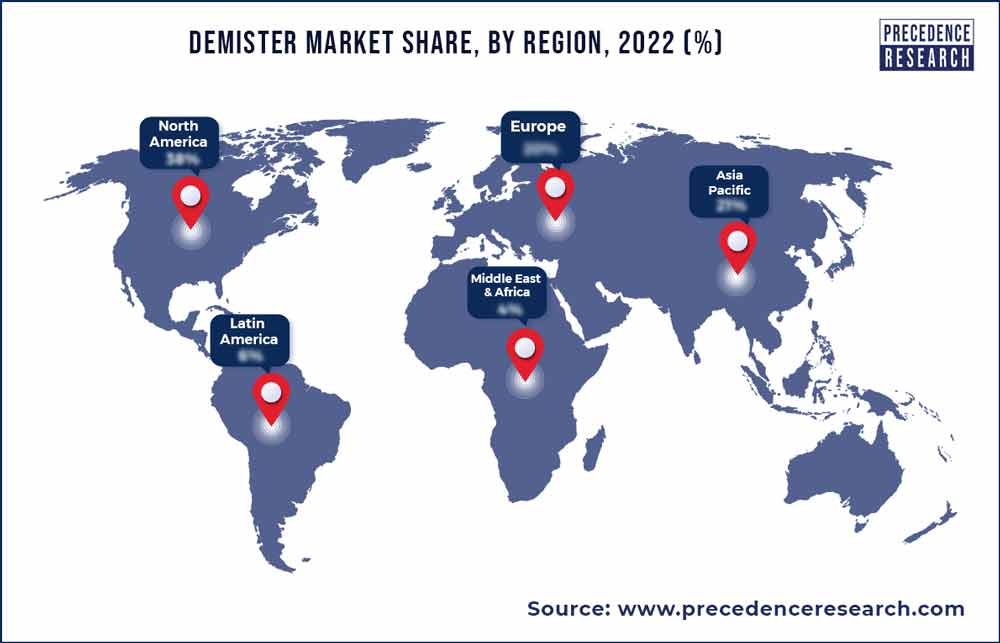 The Asia-Pacific region is expected to exhibit the highest growth rate due to the rapidly industrializing countries like China and India, which would expand the application potential for demisters throughout various locations within this region. Demisters have been more widely used in the Asia Pacific region over the previous years as a result of this, along with rising demand from other end-use industries including power plants that are experiencing tighter emission regulations. Despite having a relatively smaller share of the global demister market, the Middle East and Africa are predicted to experience significant growth over the course of the forecast period due to the rapid industrialization seen in many nations, including Iran, South Africa, and others, which will increase the applications for demisters due to an increase in environmental concerns about SOx and NOx emissions from thermal power plants and oil refineries operating in these regions.
Key Developments:
February 2023- Range Rover Velar announced with enhanced interior & technologies. The user can set the sidebar to provide shortcuts to in-car programmes, such as Pivi Pro's media and navigation apps, as well as the vehicle cameras and window demisters.
Key Market Players:
Pneumatic Product
Aeroex
MECS
Koch-Glitsch
Geovent
FABCO-AIR
Met-Pro Environmental Air Solutions
Coastal Technologies, Inc.
AMACS
Munters
Boegger Industrial Limited
Ningbo T.C.I Co.,Ltd
Indsutrial Maid
Champion
Mikropor
Sulzer
Segments Covered in the Report:
(Note*: We offer report based on sub segments as well. Kindly, let us know if you are interested)
By Type
Wire-mesh Demister

Baffle-type Demister
By Application
Petrochemical

Chemicals

Power

Gas Processing
By Geography
North America
Europe
Asia-Pacific
Latin America
The Middle East and Africa