The global digital identity solutions market size was estimated at USD 29.13 billion in 2022 and is expected to hit around USD 147.25 billion by 2032, growing at a CAGR of 17.59% over the forecast period from 2023 to 2032. North America has generated more than 39% of revenue share in 2022.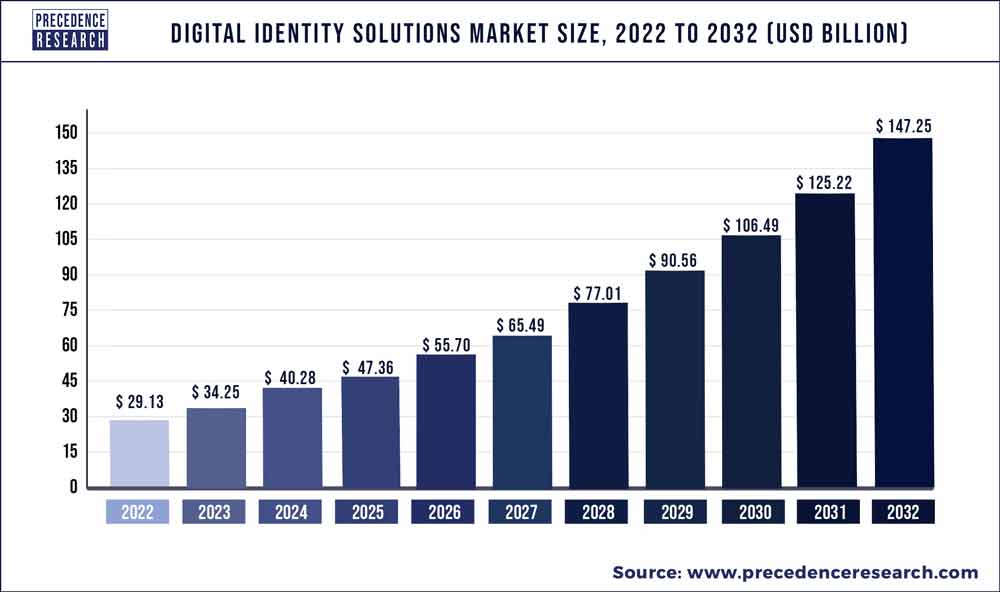 Key Takeaways:
Asia-Pacific is expected to expand at the fastest CAGR between 2023 and 2032.
By Component, the solutions segment has recorded more than 63% of revenue share in 2022.
By Identity Type, the biometric segment has recorded more than 70% of revenue share in 2022.
By Industry Vertical, the banking, financial services, and insurance segment led the global market.
Market Overview:
Organizations can electronically gather biographical (such as name, gender, age, and residence) and biometric data with the help of digital identity platforms. In order to uniquely identify the person within the specified network, certain attributes are stored. These qualities can also be applied to electronic transactions, enhancing consumer satisfaction, and achieving regulatory compliance. By using digital identification solutions, businesses may operate more quickly, gain the support of all stakeholders, and easily onboard and serve more customers. In comparison to manual alternatives, digital solutions are more efficient, freeing up resources and saving money.
Growth Factors:
The introduction of new technologies along with regulations supporting the transformation ahead is anticipated to augment the growth of the digital identity solutions market during the forecast period. As biometric technologies and the devices that support them gradually mature, new opportunities arise to expand digital identity and identification processes to make use of a greater variety of distinctive personal characteristics that may be more difficult to compromise but also call for a certain level of sophistication to give users confidence and assurance in their ability. Future digital identification solutions might come in the form of new disruptive technologies like Blockchain, which can support a decentralized digital identity capacity.
The need for self-service digital identification solutions and the difficulties with more conventional knowledge-based verification techniques indicate that these innovative methods are the way of the future. Solutions will need to continuously change in order to meet evolving business and consumer expectations, the danger of identity and data compromise, and the need for dependability and security. Future solutions for digital identification should be supported by intelligence and automation that is powered by data. Analytics should be utilized to proactively reduce risk, for instance, by identifying identification issues based on a person's risk profile and by examining the results of identification processes to reinforce and further develop solutions that will offer lucrative opportunities for the global digital identity solutions market.
Report Scope of the Digital Identity Solutions Market:
| | |
| --- | --- |
| Report Coverage | Details |
| Market Size in 2023 | USD 34.25 Billion |
| Market Size by 2032 | USD 147.25 Billion |
| Growth Rate from 2023 to 2032 | CAGR of 17.59% |
| Largest Market | North America |
| Fastest Growing Market | Asia Pacific |
| Base Year | 2022 |
| Forecast Period | 2023 to 2032 |
| Segments Covered | By Component, By Solution Type, By Identity Type, By Deployment, By Organization Size, and By Industry Vertical |
| Regions Covered | North America, Europe, Asia-Pacific, Latin America and Middle East & Africa |

Market Dynamics:
Driver:
Increasing government regulations supporting the digital transformation
More governments are proposing or implementing national digital identification programs, and multilateral institutions are investing, making digital identity the subject of policy discussions in a number of different nations. Governments hope to give residents (or occasionally just citizens) of a specific nation-state a single digital identity through these government-administered or coordinated programs. The fundamental method of establishing and authenticating an individual's identification in many of these programs is to collect, store, and utilize their biometrics.
For instance, the identity system supported by the US is a patchwork of procedures run by federal, state, and local organizations. The most significant components of the nation's identity system are the Social Security number and state-issued driver's license; however, neither is universal or digital. The adoption of digital/mobile driver's licenses, which several state governments recently introduced, has tripled in 2021 (AppleInsider 2021). This is now utilized at banking institutions as well as for a number of age-based transactions, including the purchase of alcohol and some prescriptions.
The development of mobile driver's licenses, often referred to as digital driver's licenses, has gained steam in a number of nations, including the USA, UK, Korea, Australia, Denmark, and the Netherlands. Also, a public comment period on digital ID security standards and platforms was established by the US Department of Homeland Security Office of Strategy and Policy in April 2021. The TSA (Transit Security Administration) will be able to accept these credentials for official purposes across the nation, which is the aim. These initiatives by governments across various economies are likely to increase the demand for digital identity solutions within the estimated timeframe.
Restraints:
Absence of user consent and control
User control and consent are crucial since digital identification deals with sensitive personally identifiable information (PII) by nature. Currently, strict restrictions regarding data rights are contained in regulations like the GDPR and CCPA, and other regulations will follow. In the past, user control and permission have been poorly handled by digital ID systems. Facebook is notorious for giving Cambridge Analytica access to the data of millions of users just because those users' friends had taken an online quiz. In order to govern access to personal data over time, new digital identity solutions must enable effective restrictions and include user consent by design.
Furthermore, blockchain technology is used by many new identification systems to produce auditable and immutable data. Hashing and distributed ledgers can both offer significant advantages, but they need to be carefully structured. Inadequate implementation can cause severe identification issues in the future. This is likely to limit the growth of the market in the years to come.
Opportunities:
Integration of advanced technologies
The increasing integration of advanced technologies is likely to offer growth opportunities for the market in the years to come. Blockchain identity management systems could be used to solve present identification problems like fraud, data security challenges, and inaccessibility. Around the world, 1.1 billion people lack an identity card, and the poorest 20% of the population make up 45% of those who lack identification. To access the current banking system, one must have an identity. In contrast, 60% of the 2.7 billion unbanked people now hold a mobile phone, opening the door for mobile identity solutions powered by blockchain that better meet the needs of vulnerable residents. Blockchain offers the ability to link digital identity with verified credentials as well as the ability to create decentralized IDs. As a result, one can combine digital identities from many platforms into a single digital identity under their ownership and control.
Further, AI has the ability to protect the globe from online identity theft. It is already a potent weapon in the fight against identity theft. Since AI systems can already find potential security holes in the code even before a software program has been issued, they are quite likely to put an end to the reign of the lone hacker. Although AI authentication is still in its infancy, firms can apply it by integrating smart data filters, intelligent adaptive authentication, and biometric authentication. An advanced AI defense system will be able to react in nanoseconds to stop a leak. To cut costs and the possibility of human error, the human developer community will increasingly rely on automated AI code evaluations.
Impact of COVID-19:
People now have no choice but to do business and operate online due to the recent COVID-19 outbreak. Government-imposed restrictions on travel outside of the home have caused people to reconsider their lifestyles and modes of employment, which has led to an exponential rise in digital interactions and the demand for secure digital identities. Digital thinking has become more urgent for many organizations due to how quickly the pandemic has spread, pushing it to the top of their business agendas.
The COVID-19 situation has simply given criminals more reasons to profit from people's fear, uncertainty, and desperation, but banks and other financial institutions (FIs) have a chance to fight back thanks to digital identity solutions. Thus, it is anticipated that the market will continue to grow due to the increasing demand for these solutions to reduce fraud cases across the globe.
Segments Insight:
Component Insights:
On the basis of components, the solutions segment held the largest revenue share of 63% in 2022. Digital identification solutions aim to increase customer pleasure while also enhancing security, reducing expenses, and streamlining company procedures. To reduce time and automate the client onboarding process, customers in the retail, IT, healthcare, and financial services industries are integrating digital identification solutions into their operations. In order to maintain income, increase productivity, and give your end users a frictionless user experience, these solutions are made to assist you in implementing efficient remote onboarding swiftly. These factors are likely to support the segment growth of the digital identity solutions market during the forecast period.
Identity Type Insights:
Based on the identity type, the biometric segment held the largest market share of 70% in 2022. Biometric devices, computers, and networks to which they are attached can all communicate and operate together thanks to biometric software. It also makes it possible for multiple application software running on various operating systems to be compatible with one another and to connect successfully. A crucial component of biometric systems is software. Software in signature verification systems, for instance, compares signatures and verifies their authenticity. It can be challenging for the human eye to effectively detect fraudulent signatures since human operators may not always be able to tell when a signature is false. As a result, signature verification software is being used more frequently since it reduces the likelihood of fraud, saves time, and guards against human error during the signing process.
Industry Vertical Insights:
Based on industry vertical, the banking, financial services, and insurance segment dominated the global digital identity solutions market. Any developing or developed economy has a sizable portion of the BFSI sector. Due to the rapid adoption of digitization across all financial sectors, disruptive technological advancements surrounding various services, and continuously changing user behaviors, the financial sector's institutions are going through a revolution in how they interact with their clients, employees, and other stakeholders. The BFSI industry accounts for the bulk of identity management technology solutions and services, underscoring the critical role that a reliable identity authentication procedure plays in the sector. The BFSI industry's increased accessibility to digital ID is easing the burdens of ID theft, ensuring high levels of confidence in the digital identity system, and allowing people to fully participate in the digital economy.
Regional Insights:
North America held the largest revenue share of 39% in 2022. The US accounted for the largest share of the North American digital identity solutions market. This is attributable to the presence of major players such as GBG, Daon, Inc., NEC Corporation, and Thales, among others offering this solution in this region. Further, these solutions are widely adopted by various industries across the region which is also expected to support the growth of the market. Additionally, the increase in early integration of advanced technologies is also likely to create immense growth opportunities for the market in the region.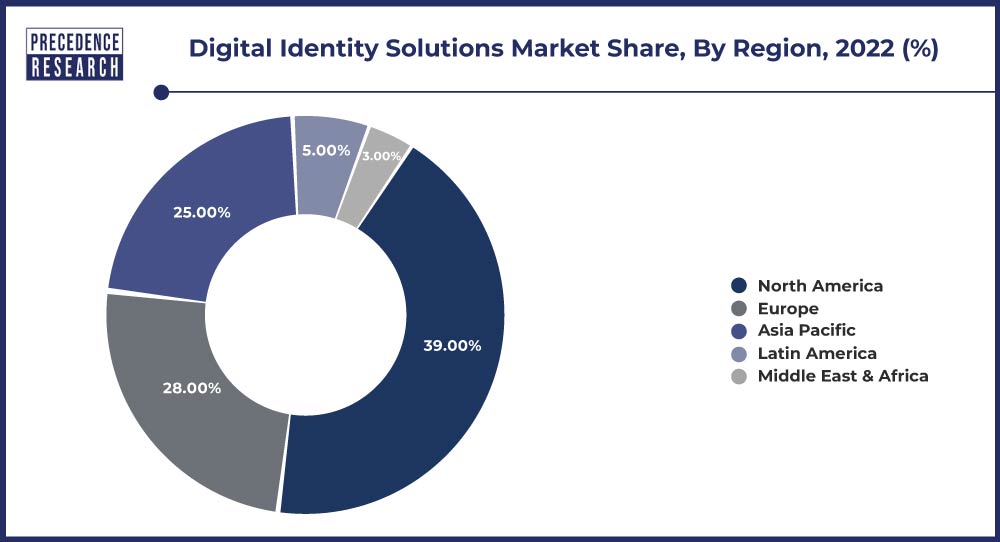 Asia-Pacific is expected to grow at the fastest CAGR during the forecast period. In the Asia Pacific region, China dominated in the digital identity solutions market. This is owing to the rising adoption of advanced solutions in most of the industry verticals by developing economies such as China and India in the region. Additionally, the growing adoption of smart devices and rising internet penetration is also likely to support the regional growth of the market growth during the forecast period. The increasing government initiatives and investments to promote smart solutions are also expected to augment the growth of digital identity solutions in this region.
Recent Developments:
In March 2023, in order to promote the development of cutting-edge technologies to keep people secure online, combat the rising threats of identity fraud, and give individuals greater control over their personal data, Lloyds Banking Group invested £10 million in the digital identity business Yoti.
In February 2023, Route Mobile announced the introduction of TruSense, a digital identity and security suite important in securing digital transactions enabling companies to authenticate the end user in a frictionless way.
In January 2023, Caf announced the opening of its Know Your Everything platform, which will let companies safeguard their customers' data, design the best possible digital experiences, and ultimately increase sales. This comes after a year in which the business's revenues more than doubled despite a challenging global economic climate in which many entrepreneurs are failing.
Key Market Players:
Thales
ForgeRock, Inc.
NEC Corporation
Daon, Inc.
Tessi
Aetsoft Inc.
GB Group plc
Jumio
Avanade Inc.
Refinitiv
Segments Covered in the Report:
(Note*: We offer report based on sub segments as well. Kindly, let us know if you are interested)
By Component
By Solution Type
Identity Verification
Authentication

Single-factor Authentication
Multi-factor Authentication

Identity Lifecycle Management
Others
By Identity Type
By Deployment
By Organization Size
By Industry Vertical
Banking, Financial Services, and Insurance
Retail and Ecommerce
Government and Defense
Healthcare
IT and Telecommunication
Energy and Utilities
Others
By Geography
North America
Europe
Asia-Pacific
Latin America
Middle East and Africa