The global diode market size was evaluated at USD 7.2 billion in 2022 and is expected to hit around USD 10.5 billion by 2032 with a registered compound annual growth rate (CAGR) of 3.85% over the forecast period 2023 to 2032.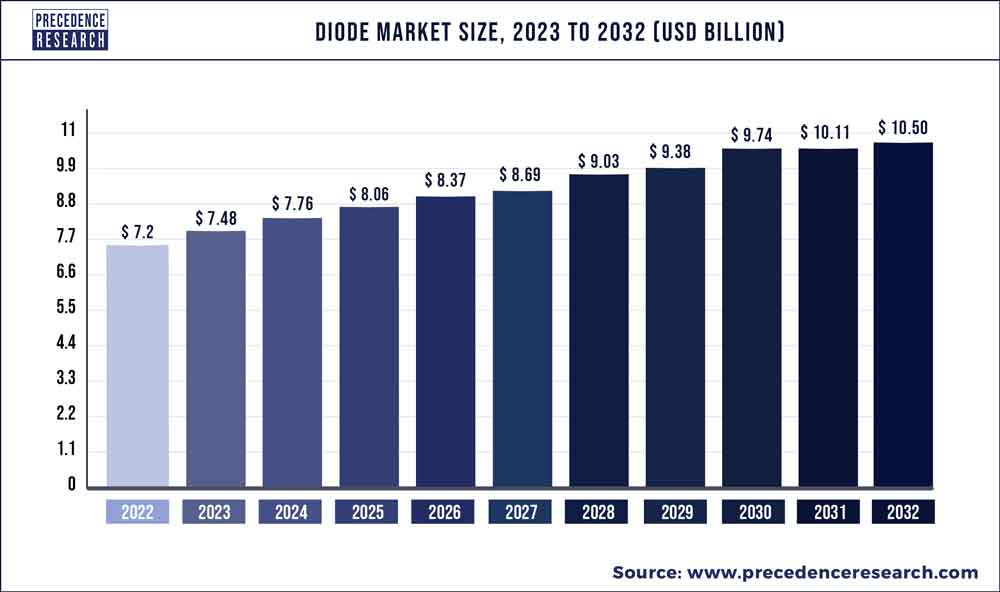 An electrical diode is a semiconductor materials component with two terminals that, theoretically, allows current to flow through easily in one direction but blocks it in the other direction. A diode may be thought of as a switch that controls the flow of electrons via an electrical circuit.
Growth Factor
Across all consumer electronics categories, electronic items are becoming smaller. All electronic manufacturers strive to produce products that are as small as possible, use the least amount of power, and offer the most power. As a result, there is a growing need for novel and distinctive diodes.
There is a rising desire for cell phones that can perform a variety of duties, such as FM radios, MP3 players, MP4 players, portable TVs, note recorders, cameras, and even projectors. The need for signal routing solutions has risen due to the rising quantity of signals. Mobile phone designers may continue to push for smaller form factors while still including improved functions in their designs thanks to these ideas, which call for diodes with reduced size and better functionality. The demand for diodes is increasing due to this technological requirement.
The market for diodes is expanding as there is a growing need for electric cars. Diodes of many kinds are employed in the production of EVs. The International Energy Agency (IEA) predicts that the number of electric vehicle sales will reach 6.6 million in 2021, more than doubling from 2020. In 2021, electric vehicles accounted for approximately 9% of the worldwide auto market, more than doubling their market share from the previous year.
Over the course of the forecast period, increasing laser diode utilization across a range of end-use industries is anticipated to fuel market expansion.
As a result of technological advancements, the use of laser diodes will increase in the aerospace and defense industries.
The rise of the aerospace and military industries is driving the need for diodes, which is in turn being driven by favorable government laws encouraging the adoption of sophisticated technologies and technical breakthroughs.
Report Scope of the Diode Market
| | |
| --- | --- |
| Report Coverage | Details |
| Market Size in 2023 | USD 7.48 Billion |
| Market Size by 2032 | USD 10.5 Billion |
| Growth Rate from 2023 to 2032 | CAGR of 3.85% |
| Base Year | 2022 |
| Forecast Period | 2023 to 2032 |
| Segments Covered | By Indication Type and By Application |
| Regions Covered | North America, Europe, Asia-Pacific, Latin America and Middle East & Africa |

Key Market Drivers
Increased use across a wider range of industry sectors
Integrated circuits (ICs) using discrete diodes are used by manufacturers in the automotive, electrical, and communication sectors in place of digital circuits. Discrete components are condensed with sizes in micrometers and millimeters, which results in gains in power consumption and speed since smaller components have lower parasitic resistors, capacitances, and inductances. Producers in end markets, however, should be aware about the advantages and disadvantages of discrete diodes in order to effectively create products.
The sector is anticipated to advance due to the adoption of numerous government initiatives on modern distribution networks and generating infrastructure. By 2021, the International Energy Agency (IEA) predicts that 6.6 million electric vehicles will have been sold worldwide. 9% of all new automobiles sold worldwide were electric vehicles. The cooling fan drive in the battery management system of an electric car uses diodes. Electric cars are becoming more popular, which benefits the diode market.
Key Market Challenges
High initial investment costs in laser diode industries
The fact that laser diodes need a larger initial investment than other light-emitting diodes severely restricts the market for laser diodes as a whole. A few hundred to thousands of watts of laser power are required for diverse systems, processes, and applications. Although adopting laser goods would reduce labor expenses in the industrial and automotive industries, installing laser products is relatively expensive. Installing laser-capable items typically costs more than doing so via the conventional method.
Key Market Opportunities
The increasing usage of electronic gadgets such as television, mobile platforms, electric cars
The market for diode semiconductors is expanding rapidly as a result of low cost availability and alluring incentives that are driving up demand for consumer electronics. In addition, the leading market players are investing heavily in R&D activities to create cutting-edge consumer electronics. For instance, in a fresh round of series B fundraising announced in June 2022, Renesas disclosed their stake in Arduino, an open-source business.
According to the contract, Renesas will provide a wide range of goods for the use of the Arduino technology platforms by its global developer community. Renesas also disclosed an investment in its Kofu Factory, which is situated in Kai City, Yamanashi Prefecture, Japan, in May 2022. The investment is intended to increase the company's ability to produce power semiconductors. It is carried out in an effort to promote decarbonization.
According to its plan of action, Renesas' overall manufacturing capacity for power semiconductors will more than quadruple if the Kofu facility is successful in achieving mass production. Additionally, these elements are anticipated to fuel market growth. However, market expansion may be constrained by design and continuously rising prices. As a result, the worldwide market for diodes is being favorably impacted by all of these reasons.
Segments Insight
Indication Type Insights
In the projected period of 2023 to 2032, the schottky diode market is anticipated to develop at a pace of 5.9%. A Schottky diode is an electrical component that may be utilized in a wide range of electronic systems, including control rectifiers, RF applications, power OR circuits, and others, particularly as a mixer to identifier diode.
One of the key reasons fueling the expansion of the schottky diode market is the worldwide increase in industrialization. The need for gadgets among customers and the preference for schottky diodes in comparison with simple diodes, which have low forward voltage drops between 0.3 & 0.5 and reduce energy waste as heat, respectively, are driving the market's expansion. Schottky diodes are increasingly being used in a variety of applications due to their important characteristics. Additionally, the schottky diode market is favorably impacted by the usage of sensitive applications, growth in demand for stationary photovoltaic (PV) cells, rise in demand from sectors such as consumer engine, communications, and automotive, urbanization, and rise in end-user awareness levels.
Application Insights
Diodes are used in vehicles because they enable electricity to flow in just one way. This important part guards the car's LED headlight against current surges. This significantly lowers the possibility of an automobile's electrical system and parts being harmed. In automotive applications, Schottky diodes can correct a current flow by enabling a quick transition from a conducting to a blocking state. At high temperatures, they have a low reverse leakage current, which lowers circuit losses and boosts protection from thermal runaway. The manufacturer of diodes is expanding its offering with cutting-edge, high-performance diodes.
Direct current electricity is produced by diodes from alternating current. Diodes can be found in the alternators and other electrical components of a car. Alternator diodes provide three crucial functions for the car charging system: converting AC power to DC power, acting as a feedback preventer, and ensuring proper polarity when charging a battery. The prevalence of electronic gadgets, batteries, and charging adaptors in autos is favorably influencing the growth of the diode market.
Major businesses are concentrating on producing cutting-edge SiC diodes to boost the battery capacity and charging rate of EVs. For instance, the first-generation silicon carbide technology from Infineon Technology has assisted EV manufacturer clients in expanding the battery range for their 800-V-based EV by 7%. The business promises that their next Cool Sic will increase that to around 10%.
Diodes are used to link solenoids in autos. The magnetic field of the coil, along with the current flow within it, decreases when the B+ is switched off. As a result, the current flows through the diode in the same direction as the arrow on the diode, which was previously blocking the B+.
The coil might collapse on itself thanks to the current flow that is created in the electric field. No spark is created, and the ECM is safeguarded. The programmable solenoid controller PT2000 was created by NXP, a top manufacturer of semiconductors, for use in automotive (12 V), truck, and industrial (24 V) power trains. Diodes are used in this system to ensure that the device operates smoothly and with flexibility.
Regional Insights
Due to a large number of electronics and automobile manufacturers in the Asia region as well as growing consumer buying power, the diodes industry is growing quickly.
The usage of electric cars contributes to a reduction in emissions, fleet emissions, and strict government restrictions governing vehicle emissions as a result of growing awareness. Additionally, the APAC region is predicted to see the greatest growth in the market for electric light commercial vehicles. These cars employ a variety of diodes in their electrical and electronic components. Power, small-signal, RF, and microwave diodes will see exponential growth in this region's market.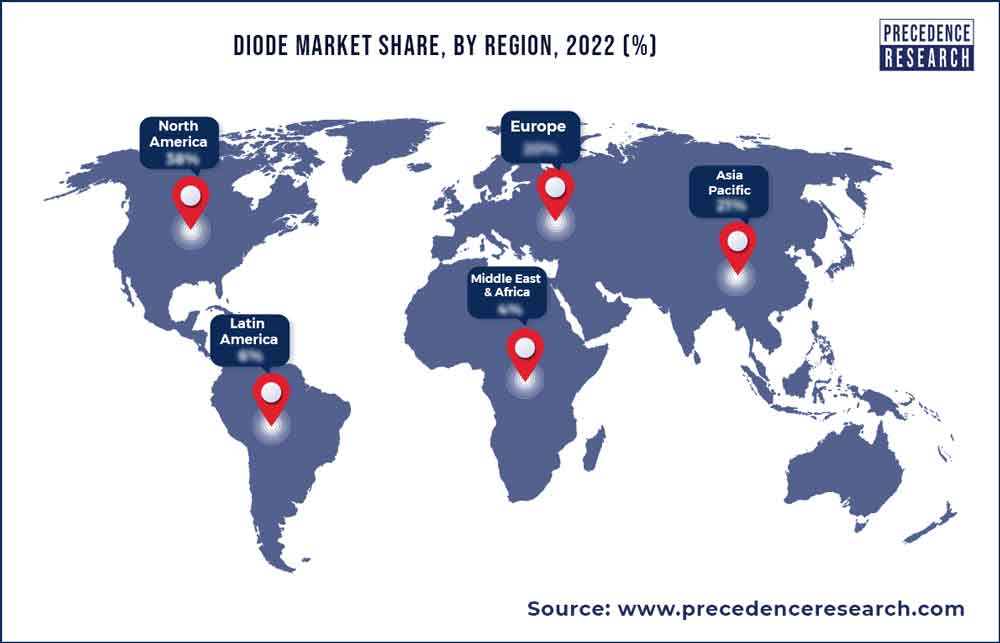 The usage of smartphones and the digitalization of industrial processes are both rising in the area. Due to the necessity of diodes in all electrical goods and the expansion of smartphones and electronics, the Asia-Pacific diodes market is also expanding. Numerous businesses are establishing manufacturing facilities in the Asia-Pacific area as a result of the rising demand for consumer electronics in nations including China, Singapore, the Republic of Korea, India, and the Republic of Korea. Large raw material supplies and low startup and labor costs are encouraging businesses to locate industrial hubs in the area.
The Asia-Pacific region is seeing the highest growth in industries like consumer electronics and smart clothing that need potent tiny diodes. For instance, the 0402-sized Schottky barrier diodes require 56 percent less mounting space while being 44 percent smaller than the conventional 0603 sizes (0.6mm 0.3mm). Due to the increase in demand for smart wearables, which they are used in, the demand in the region for these compact, potent diodes will rise.
Key Market Players
NXP Semiconductors N.V.
STMicroelectronics
Diodes Incorporated
Microchip Technology Inc.
Renesas Electronics Corporation
ROHM Semiconductor
Panasonic Corporation
Toshiba Corporation
Skyworks Solutions, Inc.
Analog Devices, Inc.
Segment Covered in the Report
(Note*: We offer report based on sub segments as well. Kindly, let us know if you are interested)
By Indication Type
Schottky
Zener
Rectifier
ESD
Others
By Application
Consumer Electronics
Communication
Automotive
Manufacturing
By Geography
North America
Europe
Asia-Pacific
Latin America
The Middle East and Africa