The global diode and thyristors market report provides a detailed analysis of the market dynamic and the report sheds light on the current situation of the market size and forecast from 2023 to 2032.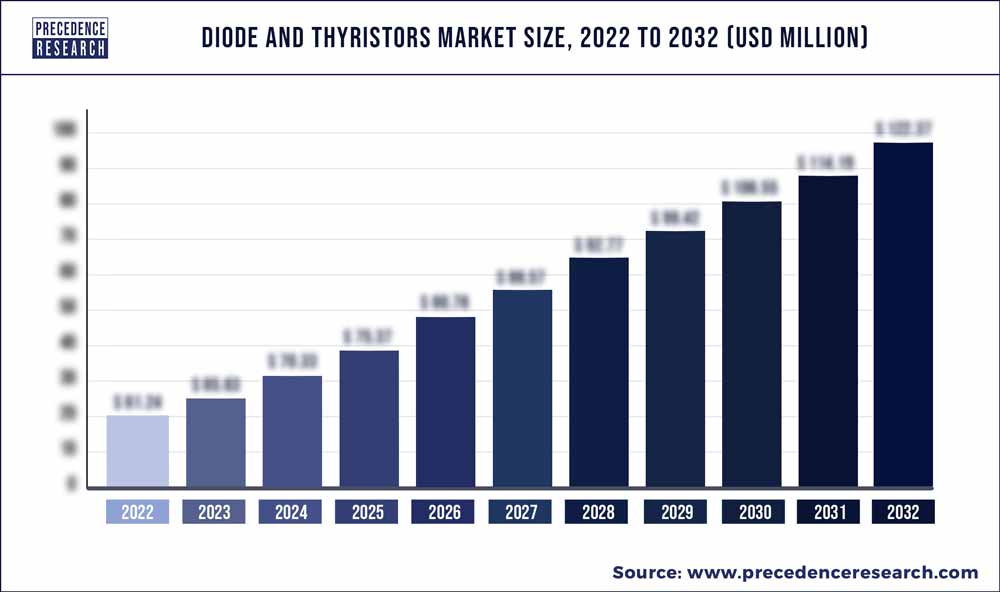 Key Takeaways:
Asia Pacific captured the largest market share in 2022.
By Device Type, the diode segment is expected to expand at a significant CAGR between 2023 and 2032.
By Thyristors by Power Rating, the 500 MW segment registered the largest market share in 2022.
By Application, the automotive segment is anticipated to expand at the greatest CAGR from 2023 to 2032.
Market Overview:
Important electronic components utilized in a variety of industries include diodes and thyristors. A semiconductor device known as a diode only permits one direction of current flow. It is a key element in many electrical circuits and finds use in a variety of devices, including power supplies, radio receivers, and LED lights. The term diode market refers to the entire market for diodes, both generic and specialised. A thyristor, commonly referred to as an SCR or silicon-controlled rectifier, is a common semiconductor component in power electronics. It is a kind of switch that has the capacity to regulate the movement of electric current and can be switched on and off at predetermined intervals.
Growth Factors:
The demand for diodes and thyristors is being driven by the rising desire for electronics that use less energy, such as smartphones, laptops, and LED lights. Diodes and thyristors are needed by these devices for effective voltage regulation and power management. The demand for diodes and thyristors is being driven by the rising demand for renewable energy sources like solar and wind power. Power electronics systems use diodes and thyristors to change the direct current (DC) generated by solar panels and wind turbines into alternating current (AC), which can be used to power residences and commercial buildings. The need for diodes and thyristors is also being driven by the expanding automotive industry. To manage power and charge batteries effectively, electric and hybrid vehicles need these components. Consumer electronics are becoming more and more popular, which is driving up the need for diodes and thyristors.
Report Scope of the Diode and Thyristors Market:
| | |
| --- | --- |
| Report Coverage | Details |
| Largest Market | Asia Pacific |
| Base Year | 2022 |
| Forecast Period | 2023 To 2032 |
| Segments Covered | By Device Type, By Thyristors Power Rating, and By Application |
| Regions Covered | North America, Europe, Asia-Pacific, Latin America, and Middle East & Africa |

Market Dynamics:
Driver:
Increasing demand for energy-efficient electronic devices
The necessity for energy conservation and the reduction of carbon emissions has increased the demand for energy-efficient electronic equipment. The need of using energy-efficient technology has increased as the global deals with the effects of climate change. In energy-efficient systems like LED lights, solar inverters, and electric vehicles, diodes and thyristors play a crucial role.
Rectifiers, which change alternating current (AC) to direct current (DC), frequently employ diodes. In order to minimize energy losses, the conversion of AC to DC is crucial in energy-efficient devices. Diodes are also utilised in signal processing circuits, voltage regulators, and power supplies. Large-performance diodes with minimal forward voltage drop, large current carrying capacity, and quick switching rates are required for these applications.
Thyristors are employed in a number of power electronic applications, including power factor correction, lighting control, and motor control. They are also employed in the transmission of electric power as well as the regulation of high-voltage power supply. Thyristors play a crucial role in these applications because they provide high current handling capacity, quick switching rates, and great efficiency.
New and enhanced diodes and thyristors have been created in response to the rising demand for energy-efficient electronic products. For instance, compared to conventional silicon-based devices, silicon carbide (SiC) and gallium nitride (GaN) diodes and thyristors offer higher efficiency and quicker switching rates. These new gadgets have better performance and efficiency, so they can be used as energy-saving gadgets.
Restraint:
Price pressure
The market for diodes and thyristors is extremely competitive, with several well-known producers and a well-established supply chain. Due to the enormous price pressure this has brought about for these components, it is now difficult for manufacturers to retain profitability and make investments in R&D for new goods.
There is pressure on prices in the market for diodes and thyristors due to a number of causes such as the market is established, and numerous producers been making these parts for years. As a result, there is intense competition in the market, and supply and demand forces drive down prices.
There are numerous diode and thyristors producers, both big and small. As a result, consumers have numerous options when it comes to procuring these components, which increases the pressure on producers to maintain their prices competitive. The price of diodes and thyristors can be influenced by the cost of raw materials and manufacturing techniques. To maintain their market share, manufacturers strike a compromise between the expense of making these components and the requirement to keep costs low.
Opportunity:
Electric vehicles
As the necessity for environmentally friendly transportation becomes more widely recognized, electric vehicles are becoming more and more common. In order to effectively convert power, control motors, and manage batteries, these vehicles' power electronics systems depend on diodes and thyristors. To rectify AC electricity into DC power, which is required to charge the battery of an electric car, diodes are utilized. Additionally, they are employed in the DC-DC converter, which alters the voltage to meet the needs of various car parts.
On the other hand, the motor control systems of electric vehicles use thyristors. They are perfect for regulating the speed and torque of an electric motor due to their ability to withstand large currents and voltages. Thyristors are also employed in regenerative braking systems, which assist transform the vehicle's kinetic energy into electrical energy that can be stored in the battery.
In the upcoming years, as demand for electric vehicles rises, it is anticipated that the market for diodes and thyristors would expand dramatically.
Impact of COVID-19:
The COVID-19 pandemic has had a large effect on a number of economic sectors, particularly the electronics business. The epidemic has had an impact on market trends and the demand for electronic components like diodes and thyristors. Key electronic components like diodes and thyristors are used in many different applications, including power electronics, consumer electronics, lighting, and automotive electronics. They are significant in modern electronics because they are required for the regulation of voltage and current in electronic circuits.
The COVID-19 pandemic's effects on the diode and thyristors market's supply chain have been among its most important effects. As nations enacted measures like lockdowns and travel restrictions to stop the virus's spread, the global supply chain was severely affected. This led to a lack of essential parts, such as diodes and thyristors, which raised the cost of those parts.
The pandemic also had an impact on the market for diodes and thyristors, with some industries seeing a decline in demand while others saw an increase. For instance, the pandemic had a substantial impact on the automotive industry, a large user of diodes and thyristors, forcing automakers to shut down production lines for extended periods of time. Diodes and thyristors, which are utilized in car electronics, saw a decrease in demand as a result of this.
However, as more people turned to remote work and online schooling, there was a noticeable rise in demand for electronic devices like smartphones, laptops, and tablets. The demand for the diodes and thyristors used in consumer electronics increased as a result of the boom in demand for these products.
The pandemic's effects on the diode and thyristors market also included a relocation in manufacturing facilities. Many businesses have been looking into alternate production areas as a result of the pandemic's emphasis on the necessity of diversifying supply chains and limiting dependence on a single nation. Due to this, the manufacturing base for diodes and thyristors has changed, with some businesses shifting their production from China to nations like Vietnam, Thailand, and Malaysia.
Segments Insight:
Device Type Insights:
Under Diode, the market for schottky diodes is estimated to grow at a remarkable CAGR from 2023 to 2032. An electrical component known as a Schottky diode is often used as a mixer to identifier diode in a variety of electronic systems, such as control rectifiers, RF applications, power or circuits, and others.
The global rise in industrialization is one of the main factors driving the growth of the Schottky diode market. The preference for Schottky diodes over simple diodes, which have low forward voltage drops between 0.3 and 0.5 and reduce energy waste as heat, respectively, are what are causing the market to grow. Additionally, the demand for gadgets among consumers. Due to their significant advantages, Schottky diodes are being used in a wide range of applications more frequently. Additionally, the use of sensitive applications, development in demand for stationary photovoltaic (PV) cells, rise in demand from industries such as consumer engines, communications, and automotive, and rise in end-user awareness levels favorably influence the Schottky diode market.
Thyristors Power Rating Insights
Under the thyristors, on the basis of power rating, the market is divided into three categories: below 500W, 500 to 900MW, and above 1000MW. In 2022, the revenue from thyristors rated below 500 MW accounted for the largest market share. The widespread use of thyristors in consumer electronics applications is credited with driving the market's expansion. On the other hand, it is anticipated that thyristors rated between 500 and 900 MW will have significant growth during the projection period. The industry is being propelled by the rising demand for power generators.
Application Insights:
On the basis of application, the automotive industry is anticipated to expand at the fastest CAGR from 2023 to 2032. According to IEA estimates for 2021, sales of new electric vehicles increased from 203 thousand units in 2013 to 6.5 million units in 2021, which is why the diode and thyristors market is expanding at an astounding rate. Government restrictions for controlled emissions driving and the cost-effective features that EVs offer in comparison to diesel and petrol vehicles have greatly increased the adoption of EVs. Similar to this, governments around the world are launching a number of measures to support electric vehicles. For instance, the Indian government is considering a proposal for 2021 that would employ subsidies to speed up the usage of electric vehicles. This involves making it possible for the Indian government's factory to switch over to only plug-in electric cars (EV) by 2030.
Regional Insights:
On the basis of region, the diodes and thyristors market is expanding significantly as a result of the huge number of electronics and vehicle producers in Asia as well as rising consumer purchasing power. Due to increased knowledge, using electric vehicles helps to reduce emissions, fleet emissions, and tight government regulations governing vehicle emissions. Additionally, it is anticipated that the market for electric light commercial vehicles will expand the fastest in the APAC area.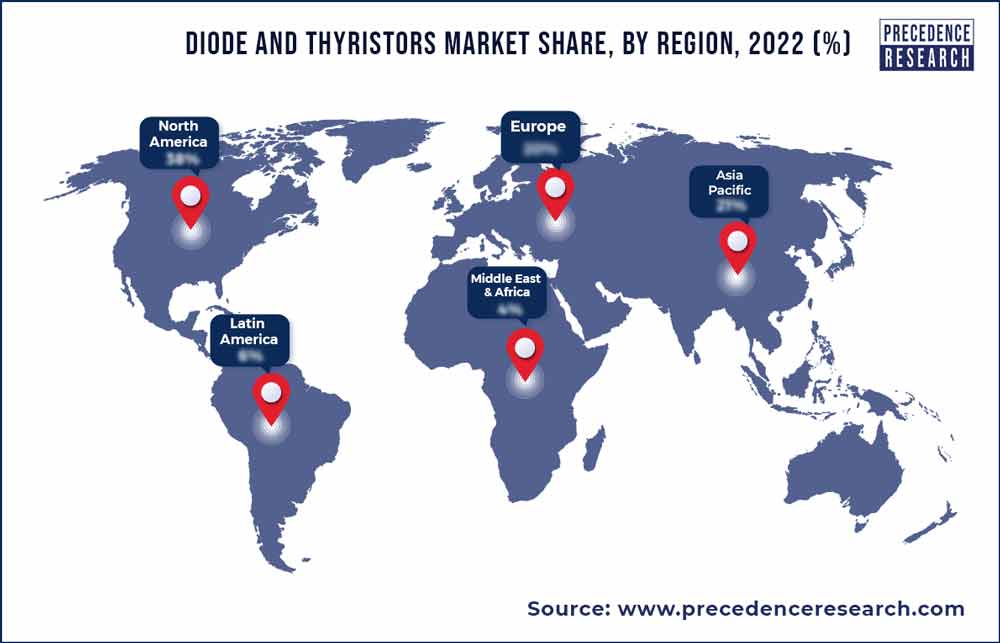 The electrical and electronic components of these autos use a variety of diodes. The market in this region will experience exponential growth for power, small-signal, RF, and microwave diodes.
Recent Developments:
In May 2021, the newest BiPolar power modules have the lowest losses, the greatest operating temperatures, and industry-standard housings. The 60Pak module family offers the highest level of dependability and is the pinnacle of excellence. In terms of industry-standard housing, it has the lowest losses and greatest working temperatures. Failure is not an option, whether it's giving power to demanding applications or seamlessly regulating fans and industrial motors. These new solutions give the highest performance, exceptional dependability, and increased overload capability by encasing Hitachi Energy's best-quality products in conventional industrial housing.
In November 2020, Diodes Incorporated spent about USD 446 million in cash to purchase Lite-on Semiconductor, a major producer of electronic power supplies. The corporation has expanded its product line with this acquisition.
Key Market Players:
ABB Ltd
Analog Devices, Inc
Eaton Corporation Plc
Fuji Electric Co., Ltd
Infineon Technologies AG
Honeywell International Inc.
LUPIN
Novartis AG
F. Hoffmann-La Roche Ltd
Pfizer Inc.
Sanofi
Segments Covered in the Report:
(Note*: We offer report based on sub segments as well. Kindly, let us know if you are interested)
By Device Type
Diodes

Zener Diodes
Schottky Diodes
Laser Diodes
Light Emitting Diode
Small Signal Diode
Others

Thyristors
By Thyristors Power Rating
500 MW
500 MW-1000 MW
1000 MW
By Application
Communications
Consumer Electronics
Automotive
Computer and Computer Peripherals
Others
By Geography
North America
Europe
Asia-Pacific
Latin America
Middle East and Africa