The global e-commerce apparel market size was reached at USD 600.11 billion in 2022 and it is expected to hit around USD 1,427.17 billion by 2032, poised to grow at a CAGR of 9.1% during the forecast period 2023 to 2032.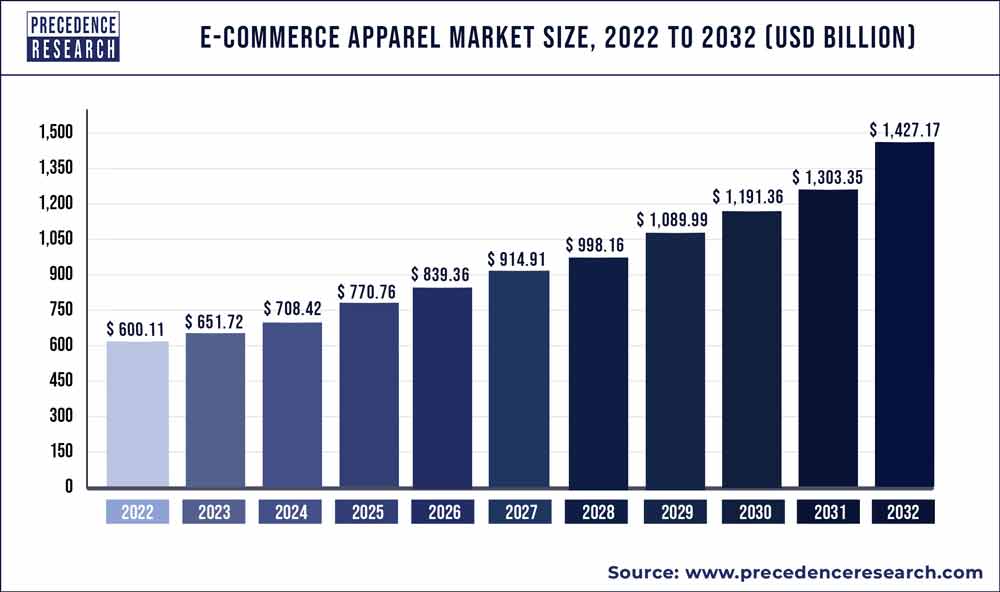 Key Takeaways:
The North America market has held a revenue share of over 34% in 2032.
By type, women's apparel segment accounted for 69% of revenue share in 2022.
Market Overview:
The e-commerce apparel market refers to the online market for clothing and accessories. It involves buying and selling these products through various online platforms, such as online marketplaces, e-commerce websites, and social media platforms. The e-commerce apparel market has experienced significant growth in recent years, driven by factors such as the increasing use of mobile devices, the convenience of online shopping, and the availability of a broader range of products and styles than what may be available in physical stores.
According to a report published by Internet Retailing, almost 85,000 businesses launched online shops during the Covid-19 pandemic.
Shopify, a leading e-commerce apparel website, published its annual report for the year 2022. According to the report, the gross merchandise value of Shopify exceeded $197 billion in 2022.
Additionally, Shopify's annual revenue for the toral year (2022) increased by 21% compared to 2021. Whereas the revenue for the fourth quarter of 2022 increased by 26% as compared to the prior year.
Highlighting the significant activity made by Shopify, the company launched its own payment method, 'Shopify Payments', in 2022 for Switzerland, France, the Czech Republic, and Portugal by making it available for 22 countries.
With the rising demand for convenient shopping options, many traditional brick-and-mortar retailers have expanded their online presence, and many new online-only apparel retailers have emerged, offering customers a variety of options to purchase clothing and accessories online.
Growth Factors:
The e-commerce apparel market is expected to witness a significant shift during the forecast period with the rising preferences for online shopping. More consumers are turning to online shopping for their clothing and accessory needs as e-commerce becomes more widespread and convenient. Online shopping offers a broader range of products and styles, as well as the convenience of shopping from home.
The increasing use of mobile devices, such as smartphones and tablets, has made it easier for consumers to shop online, even while on the go. Many e-commerce apparel retailers have optimized their websites and apps for mobile devices, making it easier and more convenient for customers to browse and shop on their mobile devices.
The rising influence of social media all across the globe is observed as a significant growth factor for the market. Social media platforms have become an important marketing and sales channel for e-commerce apparel retailers, with influencers and user-generated content helping to drive sales. E-commerce apparel retailers can reach a global audience, allowing them to expand their customer base beyond their local markets. Thus, the convenience offered by such platforms for retailers to expand their businesses across the world is fueling the growth of the e-commerce apparel market.
Advancements in e-commerce technology, such as augmented reality and virtual reality, have made it easier for customers to visualize clothing and accessories before making a purchase, improving the online shopping experience. Advances in logistics and fulfillment technologies have made it easier and more cost-effective for e-commerce apparel retailers to manage their supply chains and ship products to customers quickly and affordably.
Report Scope of the E-commerce Apparel Market:
| | |
| --- | --- |
| Report Coverage | Details |
| Market Size in 2023 | USD 651.72 Billion |
| Market Size by 2032 | USD 1,427.17 Billion |
| Growth Rate from 2023 to 2032 | CAGR of 9.1% |
| Largest Market | North America |
| Base Year | 2022 |
| Forecast Period | 2023 to 2032 |
| Segments Covered | By Type |
| Regions Covered | North America, Europe, Asia-Pacific, Latin America, and Middle East & Africa |

Market Dynamics:
Driver:
Rising marketing strategies by social media influencers
Social media influencer marketing is considered one of the most highly effective methods for e-commerce apparel brands to reach a wider audience, drive sales and build brand awareness. Influencers promote e-commerce apparel brands and their products to their large social media followings, increasing the reach and visibility of the brand and its products.
According to the latest data published by Influencer Marketing Hub in April 2023, almost 70% of marketers are planning to increase their budget for influencer-based marketing in the next 12 months.
Multiple e-commerce apparel brands are effectively targeting their marketing efforts by partnering with influencers. Influencers that create engaging content by incorporating consumer interests are expected to drive traffic towards e-commerce brands in an organic way; this is observed to act as a significant driver for the market's growth in the upcoming period.
Restraint:
Risks associated with cybersecurity
E-commerce apparel retailers process and store large amounts of personal and financial data, including credit card numbers, addresses, and phone numbers. A data breach can result in the loss of sensitive customer information, leading to financial losses and reputational damage. Phishing scams can target e-commerce apparel retailers and their customers, attempting to steal login credentials and other sensitive information. Phishing emails and fake websites can be used to trick customers into entering their personal and financial information. The risk associated with cybersecurity limits consumers from shopping at e-commerce websites; this acts as a significant restraint for the growth of the e-commerce apparel market.
In August 2022, United States-based North Face, a prominent manufacturer of outdoor clothing, footwear, and accessories, stated that the company's corporate e-commerce website had suffered from a credential cyberattack, where the hackers can utilize authentication credentials, including phone number, email address, and passwords in order to get unauthorized access to consumes' accounts.
Opportunity:
The deployment of artificial intelligence (AI) technology
According to a report published by McKinsey, companies that excel in personalization generate 40% more revenue than average players. The same research stated that consumers expect to receive personalized services while shopping online.
The deployment of AI in the e-commerce apparel market is expected to open several opportunities for retailers to improve personalization, optimize inventory management, pricing, and customer service, and enhance security. AI-powered chatbots can provide automated customer service, helping customers with their queries and concerns 24/7. This can improve customer satisfaction and reduce the workload of customer service representatives. AI can be used to analyze pricing data and optimize pricing strategies to maximize revenue. This can help e-commerce apparel retailers to set competitive prices and increase profitability. AI can be used to optimize inventory management, predict demand, and automate the restocking process. This can help e-commerce apparel retailers to reduce inventory costs and increase efficiency.
For instance, In March 2022, Walmart announced the launch of an AI-powered virtual clothing try-on service for online shoppers, especially for Walmart's mobile app. The virtual technology service offers try-on for sizes XS to XXXL; the company aims to expand its model range in the upcoming period.
Segments Insight:
Type Insights:
The women's apparel segment accounted for the largest share in 2022, and the segment is expected to maintain its dominance during the forecast period. Women's clothing tends to offer more variety in terms of styles, designs, and colors, making it more appealing to online shoppers who have access to a broader range of options.
E-commerce websites often offer more competitive prices on women's apparel than traditional brick-and-mortar stores, which can be a significant factor in attracting customers. Women's apparel is also heavily promoted on social media platforms and through influencer marketing campaigns, which can help generate buzz and increase visibility for these products. The women's apparel category carries a more significant segment of retailers and brands; this has led to additional investments in the women's apparel category.
The men's apparel segment is observed as the rapidly growing segment in the global market. With the rising number of online shoppers, multiple brands are focused on offering specialized apparel websites for men. The continuous growth in men's luxurious apparel options is another factor to boost the segment's growth.
In February 2023, Kerala-based apparel start-up, Giacca & Abito announced the launch of its online portal for apparel shopping, Tea & Tailoring. The newly launched e-commerce apparel website aims to provide premium clothing solutions, especially for men. The e-commerce platform will be offering premium innerwear, home textiles, and more.
The kids apparel segment is another attractive segment of the market, expected to witness a noticeable growth during the forecast period. With the rising number of people preferring online shopping, multiple brands launching clothing ranges for kids and expansion of e-commerce apparel businesses across the globe are observed to fuel the growth of the segment. With the launch of the kid's apparel range on e-commerce platforms, brands are focusing on differentiating themselves in the market.
In October 2022, a globally prominent children's boutique, Danrie, announced the launch of an e-commerce shopping platform specially made for babies and children's wear.
Regional Insights:
North America dominates the global e-commerce apparel market, the region is expected to sustain its dominance throughout the forecast period. The e-commerce apparel market in North America has been experiencing strong growth, driven by factors such as convenience, greater variety and selection, and competitive pricing.
North America e-commerce apparel market was valued at USD 223.9 billion in 2022.
The U.S. e-commerce apparel market accounted for USD 127.8 billion in 2022.
Online shopping in the United States reached $1.7 trillion in the duration of 2020-2022, which represents a 55% increase in online shopping. Considering the rising number of online shoppers in the region, the United States is observed to be the most significant contributor to the market's growth, followed by Canada. The most prominent e-commerce apparel companies, including Amazon, Walmart, Nike, Macy's, and Target, are based in the United States. The presence of such significant players plays an active role in the development of the market.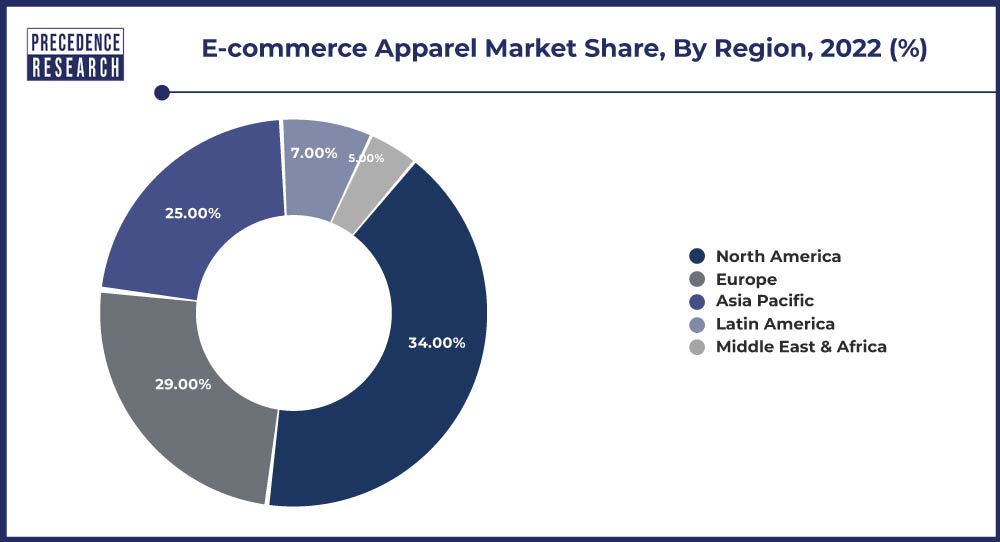 The e-commerce apparel market in Asia-Pacific is one of the largest and fastest-growing in the world, driven by factors such as rising disposable incomes, a growing middle class, and the increasing popularity of online shopping. China is the largest e-commerce market in the region, accounting for a significant share of total e-commerce apparel sales. As the technology becomes widely accepted by the developing countries of Asia Pacific, the e-commerce apparel market is intended to show significant growth in the region. Retailers in Asia are investing in livestream offerings, innovative services, diverse payment options, and risk management protocols; these factors are promoting the growth of the market in the region.
Moreover, the rising investments in warehouses and logistics in developing countries are fueling the market's growth. Beyond the increased demand for online shopping, sophisticated logistics services, a smooth supply chain, and the availability of diverse sources for online shopping are a few other factors to propel the market growth in Asia Pacific during the forecast period.
Recent Developments:
In February 2023, globally leading e-commerce platform, Amazon announced the launch of The Plus Shop, a special line for plus-size apparels from various brands in India. The new line of clothing offers plus size clothing options from 450 brands including Bigbanana, W for Woman, Allen Solly, Plus and U.S. Polo Assn.
In February 2023, Marks & Spencer announced the launch of its new e-commerce platform 'Spors Edit' for sportswear designed for men and women. Sports Edit aims to offer over 200 sportswear and apparel which also includes a range of clothing from third-party brands, including Veja, Hoka, and FP Movement.
In March 2023, We Weave, a growing brand of garments based in India, announced the launch of its e-commerce platform to fulfill the rising demand for handloom sarees. The brand aims to be valued at 100 cr by the end of 2030. The e-commerce platform by We Weave aims to offer woven handloom sarees, dupattas, and stoles produced by various weavers across the nation.
In January 2022, Elysewalker, a luxury fashion retail brand announced the launch of an e-commerce site to expand the consumer base nationwide. With the launch the brand aims to offer personalized and elevated fashion solutions.
Key Market Players:
Walmart
Amazon
Alibaba Group Holding Limited
eBay Inc
Shopify, Inc
JD.com
Flipkart
Rakuten Inc
Segments Covered in the Report:
(Note*: We offer report based on sub segments as well. Kindly, let us know if you are interested)
By Type
Men's Apparel
Womens Apparel
Kids Apparel
By Geography
North America
Europe
Asia-Pacific
Latin America
Middle East and Africa