The global electric plugs and sockets market size was estimated at USD 12 billion in 2022 and is expected to hit around USD 20.59 billion by 2032, poised to grow at a CAGR of 5.6% during the forecast period from 2023 to 2032.
Access our Premium Real Time Data Intelligence Tool, Visit: Precedence Statistics
Key Takeaways
North America led the global market with the largest market share of 36% in 2022.
Asia Pacific is considered to be the quickest-growing region.
By Type, the three-pin segment dominated the market in 2022 and is expected to maintain its dominance during the forecast period.
By Type, the five-pin segment is anticipated to grow significantly.
By End-user, the industrial segment led the market in 2022.
By End-user, the residential segment is anticipated to increase significantly.
Electric Plugs and Sockets Market in the U.S. 2023-2032
The U.S. electric plugs and sockets market size was valued at USD 2.42 billion in 2022 and is estimated to reach around USD 4.19 billion by 2032, growing at a CAGR of 5.7% from 2023 to 2032.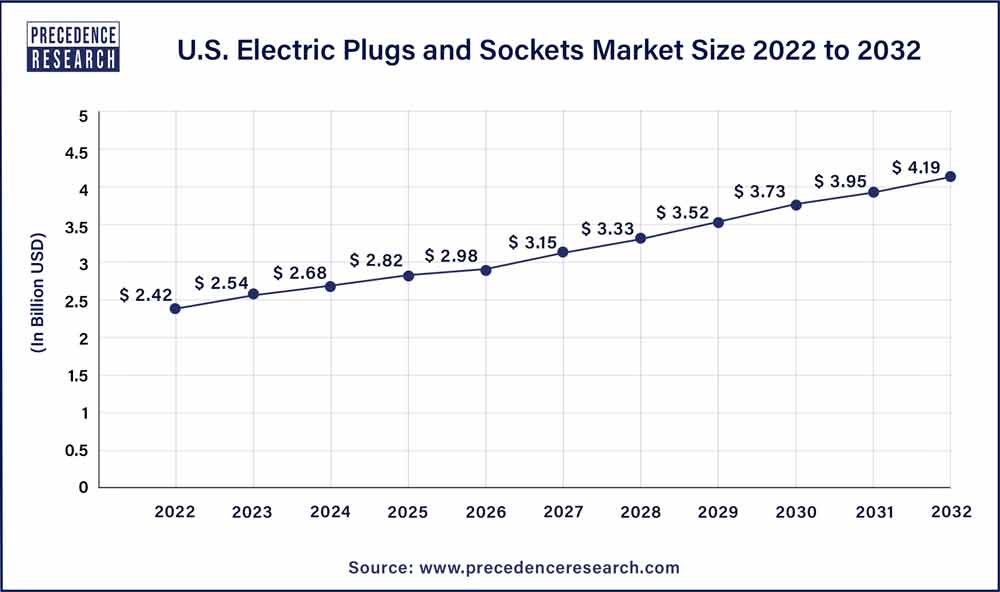 North America's electric plugs and sockets market held the dominating share in 2022 the region is currently growing at a significant rate driven by factors that reflect the region's evolving energy landscape, technological advancements, and changing consumer preferences. The two most compelling reasons are the necessity to cut carbon emissions and the rising awareness of environmental sustainability. Electric vehicles (EVs) are becoming more popular among customers and governments as a cleaner alternative to conventional gasoline-powered cars.
Electric plugs and sockets are in greater demand due to the increased need for charging infrastructure and EVs' rapid uptake. The industry has expanded partly due to the increased use of renewable energy sources, particularly solar and wind power. In order to connect to the grid or charge energy storage devices, homes and companies investing in renewable energy solutions need suitable plugs and sockets.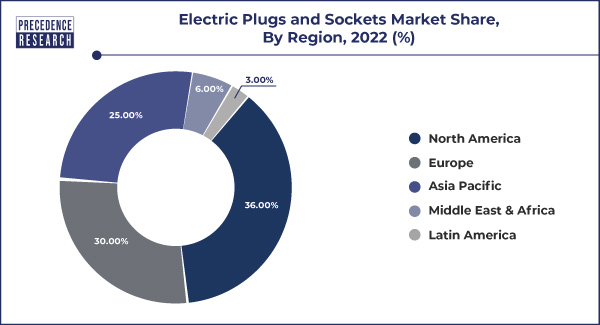 On the other hand, Asia Pacific is observed to witness the fastest rate of growth during the forecast period. Asia Pacific is becoming significantly more urbanized as more people move to cities. Plugs and sockets are in higher demand due to this trend, which has led to a rise in the demand for electrical infrastructure in residential, commercial, and industrial contexts. There has been a significant increase in industrial and commercial activity in the area, as seen by the construction of many new factories, workplaces, and retail locations. This has happened due to increased demand for power outlets and plugs to support these activities.
Electric Plugs and Sockets Market Overview
The global electric plugs and sockets connect electrical equipment to an alternating current (AC) power source. These sockets and plugs are used to create safe electrical connections in machinery and equipment that operate at various frequencies and voltages. They provide great resistance to the flow of electric current and have a high impact strength. They differ in connector type, size, form, and voltage & current rating. With a growing focus on energy conservation and sustainability, a trend is towards more energy-efficient plug-and-socket designs. This includes features like smart plugs and sockets that can be remotely controlled to save energy. Increased emphasis on safety standards and regulations has led to the development of safer and more reliable plug-and-socket designs, such as ground fault circuit interrupters (GFCIs), to prevent electrical shocks.
Growth Factors
Increased construction and development activity fuel the need for electric plugs and sockets. The need for dust- and splash-proof plugs and sockets is also predicted to rise in the coming years, which is expected to accelerate the expansion of the electric plugs and socket market. The safety attributes included in these plugs and sockets, such as dustproof, waterproof, and fireproof, serve as the main market driver. An increase in government spending is anticipated to present significant chances for market expansion.
Electric Plugs and Sockets Market Scope
| | |
| --- | --- |
| Report Coverage | Details |
| Growth Rate from 2023 to 2032 | CAGR of 5.6% |
| Market Size in 2023 | USD 12.61 Billion |
| Market Size by 2032 | USD 20.59 Billion |
| Largest Market | North America |
| Base Year | 2022 |
| Forecast Period | 2023 to 2032 |
| Segments Covered | By Type and By End User |
| Regions Covered | North America, Europe, Asia-Pacific, Latin America, and Middle East & Africa |

Electric Plugs and Sockets Market Dynamics
Driver
Rise in construction and development activities
The construction and development activity increase has considerably impacted the electric plugs and sockets market. Numerous factors that interact to generate a strong demand for these crucial electrical components are responsible for this rise. Power is a necessity for all development and building activities. Installing electrical systems is essential for all residential, commercial, or industrial projects. Electric plugs and sockets must be used to make it easier to distribute power throughout the built environment. The need for these fundamental electrical components is growing as building and development projects spread across the globe.
One key driver is the increase in urbanization. As more people flock to cities in search of opportunities and better living standards, there is a continuous need for new infrastructure, housing, and commercial spaces. Urban expansion fuels construction projects, all of which require extensive electrical wiring and outlets. Consequently, the electric plugs and sockets market benefits from the ongoing growth of urban areas.
Furthermore, modern construction projects often prioritize energy efficiency and smart technologies. This means including advanced electrical systems that require specialized plugs and sockets to support features like automation, remote monitoring, and energy management. These developments have led to a surge in the demand for adaptable, high-quality electric sockets and plugs, often designed to accommodate various devices and configurations.
Restraint
Rapidly changing technologies
Rapidly changing technologies significantly impact the market for electrical plugs and sockets. This has two sides to it. On the one hand, cutting-edge technologies can spur market expansion by providing customers with safer, more effective, and feature-rich solutions. Rapid technological advancements, however, present difficulties and limitations for the business.
Technology development frequently causes product obsolescence. Older plug-and-socket designs become obsolete as new standards and functionalities are developed. In order to maintain their competitiveness, manufacturers are forced to spend money on research and development (R&D). This can raise production costs and necessitates significant financial resources. For instance, the creation of specialized plugs and sockets that can accept cutting-edge features like data connection, remote control, and quick charging has been made necessary by the proliferation of smart homes and electric vehicles. Manufacturers that fail to adapt to these new requirements may struggle to remain relevant in the market.
Technological advancements can also introduce complexity. New safety standards, such as those related to surge protection or fire prevention, may become mandatory. Adhering to these standards can be costly and time-consuming. Manufacturers must also consider compatibility with other emerging technologies, like renewable energy sources, which can affect the design of plugs and sockets.
Opportunity
Smart homes and IoT
Over the past ten years, the idea of a smart home has become increasingly popular, with the Internet of Things (IoT) as a key building piece. A smart house has a variety of interconnected systems and gadgets that may be operated remotely or automatically to improve comfort, energy conservation, and security. Electric plugs and sockets are essential in this situation and have advanced beyond their original purposes to meet the needs of smart homes and the Internet of Things (IoT). Incorporating USB ports into electrical outlets is one of the most significant innovations.
Without adapters or large power bricks, charging smartphones, tablets, and other USB-powered devices is made simpler by USB outlets. This feature aligns with the digital lifestyle of today's consumers, who rely heavily on their gadgets and require convenient charging solutions. The convenience of USB-equipped sockets makes them an attractive choice for modern households. Such innovative requirements are observed to present multiple opportunities for the market's expansion.
Type Insights
The three-pin segment accounted for the largest share in 2022 and is expected to maintain its dominance during the forecast period. The growth of the 3-pin electric plugs and sockets segment can be attributed to several key factors, making them essential components of modern electrical systems. These factors include standardization, technological progress, and an increase in electrification.
Safety concerns have significantly influenced the segment's growth. Grounding pins are a feature of three-pin plugs and sockets that improve electrical safety by allowing for the safe discharge of excess electricity into the ground. Due to this characteristic, they are popular in households, workplaces, and industrial environments, considerably lowering the risk of electrical shocks. Standardization is essential to the development of this sector. Three-pin plugs and sockets are widely used in the standardized electrical systems many nations have built. These guidelines guarantee compatibility and usability, thus encouraging the usage of this design.
On the other hand, the five-pin segment is growing quickly in the worldwide market. The growth of the five-pin electric plugs and sockets market can be attributed to several key factors that reflect the evolving needs of consumers, industries, and technology. The demand for flexible and secure power connections has increased due to the proliferation of electrical appliances, from high-end kitchen gadgets to smart home devices. The versatility of five-pin connectors and sockets makes it possible to power and control various devices effectively.
Automation and robotics are being adopted by industries more and more. A reliable power source and data transfer are provided by five-pin connections, which are essential for machinery and equipment in manufacturing, logistics, and other industries.
End User Insights
In 2022, the industrial segment had the greatest share, which is anticipated to continue dominating over the projection period due to a number of important considerations. These elements are altering how industrial electricity distribution and connectivity are organized.
The need for electric plugs and sockets has risen as industries worldwide progressively electrify themselves due to environmental concerns and legislation. The demand for efficient and dependable power connections from factories and other industrial facilities drives the market's expansion. The adoption of Industry 4.0 and automation technologies has been a significant driver. These technologies demand more sophisticated and adaptable power solutions for sensors, robotics, and IoT devices. Electric plugs and sockets with data connectivity, such as Ethernet or USB ports, are in high demand for smart manufacturing processes.
The demand for residential electric plugs and sockets is growing quickly. The demand for electric plugs and sockets in the residential sector is driven by several key factors, reflecting a shift towards more efficient and sustainable electrical systems.
The increasing adoption of electric vehicles (EVs) is a significant driver. As more homeowners switch to EVs, home charging infrastructure becomes imperative. This requires dedicated charging sockets in residential garages or parking spaces. In 2022, Bolt, an EV charging company, launched the EV universal charging socket, Bolt Lite. Similarly, the rising popularity of smart homes and home automation systems contributes to the demand for specialized sockets to power and control various devices and appliances.
Recent Developments
In July 2023, the Indian government mandated that by March 2025, all electronic gadgets must have USB Type C charging ports.
In July 2023, Schneider Electric, a leader in the digital transformation of energy management and automation, unveiled a new modular, adaptable solution to upgrade conventional residential electrical systems with smart panel capability. This solution gives homeowners worldwide app-based control with simpler installation and a lower price than current smart panel solutions. It also includes new Square DTM Control Relays and the Schneider Energy Monitor. Millions of homeowners will benefit from smart panel features such as system-wide energy monitoring and circuit-level management to reduce energy consumption and improve safety after installing this solution. The ability to update or install a new Square DTM QOTM Plug-on Neutral electrical panel will enable homeowners to affordably add smart functionality only where it is required to control their energy use effectively and cut costs.
In February 2023, a 3-pole connector was added to the ePower-Lite line by Amphenol Industrial Operations, a world authority on interconnect solutions. The ePower-Lite 5.7 mm connects PTC/AC to DC and related control boxes, such as power distribution units (PDU), and has a rapid lock and press-to-release design.
Electric Plugs and Sockets Market Players
Asea Brown Boveri Ltd.
Amphenol Corporation
Eaton Corporation plc.
Emerson Electric Co.
Legrand Sa
Mennekes Elektrotechnik GmbH & Co. Kg
Koninklijke Philips N.V.
Scame Parre S.P.A. (Scame Group)
Schneider Electric S.E.
3M
Segments Covered in the Report:
By Type
Two-pin
Three-pin
Four-pin
Five-pin
By End User
Residential
Commercial
Industrial
By Geography
North America
Europe
Asia-Pacific
Latin America
Middle East and Africa