The global electron microscopy market size was valued at USD 3.94 billion in 2022 and it is projected to be worth around USD 8.67 billion by 2032, growing at a compound annual growth rate (CAGR) of 8.4% throughout the projection period 2023 to 2032.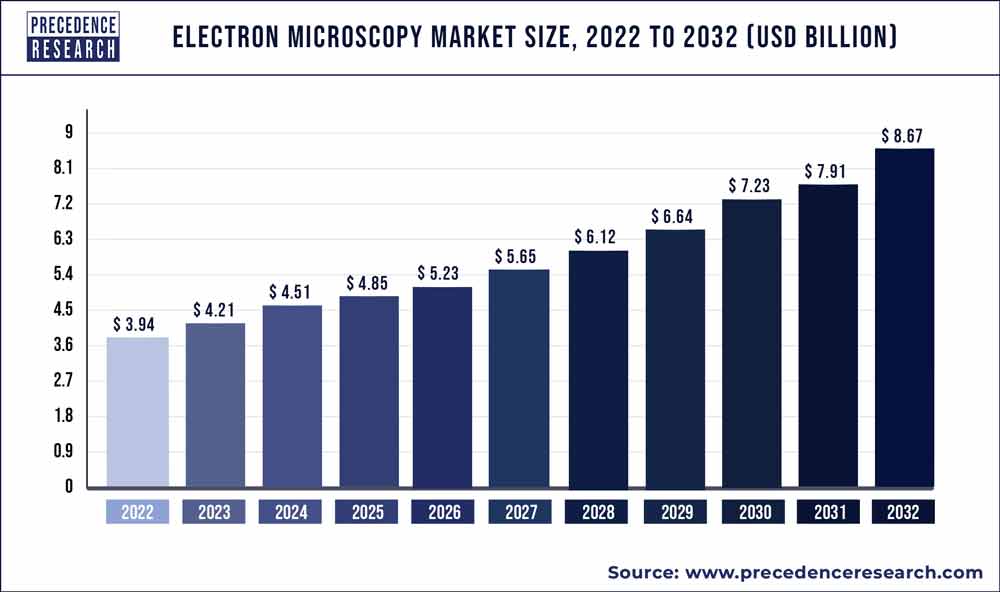 Access our Premium Real Time Data Intelligence Tool, Visit: Precedence Statistics
Key Takeaways:
North America generated more than 36% of revenue share in 2022.
By Application, the semiconductors segment led the global market and was valued at USD 1,446.8 million in 2022.
By Type, scanning electron microscopes dominate the global market.
Growing demand for nanotech research as well as an increase in funding are key market drivers for electron microscopy. Furthermore, expanding product applications in the electronics and pharmaceutical industries are expected to drive the market during the forecast period. Furthermore, advancements in resolution power and features such as the attachment of other devices, such as an energy x-ray dispersion spectroscope, are expected to drive market growth during the forecast period.
Scanning Electron Microscopes (SEMs) are popular due to their being widely used by small- to medium-sized R&D institutes and pharmaceutical companies. They offer data on surface topography and properties to researchers and quality control personnel, such as topography, chemical analysis, fractography, and so on.
Even though nanotechnology has applications in most areas of semiconductors, material sciences, and life sciences, which have a significant impact on any nation's economy, it encourages government organizations and other corporate enterprises to support R&D through public funding. The global market is expanding due to a variety of factors, including the fact that it is one of the most important devices for analyzing nanomaterials at the atomic scale in many pharmaceutical industries, medical devices, and multiple industrial verticals.
Microscopes are required for procedures such as lithography, coating, failure analysis, and detection in the manufacture of semiconductor devices. The rapid growth of the semiconductor industry in countries such as India and China because of outsourcing of electric manufacturing activities is a driving factor of the SEMs market.
Increased global attention on R&D for applications such as neurosciences, materials engineering, life sciences, nanotechnology, and the semiconductor industry would boost adoption of advanced and automated light microscopy such as scanning probe microscopes, analytical electron microscopes, and SEMs. These microscopes have imaging resolutions of up to 0.1 nm, which is essential for these precision manufacturing industries.
Report Scope of the Electron Microscopy Market:
| | |
| --- | --- |
| Report Coverage | Details |
| Market Size in 2023 | USD 4.21 Billion |
| Market Size by 2032 | USD 8.67 Billion |
| Growth Rate from 2023 to 2032 | CAGR of 8.4% |
| Largest Market | North America |
| Base Year | 2022 |
| Forecast Period | 2023 to 2032 |
| Segments Covered | By Type, By End User, and By Application |
| Regions Covered | North America, Europe, Asia-Pacific, Latin America, and Middle East & Africa |

Market Dynamics:
Drivers:
Rising scientific research
Electronic microscopes are frequently used in research labs, academic institutions, and nanotechnology centers. The structure of the sample can be examined in detail in these institutions to learn more about its function. Other bodies, such as industrial companies, can then build on and use the findings of scientific research centers. In a research laboratory, for example, an electron microscope may be used for particle analysis or material characterization. In biomedical research, electron microscopy can be used to investigate the molecular nature and mechanisms of disease, view the 3D structure of biological tissues or cells, determine protein structure, and observe viruses in a biological context. These findings can then be passed on to industry research centers, which will focus on utilizing the data to provide a solution. For instance, information about the nature of the disease could be used to develop medications to manipulate the results.
Higher refining and resolving power
The primary reason driving market expansion is electron microscopes' improved refining and resolving capacity, which provides enhanced output images extending up to several nanometers. Furthermore, the market is expanding because of increased demand for nanotechnology-based devices. Electron microscopes have a higher resolving power than light microscopes. They can see the structure of smaller devices. Electron microscopes are frequently used to investigate the ultrastructure of a variety of biological and inorganic specimens, including cells, microbes such as bacteria, biological macromolecules, biopsy samples, alloys, crystals, and metals. Quality control and analysis can also be performed using electron microscopes. Modern electron microscopes generate electron micrographs by capturing images with digital cameras and frame grabbers.
Restrains:
High production cost
Electron microscopes' high production and upkeep costs are the primary factors limiting their market expansion. Furthermore, the specialized conditions required for proper equipment operation are a major constraint in this industry. Because of technological advancements, people's attitudes towards microscopes have shifted. High-end microscopes, such as electron microscopes, scanning probe microscopes, and digital microscopes, are gradually losing favor with conventional microscopes due to their advanced features, higher resolution, and magnification power. However, the prices for these microscopes range from USD 25,000 to USD 2 million, making them prohibitively expensive for hospitals, pathologist laboratories, and small companies.
Opportunities:
Rising technological advancement
The rapid advancement of nanotechnology is propelling the scanning electron microscope market forward. The growing consumer desire for smaller, more efficient devices at lower prices, combined with the growing demand for product miniaturization, has accelerated the development of nanotechnology in a variety of industries. Furthermore, the use of electron microscopes enables the creation of three-dimensional images in a variety of industries. Based on precise images, manufacturers can select optimal manufacturing materials, ensuring product stability and durability. These factors are anticipated to drive market growth during the forecast period.
The rising prevalence of various chronic diseases is expected to increase the demand for advanced R&D activities. As a result of the increased demand for R&D and funding, infrastructure in healthcare and other industries is improving. As a result, the growing number of laboratories in academic institutions and industries such as semiconductors and material sciences, among others, is expected to drive demand for scanning electron microscopes. The increasing use of scanning electron microscopes to review surface morphology and properties such as topography, fractography, and qualitative analysis, among other things, will support market growth.
Technology advancements in scanning electron microscopes enable the generation of data in digital form, which speeds up the instrument's operation. It also reduces the number of steps required for sample preparation. These factors are expected to contribute to the overall growth of the market during the forecast period.
Covid 19 impact:
The global spread of the COVID-19 pandemic has had a significant impact on the semiconductor industry. The COVID-19 pandemic has had a significant impact on global commercial and economic activity. This is expected to have a positive impact on the microscopic software industry for healthcare, but a negative impact on the microscopic software industry for the automobile, semiconductor, and aerospace industries.
The business continuity and supply chain have been severely impacted as governments in several countries announced nationwide lockdowns and temporary closures of various industries. Prices for semiconductor components have risen by 2-3% due to a supply shortage caused by the shutdown of manufacturing units. Furthermore, trade barriers have widened the demand-supply gap.
Segments Insight:
The electron microscopy market is divided into three categories: type, application, and end user. The increased use of electron microscopes in research and manufacturing processes is a major driving force in the global electron microscopy market. Furthermore, electron microscopes are widely used in the field of semiconductor materials for circuit editing and analyzing circuit failure, which significantly increases their demand and, as a result, the electron microscopy market growth.
Furthermore, they are used in clinical trials, pathology, diagnosis of diseases, toxicology, and a variety of other sub-disciplines in the life sciences. Electron microscopy can also be used to characterize materials, study their internal structures, and for a variety of other purposes. It is also used in food, forensics, healthcare, chemical and other industries. The commercial and industrial sectors have high growth potential in the electron microscopy market.
Furthermore, the electron microscopy market opportunity exists in food, forensics, chemical, healthcare, and other industries. According to the latest developments in electron microscopy, the most widely used technologies are immune electron microscopy and cryo-electron microscopy. The electron microscopy industry is expected to grow progressively in the forecasted period due to increased demand for these technologies.
Type Insights:
The scanning electron microscopes dominate the electron microscopy market. The scanning electron microscope segment contributed the most revenue to the market and is expected to grow at a healthy CAGR due to an increase in demand for nanotechnology-based research. In medical science, SEMs are used to compare blood and tissue samples to determine the cause of illness and measure the effects of treatments on patients (while contributing to the design of new treatments). Typical applications include recognizing diseases and viruses, new vaccines and medicines being tested, and comparing tissue samples from patients in a control and test group testing samples over a patient's lifetime.
Electron Microscopy Market Revenue, By Type, 2022-2032 (US$ Million)
| | | | | |
| --- | --- | --- | --- | --- |
| Type | 2022 | 2023 | 2027 | 2032 |
| Scanning Electron Microscopy | 1,125.0 | 1,196.6 | 1,579.2 | 2,373.4 |
| Transmission Electron Microscopy | 298.3 | 315.0 | 403.7 | 584.5 |
Application Insights:
In 2022, the life science segment dominated the overall market, accounting for more than 26% of total revenue. Some of the factors contributing to the segment's large market share include the increasing prevalence of chronic diseases, which has led to increased R&D expenditure and demand for digital microscopes in the fields of life sciences and medicine. Life science, material science, nanotechnology, semiconductors, and other application segments are among those being studied in the industry.
Electron Microscopy Market Revenue, By Application, 2022-2032 (US$ Million)
| | | | | |
| --- | --- | --- | --- | --- |
| Application | 2022 | 2023 | 2027 | 2032 |
| Lifesciences | 991.5 | 1,053.5 | 1,384.4 | 2,069.8 |
| Material Sciences | 884.9 | 949.7 | 1,299.4 | 2,043.8 |
| Semiconductors | 1,446.8 | 1,543.6 | 2,062.2 | 3,148.2 |
| Nanotechnology | 391.8 | 423.8 | 597.3 | 972.8 |
| Others | 227.6 | 240.1 | 306.1 | 439.7 |
Material science was the second-largest end-use segment overall. SEM has become an established characterization tool in materials science. In materials science, SEMs are used for quality control, research, and failure analysis. Investigation and research on nanofibers and nanotubes, high mesoporous architecture, temperature superconductors, and alloy strength are all heavily reliant on nanofibers and nanomaterials.
Regional Insights:
North America is a major regional market for scanning electron microscopes. The presence of major players specializing in product innovation, as well as rising expenditure on R&D activities, are driving regional market expansion. Furthermore, the presence of many educational institutions and scientific and technological facilities, particularly in the United States of America, creates a significant opportunity for a growing market.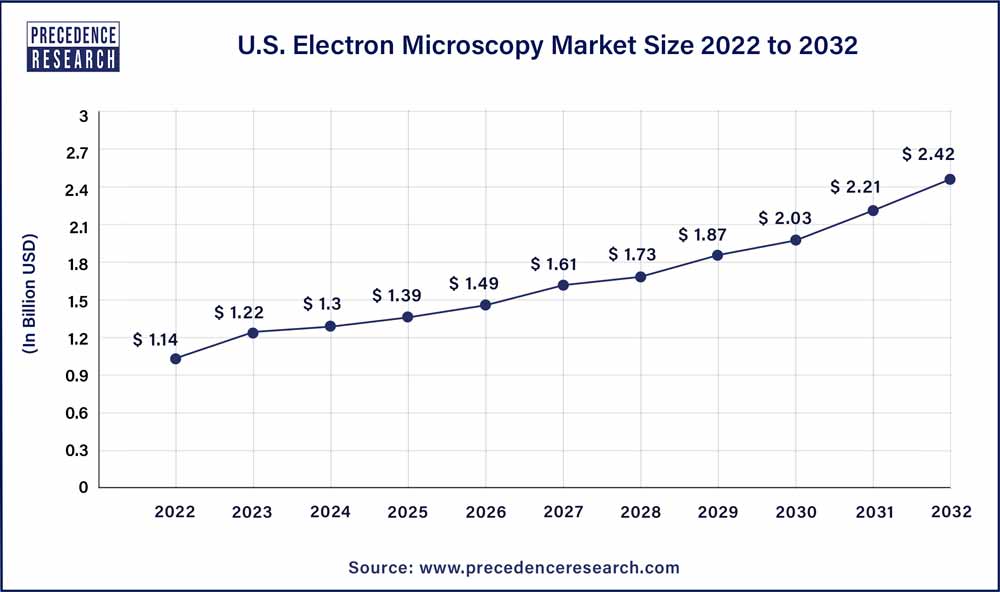 The expansion of research and development facilities in Europe has benefited this market in the region. The Asia Pacific region is also important in the market, with China, Japan, and India all contributing significantly to market growth. Increased government grants to develop the research and development sector, as well as rising demand for skinny wafers, particularly in the semiconductor industry, are some of the major factors driving market growth in the Asia Pacific region.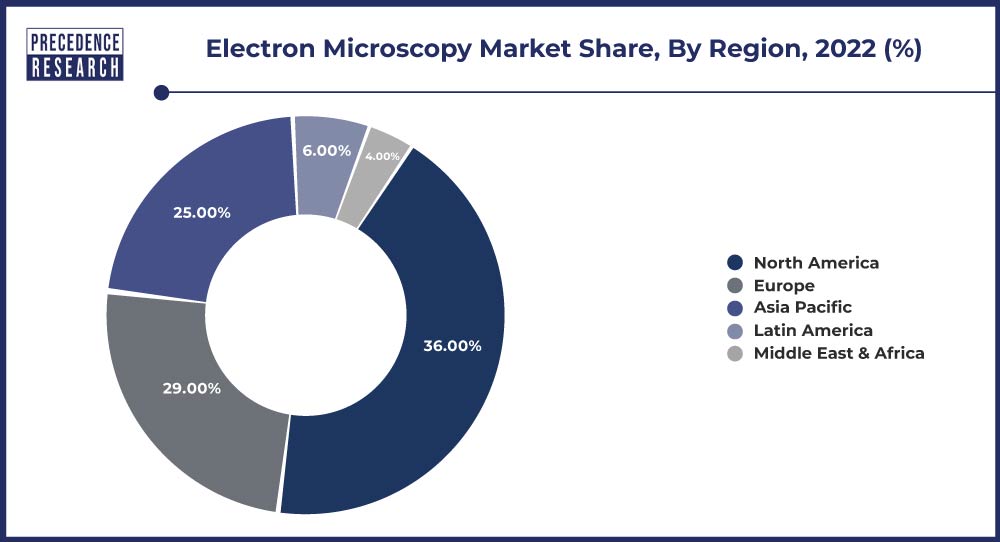 Germany electron microscopy market was valued at USD 333.3 million in 2022 and is expected to expand at a CAGR of 8.5% from 2023 to 2032.
UK electron microscopy market was valued at USD 187.2 million in 2022 and it is predicted to grow at a CAGR of 9.0% between 2023 and 2032.
Japan electron microscopy market was valued at USD 414.6 million in 2022 and it is projected to grow at a CAGR of 23.4% from 2023 to 2032.
China electron microscopy market was valued at USD 357.4 million in 2022 and it is expanding at a CAGR of 11.5% from 2023 to 2032.
Recent Development:
In 2022, Hitachi High-Tech Corporation announced the opening of its "Advanced-Technology Innovation Center Naka (ACN)" in Hitachinaka as a demonstration and collaboration center. It will strengthen customer collaboration to accelerate integrated solution development in the electron microscopy and probe microscope sectors.
In 2022, Thermo Fisher Scientific Inc., an American supplier of scientific instruments, announced the USD 17.4 billion acquisition of PPD, Inc. Thermo Fisher will be able to provide a full range of world-class clinical development services, from scientific discovery to analyzing safety, health-care outcomes, efficacy, managing clinical trial logistics, and drug development and manufacturing, because of its acquisition of PPD.
In 2022, Bruker, an American scientific instrument manufacturer, announced remarkable advances in multi-omic tissue imaging and highly multiplexed spatial proteomics with a wide field of view. Furthermore, because of Bruker's strategic partnership with AmberGen, key enhancements for mass spectrometry imaging MALDI HiPLEX-IHC were introduced.
Key Market Players:
Danish Micro Engineering (DME)
Thermo Fisher Scientific
Hitachi High Technologies Corp.
JEOL Ltd.
Leica Microsystems
Nanoscience Instruments, Inc.
Nikon Corp.
Olympus Corp.
Carl Zeiss
Segments Covered in the Report:
(Note*: We offer report based on sub segments as well. Kindly, let us know if you are interested)
By Type
Scanning Electron Microscopy (SEM)
Transmission Electron Microscopy (TEM)
Others
By End User
Industries
Academic and Research Institutes
Others
By Application
Lifesciences
Material Sciences
Semiconductors
Nanotechnology
Others
By Geography
North America
Europe
Asia-Pacific
Latin America
Middle East and Africa