The global end-of-line packaging market size was estimated at USD 5.7 billion in 2021 and is expected to hit around USD 8.1 billion by 2030 with a registered compound annual growth rate (CAGR) of 3.98% from 2022 to 2030.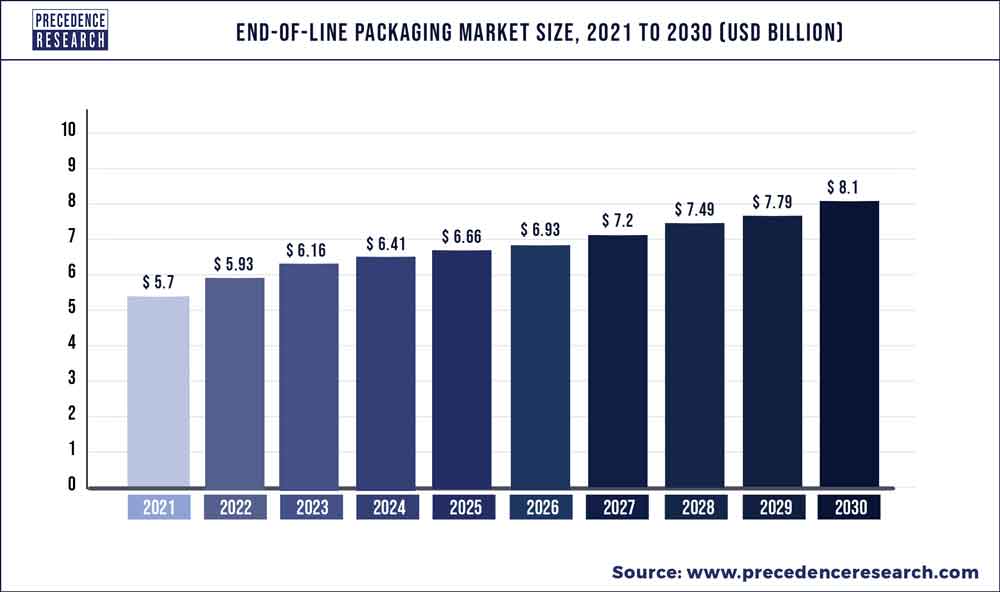 Future developments in the worldwide end-of-line packaging industry are being driven by the increasing acceptance of end-of-line packing to lower packaging costs and enhance packaging systems in different end-use industries. End-of-line packaging market growth will be fueled by the industrial sector's quick acceptance of computerized end-of-line packing and the growing preference for automated production processes. The industry for end-of-line packing will experience important changes and opportunities due to the increase in packaged beverage consumption. The increased desire to enhance work conditions using automation is a crucial element boosting the need for end-of-line packing. This kind of packaging is being used by a variety of end businesses to save packaging costs and enhance the packing of their products.
Additionally, it supports the acceptance trends for end-of-line packing by reducing the varying demand for bespoke packaging sizes and varied package forms for various commodities. End-of-line packaging refers to the group of tools and devices used to complete the shipping container before shipping or other final conveyance of the goods. This kind of technology ensures that the procedures involved run without any problems while also helping to satisfy the end-users expanding demands. Carton erectors, stretch wrappers, packers & sealers, provide productivity, and any other ancillary facilities required to finish packaging for shipping are included in this equipment.
Additionally, by improving production efficiency to quantity, process automation helps employers make greater utilization of the workforce they already have on board. Additionally, it lessens the need for specialized labor, allowing individuals to focus on developing other crucial abilities. While automated end-of-line packing equipment is semi-automated and autonomous end-of-line packing devices still require employees to do some tasks.
Report Scope of the End-of-Line Packaging Market
| | |
| --- | --- |
| Report Coverage | Details |
| Market Size in 2022 | USD 5.93 Billion |
| Market Size by 2030 | USD 8.1 Billion |
| Growth Rate from 2022 to 2030 | CAGR of 3.98% |
| Base Year | 2021 |
| Forecast Period | 2022 to 2030 |
| Segments Covered | Technology, Order Type, Function, Source, Product, End User, and Geography |
| Companies Mentioned | ADCO Manufacturing, Akash Packtech (P) Ltd. (India), B&R (Austria), Busch Machinery Inc (US), Clear pack India Pvt. Ltd., Coesia Group (Italy), Combi Packaging Systems, LLC (US), DS Smith (UK), Duravant. Company (US), EndFlex, (US), Endoline Machinery Ltd (UK), Festo Inc (Germany), FlexLink (Sweden), Fromm Group (Switzerland), Gebo Cermex, Hualian Machinery Group Co., Ltd, Ima S.p.A., INFINITY AUTOMATED SOLUTIONS PVT. LTD, J+P Maschinenbau GmbH, Krones AG, Lantech, (US), Massman Automation Designs, LLC (US), Venia LLC, OPTIMA packaging group GmbH (Germany), ProMach (US), Quin Systems Ltd, RADPAK (Europe), Robert Bosch GmbH (Germany), Rovema GmbH, Schneider Packaging Equipment Company, Inc (US), Shemesh Automation LTD. (UK), Stevanato Group, Synerlink ( A Barry-Wehmiller Company), Syntegon (Bosch Packaging Technology), Tekpak Automation, Uhlmann Pac-System, WestRock Company |
Growth Factors:
The demand for the end-of-line package is expected to increase dramatically in the next years. There is little disagreement regarding the overpowering importance of packaging technology in the fields of healthcare, semiconductors, and medicines. There is little disagreement over the food industry's domineering ability to adopt new packaging methods. End-of-line packaging has come under the limelight due to the requirement to draw consumers' interest with enticing packaged foods. Given these elements, it is reasonable to assume that the end-of-line packing industry would experience profitable growth.
The operational characteristics of the industries of food and beverages have changed dramatically during the past several months. This is a direct result of the coronavirus pandemic, which sparked enormous fear throughout the world. Food producers adjusted their packaging strategies going forward to include statements on convenience and safety. In light of these developments in safety packages, the end-of-line packaged food marketplace is growing globally. In addition, other well-known sectors including medical and pharmaceutical have also embraced end-of-line packing methods. It is safe to say that, given the view of these developments, the worldwide end-of-line package industry would expand at a phenomenal rate in the years to come.
Recently, the end-of-line packaging market has seen increased resiliency from the semiconductors and electronics sector. The accessibility of packing technologies and procedures adds to the unmatched value of creating cutting-edge machinery and devices. The end-of-line packing industry is now at a crucial turning point in its development and growth. A variety of opportunities have emerged in the worldwide end-of-line packaging industry as a result of the usage of packaging systems for product placement. Both new and existing market players may find a wide array of options in the upcoming ten years.
What are the drivers of end-of-line packaging market?
Increased demand for automation: There is a significant demand for goods from all around the globe due to the widespread use of online shopping and the internet, which has turned the world into a global marketplace. All kinds of necessities and luxury goods are required, so there do need to be supplies. For case, the global population will increase by several folds throughout the projection period. As a result, there will be greater demand for food, increasing food security. End-of-line automation is needed to distribute the invention efficiently and manage all standard requirements so that there is never a food shortage or slightly additional essential product for the entire populace.
Reduce the workforce and production pace: End-of-line the packing growing market is predicted to expand with the rising need for lower manufacturing costs and labour costs. End-of-line wrapping has enhanced the entire manufacturing process and reduced the risk of human error. This will probably help the end-of-line package sector develop.
Utilization of robotic packaging systems: To increase the productivity of the packing process, robotic hands are quickly added. The manual tasks involved in packing are reduced by robotic devices. A mechanical support makes it possible to increase production rates, which increases return on investment then lowers operating expenses. Use mobile robots for light packing in end-of-line padding to reduce the likelihood of breakage.
Key Market Challenges:
The reasonably priced, high-quality goods: It is expected that ensuring automated performance corresponds with customer desire will pose significant obstacles and restrain market expansion. Consumer preferences for more affordable, high-quality products have changed significantly over the past few years. Therefore, throughout the projection period, the industry for end-of-line packing may face significant challenges in ensuring that automated effectiveness coincides with manufacturing.
Key Market Opportunities:
Growing e-commerce and retailing industries: E-commerce and retail are expanding quickly, which raises consumer demand for goods with nice packaging. Therefore, end-of-line packing improves package effectiveness, which is crucial in developing lucrative market expansion potential.
Increased demand within the food sector: During the projected timeframe, the industry for end-of-line packages is expected to benefit from increasing demands in the manufacturing food and beverages industry. It is commonly utilized in the food sector to manufacture foods and other beverage items since they need to be properly packed for retail trade displays, covered, labelled, and cartooned. Additionally, it increases the security of the goods while being transported and stored. According to estimates, this will accelerate the future growth for end-of-line packing in the next years.
Segments Insight:
Technology Insights
Because end-use industries are increasingly using automated technology to cut labor and manufacturing costs, the autonomous sector will continue to dominate the worldwide market for end-of-line packing throughout the forecasting. The need for effective merchandise on the market & end-of-line packing is rising as a result of the quickly expanding e-commerce and retail sectors. Improvements in package efficiency brought about by end-of-line packaging are significant aspects that foster the development of lucrative end-of-line product market prospects. To increase the efficiency of production, robotic digits are immediately included in the assembly process.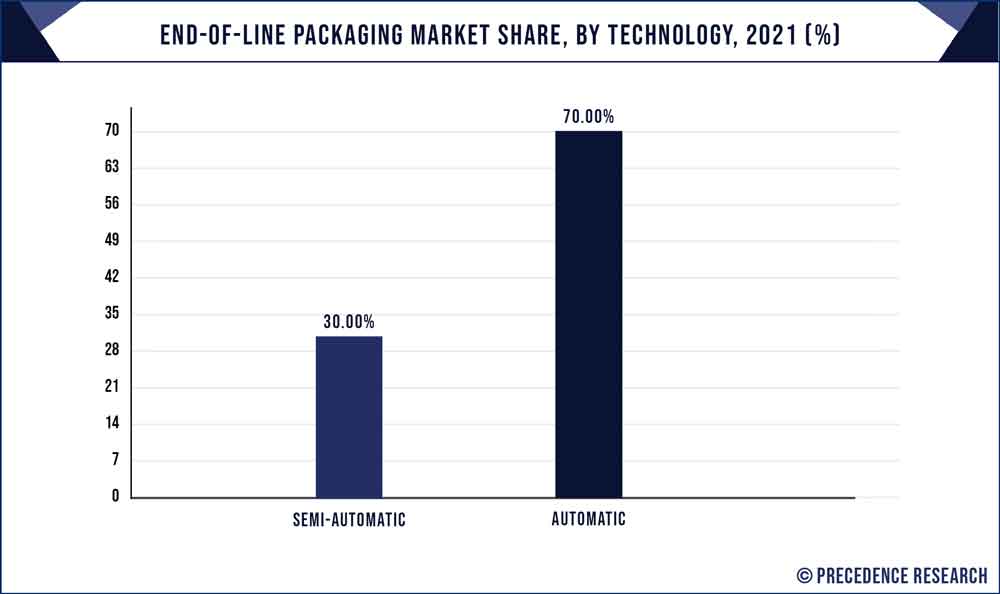 Mechanical tasks are minimized by the mechanical manipulator in the bundle. Robotic arms increase production efficiency, which lowers operational costs and yields a good investment return. The industry for end-of-line packing is expected to expand overall throughout the projected timeframe. Additionally, it reduces the requirement for businesses to train their packaging staff each time a new package technique is deployed. In addition, the industrial robot for end-of-line wrapping removes manual duties like packing, palletizing, and sorting, lowers the possibility of damaged goods, and reduces potential mistakes, all of which have raised the value of end-of-line packages in the industrial sectors.
Function Insights
The largest portion belongs to freestanding end-of-line packaging equipment. Standalone machinery is automated or semi-automatic lines that operate independently of other pieces of equipment. Self-contained devices are frequently chosen by newcomers to the market who seek to preserve their working capital. A unified package line is created by unified end-of-line packaging equipment, and all processes are connected via modelling programs or control mechanisms. All processes, including carton, erecting, packing, sealing, palletizing, stretch packing, and labelling, are handled by a unified end-of-line packaging. The comprehensive end-of-line manufacturing system handles all tasks including carton erecting, palletizing, stretch wrapping, packing, sealing, and labeling.
Depending on the order type, the individual care segment is anticipated to grow profitably and should reach a value of moreover over by 2021. End-of-line businesses are choosing customized products and solutions more and more. Therefore, by 2030, it is anticipated that the adding custom company's overall share would rise. During the projection period, consumption from the accepted order segment dominated is anticipated to rise as businesses choose standardized methods to enhance end-of-line packing productivity.
End-User Insights
Due to the increased use of packaged beverages, the Food and beverages category is anticipated to dominate the worldwide market throughout the estimated period. In addition, the medicines sector is anticipated to have substantial growth as vendors increasingly adopt cutting-edge end-of-Line Packing technologies to enhance product provenance.
End-of-Line Packaging Market Share, By Region, 2021 (%)
| | |
| --- | --- |
| Regions | Revenue Share in 2021 (%) |
| North America | 19% |
| Asia Pacific | 27% |
| Europe | 43% |
| Latin America | 6% |
| MEA | 5% |
What is the regional impact on the end-of-line packaging market?
Due to the increasing demand for varied packaging specifications for a variety of products, the European region currently holds a monopoly on the global market for the end-of-line package. The development of the dairy, medicinal, and packing equipment businesses will also greatly impact this country's end-of-line packaging industry. It is necessary to increase productivity, efficiency, and handling safety. There's a lot of demand. Automated end-of-line equipment can assist in meeting these expanding expectations. Machine makers integrate automation to help end customers in Europe by reducing the operational capability of end-of-line packing equipment and handling. Adding sufficient levels, including machine views, security protocols, and even surveillance systems, resulting from the switch from partially automated end-of-line systems to completely automated end-of-line systems. These elements will affect the sales of end-of-line packing equipment in Europe.
Asia's urbanization and industrialization have significantly improved the region's manufacturing sector. Many companies and marketing companies have indeed been drawn to Asia's growing markets, including Malaysia, India, and China. Companies from nations like India, China, and Japan are experiencing growth in the crucial industries of material extraction, manufacturing, and communications. The Chinese end-of-line packing market is anticipated to expand significantly over the projection timeframe as a result of the rising demand for high-quality products. For electronics and high-volume commodities, China was the primary location for manufacturing in the food and pharmaceutical industries. Leading end-of-line packing equipment manufacturers and marketing companies are attempting to move their production plants to develop nations due to the availability of raw materials and cost optimization.
Companies in the Asia Pacific region provide end-of-line packing with an emphasis on packing technology that reduces footprint, prices, and work. Currently, just a few businesses have lower-needed goods, and the emphasis of the present end-of-line package players is mostly on enhancing efficiency. Over the projection period, the Asian Region's end-of-line packing market has the greatest value CAGR.
Recent Developments:
Schneider Packaged, a provider of end-of-line packaged food industrial automation, announces the hiring of Michael Odom as its new CEO in July 2022. Michael Odom will be in charge of the company's business operations and strategies.
Serpa Packing, a top supplier of cartooning and end-of-line systems, was bought by ProMach in 2021. Serpa complements ProMach's range of automation cartooning equipment and greatly enhances ProMach's line connectivity and specific corrugated boxes integral approach for the quickly expanding pharma companies.
Cloud Packing Systems is acquired by Duravant Company in 2020. Additionally, Duravant stated that Mespack-Cloud, a Duravant Company, will replace Cloud Products And solutions as the original company due to the synergy between Mespack, a Duravant investment group, and Cloud's market segments.
Segments Covered in the Report:
(Note*: We offer report based on sub segments as well. Kindly, let us know if you are interested)
By Technology
By Order Type
By Function
Stand Alone
Integrated
Labelling
Palletizing
Stretch wrapping
Carton Erecting Sealing
Packing
Others
By End User
Food and Beverages
Pharmaceutical
Electronics and Semiconductor
Automotive
Chemical Products
Consumer Products
Others
By Geography
North America
Europe
Asia-Pacific
Latin America
Middle East & Africa (MEA)