The global fats and oils market size was valued at USD 245.69 billion in 2022 and it is projected to surpass around at USD 376.1 billion by 2032, recording a CAGR of 4.40% during the time frame 2023 to 2032.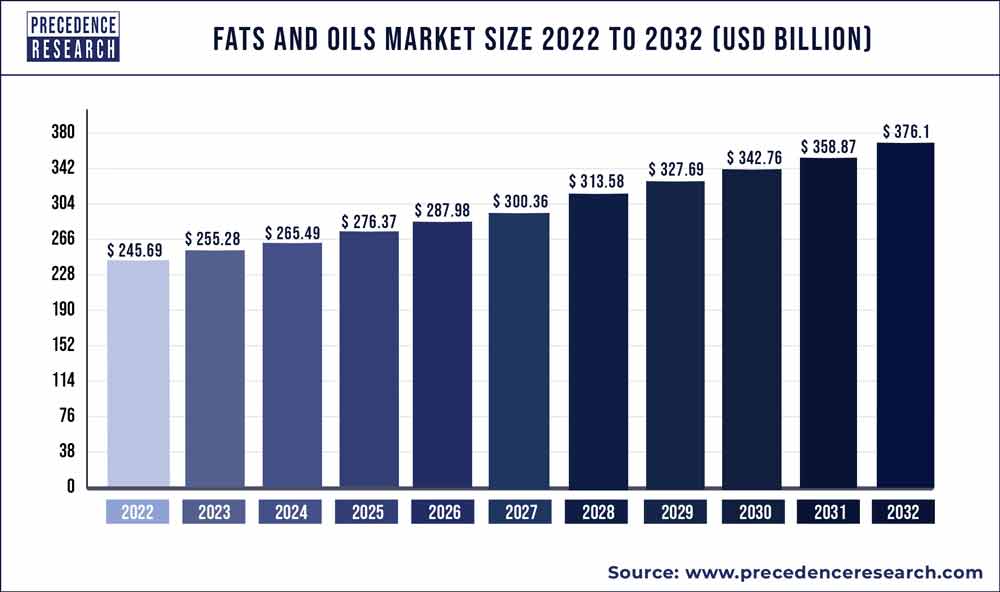 Growth Factors
Fats and oils are basic or blended glyceryl esters of different natural acids, which have a place with the unsaturated fat series; they are gotten from plant or creature sources. Essential wellsprings of fats and oils incorporate plant sources, like soybean, palm, rapeseed, olive oil, and sunflower oil; creature sources incorporate spread and margarine, fat. The fats and oils market has been filling consistently in created nations and arising nations, like the US, Brazil, China, India, and Indonesia. Among vegetable oils, palm oil stayed the most well-known with around 30% of the piece of the pie. Fats track down significant applications in pet food, creature feed, and other modern purposes, for example, biodiesel and oleochemicals. Oils of plant beginning have been transcendently utilized for food-based applications. The fats and oils market, by structure, is assessed to be overwhelmed by the fluid portion in 2022.
The development of this market is credited to the expanded mindfulness about better substitutes to trans-fat, interest for a more nutritious and adjusted diet among customers, and supportable food and energy frameworks. The huge utilization base in Asia Pacific, i.e., powerful handled food sources and modern applications for fats and oils, makes it the quickest developing district during the conjecture time frame. Asia pacific fats and oils market is significantly determined by China and India, attributable to the change in utilization designs and the high imports of vegetable oils and fats.
Significant purchasers of fats and oils, which including families, inns, eateries, bistro, were incredibly impacted by COVID-19. During the lockdowns, the utilization design moved from requesting to self-cooking. The lockdowns likewise affected the families as the corporate store was disturbed and the general stores were shut. From the stockpile side, oilseed ranches, oilseed smashers, and different partners were impacted because of the exchange obstructions across the globe. Significant oil-delivering nations, like Malaysia, Indonesia, the US, and Brazil, confronted disturbance in the store network as the products declined radically and homegrown dispersion was antagonistically impacted.
The organic market for fats and oils in the worldwide market has moved due to the Covid emergency, with a rising vulnerability connected with costs. Palm oil, which is the biggest kind of oil created universally, confronted the effect as request dropped across the world, exchange was upset, and creation got hampered in Indonesia and Malaysia, as per the top vegetable oils makers, for example, Wilmar International and Mehwah Group, which work in the area. Endeavors were being made in numerous nations to keep up with strength on the lookout. As per the Indonesian Palm Oil Producers Association (GAPKI), products to China plunged by 57% in January 2019-2020. State run administrations from nations like India, China, and the US made exceptions for the area to proceed with their organizations with insignificant limit in the midst of the lockdowns. As the creation proceeded, these organizations could relieve the impressive effect by the progression of tasks.
Fats and oils track down applications in spread, cooking oil, salad, creature feed, unsaturated fats, biodiesel, paints, individual consideration items, lubes, and ointments. The rising populace, combined with changes in ways of life, prompting an expansion in utilization of eatable oils and handled food varieties, is driving the expansion in the utilization of fats and oils. Organizations fabricating eatable oil or cooking oil are situating their items as sound oils to acquire portion of the overall industry as the clients are zeroing in on devouring good food. The rising interest for greases is supposed to help the worldwide development of the oils and fats market. The interest for great oils is developing as customers are selecting better choices to keep up with the taste while improving the healthy benefit. To fulfill this need, makers are making do on handling advancements and furthermore improving their item portfolios. ADM (U.S.), alongside Novozymes (Denmark), fostered an innovation that changed the fats and oils industry. This innovation helped the organization in assembling top notch consumable oils by using compounds in the creating system.
Biodiesel is an option in contrast to diesel fuel from petroleum derivative energy sources. It enjoys an upper hand over diesel fuel as it doesn't run out and keeps on filling in the fields. Rapeseeds, soybeans, the product of oil palms, and, surprisingly, old palatable fats are great for biodiesel creation. It is a non-poisonous, biodegradable, and inexhaustible fuel created from a scope of sustainable unrefined components, like new or squander vegetable oils, creature fats, and oilseed plants. Natural similarity of land use, an unquestionable saving of nursery discharges, and concurrence with food creation are the principal guidelines of supportability kept up with in biodiesel creation. Thus, biodiesel and palatable vegetable oils are created with less hurtful effect on the climate. Additionally, the increasing expenses of diesel fuel and constant climatic changes because of the outflow of ozone depleting substances drive the market for the creation and use of biodiesel.
Inferable from the expanded wellbeing cognizance among shoppers, trans-fats are step by step supplanted by a lot better substitute, specifically unsaturated fluid vegetable oils, like olive, canola, corn, or soy oils. The worldwide market has been seeing the pattern of embodiment. A few key producers are presently planning on embodying milk fat and vegetable oils in a grid containing whey proteins and combinations of caseins and whey proteins. These fat-rich powders track down applications in different food plans as well as in dietary enhancements and drug items. In the worldwide fats and oils market, premium oil types, for example, olive and sunflower, witness more exorbitant costs attributable to their unrefined components costing, predominant name cases, and worth added healthful profiles. Western business sectors of Europe and North America stay the objective for such premium classes of oils and fats, subsequently seeing similarly more exorbitant costs than the worldwide normal. Subsequently, the element is driving the market an incentive for fats and oils in the worldwide business sectors.
Report Scope of the Fats and Oils Market
| | |
| --- | --- |
| Report Coverage | Details |
| Market Size by 2032 | USD 376.1 Billion |
| Growth Rate from 2023 to 2032 | CAGR of 4.40% |
| Europe Market Share in 2022 | 47% |
| Fastest Growing Region | Asia Pacific |
| Base Year | 2022 |
| Forecast Period | 2023 to 2032 |
| Segments Covered | Type, Application, Form, Source, Geography |
| Companies Mentioned | Associated British Foods PLC (UK), Archer Daniels Midland Company (ADM) (US), Bunge Limited (US), Wilmar International Limited (Singapore), United Plantations Berhad (Malaysia), Unilever PLC (UK), Ajinomoto Co., Inc. (Japan), Mewah International Inc. (Singapore) |
Type Insights
The medical advantages, simple accessibility, and cost-adequacy are a portion of the variables that has driven the market for fats and oils. Inside vegetable oils, the palm oil portion has ruled the market, as it is effectively accessible and is moderately more steady than different oils.
Source Insights
Vegetable oils from sunflower, rapeseed, soybean, palm, cottonseed, and coconut are profoundly utilized in food applications which have driven the market for vegetable-obtained oils. The characteristics related with vegetable oils like low-fat, low-cholesterol, and low-calories content are enrolling development in the fragment. Likewise, the assortment of purpose of vegetable oils in food as well as different ventures, for example, pleo-compound businesses, creature feed, and energy and biomass industry has additionally determined the market for vegetable oils.
Form Insights
The fluid type of fats and oils is guage to rule the market. In any case, the actual qualities of fats and oils relies on a ton of elements, for example, level of unsaturation, the length of the parent carbon chain, the isomeric types of the unsaturated fats, sub-atomic design, and handling factors, yet it is accepted that the fluid oils are more unsaturated and are consequently more liked by the shoppers.
Regional Insights
Europe accounted largest revenue share of around 47% in 2022.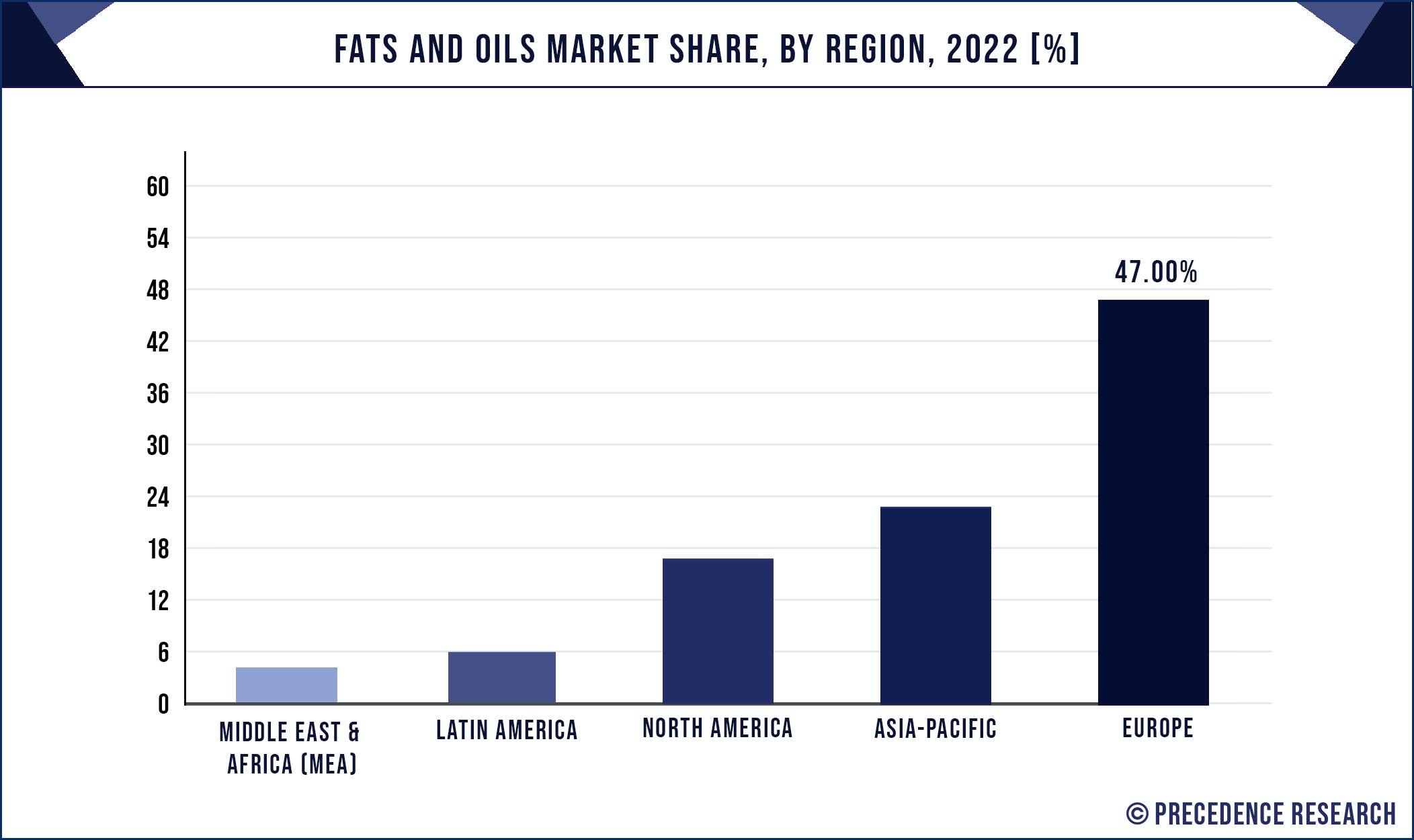 The Asia Pacific locale is projected to be the quickest developing business sector for fats and oils. The area is home to two significant endlessly palm portion oil-creating nations to be specific Malaysia, and Indonesia: and two significant fats and oils consuming nations in particular China, and India. This is one of the critical components which guarantees that Asia pacific district is the biggest as well as the quickest developing business sector in fats and oils.
Some of the prominent players in the global fats and oils market include:
Associated British Foods PLC (UK)
Archer Daniels Midland Company (ADM) (US)
Bunge Limited (US)
Wilmar International Limited (Singapore)
United Plantations Berhad (Malaysia)
Unilever PLC (UK)
Ajinomoto Co., Inc. (Japan)
Mewah International Inc. (Singapore)
Key Market Developments
In June 2021, Cargill spread out plans to fabricate another USD 200 million palm petroleum treatment facility in Indonesia to speed up its endeavors to foster a reasonable palm store network and give checked sans deforestation items to clients.
In May 2021, ADM wanted to fabricate its very first committed soybean squashing and processing plant in the US to fulfill the quickly developing need from food, feed, modern and biofuel clients, including makers of sustainable diesel.
In December 2018, Richardson International procured Wesson Oil brand of Conagra Food Inc. which is a notorious eatable oil brand in the US. The item offering incorporates vegetable oils, canola oils, corn, and mixed oils which would assist Richardson with laying out serious areas of strength for an in the North American market.
Segments Covered in the Report
(Note*: We offer report based on sub segments as well. Kindly, let us know if you are interested)
By Type
Vegetable Oils
Palm Oil
Soybean Oil
Sunflower Oil
Rapeseed Oil
Olive Oil
Other Oils
Fats
Butter & Margarine
Lard
Tallow & Grease
Other Fats
By Application
Food
Bakery & Confectionary
Bakery
Confectionery
Processed Food
Snacks & Savory
R.T.E foods/Convenience foods
Sauces, spreads, and dressings
Other foods (incl. meat products)
Industrial
Biodiesel
Other Industrial
Oleochemicals
Animal feed
By Form
By Source
By Geography
North America
Europe
Asia-Pacific

China
India
Japan
South Korea
Malaysia
Philippines

Latin America

Brazil
Rest of Latin America

Middle East & Africa (MEA)

GCC
North Africa
South Africa
Rest of the Middle East & Africa