The global flavors and fragrances market size was recorded at USD 29.27 billion in 2022 and is expected to hit around USD 48.82 billion by 2032 with a registered CAGR of 5.3% during the forecast period 2023 to 2032.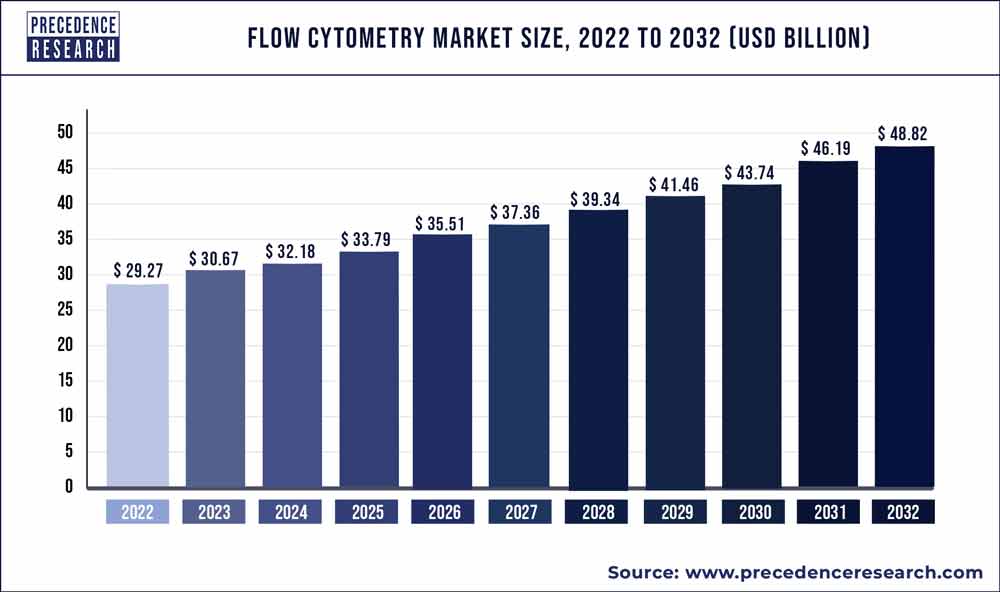 Access our Premium Real Time Data Intelligence Tool, Visit: Precedence Statistics
Key Takeaways:
Asia Pacific market was dominated by a 32% revenue share in 2022.
By application, the fragrances segment has dominated revenue share of around 54% in 2022.
The fabric care segment is expected to grow at a CAGR of 8.2% from 2023 to 2032.
By ingredients type, the aroma chemicals segment has accounted revenue share of over 64.5% in 2022.
The natural segment is expected to reach around 5.6% from 2023 to 2032.
The healthcare and pharmaceutical industries are increasingly using flavors and scents to give drugs that would normally taste & odor bitter a more pleasing flavor and aroma. These factors are fuelling the expansion of the flavors & fragrances industry. To promote customer perception, particularly among young children and infants, they are utilized in tablets, emulsions, syrups, ODT, and elixirs among many other products. For example, pharmaceutical goods including suspensions, antacid tablets, and purgative tablets frequently use peppermint as a flavoring ingredient. It mostly works as a topical therapy and has a cooling or reviving effect. Preference for organic or natural tastes and perfumes is rising as a result of customer recognition of environmental deterioration. For instance, Takasago International Company works with Largest River Citrus Producers, a major citrus processor in the United States, to make citrus oils and smells at the Citrus Centres in Florida.
Key market participants are taking advantage of the shift in consumer purchasing patterns from synthetic to natural scents and flavors to grow their markets and support sustainable development. Constantly new methods are being developed to improve the items' appeal and consumer acceptance. The first French company and a global leader, MANE, has been utilizing the extrusion technique. Both cost-effective and incredibly adaptable, this technology. These elements are anticipated to fuel market sales growth, and the current pattern is anticipated to last throughout the projected period.
Growth Factors
The increased demand and usage of packaged foods, personal-care products, including cosmetic items around the world are predicted to be the main drivers of the device's demand. Growing population expansion combined with rising expendable cash in emerging nations like China and India is anticipated to increase consumer demand for cosmetics and personal care items. Additionally, it is projected that the hectic lifestyle patterns maintained in both developed and emerging nations would increase the demand for processed foods & beverages, raising the need for flavors on the worldwide market.
Due to the high expense of processing natural perfumes and tastes and the scarcity of resources, industry players have created synthetic replacements that are less expensive. The benefits of these items include consistent supply, stable pricing, and cheaper production costs. It used to be common for dealers to enter into multi-year contracts with other dealers, but this sort of contract is no longer in vogue. While added as auxiliary raw ingredients to other items, flavors and scents are not directly consumed by people.
In addition to other end-user sectors, they are frequently employed in everyday chemicals, medicine, food, tobacco, feed, textiles, cosmetics, and leather. It may be minor, but it's important for product quality. Cultivating spices, rearing animals, producing petrochemicals, coal chemicals, and oil extraction are industries that are upstream of the taste and scent industry. Chemicals, tobacco, food and beverage, feed, as well as other industries, make up the majority of the downstream. This market's expansion is primarily attributable to the rising demand for ready meals, convenience foods, and foods promoting health and well-being worldwide. A rise in the demand for vehicle and room fresheners, and an increase in the popularity of aromatherapy, with growth within cosmetic and pharmaceutical sectors, are key drivers propelling the market.
Report Scope of the Flavors and Fragrances Market
Report Coverage
Details
Market Size in 2023
USD 30.67 Billion
Market Size by 2032
USD 48.82 Billion
Growth Rate from 2023 to 2032
CAGR of 5.3%
Largest Market
Asia Pacific
Fastest Growing Market
Europe
Base Year
2022
Forecast Period
2023 to 2032
Segments Covered

By Ingredients
By End-Use
By Application

Regions Covered

North America
Europe
Asia-Pacific
Latin America
Middle East & Africa

Key Market Drivers
Consumer appetite for convenience foods is rising
Foods classified as convenience foods are those that have undergone commercial processing and need little to no additional preparation before eating. They consist of prepared food items, preserved meals, and packaged goods. Individual flavor components are added to certain food products to improve their flavor. Convenience food consumption has increased in both developing and developed nations' urban expansion and growth in the working-age population. Additionally, it is anticipated that rising middle-class discretionary income and rising convenience food spending will increase demand for convenient meals, which will then increase demand for tastes.
Growing innovation in the pharmaceutical and cosmetics sector will drive growth
Due to the emergence of new regions and scents, the market is anticipated to expand significantly throughout the forecast period. Additionally, it is projected that the acceptance of ready-to-eat foods and customers' evolving food tastes and preferences would boost regional market expansion. Additionally, the cosmetic and pharmaceutical industries' expansion is anticipated to fuel market expansion.
Key Market Challenges
Costs for raw ingredients and manufacture have increased when natural flavors and perfumes are made
A significant aspect affecting the growth of the flavors and perfumes economy's revenues is the increasing raw material costs as a result of climate change brought on by global climate change. For instance, Intercontinental Flavors & Perfumes Inc. declared on March 17, 2022, that it would undertake widespread price increases for flavors & fragrance solutions.
The main cause of the price increase is the ongoing and significant inflation of energy, raw material, and logistics as a consequence of the current political landscape. They continue to search for creative methods to provide clients value, such as taste innovations like intensifies and a large inventory of specialized ingredients. These elements have a major impact on the market's sales growth during the projection period.
Adherence to legal and regulatory requirements
The taste and fragrance sector are required by law to adhere to the rules and regulations set forth by numerous regulatory bodies. Each nation has its regulatory requirements, but they all aim to protect customers' safety. The rules established by many nations also place a strong emphasis on the use of flavors and perfumes as well as the accurate naming of consumer items. The introduction of new products may be slowed down or prevented by these strict rules, which may also raise costs and trigger product defects. As a result, adding new rules and modifications to those already in place has a detrimental impact on market expansion.
Key Market Opportunities
A digital transformation of the retail sector
Online foods and consumer goods purchasing, as well as the development of new apps that make it easier for customers to choose their chosen products, are some of the most recent trends pushing the tastes and scent sector. Due to its convenience and diversity, internet sales are preferred by customers. Nearly 25% of the population purchased food and groceries in 2018, according to Eurostat.
Commercial food shopping is becoming one of the venues for businesses to advertise and sell their goods as smartphone and internet use increases. Globally, the number of businesses taking payments online is growing. The general online grocery business is driven by factors like rising smartphone usage, specialized apps, and developing payment methods, which support the expansion of the tastes and fragrances market.
Segments Insight
Ingredients Insights
Chemical processes are used to create synthetic ingredients. It has differing qualities from its antecedents due to chemical modification. Chemicals are mixed in a complex way to create synthetic flavors. Due to their low cost and expanding use in a variety of end uses, including beverages, packaged foods, and home and personal care items, synthetic ingredients are now the most common. During the projection period, the industry for artificial chemicals will be driven by novel formulations by manufacturing businesses, innovations in flavoring components, and substantial demand for artificial flavors in numerous culinary & non-edible applications. Consumer desire for plant-based flavorings and fragrances, particularly in the food and beverage, medical, and cosmetics sectors, is helping natural ingredients and perfumes gather momentum, which is likely to boost this company's revenues.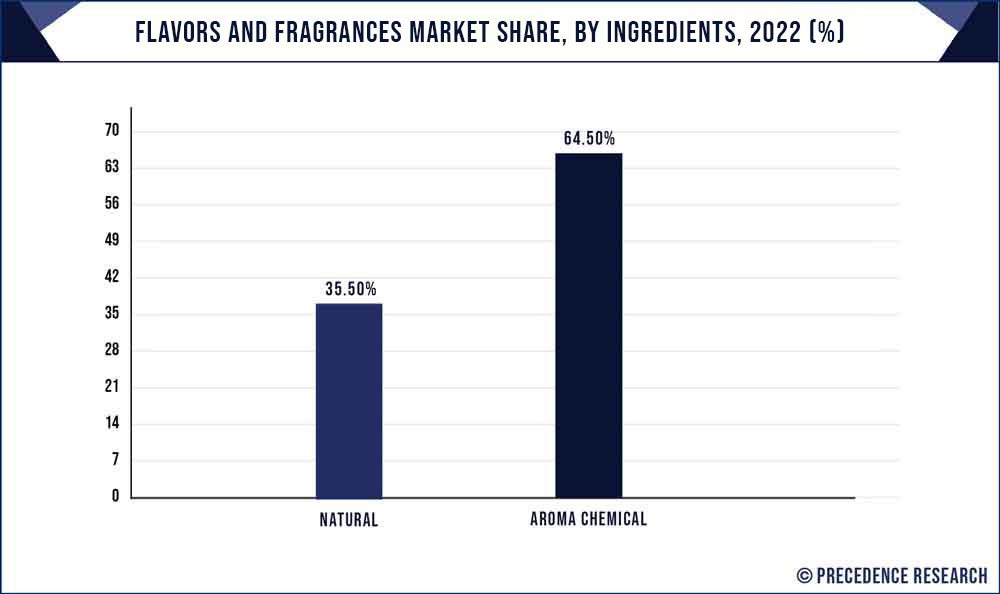 The market for toiletries and household cleaners has been impacted by the movement toward organic ingredients. As a result of the need for "free-from" compositions or health food goods with openness, natural fragrances in laundry and dishwasher detergent, and cleaning solutions will see a rise in demand. This company's profit growth is also being driven by numerous technological advancements.
End-User Insights
The leading segment sector in the flavors and fragrances market is thought to be beverages as well as consumer goods. The bakery segment is anticipated to grow as a result of rising customer demands for aspirational purchases of international drinks and beverages and growing preference for dietary beverages due to the increasing proportion of well-being consumers. Due to the growth of structured large retailers, shifting lifestyles, and rising demand for a variety of consumer goods like personal grooming & homecare products, the consumer goods segment is predicted to expand.
Flavors and Fragrances Market Share, By Region, 2022 (%)
| | |
| --- | --- |
| Regions | Revenue Share in 2022 (%) |
| North America | 22% |
| Asia Pacific | 32% |
| Europe | 27% |
| Latin America | 12% |
| MEA | 7% |

Regional Insights
APAC was expected to have the largest flavors and fragrances industry throughout the forecasted period in terms of value. In 2022, APAC was the largest market for flavors and fragrances. The market for flavors and perfumes in this region has been spurred by the changing lifestyles and rapid economic expansion of developing economies like India, China, Vietnam, and Indonesia. In particular, the region's tastes and perfumes market are expanding thanks to the quickly expanding food, drink, cosmetics, and home healthcare sectors.
During the projection period, Europe is anticipated to be the furthermore market for tastes and fragrances. In contrast to markets in developing nations, the tastes and perfume industry in Europe is developed. As a result, it is anticipated that during the forecast period, its growth will be somewhat slower than that of markets in other regions. Since a few decades ago, the use of flavors and perfumes has been widespread in European nations. Major sectors employ flavors and aromas to enhance the value of their products, including beverages, savory snacks & sweet snacks, bread, milk products, and basic goods. The biggest end-use markets for tastes and scents are, correspondingly, drinks and consumer goods.
Recent Developments:
Symrise made a legally binding bid to acquire the R. Romani Society branch d'Aromatiques as well as Neroli Capitalize DL in Mar 2022. Together businesses are headquartered in the French region of Grasse. With these deals, Symrise hopes to increase its fine perfume presence throughout southern France, boost its ability to compete in the creation of scent compositions, and grow its market share in important European, African, and Middle Eastern nations.
Solvay released Eugenol Synth in January 2021 for perfume applications, with odor qualities resembling those of cloves.
To better meet the specific demands of its customers and promote expansion in the Turkish, Middle Eastern, African, and Indian markets, IFF announced in October 2020 that they would be constructing an introduction to the new Taste Development Center in the United Arab Emirates. The application and development requirements of all significant categories, including savory, sweet, beverages, snacks, and dairy, will be met by this new lab.
2020 will mark the beginning of research cooperation between Givaudan and Novozymes in which the two companies will collaborate on the investigation and creation of novel, environmentally friendly cleaning, and food products.
DuPont's Nutrition & Biosciences and Global Flavors and also Fragrances Inc. combined in 2020 to create high-value components and services for the food and beverage personal care, and health and wellness markets.
Key Market Players:
ADM (US)
Agilex Fragrances (US)
Akay Flavors & Aromatics Pvt. Ltd.
Alpha Aromatics (Us)
BASF SE (Germany)
Bell Flavors & Fragrances (US)
Biolandes (France)
Comax MFG Corp (US)
doTERRA International
Elevance Renewable Sciences, Inc.
Falcon Essential Oils
Firmenich SA (Switzerland)
Flavex Naturextrakte GmbH
Givaudan (Switzerland)
Indo World
International Flavors & Fragrances Inc, (US)
Mane (France)
Manohar Botanical Extracts Pvt. Ltd.
Ozone Naturals
Robertet SA (France)
Sensient Technologies Corporation (US)
Symrise AG
Synthite Industries Limited
T.Hasegawa USA Inc. (Japan)
Takasago International Corporation (Japan)
Ungerer & Company (US)
Universal Oleoresins
Vigon International, Inc.
Young Living Essential Oils (US)
Segments Covered in the Report:
(Note*: We offer reports based on sub-segments as well. Kindly, let us know if you are interested)
By Ingredients
Natural

Essential Oils

Orange Essential Oils
Corn mint Essential Oils
Eucalyptus Essential Oils
Pepper Mint Essential Oils
Lemon Essential Oils
Citronella Essential Oils
Patchouli Essential Oils
Clove Essential Oils
Ylang Ylang/Cananga Essential Oils
Lavender Essential Oils

Oleoresins

Paprika Oleoresins
Black Pepper Oleoresins
Turmeric Oleoresins
Ginger Oleoresins

Others

Aroma Chemical

Esters
Alcohol
Aldehydes
Phenol
Terpenes
Others
By End-Use
Flavors

Beverages
Baby Drink
Savory & Snacks
Dairy Products
Bakery
Confectionary
Others

Fragrances

Fine Fragrances
Soaps & Detergents
Cosmetics & Toiletries
Aromatherapy
Others
By Application
Food & Beverages
Homecare
Pharmaceuticals & Healthcare
Beauty & Personal Care
Fabric Care
Others
By Geography
North America
Europe
Asia-Pacific
Latin America
Middle East & Africa (MEA)