The global food safety testing market size reached USD 17.43 billion in 2019 and is projected to hit over USD 32.21 billion by 2027, at a CAGR of 7.2% during the forecast period 2020 to 2027.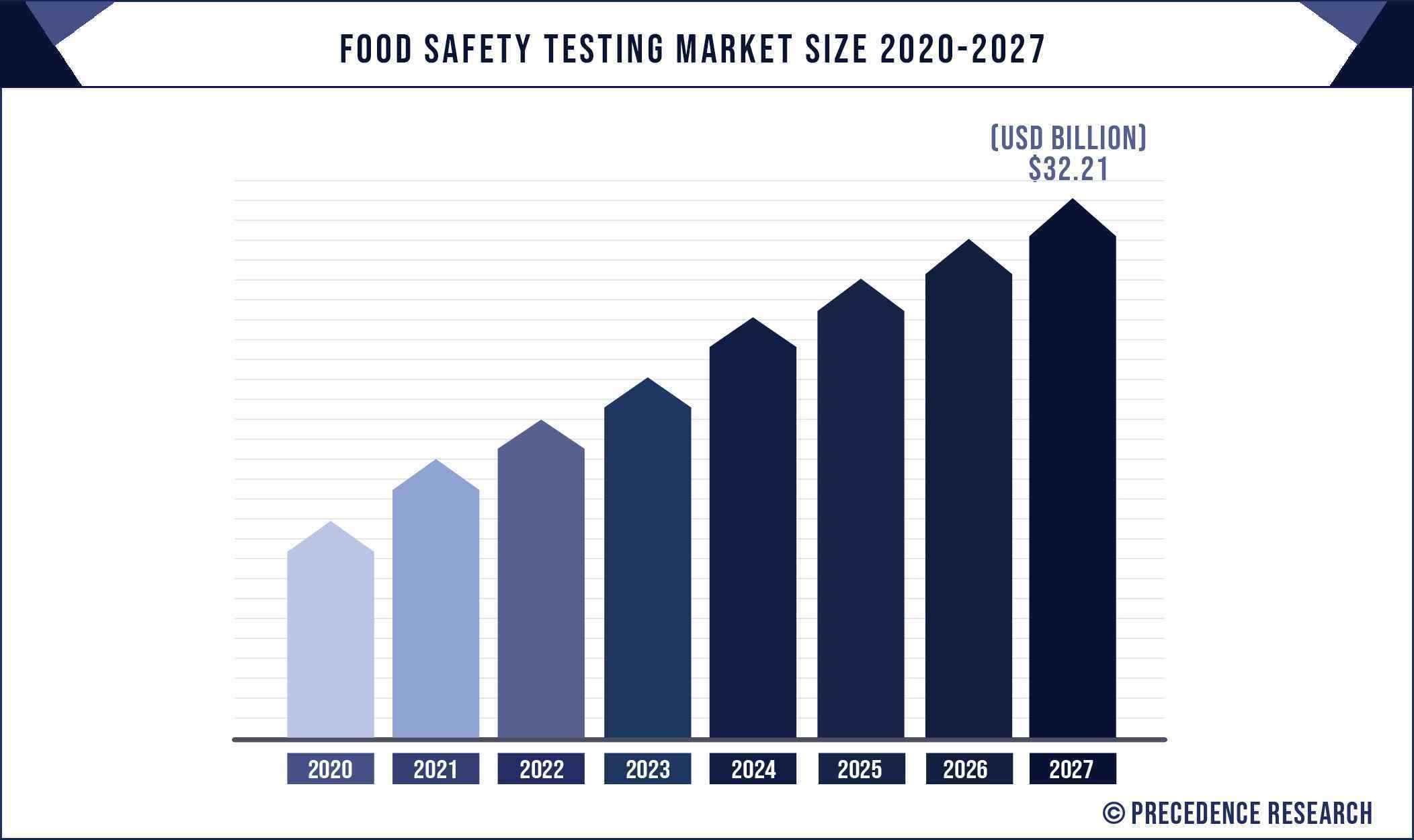 Growth Factors
Since last few years, food producers are beneath cumulative pressure to make sure the safety of the products they are offering in the market. Different rules under the Food Safety Modernization Act have amplified the need to guarantee that the products in the U.S. food supply are harmless, tested, and testing should be documented and substantiated. Augmented safety and health risks pretended by microbiological, chemical, and chemical pollutants have progressively made analytical testing approaches a cornerstone of food safety programs. The global food safety testing market is projected to record noteworthy progression account of growing occurrences of food-borne diseases that have forced to implement stringent food safety regulations across the world.
Furthermore, escalating sale of processed and packaged food in developing and developed nations due to influences such as increasing popularity of quick-service restaurants and varying lifestyle is expected to push the requirement for safety testing of eatable items.
Application Insights
Among different application segments, meat, poultry, & seafood products dominated the global food safety testing market in 2019 by occupying major chunk of the market demand in 2019. Cumulative intake of meat and meat products around the world and great risk probability of infections in red meats are estimated to push these segments during years to come. The adulteration of poultry and meat products is frequently witnessed while packaging, processing, and storage. The Food Safety and Inspection Service have bordered guidelines to regulate the adulteration of poultry and meat products in processing plants and slaughter houses, depending on HACCP food safety control system. Furthermore, foremost factor that pushes the development of the seafood testing service sector is the huge sale for seafood products like shrimp, crustaceans, crabs, tuna, lobsters, swordfish, marlin and others on account of their nutritional values including existence of vital nutrient and omega fatty acids.
Technology Insights
Different technologies involved in this market include genetically modified organism testing, allergen testing, chemical & nutritional testing, residues & contamination testing, microbiological testing, and others. Out of these, microbiological testing segment appeared as a governing market segment with sizable revenue share in 2019. It is predicted to achieve momentum as it aids to identify microorganisms in eatables with the help of biological, chemical, molecular, and biochemical techniques, offering extremely precise results regarding their composition.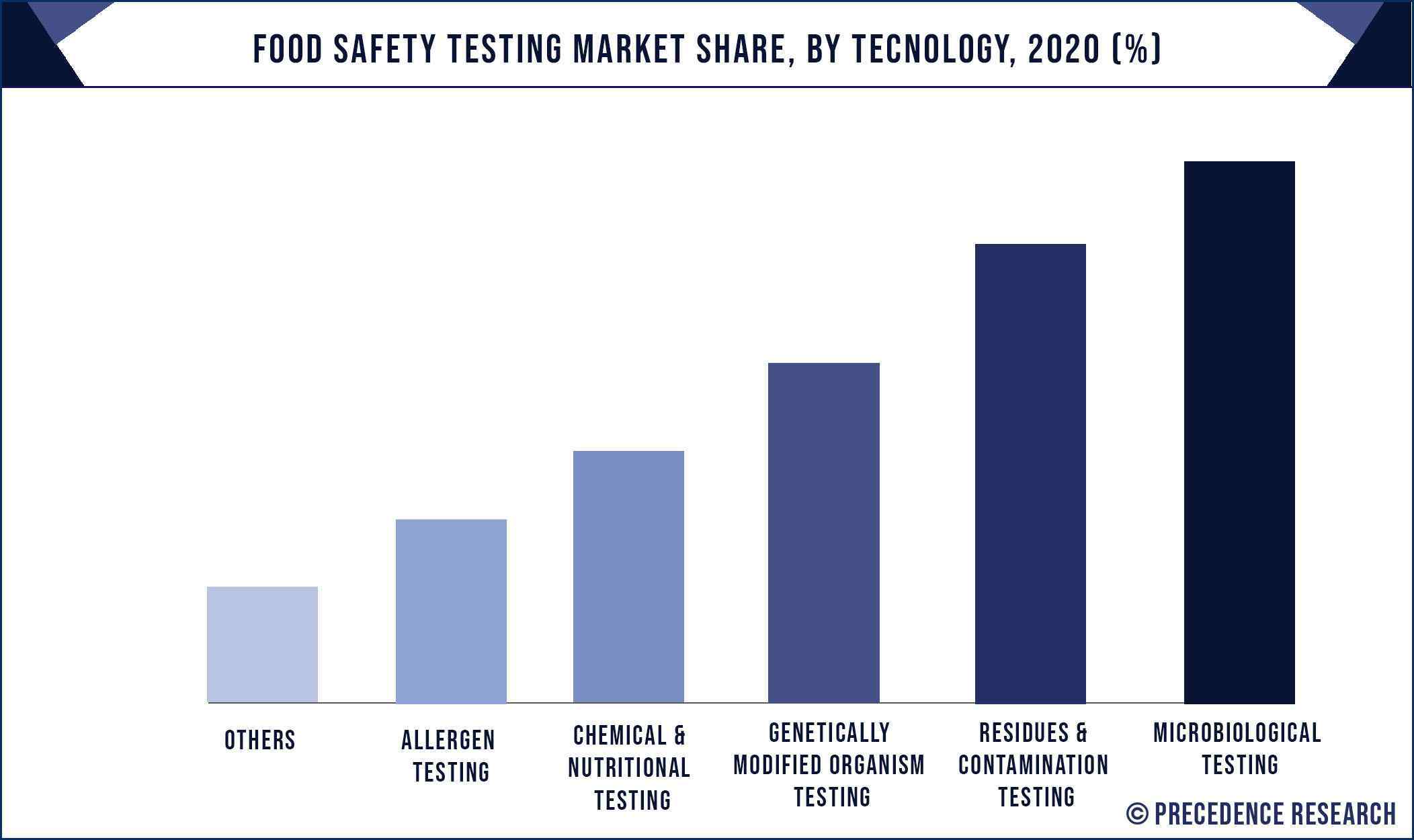 Further, genetically modified organism testing segment is estimated to observe the firmest growth pace, during assessment period mostly motivated by escalating alertness with in users concerning the existence of harmful GMOs in eatable. Also, growing production of GMO eatable products is anticipated to boost the request for safety tests to safeguard finest food quality.
Regional Insights
Geographically, Europe occupied prevalent revenue share in the global food safety testing market in 2019. Over the past many years, European nations have documented several concerns associated to food safety which established stringent policies to apply complete food protection for the public. Food safety policies have been underlined by struggles from National Reference Laboratories, Control Laboratories and EU Reference Laboratories. These authorities are playing an imperative role in continuing food standards and defending user health by confirming the excellence of the food supply chain. In the UK, the Food Safety Agency takes care of food-borne diseases and regulates the phases of sicknesses triggered by diverse pathogens. Nevertheless, regulations vary region to region.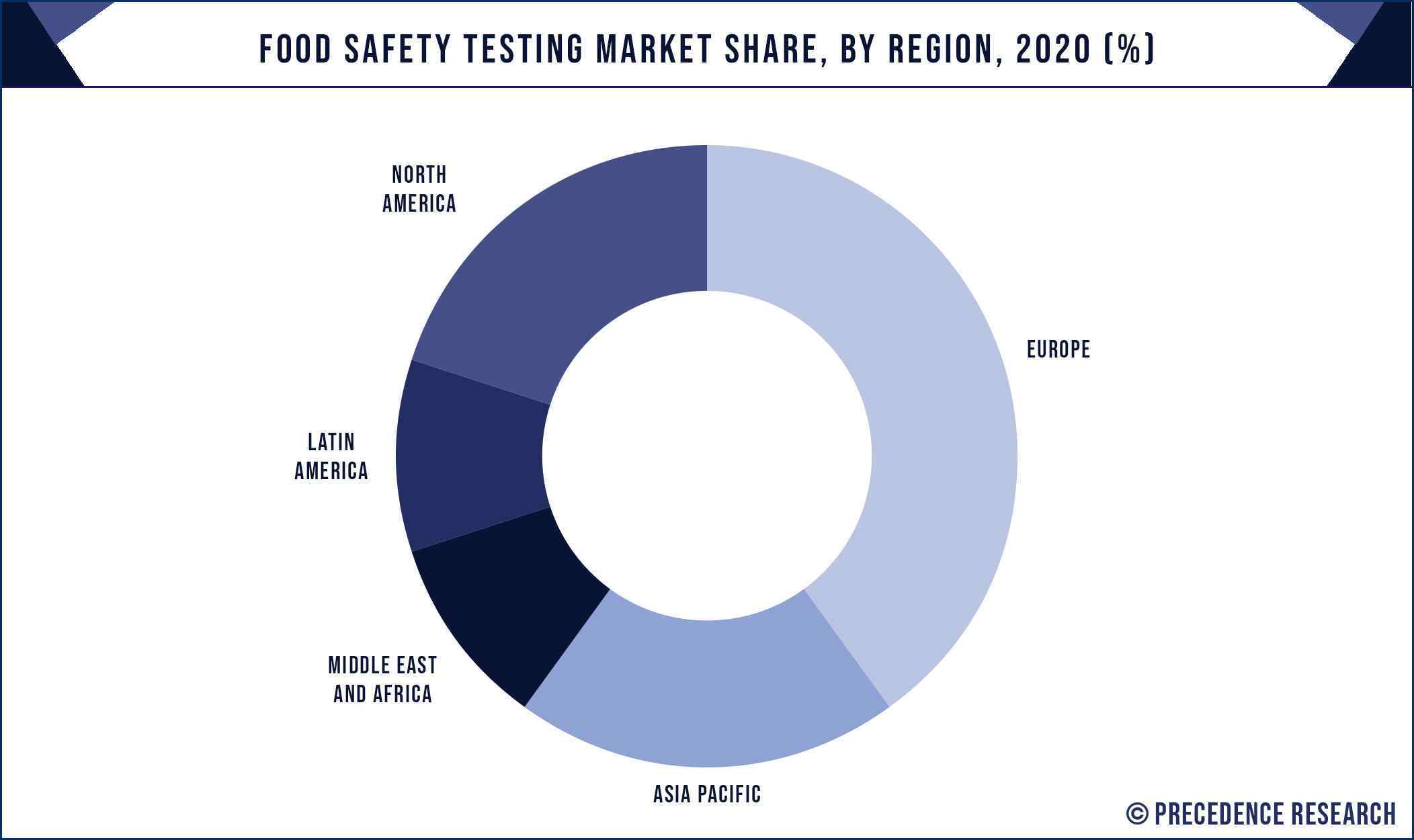 North American food safety testing market is estimated to show healthy growth due to implementation of stringent food safety regulations across the region. For instance, Food Safety and Inspection Service of the US Department of Agriculture controls the safety of exported and imported food items. It is also accountable for the examination of items at borders and ports, alongside the ruling of food labeling. Furthermore, in the U.S., food processors or manufacturers subject to Consumer Product Safety Commission standards need to obey with the guidelines of the U.S. Consumer Product Safety Improvement Act and attain the essential certifications.
Key Companies & Market Share Insights
Growing concentration on dropping lead time, testing cost, sample utilization, and short comings connected with numerous technologies have lead different technological revolution and improvement of new technologies in chromatography and spectrometry. The food safety testing sector is undergoing technological inventions as major performers are proposing novel, fast, and more precise technologies including inductively coupled plasma-optical emission spectrometry, inductively coupled plasma mass spectrometry, near-infrared spectroscopy nuclear magnetic resonance and others for testing the safety of food products.
Few of the major market performers contending in the food safety testing marketplace are as follows:
SGS S.A.
Eurofins SGS Group
TUV SUD
Bureau Veritas
Intertek
Agilent Technologies Inc
Thermo fisher Scientific Inc
Shimadzu Corporation
PerkinElmer Inc
Report Scope of the Food Safety Testing Market
| | |
| --- | --- |
| Report Highlights | Details |
| Market Size | USD 32.21 Billion by 2027 |
| Growth Rate | CAGR of 7.2% from 2021 to 2027 |
| Largest Market | Europe |
| Fastest Growing Market | North America |
| Base Year | 2021 |
| Forecast Period | 2021 to 2027 |
| Segments Covered | Application Type, Technology Type, Region Type |
| Companies Mentioned | SGS S.A., Eurofins SGS Group, TUV SUD, Bureau Veritas, Intertek, Agilent Technologies Inc, Thermo fisher Scientific Inc, Shimadzu Corporation, PerkinElmer Inc |
Segments Covered in the Report
This research report includes complete assessment of the market with the help of extensive qualitative and quantitative insights, and projections regarding the market. This report offers breakdown of market into prospective and niche sectors. Further, this research study calculates market revenue and its growth trend at global, regional, and country from 2016 to 2027. This report includes market segmentation and its revenue estimation by classifying it on the basis of application, technology and region as follows:
By Application
Beverages
Meat, poultry, & seafood products
Dairy & dairy product
Cereal, grain, & pulse
Processed food
Others
By Technology
Genetically Modified Organism Testing
Allergen Testing
Chemical & Nutritional Testing
Residues & Contamination Testing
Microbiological Testing
Others
By Regional Outlook
North America
Europe
Asia Pacific

China
India
Japan
South Korea

Middle East & Africa
Latin America