The global functional food market size was valued at USD 305.4 billion in 2022 and it is predicted to hit around USD 597.1 billion by 2032, growing at a registered CAGR 6.93% during the forecast period 2023 to 2032.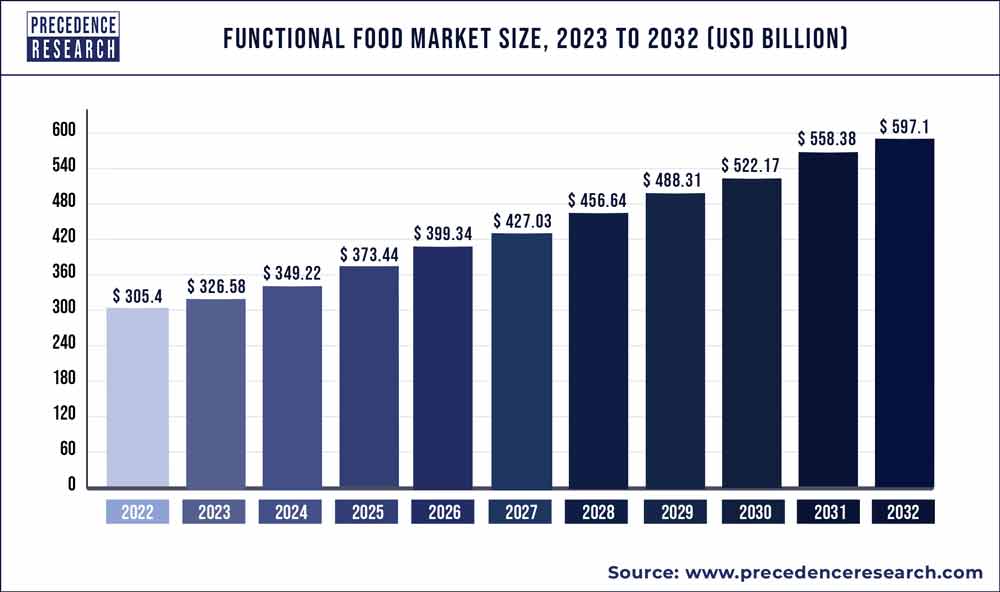 Key Takeaways:
By ingredient, carotenoids segment is expanding at a CAGR of 7.4% from 2023 to 2032.
The vitamin-based functional foods segment is grwing at a CAGR of 7.1%.
By product, the dairy products segment has accounted revenue share of 39% in 2022 and is growing at a CAGR of 7.7%
The bakery and cereals segment has accounted for a 27% revenue share in 2022.
North America region has generated for 24.9% of the total revenue share in 2022.
The Asia Pacific has accounted revenue share of over 35.9% in 2022.
Growth Factors
Increasing demand for fortifying and nutritional food additives anticipated to propel the market growth in the coming years. Food & beverage manufacturers focus on deploying fortification of nutritional additives that include fibers, omega-3 fatty acids, minerals, vitamins, and others in their product offerings. The prime motive of incorporating the above-mentioned additives in the food & beverage products is to boost the nutritional content in food items.
Functional ingredients for example probiotics and omega-3 are largely used in yogurt and fish oils to decrease the risk of cardiovascular diseases along with for improving the quality of intestinal microflora. Such trend of adding functional ingredients in food products projected to trigger the market growth over the analysis period. Moreover, the Environmental Protection Agency (EPA) together with the European Commission have framed favorable regulations to augment the consumption as well as production of naturally derived ingredients in wake of increasing concerns for reducing Greenhouse Gas (GHG) emissions.
Additionally, positive outlook on food & beverage industry, especially in Brazil, Russia, India, China and South Africa (BRICS) predicted to continue to drive the market over the upcoming timeframe. Rising domestic consumption of food & beverages because of new product launches, the expansion of retail network, and population growth expected to influence the market growth in BRICS. In addition, regulatory support for assisting Foreign Direct Investments (FDI) at domestic level in BRICS owing to political change particularly in China and India aimed at improving the manufacturing output in the countries and expected to intensify the growth of the market.
Market Dynamics
Market Driver: Advancements in Innovative and Inventive Products
The expansion of this market is being fueled by increased research and development efforts to produce novel, functional food and beverage items. Products are being developed by businesses to meet expanding customer demands. Nutrition bars and assorted functional chocolates for kids, like candies and toffees, are all being developed by businesses to appeal to consumers searching for quick nourishment as well as exercise fanatics. As customers become more conscious of their digestive health, probiotic product offers are evolving due to people's increased awareness of their health. Demand for functional meals is rising dramatically all around the world.
The market is being driven by product innovations and the development of novel technologies to formulate functional food items. Various technologies are being used to create functional meals, including vacuum impregnation, encapsulation, edible coating technique, and enzyme. Some fatty acids can be produced using enzymes like lipases as antioxidant esters and flavoring additives. Similarly, encapsulation in probiotics permits storage at room temperature, increases water activity, and minimizes viability loss. To meet consumer demand, manufacturers are creating new goods using these technologies.
Market Restraint: Off Flavors of the Functional Compounds
Functional ingredients, including botanical extracts and herbs, usually give food an unpleasant or bitter taste when they are added to it. Even when customers are looking for healthy items, the flavor is a crucial consideration in the purchasing process. The difficulty in hiding some botanical extracts' harshness, off flavors, and unwanted flavors restraints the market from expanding.
To address these issues, manufacturers employ a variety of strategies, such as the use of taste and flavor modifiers. One of the most significant developments in functional food components is flavor addition for bitterness reduction and taste masking. Nutrients added to the product are primarily utilized for masking. For instance, citrus flavors and astringent berry flavors complement the acidity of vitamin C and other antioxidant components, making them particularly effective with antioxidant fortifications. In functional beverages and foods, natural fruit tastes are typically employed because plant-based components are becoming increasingly popular.
Market Opportunity: Increasing Technological Advancements in the Production
There is a lot of interest in creating functional foods as we learn more about the relationship between diet and human health. Many of these problems could potentially be solved using new methods and materials developed as a result of nanotechnology. The main factors contributing to the growth are an aging population with a higher majority of age-related diseases, specifically in Western nations, and an increasing pace of metabolic conditions. Scientific information about the relationship between diet and health is also more readily available for conditions like heart disease, diabetes, arthritis, and obesity. As a result, the food sector must solve several crucial difficulties, such as determining ideal intake levels, creating appropriate product formulations and food delivery matrices, and identifying the potential bioactivity of useful substances to meet future demand for functional foods.
In particular, the incorporation of bioactive substances without changing the consumer's sensory perception and enhancing the uptake of certain ingredients are two ways that nanoscience and nanotechnology have the potential to offer new solutions in the development of functional meals. Thus, these factors will produce profitable market prospects.
Product Insights
Dairy products led the global functional food market in terms of revenue in the year 2022, followed by the bakery & cereals segment and predicted to expand at a CAGR of around 8% during the analysis period. New developments across the bakery & cereals sector anticipated to boost the market growth. Due to the increased need for functional snacks and cereal bars like nutrition bars, energy bars, and protein bars, the bakery and cereals industries' new product developments are anticipated to have a positive impact on the market in the years to come. The fortified grains are anticipated to extend as enterprises introduce unique product sequences to increase their market share.
Also, the usage of fats and oils in the food sector is rising due to consumer desire for healthful meals with clean labeling. It is believed that the body needs fats to function correctly as they are organic elements that give the body calories. The demand for consumers to boost their body resistance has led to a rise in expenditure on foods with high levels of fats and oils.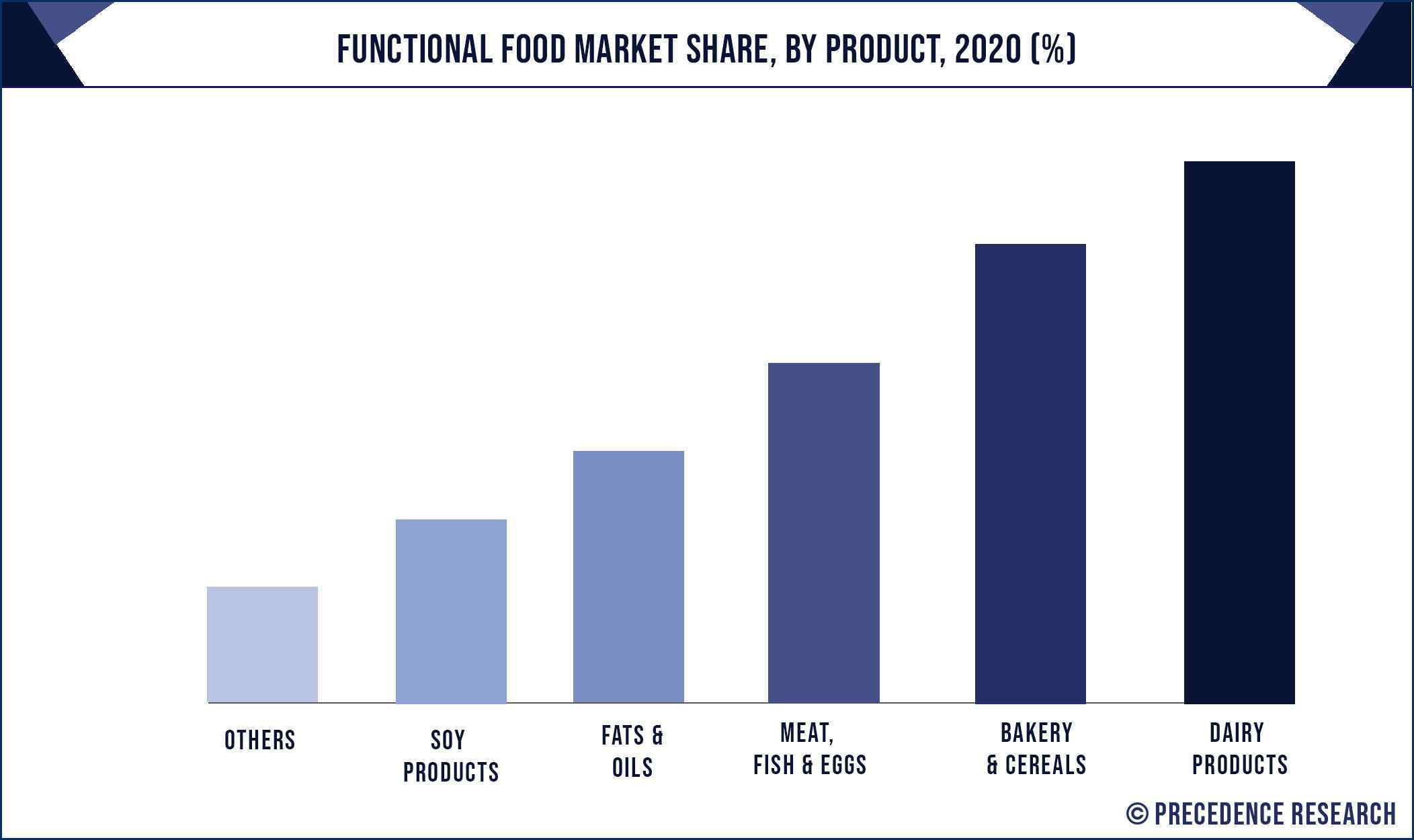 Rising demand for functional snack along with cereal bars that include protein bars, energy bars, and nutrition bars likely to drive market growth over the forecast timeframe. Fortified cereals projected to grow at a rapid pace together with launch of new products from companies such as Kellogg to capture significant market share.
Ingredient Insights
Throughout the anticipated term, there is a large, expected growth in the category of functional foods based on vitamins. Vitamin A, usually referred to as folic acid, vitamin C, sometimes known as ascorbic acid, and vitamin D, also known as cholecalciferol, are among the many forms in which these useful elements can be found. Demand for vitamin-based functional foods has increased as a result of consumer interest in the connection between nutrition and health. The increased awareness of preventative healthcare due to the rise in diseases, the growing interest in achieving wellness via nutrition, the rapid advancements in science and technology, and the aging of the population are some of the causes driving interest in these supplements.
Also, dietary fiber is linked to many advantages, such as preserving intestinal health, lowering cholesterol, and controlling blood sugar, among others. These advantages are expected to significantly contribute to the growth of the dietary fiber industry, in addition to the rising functional food market. Consuming fruits, vegetables, legumes, and whole grains are the main sources of dietary fiber, which is referred to for its ability to prevent or treat constipation. Other medical benefits from fiber-rich foods include helping people maintain a healthy weight and lowering their chance of developing heart disease and diabetes, which will help the market expand.
Application Insights
The global market functional foods was studied for various application segments that include weight management, clinical nutrition, sports nutrition, digestive health, immunity, and cardio health among others. Cardio health encountered the largest value share in the year 2022. Further, the segment expected to witness a high growth rate of between 2023 and 2032 because of rising demand for functional food in congestive heart failure, cardiovascular diseases, congenital heart defects, and hardening of arteries. Besides this, digestive health expected to register significant growth over in the upcoming time-period due to great interest among women during the course of their reproductive life along with men particularly after 40 years of age, to maintain a health digestive system.
The demand for functional foods that contain vitamins and proteins is significantly influenced by athletes. Additionally, these products help athletes recover energy, build muscle strength, and lessen physical wear and tear. Demand for functional foods is rising due to a growing range of health objectives, including facilitating weight loss, enhancing bone and muscular strength, and enhancing joint health. These foods also lessen risk factors for cardiovascular disease and type 2 diabetes by improving digestion and minimizing wrinkles. In the sports nutrition market, these factors are expected to boost demand for functional foods.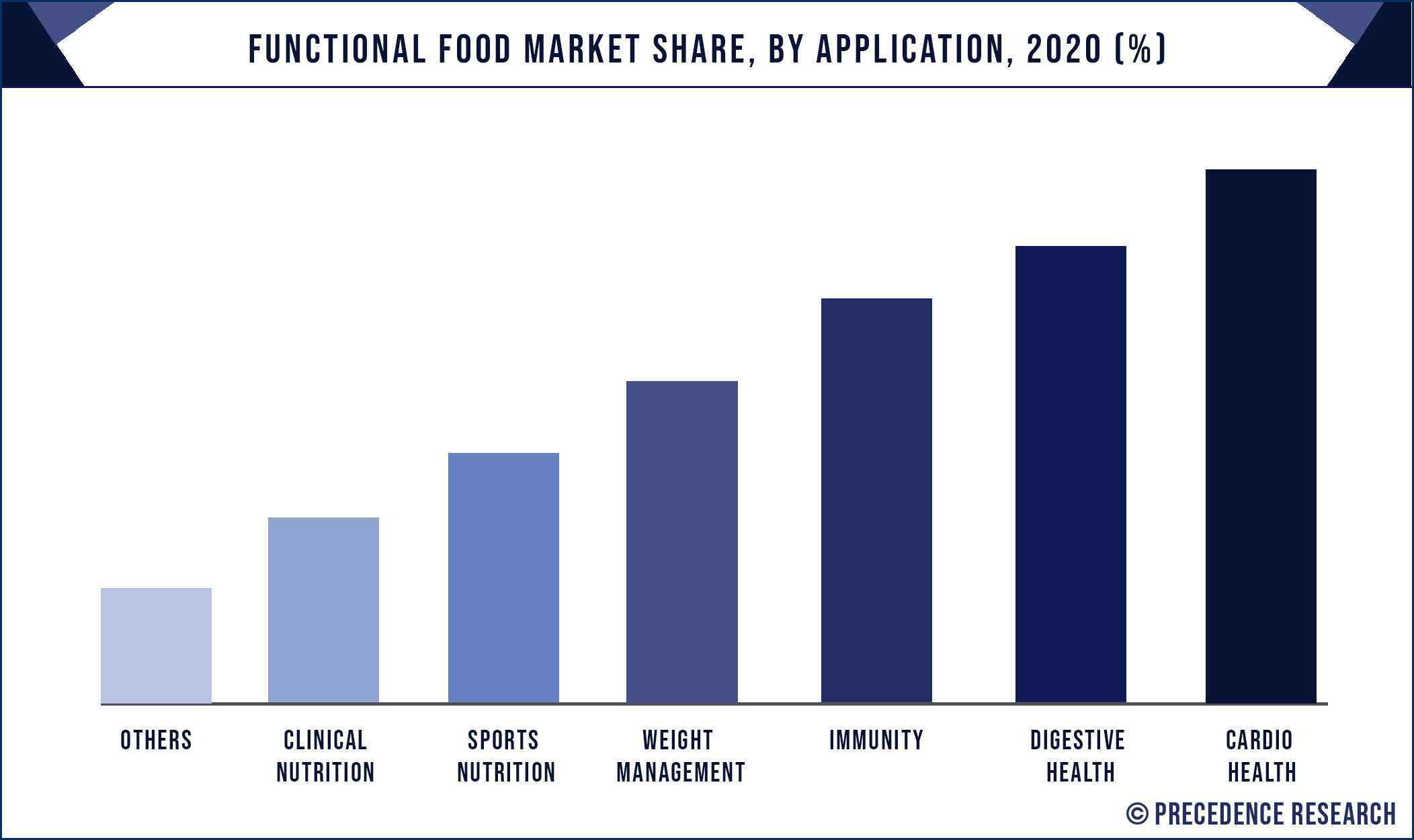 Rising demand for functional foods & beverages owing to significant number of health objectives that includes weight loss, improving joint health, and bone & muscle strength. These food products help prominently in reducing the risk of type 2 diabetes and cardiovascular diseases by enhancing the digestion. They also proved effective in decreasing wrinkles on face. Functional foods promote optimal health by boosting metabolism, decreasing the risk of non-communicable diseases, aiding better digestion, improving nutrition absorption, and help to lose weight. The aforementioned factors remarkably trigger the demand for functional food in the digestive health segment.
Also, it is anticipated that the cardio health segment would grow due to the increased demand for functional foods to treat cardiovascular illnesses, congestive heart failure, congenital heart defects, and arterial hardening. Due to the significant interest in both males and females, particularly after the age of 40, it is expected that the importance of preserving digestive health would rise.
Regional Insights
The Asia Pacific encountered as the largest markets for functional food in the year 2022. The prominent growth of the region was mainly due to the rising disposable income coupled with burgeoning population. Rapid growth in the consumption of processed food together with rising awareness pertaining to fitness & health in the developing countries are the prime factors that drive the market growth. The tremendous demand for functional food items is in the Asia Pacific. Sales of foods with added vitamins and minerals are rising, partly due to growing customer interest in these products and improved awareness of how good eating habits and nutrition can boost immunity. Also, producers are getting more inventive with ingredients, dairy packaging, and tastes in nations like China and Japan, making it easier to provide fortified versions and expanding the functional food sector. Yogurt enjoys considerable popularity among customers because of its many uses.
Lactose intolerance affects a sizable portion of Chinese inhabitants. According to the research, 92% of people have lactose intolerance due to a hereditary predisposition to lactase insufficiency. Because vegan yogurt is fermented and easily digestible, customers believe it to be a significantly better option. For instance, the Chinese dairy firm Marvelous Foods recently introduced Yeyo Coconut yogurt on the Tmall e-commerce site. Yeyo is a vegan coconut yogurt that doesn't contain any artificial sweeteners, flavors, or colors. A pure sugar-free taste, yogurt cups with nut granola topping and seasonal fruit for nutrition and taste, and three SKUs made up the inaugural launch.
Moreover, it is anticipated that the market will be driven during the projected period by increased health awareness and rising discretionary spending in the region. The use of fast food is changing people's health for the worse and making chronic diseases like diabetes and obesity more common. Consumer spending on nutrient-rich foods increases as consumer knowledge of these health issues grows.
Furthermore, the region is categorized by increasing concern for food safety among consumers that subsequently drives the growth of the region. Food fortification expected to be the prime focus of the government to fight against the increasing concerns of poverty and malnutrition. The aforementioned factor anticipated to contribute prominently towards the market growth.
Key Companies & Market Share Insights
The global functional food industry seeks intense competition among the industry participants.These market players have their manufacturing facilities and distribution channels spread across the globe. In addition, presence of dominant players offers significant challenges for the new entrants to gain foothold in the market.
Recent Developmnent
In September 2022, In a ground-breaking 7.5-year economic initiatives partnership, ADM, a global pioneer in sustainable agriculture and nutrition, and PepsiCo will work collaboratively on initiatives that seek to dramatically increase regenerative agriculture across their respective North American supply chains. By 2030, this strategic partnership—which is the result of two multinational firms with similarly ambitious carbon reduction goals—is anticipated to cover up to 2 million acres.
In March 2022, Danone introduced the brand-new yogurt-in-a-drink called Activa+ to support enhanced immunity and health. Zinc and the vitamins C, D, and E in the yogurt support immune system health. There are three flavors of yogurt to choose from: strawberry, raspberry, and peach.
In March 2022, In the US, Cliff Thins Snack Bar was introduced by Cliff Bar Corporation. Crispy and crunchy, Cliff Bar Thins is designed as a daily snack. Three types of snack bars are offered: chocolate chip, chocolate peanut brownie, and white chocolate macadamia nut.
Some of the prominent players in the functional food market include:
Cargill
BASF
General Mills Inc.
Standard Functional Foods Group Inc.
Coca-Cola Co.
GFR Pharma
Nutri-Nation
KFSU
Amway
Herbalife
Arla Foods
Report Scope of the Functional Food Market
| | |
| --- | --- |
| Report Highlights | Details |
| Market Size | USD 597.1 Billion by 2032 |
| Growth Rate | CAGR of 6.93% from 2023 to 2032 |
| Largest Market | Asia Pacific |
| Fastest Growing Market | North America |
| Base Year | 2022 |
| Forecast Period | 2023 to 2032 |
| Segments Covered | Product, Ingredient, Application, Region |
| Companies Mentioned | Cargill, BASF, General Mills Inc., Standard Functional Foods Group Inc., Coca-Cola Co., GFR Pharma, Nutri-Nation, KFSU, Amway, Herbalife, and Arla Foods |
Segments Covered in the Report
This research study comprises complete valuation of the market revenue with the help of widespread quantitative and qualitative insights, and prognoses of the market. This report presents breakdown of market into forthcoming and niche segments. Additionally, this research study gauges market revenue growth and its drift at global, regional, and country from 2023 to 2032. This report includes market division and its revenue assessment by categorizing it depending on product, ingredient, application, and region:
By Product
Dairy Products
Bakery & Cereals
Meat, Fish & Eggs
Fats & Oils
Soy Products
Others
By Ingredient
Dietary Fibers
Carotenoids
Minerals
Fatty Acids
Vitamins
Prebiotics & Probiotics
Others
By Application
Weight Management
Sports Nutrition
Digestive Health
Immunity
Cardio Health
Clinical Nutrition
Others
By Regional Outlook
North America
Europe
Asia Pacific

China
India
Japan
South Korea

Rest of the World