The global food fortification market size was estimated at USD 85.2 billion in 2022 and is projected to hit around USD 224.01 billion by 2032, registering a CAGR of 10.2% during the forecast period from 2023 to 2032.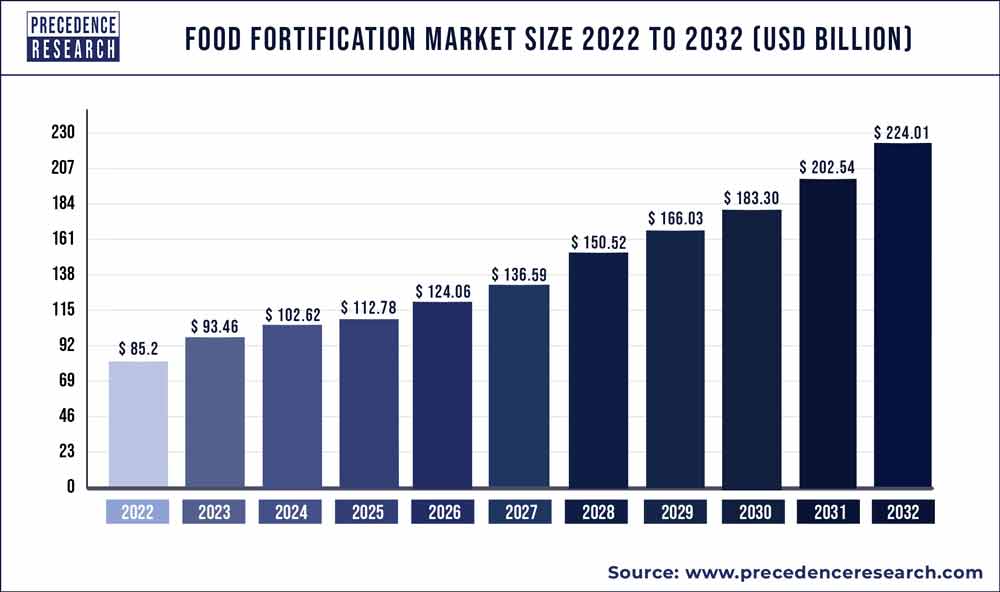 Access our Premium Real Time Data Intelligence Tool, Visit: Precedence Statistics
Key Takeaways
North America contributed more than 37% of revenue share in 2022.
Asia Pacific is estimated to expand the fastest CAGR between 2023 and 2032.
By Type, the proteins & amino acids segment has held the largest market share of 45% in 2022.
By Type, the vitamins segment is anticipated to grow at a remarkable CAGR of 14.1% between 2023 and 2032.
By Application, the dairy & dairy-based products segment generated over 38% revenue share in 2022.
By Application, the infant formula segment is expected to expand at the fastest CAGR over the projected period.
By Process, the drum dying segment had the largest market share of 62% in 2022.
By Process, the dusting segment is expected to expand at the fastest CAGR over the projected period.
Food Fortification Market Overview
The food fortification market involves the process of enhancing food products with essential vitamins, minerals, and other micronutrients to address and prevent nutritional deficiencies in populations. This strategy aims to improve public health by ensuring that everyday food provide a balanced intake of key nutrients.
Food fortification is often employed to deal with specific deficiencies like vitamin D, iron, or folic acid. It is commonly used in staples like cereals, flour, and dairy products to reach a wide consumer base, especially in regions where nutrient deficiencies are prevalent, contributing to better overall health and well-being. The market encompasses fortification techniques, regulatory compliance, and the production and distribution of fortified food.
Food Fortification Market in the U.S. 2023 To 2032
The U.S. food fortification market size was valued at USD 22.07 billion in 2022 and is expected to reach USD 56.97 billion by 2032, growing at a CAGR of 10% from 2023 to 2032.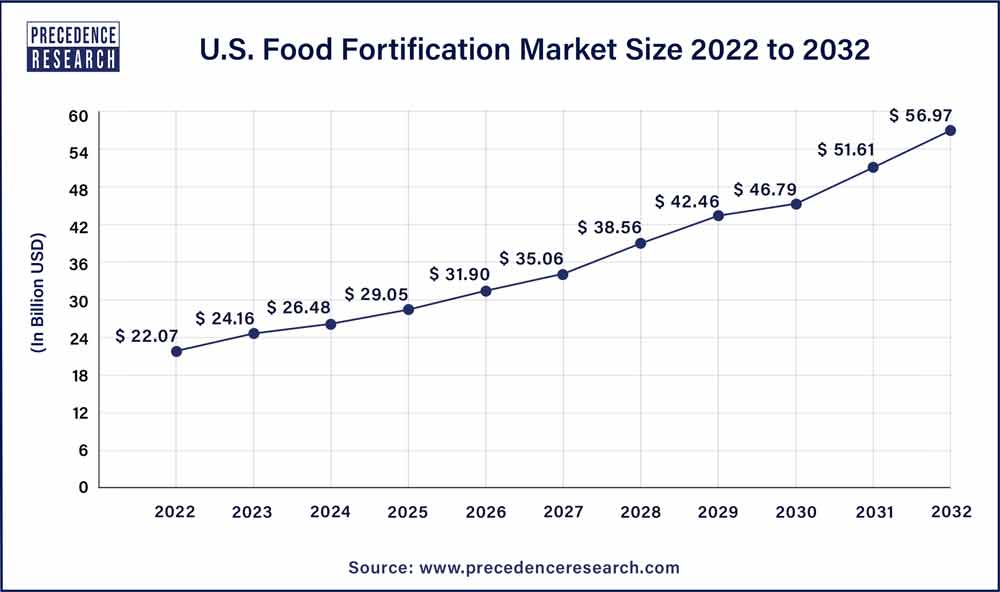 North America has held the largest revenue share 37% in 2022. In North America, the food fortification market has witnessed a growing emphasis on addressing specific health concerns. With a health-conscious population, fortified products targeting vitamins, minerals, and functional ingredients are gaining popularity. Moreover, government initiatives to combat nutrient deficiencies and mandatory fortification programs contribute to market expansion.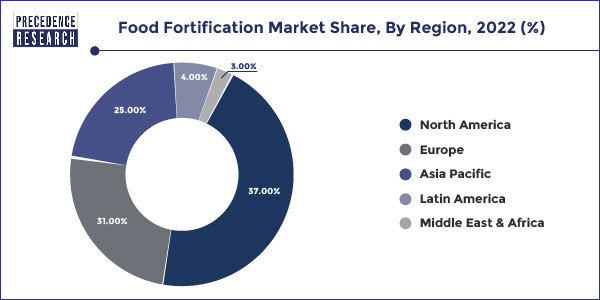 Asia-Pacific is estimated to observe the fastest expansion. In Asia Pacific, the food fortification market reflects the diverse dietary preferences and nutritional needs of its vast population. Governments and international organizations are actively engaged in addressing micronutrient deficiencies through fortification programs, particularly in staple food. The market also sees a surge in the fortification of traditional food to cater to the region's cultural diversity. As awareness of nutrition and well-being continues to grow, food manufacturers are exploring innovative fortification strategies to meet the unique demands of this dynamic market.
In Europe, there is a rising interest in natural and clean-label fortification. Consumers are increasingly seeking products that use natural sources of vitamins and minerals. Organic and non-GMO fortification is a notable trend. Additionally, fortified dairy and plant-based alternatives are on the rise, aligning with the growing demand for functional food and fortified food in the region.
Growth Factors
Governments worldwide implement food fortification programs to combat nutrient deficiencies, ensuring a steady market growth trajectory. Widespread malnutrition, especially in underdeveloped regions, calls for fortification as a solution.
The aging demographic seeks fortified products for overall well-being, leading to expanded opportunities in functional food. Increased awareness of specific nutrients' benefits propels the demand for tailored fortified food.
Partnerships with non-governmental organizations (NGOs) and international bodies create opportunities for large-scale fortification programs in regions with high malnutrition rates.
Increasing consumer demand for clean label products has led to the development of fortification methods using natural and organic ingredients.
Biofortified crops, genetically enhanced to be nutrient-rich, offer a sustainable approach to fortifying staple food and addressing nutrient deficiencies. Advancements in personalized nutrition make way for tailor-made fortification solutions based on individual nutritional requirements, offering a new frontier in this market.
Industry trends include the use of innovative fortification techniques, such as encapsulation and nano-encapsulation, to enhance nutrient stability and bioavailability. Challenges encompass regulatory hurdles and concerns about over-fortification and the necessity for accurate labeling.
Business opportunities lie in expanding fortification to diverse food categories, developing customized fortification solutions, and leveraging technological advancements to meet evolving consumer demands for healthier, nutrient-rich products. The food fortification market is poised for sustained growth as it aligns with the global shift toward healthier eating and improved public health.
Food Fortification Market Scope
| | |
| --- | --- |
| Report Coverage | Details |
| Growth Rate from 2023 to 2032 | CAGR of 10.2% |
| Market Size in 2023 | USD 93.46 Billion |
| Market Size by 2032 | USD 224.01 Billion |
| Largest Market | North America |
| Base Year | 2022 |
| Forecast Period | 2023 to 2032 |
| Segments Covered | By Type, By Process, and By Application |
| Regions Covered | North America, Europe, Asia-Pacific, Latin America, and Middle East & Africa |

Food Fortification Market Dynamics
Driver
Global malnutrition challenges and nutritional deficiency awareness
Global malnutrition challenges have become a major catalyst for the increasing demand in the food fortification market. Persistent malnutrition challenges, primarily prevalent in developing regions, pose significant health risks. Governments and organizations are increasingly acknowledging the effectiveness of fortifying staple food with essential nutrients to address these issues on a broader scale. The demand for fortified food and beverages has been steadily rising due to growing consumer awareness about health and the risk of vitamin deficiencies, which can lead to various health issues such as anemia, scurvy, beriberi, and pellagra, among others. Research also suggests that these conditions are not limited to malnourished populations but can affect well-nourished individuals in society.
Moreover, the growing awareness of nutritional deficiencies and their impact on health is driving consumers to seek out fortified food and beverages. As people become more health-conscious, they are proactively choosing products that offer added nutritional benefits. Food manufacturers are responding by fortifying a wide range of products, from cereals to dairy, to cater to this demand for enhanced nutrition. Nutritional deficiency awareness is not only shaping consumer preferences but also promoting collaborations between governments, non-governmental organizations, and the private sector to implement and promote fortification programs. This surge in both consumer and stakeholder awareness underscores the vital role of food fortification in addressing malnutrition challenges and promoting public health.
Restraint
Cost of fortification and nutrient stability
The cost of fortification, which encompasses the procurement, processing, and distribution of fortified ingredients, can be a significant barrier. For many food manufacturers, the initial investment required for fortification, including the purchase of fortified additives, equipment, and quality control measures, can be substantial. These added costs may be passed on to consumers, potentially making fortified products less affordable, particularly in regions with lower income levels.
Moreover, nutrient stability is a crucial challenge. Some vitamins and minerals are sensitive to factors such as heat, light, and oxygen, which can lead to nutrient degradation during processing and storage. Maintaining stability and bioavailability throughout the product's shelf life is essential to ensure that consumers receive the intended nutritional benefits. Formulating products to withstand these challenges while meeting regulatory requirements adds complexity and cost to food fortification initiatives. To address these restraints, ongoing research and innovation are necessary to develop cost-effective fortification methods that maintain nutrient stability, making fortified food more accessible and beneficial for a broader consumer base.
Opportunity
Biofortification programs and fortification in convenience food
Biofortification programs are playing a pivotal role in boosting the demand for food fortification. By enhancing the nutrient content of staple crops like rice, wheat, and maize through biofortification techniques, these programs are addressing widespread nutrient deficiencies. Consumers can access essential vitamins and minerals from their daily diet, reducing the reliance on supplements. This approach not only aids in improving public health but also creates a lucrative market for biofortified food and ingredients.
The fortification of convenience food is another significant driver. As urbanization and busy lifestyles become increasingly prevalent, consumers turn to packaged and convenience food. Food manufacturers recognize this trend and incorporate fortification to meet the demand for healthier options. These fortified convenience food offer consumers the benefits of added nutrients, making them a convenient choice for maintaining a balanced diet in today's fast-paced world. As a result, the food fortification market experiences sustained growth driven by these impactful factors.
Impacts of COVID-19
The COVID-19 pandemic had significant effects on the food fortification market. It highlighted the importance of maintaining strong immunity and overall health, leading to a surge in demand for fortified food and supplements. Consumers became more conscious of their nutritional intake, seeking products that could boost their immune systems.
However, the pandemic also posed challenges. Supply chain disruptions affected the production and distribution of fortified food, leading to shortages in some regions. Economic uncertainties led to shifts in consumer spending habits, impacting the affordability of fortified products for some segments of the population.
Overall, the pandemic accelerated the adoption of fortification in the food industry and amplified the significance of addressing malnutrition on a global scale. The market is expected to continue to grow as the world focuses on building resilience against health crises through improved nutrition and fortification strategies.
Type Insights
According to the type, proteins & amino acids has held 45% revenue share in 2022. Proteins and amino acids are essential nutrients that play a crucial role in overall health. The fortification of food with proteins and amino acids has gained momentum due to the rising demand for functional and protein-rich diets. This trend caters to fitness enthusiasts, vegetarians, and individuals looking to manage weight. Fortified protein products include plant-based protein sources, such as soy, and products with added essential amino acids to meet dietary requirements.
The mineral segment is anticipated to expand at a significant CAGR of 14.1% during the projected period. Mineral fortification addresses mineral deficiencies by incorporating essential minerals like iron, calcium, and zinc into food products. The ongoing trend involves fortifying staple food, dairy products, and beverages to boost mineral intake. These fortified products cater to specific health concerns, such as anemia prevention through iron-fortified cereals or improved bone health with calcium-fortified dairy. The mineral fortification trend aligns with the growing focus on nutrition and wellness, making it a key driver in the food fortification market.
Application Insights
Based on the application, dairy & dairy-based products is anticipated to hold the largest market share of 38% in 2022. Fortification in dairy products has gained traction due to its role in enhancing calcium and vitamin D intake. Calcium-fortified milk and dairy alternatives cater to consumers looking to improve bone health. Additionally, probiotic-fortified yogurt has seen growing popularity, promoting digestive health. These trends align with the increasing emphasis on overall wellness and the desire for functional food that deliver more than just traditional dairy products.
On the other hand, the infant formula segment is projected to grow at the fastest rate over the projected period. The infant formula segment is crucial for providing infants with essential nutrients for their growth and development. Recent trends in this category involve fortifying formulas with omega-3 fatty acids, prebiotics, and vital vitamins. As parents become increasingly educated about nutrition, there is a growing demand for formulas that closely mimic the composition of breast milk, which is known to promote cognitive and immune system development. To meet these evolving consumer expectations, the infant formula industry continues to witness innovations and fortification efforts.
Process Insights
In 2022, the drum drying segment had the highest market share of 62% on the basis of the process. Drum drying is a process commonly used in the food fortification market. It involves spreading a thin layer of a food mixture onto the surface of a heated drum. As the drum rotates, moisture evaporates, leaving behind a dry, fortified food product. This method is known for its efficiency in preserving the nutritional quality of the added fortificants and is widely used for making powdered drink mixes, cereals, and instant soups.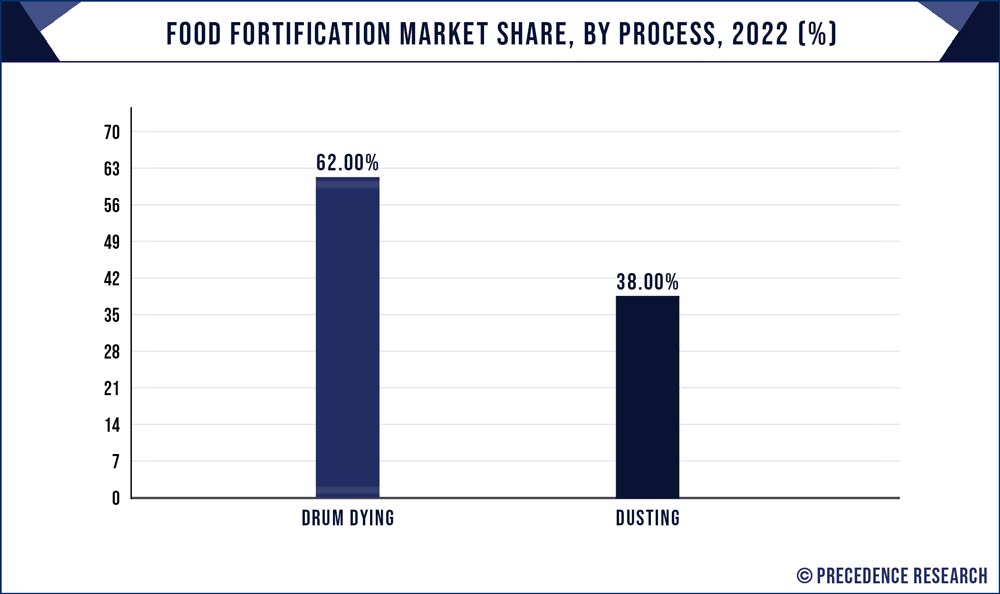 The dusting segment is anticipated to expand at the fastest rate over the projected period. Dusting, on the other hand, is a technique used for food fortification. It involves applying a powdered or granulated fortificant directly onto the surface of a food product. This process is commonly used for salt fortification with iodine and vitamin A, where the fortificant is dusted onto salt crystals. Dusting is appreciated for its simplicity, cost-effectiveness, and suitability for fortifying various food products.
Recent Developments
In 2022, Angie's Artisan Treats, LLC, a US-based food product manufacturer, introduced a new gluten-free rose-flavored variant of its popular kettle corn snack, "BOOMCHICKAPOP." This addition expands the brand's product offerings to cater to diverse consumer preferences.
In 2022, Cargill unveiled its inaugural Food Innovation Center in India, aimed at collaborating with local food and beverage industry partners to revamp products by reducing fat, salt, and sugar content, all while preserving the delectable taste and desired texture. This initiative addresses growing consumer health-consciousness and dietary preferences.
In 2021, Evolve BioSystems secured a substantial strategic investment from Cargill and Manna Tree to advance their groundbreaking probiotic technology aimed at enhancing infant gut health. This partnership and investment drive research and development efforts in California, focusing on improving the well-being of newborns.
Food Fortification Market Players
Nestlé S.A.
Kellogg Company
General Mills, Inc.
The Archer Daniels Midland Company
Cargill, Incorporated
BASF SE
DSM Nutritional Products
Glanbia PLC
Bühler Group
FMC Corporation
Corbion N.V.
Tate & Lyle PLC
Lonza Group AG
Watson, Inc.
SternVitamin GmbH & Co. KG
Segments Covered in the Report
By Type
Proteins & Amino Acids
Vitamins
Lipids
Prebiotics & Probiotics
Carbohydrates
Minerals
Others
By Process
By Application
Infant Formula
Dairy & Dairy-based Products
Cereals & Cereal-based Products
Fats & oils
Beverages
Dietary supplements
Others
By Geography
North America
Europe
Asia-Pacific
Latin America
Middle East and Africa