The global personalized nutrition market size was valued at USD 11.80 billion in 2022 and it is projected to be worth around USD 48.78 billion by 2032, registering at a compound annual growth rate (CAGR) of 15.30% during the forecast period 2023 to 2032.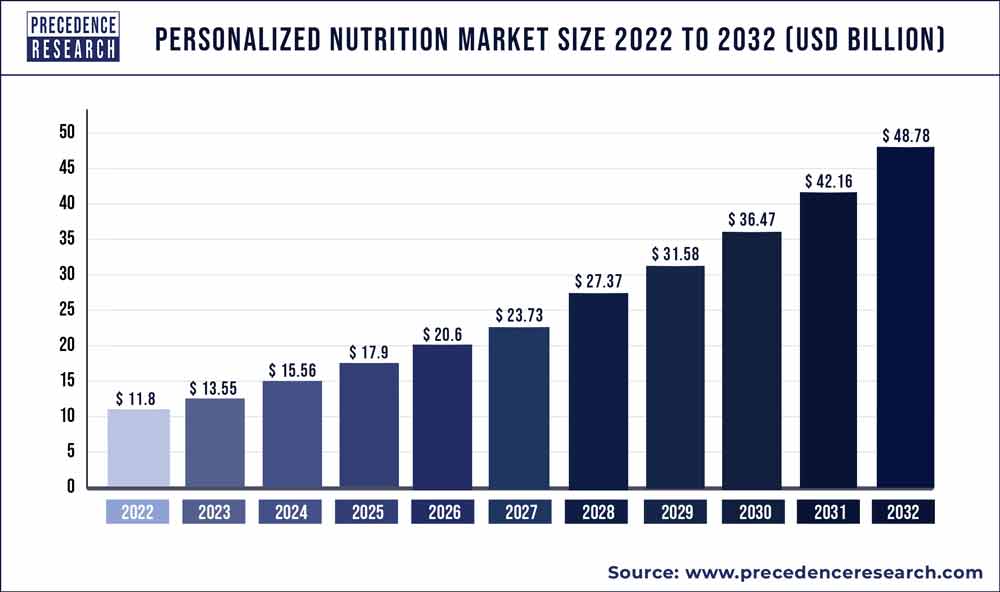 Nutrition is the study of how food and diet affects the body. Nutrition plays an important part in our life. It helps in improving our physical and mental performance by optimizing it to our needs and desires. Personalized nutrition is analyzing how food and genes interact with each other to create a personalized diet which compliments a person's individual need.
The active measurement segment accounted largest market share 56% in 2022 and register revenue of around US$ 25,124 million over the forecast period.
The North America region accounted largest revenue share 43% in 2022. The North America region was valued at US $6,448 million in 2022 and is expected to reach at US$ 15,758 million by 2032.
The Asia Pacific market is expected to reach revenue of around USD 10 billion in 2032 with a CAGR of 12.75% from 2023 to 2032.
The wellness & fitness centers segment is expected to reach US$ 12,460 million by 2032 from valued at US$ 4,788 million in 2022.
Growth Factors
Personalized nutrition uses information on individual genes and characteristics to develop nutritional advice, products, or services to assist people to achieve a lasting dietary change in behaviour that is beneficial for health. Nutritionists and other dietary specialists bring out dietary adjustments to optimize and improve our health in a personalized nutrition plan, often known as the personalized nourishment strategy. Obesity, heart disease, and type 2 diabetes are among disorders that can be reduced with such treatments. Personalized nutrition has been at the heart of what enrolled dieticians have been doing since the beginning of their careers: providing custom-made nourishment advice that meets their patients' physical, clinical, and emotional needs.
The pandemic of COVID-19 has had a significant impact on the tailored nutrition market's growth. The increased growth rate during the pandemic is primarily attributable to a shift in people's attitudes toward a healthy lifestyle and the adoption of health diets to promote immunity. As health problems become more prevalent, people are turning to health supplements to boost their immunity, which is driving up demand for individualized nutrition. Personalized nutrition now encompasses a more top-to-bottom approach, which involves a survey of an individual's inherited characteristics, dietary proclivities, physical movement, rest practices, micro biome, and even metabolism rates.
Due to growing consumer health awareness and rising disposable income, people are switching to dietary supplements and other dietary supplements throughout the region. Consumers are becoming more and more aware of their diet. People are taking multivitamins and minerals in the form of capsules and tablets as a result of lifestyle changes and a better understanding of fitness and health.
Report Scope of the Personalized Nutrition Market
| | |
| --- | --- |
| Report Coverage | Details |
| Market Size by 2032 | USD 48.78 Billion |
| Growth Rate from 2023 to 2032 | CAGR of 15.30% |
| Largest Market Share in 2022 | North America |
| Fastest Growing Region | Asia Pacific |
| Base Year | 2022 |
| Forecast Period | 2023 to 2032 |
| Segments Covered | Product, Application, End use, Dosage Forms, Disease, Geography |
| Companies Mentioned | DNA Fit, Superior Supplement Manufacturing, Metagenetics, Inc., Asiamerica, Ingredients, Nutralliance, Inc., Mixfix, Inc., Barrington Nutritionals, Balchem Corporation, Arizona Nutritional Supplements, Maat Nutritionals, Natures Product Inc. |
Application Insights
Genetic based personalization
Nutritional genomics, or nutrigenomics, is the study of how genes and nutrients interact at the cellular level to determine an individual's outcome. We now know that, depending on their genetic makeup, different people digest the same nutrients in various ways. Individual responses to grain, cholesterol, and even caffeine, for example, differ. Nutrients have also been shown to interact with our genomes and alter gene expression. Obese people, for example, had their metabolic genes expressed differently when they changed their diet carbohydrate intake, resulting in weight loss. Nutrients have also been shown to have an impact on epigenetic consequences, or how genes are expressed without modifying the DNA. This type of services allows consumers to get a saliva swab to assess their genetic information related to health. Services differ for personalization of diet from person to person based on their DNA. Furthermore, corporations are rapidly disseminating genetic direct-to-consumer (DTC) tests. Scientific organizations have stated unequivocally that genetic DTC tests have no scientific backing. Gene-based tailored diet has not yet been proven to be effective in the treatment of obesity. Personalized dietary recommendations based on a person's genetic profile, on the other hand, are a novel and promising approach to obesity prevention and treatment.
Evaluation type of service is the fastest growing personalization nutrition category. Diet and nutrition apps are among the most popular health and fitness applications, with a growing number of people using them on their mobile devices. The product labels are read by the analyzed app. The system then evaluates the quality of components and nutritional values based on the user's personal information, such as age and degree of physical activity, and suggest healthier food options. The scientific proof of nutrition information applications' effectiveness in influencing consumers' healthy eating habits is currently lacking. This is especially obvious among customers who are increasing their motivation and planning actual activities to promote healthy eating. Using a nutrition-information app, in particular, reduces the sense of barriers to consuming healthful foods. When it comes to approaching healthy eating, users have a better perception of personal strength and self-confidence. The app users' objective and subjective knowledge of healthful foods improved.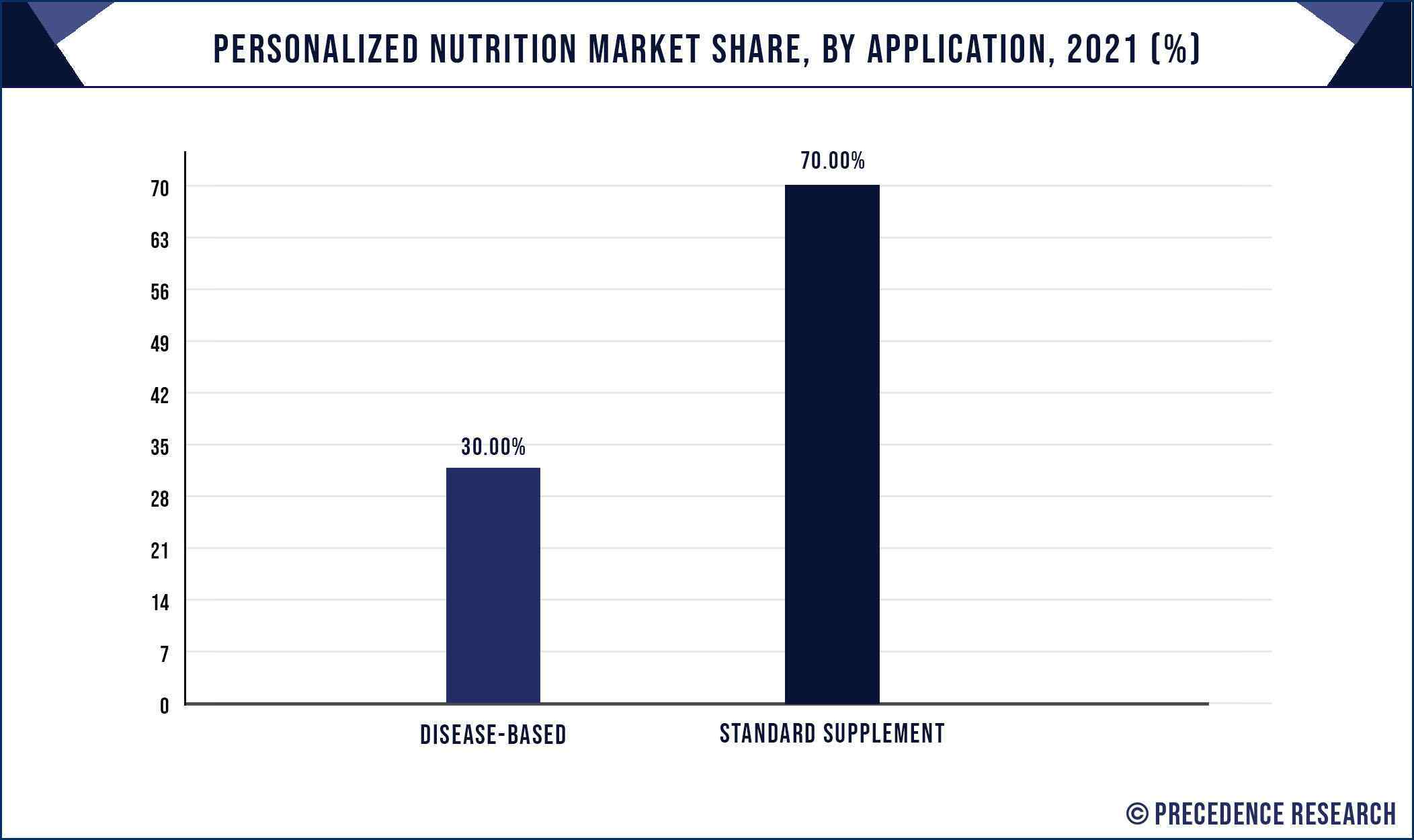 In Micrbiome type of services consumer are asked to provide their stool sample to analyze the presence of microbial DNA. This helps in analyzing the gut health to give an indication of micro-organism distribution in gut to give a proper health/diet plan based on it. More recently researchers have begun looking into the link between gut micro biota health and diseases like Alzheimer's, Parkinson's, and depression. More than 1000 kinds of bacteria and other microbes make up the gut micro biome, the body's least well-known organ. It generates hormones, digests food that the stomach can't, and sends thousands of different diet-derived compounds flowing through our systems every day, weighing almost a pound. In many ways, the micro biome is critical to understanding nutrition and provides the foundation for Personalized nutrition's growth. Despite the fact that each of us is born with a unique micro biome, a variety of factors such as mode of birth, genetic makeup, nutrition, age, and antibiotics all have a role in reshaping the micro biome population. The gut microorganisms also manufacture vitamins and other substances that humans are unable to produce, allowing us to identify which nutrients are available from the food we eat
There are many devices available which analyze the hydrogen level in a person's breath and provide suggestions for improving the same. Carbohydrate malabsorption is a common digestive issue that causes stomach pain, bloating, and diarrhoea. The most reliable and validated diagnostic approach is hydrogen breath testing (BT). The purpose of this paper was to explain how beneficial BTs can be in the nutritional therapy of various illnesses. Brands such as the Germany's Baze and UK's Vitl monitor blood levels of common micronutrients, such as foliate, iron, vitamin B12 and vitamin D to recommend monthly, vitamins, mineral and supplement packs. Clinical biomarkers are objective reflections of an individual's health and illness status, whereas nutritional biomarkers are objective reflections of an individual's dietary intake. Dietary consumption may or may not be reflected in clinical biomarkers. Many earlier association studies revealed a relationship between a specific biomarker and a specific food. A biomarker, on the other hand, may not necessarily indicate a single nutrient. It could be a reflection of a dietary pattern as a whole, or an interaction of many nutrients. The same is true for clinical biomarkers, which can signal a variety of health indices or metabolic processes with a single biomarker.
Disease Type Insights
The disease based segment is expected to hit at USD 11,930 million by 2032 from valued at USD 4,503 million in 2022.
Disease type takes into account medical history of the consumer and helps to create a diet and supplement plan according to their needs. There are foods that can elevate symptoms of certain health conditions and certain foods that can exacerbate them. Precision medicine focuses on improving the treatment of any illness by adapting it to the individual, while precision nutrition focuses on food intake. Both create therapies based on a person's unique traits, such as DNA, race, gender, health history, and lifestyle choices, to prevent or treat chronic diseases. Both aim to deliver more specific and targeted techniques for disease prevention and treatment, making them safer and more successful. Precision nutrition recognizes that each person's susceptibility to different foods and nutrients is different, so one person's best diet can be very different from another.
It has also been customized according to the need of the consumers. Healthy eating has become fashionable, to the point that, in the age of the internet and apps, there is an extraordinary profusion of services and tools available to assist those who wish to eat properly and stay in shape. Perhaps you should follow a tailored diet based on your physical attributes, as well as any health issues or dietary intolerance you may have. This type of app can assist you in determining the best foods to eat for your overall health. Different dietary programme are required for different compositions. Some people thrive on a high-protein diet, while others require a higher carbohydrate intake.
Not eating right food can be detrimental to your health. Several smartphone apps exist that can track food, count calories, and plan meals, similar to the tracking devices.
One of the biggest benefits of customizing your nutrition is that it can help you meet your specific health needs.
It's a scientifically proven essence that offers a wide range of benefits, whether you're looking to sleep better, lose weight, reduce stress, or improve your overall well-being. The COVID-19 epidemic prompted a shift in consumer behaviour, with more people choosing virtual fitness over traditional clubs. Due to lockdown constraints, the COVID-19 epidemic is creating expansion prospects for workout applications, resulting in widespread adoption of fitness apps for body weight training.
KEY MARKET DEVELOPMENTS
The rising need for customized solutions as a result of increased health awareness, the expanding trend of digital healthcare solutions, and the ageing population across regions are all expected to contribute to the market's growth over the forecast period. In addition, changing consumer trends, such as an increase in the choice for high-quality nutritional food based on their nutrient profile, are expected to drive the development of customized nutrition techniques, boosting market growth. According to studies, the most popular reasons for implementing individualized nutrition program, products, and strategies are:
Nutritional support for people with additional nutritional needs which helps them to increase the intake of certain nutrition such as pregnant women, elderly.
The growing demand for supplements among athletes and sportspeople is expected to drive the growth of this sub-segment in the personalized nutrition market.
Dietary management for people who have specific illnesses or conditions
People in need of improving their overall health
Nutritional support for people with certain food intolerances or vitamin or mineral deficiencies.
Key Players
DNA Fit
Superior Supplement Manufacturing
Metagenetics, Inc.
Asiamerica, Ingredients
Nutralliance, Inc.
Mixfix, Inc.
Barrington Nutritionals
Balchem Corporation
Arizona Nutritional Supplements
Maat Nutritionals
Natures Product Inc.
Market Segmentation
(Note*: We offer report based on sub segments as well. Kindly, let us know if you are interested)
By Product
Active Measurement
Standard Measurement
By Application
Standard Supplement
Disease-based
By End use
Direct-to-consumer
Wellness & Fitness Centers
Hospital & Clinics
Institutions
Food Delivery Services
By Dosage Forms
Tablets
Capsule
Powders
Liquids
Others
By Disease
Customized to the needs of consumer
Fitness Goal Oriented Application
By Geography
North America
Europe
Asia-Pacific

China
India
Japan
South Korea
Malaysia
Philippines

Latin America

Brazil
Rest of Latin America

Middle East & Africa (MEA)

GCC
North Africa
South Africa
Rest of the Middle East & Africa