The global B2B sports nutrition market size was reached at USD 3.78 billion in 2022 and it is expected to hit around USD 7.68 billion by 2032, poised to grow at a CAGR of 7.35% between 2023 and 2032. The growing interest in leading a healthy lifestyle and emerging consciousness of sports nutrition products make the market expand internationally.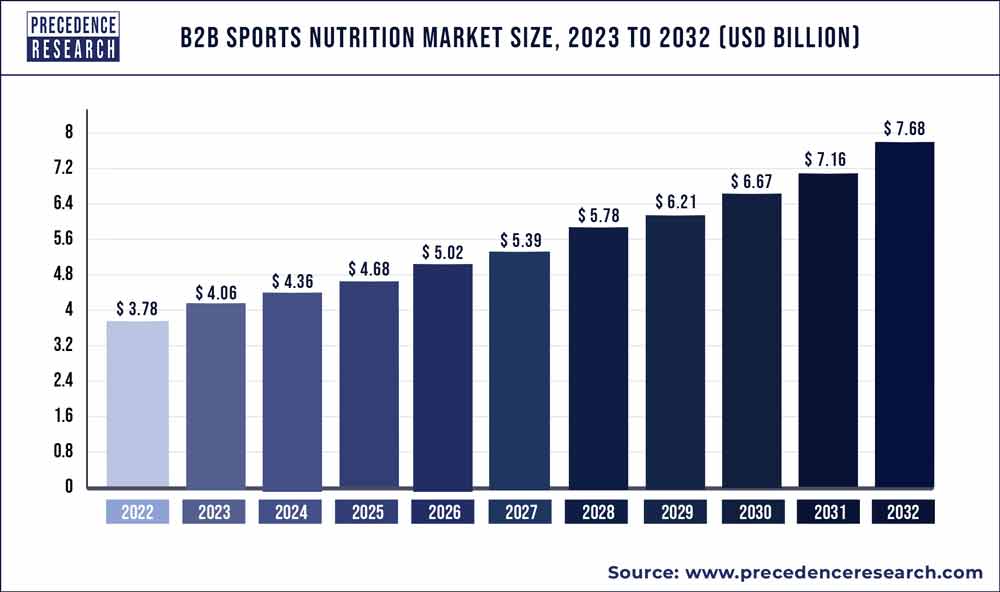 Access our Premium Real Time Data Intelligence Tool, Visit: Precedence Statistics
Key Takeaways:
North America generated more than 63% of the revenue share in 2022.
Europe region is expected to grow at the fastest CAGR from 2023 to 2032.
By application, the recovery segment led the market and captured the largest revenue share of around 25% in 2022.
By distribution channel, the gym segment generated for a maximum market share of around 69% in 2022.
Market Overview
Sports Nutrition refers to consuming nutrients such as proteins, minerals, amino acids, vitamins, and carbohydrates to increase power and stamina and improve athletic performance. It helps to increase muscle mass, speed up muscle recovery, and give the body the fuel for high-intensity activities requiring sufficient energy and stamina. Sports nutrition includes post-workout supplements used for muscle growth and healing and pre-workout nutraceuticals used to boost energy levels and hydration and increase muscle strength. Protein supplements lead the market, with a share of 70% in overall consumption.
Sports nutrition companies see this as an opportunity to bridge the gap and capitalize on the growing demand. They ensure that the products are approved by the food safety and standards authority of India (the regulatory body for food products) and adhere to the guidelines of the Indian Council of Medical Research (ICMR) and the World Health Organisation's good manufacturing practices (GMP).
Nutrition influences athletes' performance, but various individuals react differently to the same meals, nutrients, and supplements. The government has created more facilities for sportspersons through professional sporting leagues, which provide services for more athletes to take up sports as a profession.
Growth Factors
The requirement for diverse types of protein bars, energy drinks, dietary & health supplements, and among sportspersons and bodybuilders has accelerated the market expansion. Various natural components are used to build sports nutrients derived from vegetable starch, sugars, milk, fiber, egg protein, herbs, vitamins, and minerals. The most popular sports supplementation are energy amplifiers, recovery strengths, and performance enhancers sportsperson performance improvement, weight loss maintenance, health, and well-being.
The sports nutrition industry has seen massive growth, mainly using supplements, which have been tied to steroids. Growing sports engagement and concern about physical well-being amongst youth drive the need for sports nourishment commodities and serve the market expansion.
The government brought consciousness about the significance of health in daily life- Khelo India and Fit India. Campaigns have stimulated the country's renewal of sports culture and increased investment in sports infrastructure in recent years. The outbreak has put preventative healthcare in the center. Doctors advised wellness Nutritional Supplements during the pandemic, ensuing in higher consciousness and acceptance.
They help them to fulfill their body requirement and enhance performance and recovery ratios by nourishing them with essential vitamins, proteins, minerals, fats, and carbohydrates. The notable elements fostering market advancement are the growing popularity of organic food, drink, protein, and nutritional bars, ascending expenditure, evolving lifestyle, and emerging globalization.
Report Scope of the B2B Sports Nutrition Market
| | |
| --- | --- |
| Report Coverage | Details |
| Market Size in 2023 | USD 4.06 Billion |
| Market Size by 2032 | USD 7.68 Billion |
| Growth Rate from 2023 to 2032 | CAGR of 7.35% |
| Largest Market | North America |
| Base Year | 2022 |
| Forecast Period | 2023 to 2032 |
| Segments Covered | By Application and By Distribution Channel |
| Regions Covered | North America, Europe, Asia-Pacific, Latin America and Middle East & Africa |

Market Dynamics:
Driver
The fast pace of urbanization, non-traditional consumer growth, and increased health clubs and fitness centers are the dominating driving factors for the change throughout the forecasting market. Different innovations in the sports nutrition market for making the products safer and more effective to consume are expected to boost the need for sports fitness nutrition in the forthcoming years. Performance-improving supplements like creatine and protein powders have risen by about 80% over the past five years. Even probiotics and botanical extracts are predicted to have a greater need from athletes to improve their gut health.
Restraints
Awareness about diseases, high commodity prices, low economic conditions, and shortage of suitable insurance methods limits the adoption of B2B sports nutrition products across developing regions of the globe. Therefore, announcing new products with low prices and growing efforts for market perforation in these regions can offer profitable growing facilities for the B2B sports nutrition players.
Opportunities
The regular rise in adolescence selecting sports as their career is also vital for the market's expansion. The increasing awareness of diseases, increased risk of damage, absorbing high-fiber nutritious food, and development of e-commerce bases also hit the market growth of sports nutrition—proficiency in R&D, mainly in developing nations that encourage sports nutrition and sports in general. Peoples are more deliberate about physically fit because of greater realization and literacy. Social media thrive with pictures of celebrities and youth posting images of their carved and toned bodies.
Impact of COVID-19
The onset of the Covid-19 outbreak devastated our lives, but it benefitted the expansion of the international market. It transitioned and changed people's mindsets to familiarize themselves and live healthy lives. According to a report, 51% of people and consumers worldwide were concerned and anxious about quickly gaining weight from the pandemic due to laziness, less activity, and replacing nutritious food with junk food.
Thereby, it elevated multiple health issues among people, which led to the intake of several dietary supplements that enabled them to abolish and overcome their unhealthy lifestyles, driving a market expansion.
However, intake was negligible at the onset of the pandemic as all the yoga centers, fitness clubs, and gyms were closed. Eventually, people embarked on taking a withstand for their health, which gradually impacted them. Our post-covid living habits are more health driven, leading to a vast increase in the global client base and need for nutrition. Be it sports persons, athletes, bodybuilders, or people from anywhere who strive to live a healthy life have been involved heavily in strengthening the idea of healthy living by raising the market size and growth of the nutrition industry.
People's option has transformed into an active lifestyle, with more stress on health and fitness, which is crucial in driving the market growth. Consumer rise in sports nutrition is also estimated to expedite with the steady increase in the acceptance of health and protein supplements by youthful and middle-aged people. The magnifying request for plant-based and immunity-enhancing nutritional goods and accessories also adds to the sports nutrition market growth. The persistently increasing rate of obese people has elevated awareness about healthy food and fitness, contributing to the advancement of the sports nutrition market.
Segments Insight:
Application Insights
The recovery segment dominated the B2B sports nutrition market and held the largest revenue share of around 25% in 2022. Growing awareness concerning a physically healthy lifestyle with easy availability of commercial sports restoration goods on retailing shelves and web-based platforms is one of the primary reasons for the market growth. Additionally, the surge in fitness centers and gyms across the world is another significant reason contributing to growth.
Increasing health awareness and the emerging trend of self-diagnosis amongst customers are predicted to bolster the demand. Industries focus on product innovation, and consistently improving their pipeline with new constituents is estimated to enhance market growth throughout the forthcoming years. For instance, in November 2017, Apres announced vegan plant-derived protein beverages to help their full-body nutritional refilling. Later, in 2019, Israel-derived nutrition business InnovoPro Ltd launched vegan chick-pea protein powder.
The endurance section is estimated to register a substantial growth rate through the estimated period. This advancement is assigned to increasing involvement in sports and fitness activities such as marathons, running, weight lifting, cycling, etc. Raising health awareness and rising healthcare expenses are estimated to positively influence growth over the years. In July 2020, the Chelsea football club launched blue fuel, a new sports nutrition service to design a customized meal program to be checked by a mobile app.
It also addresses health purposes for the players to enhance their performance. According to a study, endurance sports were one of the most vital developing areas. Moreover, nature-based ingredients such as beet juice, amla, tulsi, and ashwagandha are gaining popularity in the stamina commodity stretch and are expected to serve market growth.
Distribution Channel Insights
The gym segment led the market and hold a maximum market share of around 69% in 2022. Growing participation at gyms is the pivotal leading source for the region. Health awareness is rising amongst fitness freaks, influencing the need for sports nutrition products. Partnerships among sports nutrition firms and established gyms to meet dietary needs contribute to development. Gyms have been endorsing a vast range of sports nutritional goods that render buyers' consultation care before purchasing.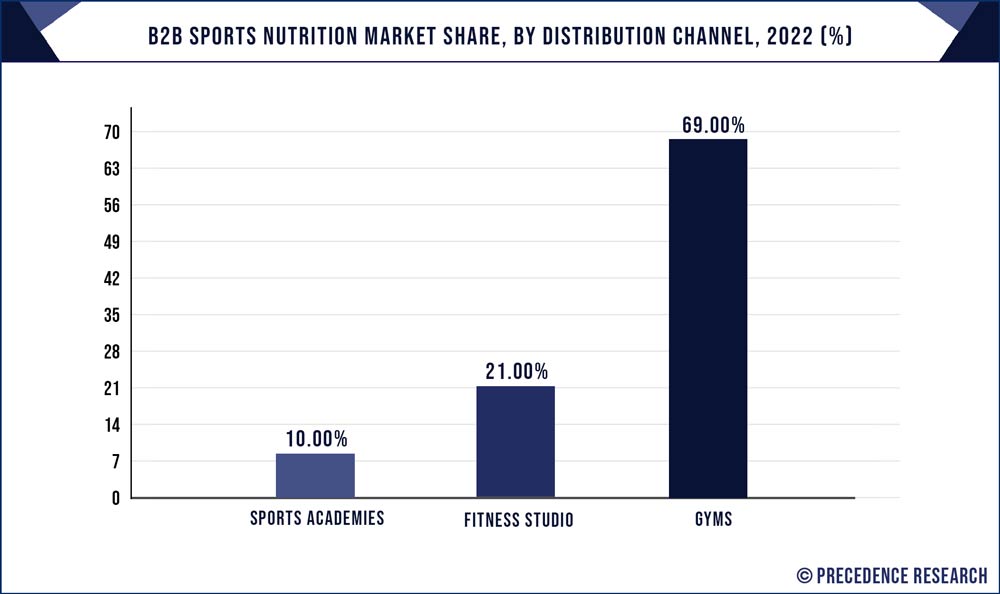 The fitness studio section is expected to register a lucrative CAGR for the predicted years. This incremental growth is attributable to the rising popularity of health studios, rendering a wide array of sporting and fitness activities like yoga, personal training, functional cross-training, children's fitness programs, and HIIT to align with the health and fitness freaks.
Personalized and customized nutrition programs and counselling are provided along with one-one consideration on training crews to bolster their fitness journey. Thereby, the rise in the need for nutritional guidance and healthcare is scaling up growth. The Covid-19 outbreak contrived these health clubs to formulate innovative approaches to review earning flows via online sessions and external training classes.
Regional Insights
North America led marked and accounted for more than 63% of revenue share in 2022. The growing government initiatives encouraging sporting activities in the U.S. furnish a spike in need. Emerging leaning upon obtaining a healthy and vibrant lifestyle and raising consciousness concerning the value of sports nutrition goods among the community in North America is estimated to positively impact the expansion of the market for B2b sports nutrition. In addition, growing gyms and fitness centres across the United States and Canada bolster market growth. Growing product launches and the presence of key regional players are fundamental reasons leading the trade for B2B sports nutrition in the region.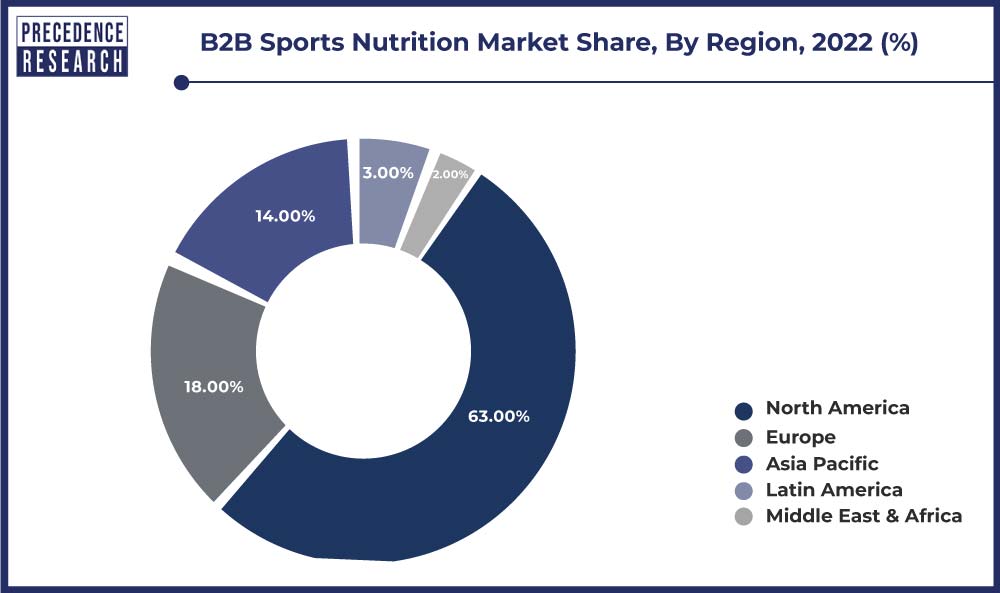 Europe region is anticipated to growing at a fastest CAGR over the predicted period, attributed to an increasing realization of the prominence of a healthy lifestyle in the area. A rise in the number of athletes and recreational sports enthusiasts in Europe ultimately influences the demand. Progress in the digital framework in Europe supports development facilities for web-based platforms. The upsurge in the need for innovative, new, and tested elements that boost endurance and construct muscle is estimated to push demand for sports nutrition goods in Europe.
The expanding trend of external sporting activities is also predicted to induce the region's demand for B2B sports nutrition. Moreover, web-based sales channels are evolving to render improved availability and possibility to users that would remarkably ride the market for B2B sports nutrition.
Recent Developments
In February 2023, 226ERS, a sports-nutrition brand focusing on endurance sports and healthy eating, obtained investment to improve a project in sports nutrition. The company name derives from the number of kilometres that turns up an Ironman triathlon.
In October 2022, Hologram Sciences and Maeil Health Nutrition partnered to the South Korea market to provide customized nutrition solutions.
In April 2022, Glanbia Nutritionals launched TechVantage, a stage for nutrient technology that has been operationally improved and presents customers with nutrient solutions.
In April 2022, SkillStorm advertised its association with Appian Education. It is a driving technology talent developer that arranges a team of US-trained technical talent for its consumer services. And as an Appian Education partner, the firm targets to assist its clients in adopting digital change by rendering skilled and certified Appian developers.
In June 2020, Nestle Health agreed to buy a bulk stake in Vital Proteins containing collagen, beverages, food products, lifestyle, and wellness brand offering supplements.
Key Market Players:
Glanbia Plc.
Abbott
PepsiCo
The Hut Group
Cardiff B2B Sports Nutrition Limited
Iovate Health Sciences
MUSCLEPHARM
General Nutrition Centers, Inc.
The Bountiful Company
Post Holdings, Inc.
Herbalife International of America, Inc.
The Bountiful Company
Clif Bar & Company
Science in Sport
Segments Covered in the Report:
(Note*: We offer report based on sub segments as well. Kindly, let us know if you are interested)
By Application
Endurance
Strength Training
Muscle Growth
Recovery
Energy
Weight Management
Immunity Enhancement
Cognitive Repairment
By Distribution Channel
Gyms
Fitness Studio
Sports Academies
By Geography
North America
Europe
Asia-Pacific
Latin America
The Middle East and Africa