The global nutraceuticals market was estimated at US$ 498.86 billion in 2021 and is expected to hit US$ 1025 billion by 2030, at a CAGR of 8.33% during the estimate period 2022 to 2030.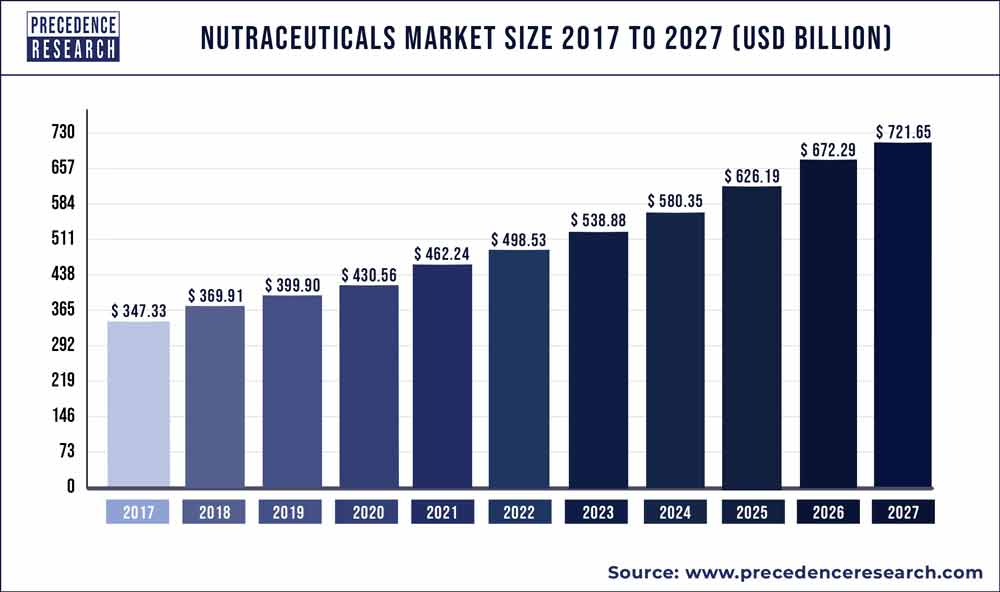 Market Overview:
Nutraceuticals is a comprehensive umbrella term which is used to label any product acquired from food origin with additional health advantages over and above the basic nutritious value available in foods. Nutraceuticals can be regarded as non-precise biological remedies used to boost general health, regulate indications and avert malignant developments. The explanation of nutraceuticals and allied output generally relies on the origin. Nutraceuticals can be segmented on the foundation of their natural basis, pharmacological circumstances, as well as chemical structure of the products. Most often nutraceuticals are organized in the following classes: functional food, dietary supplements, pharmaceuticals, and medicinal food.
Crucial factors accountable for market growth are:
Development of function-specific antioxidants
Increasing disposable income
Increasing need for preventive healthcare
Growing awareness regarding health and well-being
Constant innovations
Increasing prevalence of lifestyle related disorders
Increasing number of fitness centers in developing regions
Rise of e-commerce industry
COVID-19 Impact on Global Nutraceuticals Market
The nutraceutical supply chains are struggling on a global scale to keep pace with the rapid spread of the COVID-19 virus. Most of the companies have their manufacturing units in Asia. The disruption in supply chain due to the COVID-19 pandemic has caused a slump in the availability of nutraceuticals across the globe.
The disruptive effects of the novel coronavirus pandemic have placed an enormous strain on the global supply of nutraceutical products, thus increasing the risk of shortages. Although production across various industries in Asia has gradually resumed, the U.S. pharmaceutical and nutraceutical manufacturers, which heavily source directly and indirectly from Asia, are exposed to high risks in supply shortages. However, the COVID-19 pandemic has also presented growth opportunities for the manufacturers of nutraceuticals as the focus has shifted towards consumption of supplements such as multi-vitamins, omega-3 fatty acids, and protein supplements for maintaining a stronger immunity.
Report Scope of the Nutraceuticals Market
| | |
| --- | --- |
| Report Highlights | Details |
| Market Size | US$ 1025 Billion by 2030 |
| Growth Rate | CAGR of 8.33% From 2022 to 2030 |
| Base Year | 2021 |
| Historic Data | 2017 to 2021 |
| Forecast Period | 2022 to 2030 |
| Segments Covered | Type, Form, Sales Channel |
| Regional Scope | North America, Europe, Asia Pacific, Latin America, Middle East & Africa (MEA) |
| Companies Mentioned | Archer Daniels Midland Company, General Mills, Inc., I. du Pont de Nemours and Company, Aland (Jiangsu) Nutraceutical Co., Ltd., BASF SE, Cargill, Incorporated, Royal DSM N.V., Groupe Danone S.A., Nestle S.A., PepsiCo Inc. |
Significant Market Trends:
Dietary Supplements Segment Reported Foremost Market Stake in 2021
The dietary supplements segment displayed a major share in the worldwide nutraceuticals market in 2021. Dietary supplements such as vitamins, minerals, and protein are the most frequently used nutraceuticals worldwide. Their acceptance has augmented rapidly in the earlier few years. Many studies have suggested that dietary supplements can enhance health, reimburse for unhealthy eating ways, and also lessen risk of developing chronic ailments. Moreover, factors such as easy availability and low cost augment the demand for dietary supplements.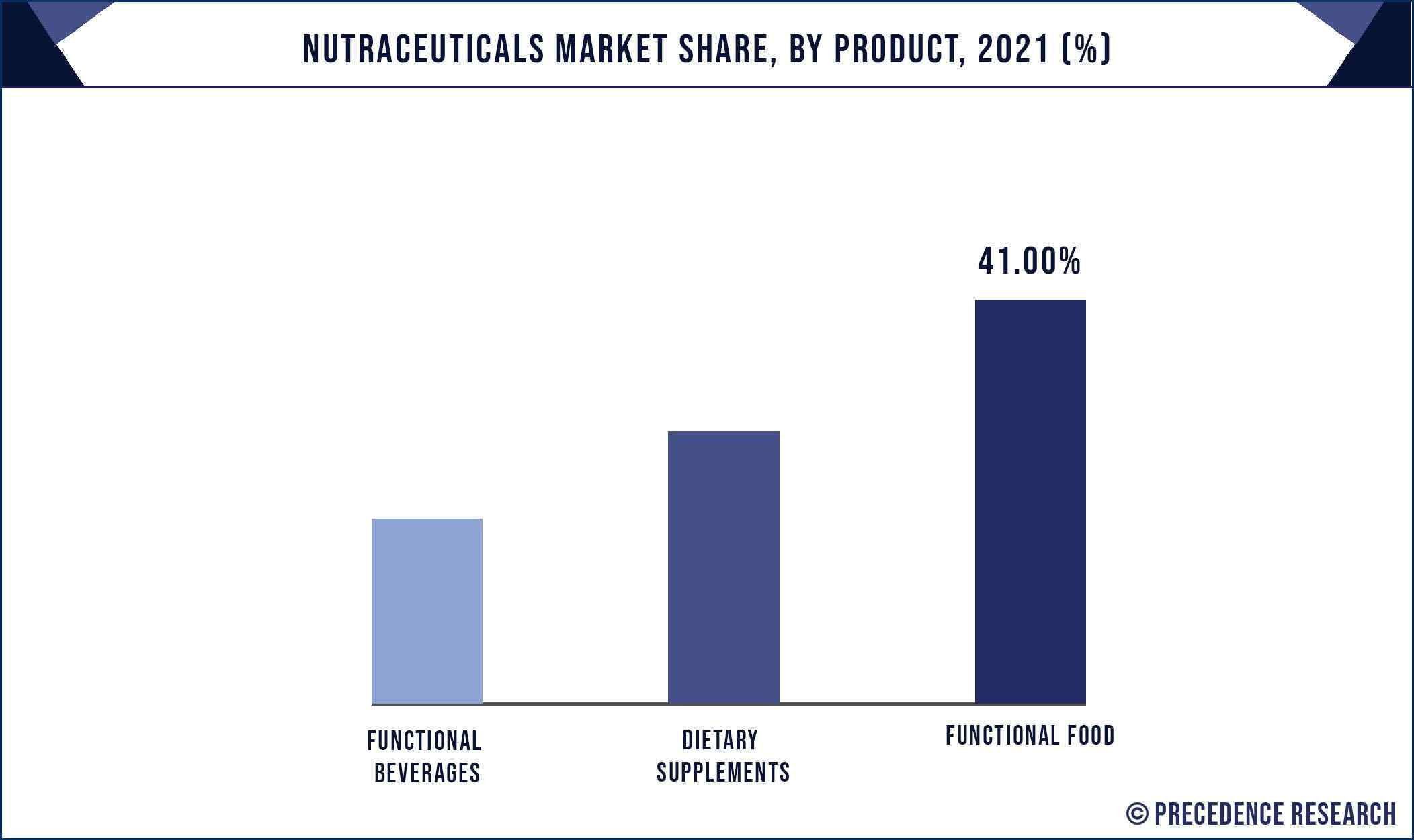 The functional food segment accounted revenue share of around 41% in 2021. Functional beverages are expected to grow at highest CAGR within the forecast time-duration. In the functional food segment, the prebiotics and probiotics segment is expected to hit highest CAGR of 11.5% from 2021 to 2030.
Tablets & Soft Gels Dominated the Market Revenue by Form in 2021
Nutraceuticals can be obtained over-the-counter and are also sold through e-commerce sites. Nutraceuticals are predominantly consumed in the form of tablets and soft gels due to ease of storage and consumption. Moreover, higher shelf life and easy packaging also contributes to the high popularity of nutraceuticals tablets and soft gels.
North America is Estimated to be the Largest Market for Nutraceuticals
The comprehensive research account covers substantial projections and inclinations of nutraceuticals throughout chief regions encompassing Africa, Asia Pacific, Europe, Latin America, North America, Middle East, and. By region, nutraceuticals market is led by North America due to presence of major manufacturers, high disposable income, and increasing focus on physical appearance.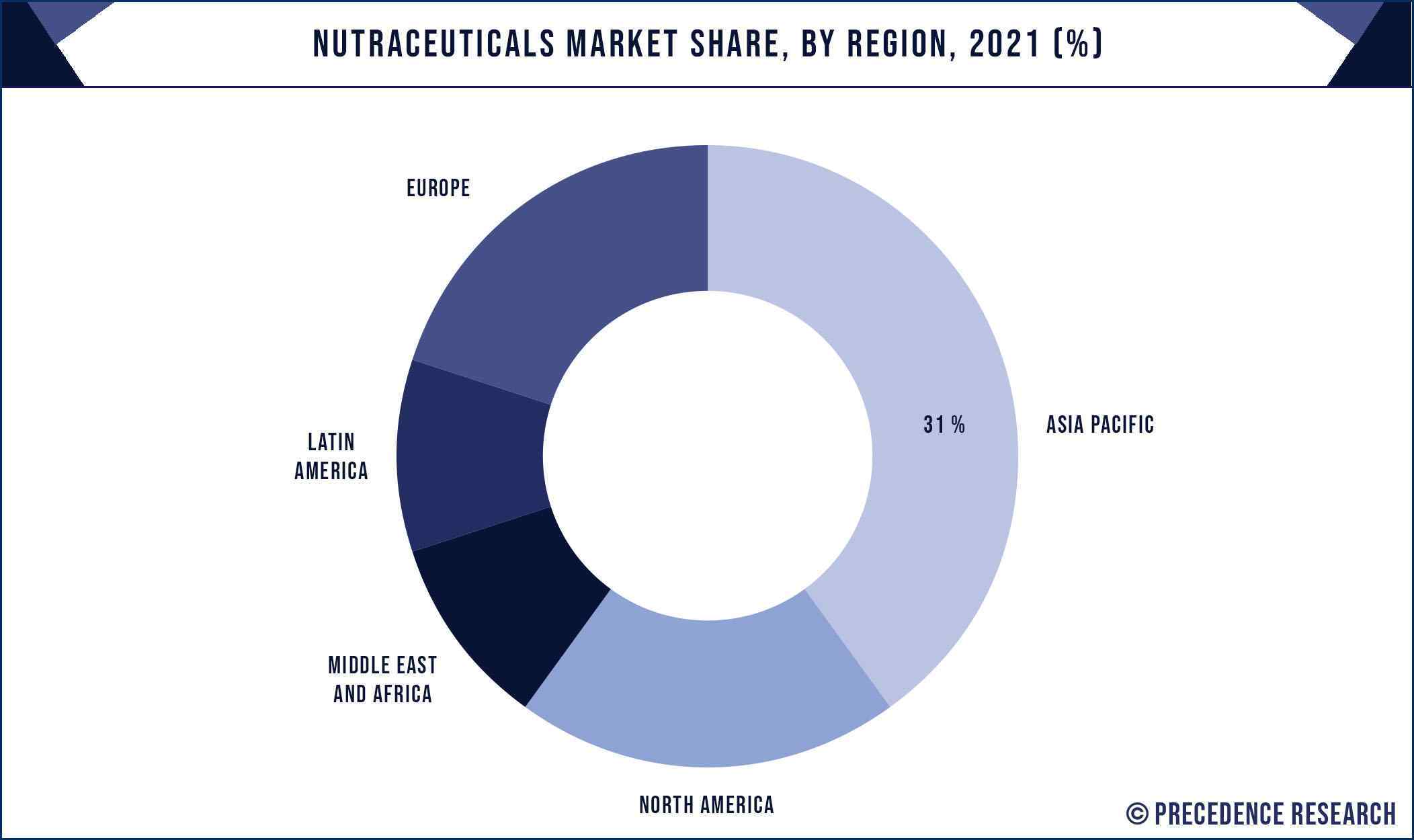 Europe reported succeeding highest share predominantly owing to greater elderly population and growing occurrence of chronic ailments. Asia Pacific is projected to advance at the highest compounded annual growth rate majorly owing to increasing popularity of e-commerce websites, growing awareness about importance of well-being and health, and the rising middle-class populace. Middle East, Latin America, and African region is expected to exhibit note-worthy growth in the projected time-frame.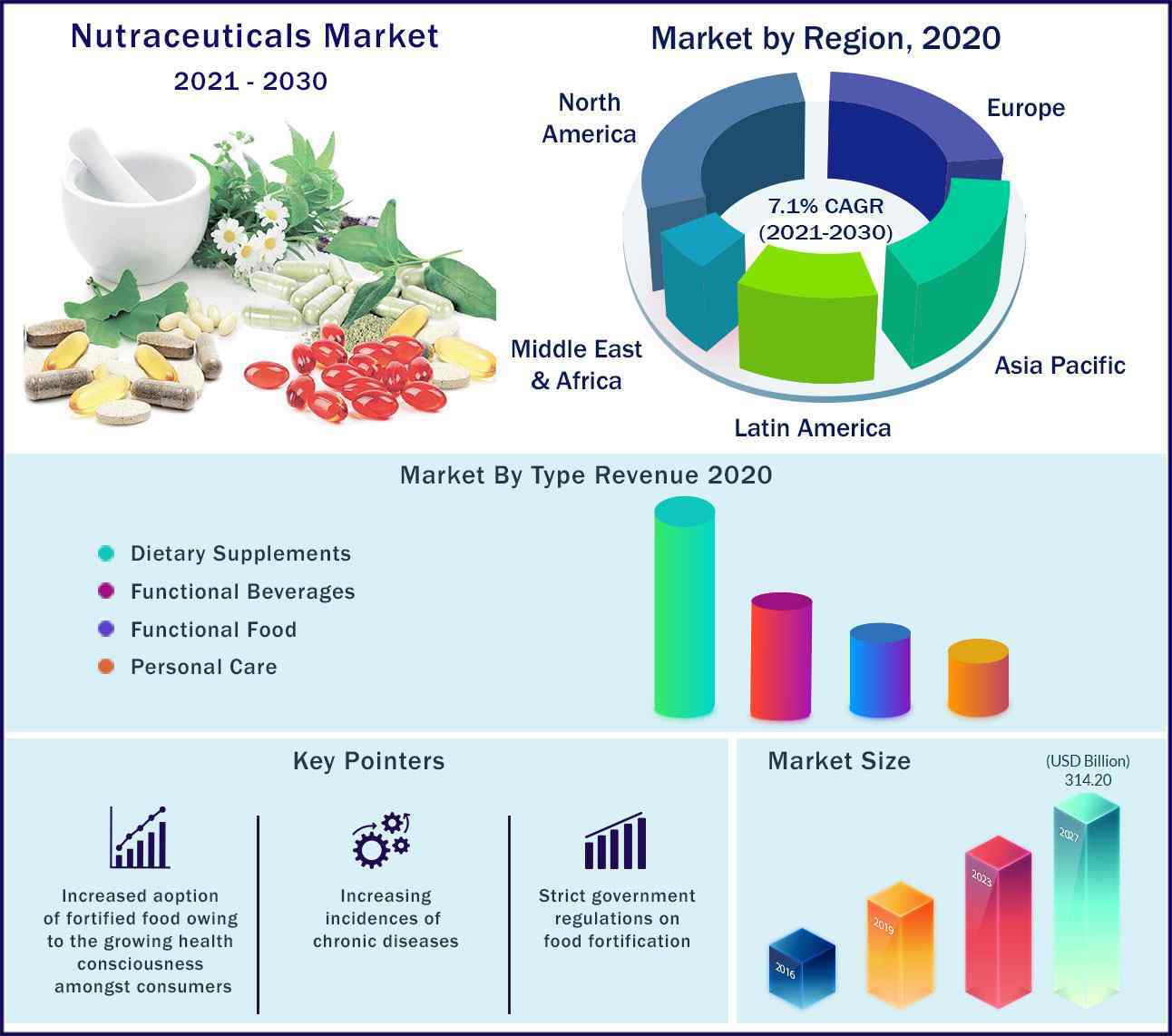 Top Players contending in the Market:
The companies focusing on research and development are expected to lead the global nutraceuticals market. Leading competitors contending in global nutraceuticals market are as follows:
Archer Daniels Midland Company
General Mills, Inc.
I. du Pont de Nemours and Company
Aland (Jiangsu) Nutraceutical Co., Ltd.
BASF SE
Cargill, Incorporated
Royal DSM N.V.
Groupe Danone S.A.
Nestle S.A.
PepsiCo Inc.
With the aim of well recognizing the present standing of nutraceuticals, and guidelines implemented by the developed countries, Precedence Research anticipated the future advancement of the nutraceuticals industry. This study bids qualitative and quantitative intelligences on nutraceuticals market and estimation of business size and development trend for feasible market sectors.
Major Market Segments Covered:
By Type
Dietary Supplements

Vitamins
Botanicals
Minerals
Proteins & Amino Acids
Fibers & Specialty Carbohydrates
Omega Fatty Acids
Others

Functional Beverages

Energy Drinks
Sports Drinks
Functional Juices
Others

Functional Food

Carotenoids
Dietary Fibers
Fatty Acids
Minerals
Prebiotics & Probiotics
Vitamins
Others

Personal Care
By Form
Capsules
Liquid & Gummies
Tablets & Soft Gels
Powder
Others
By Sales Channel
Specialty Stores
Supermarkets/Hypermarkets
Convenience Stores
Drug Stores/Pharmacies
Online Retail Stores
Other
By Geography
North America
Europe
Asia-Pacific

China
India
Japan
South Korea
Malaysia
Philippines

Latin America

Brazil
Rest of Latin America

Middle East & Africa (MEA)

GCC
North Africa
South Africa
Rest of the Middle East & Africa