The global nutraceuticals market size accounted for USD 462.24 billion in 2021 and is expected to hit USD 721.65 billion by 2027, at a CAGR of 7.71% during the estimated period 2022 to 2027. U.S. nutraceuticals market was valued at USD 187.4 billion in 2022.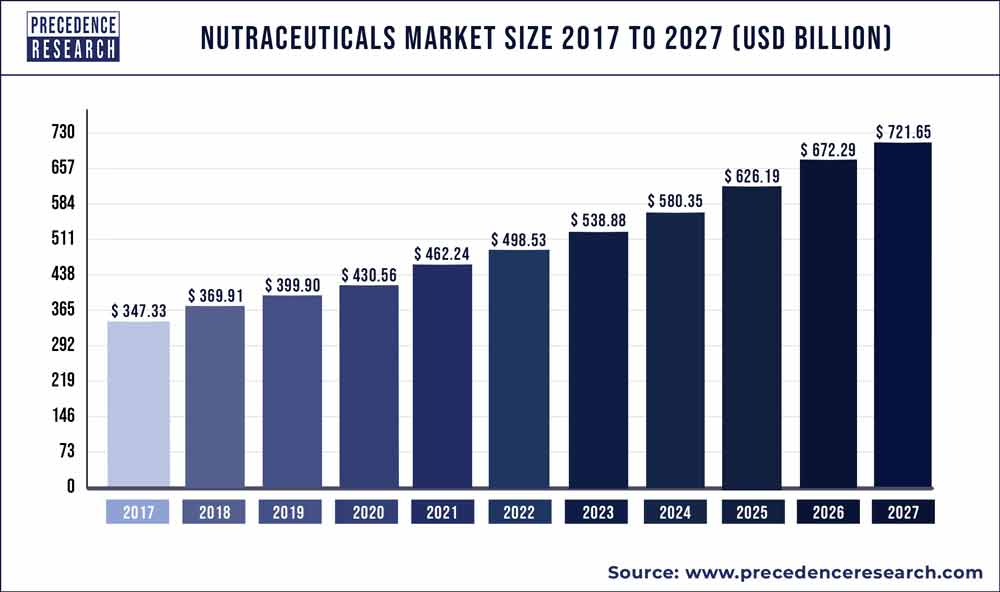 Access our Premium Real Time Data Intelligence Tool, Visit: Precedence Statistics
North America is Estimated to be the Largest Market for Nutraceuticals
The comprehensive research account covers substantial projections and inclinations of nutraceuticals throughout chief regions encompassing Africa, Asia Pacific, Europe, Latin America, North America, Middle East.
The North America region is growing due to presence of major manufacturers, high disposable income, and increasing focus on physical appearance. In 2021, North America dominated the nutraceuticals market due to increasing health awareness, rising disposable incomes, a growing aging population, and increasing sales. Prior to the onset of the pandemic, the U.S. witnessed a steady increase of 5% ($345 million) in dietary supplement sales in 2019 compared to the previous year. However, during the first wave of the pandemic, specifically in the six weeks preceding April 5th, 2020, there was a significant surge of 44% ($435 million) in sales, indicating a heightened demand for dietary supplements. Notably, multivitamins experienced a substantial spike in demand in March 2020, with sales rising by 51.2% and total sales of vitamins and supplements reaching nearly 120 million units for that period alone. This highlights the increased consumer interest in and reliance on dietary supplements during the early stages of the pandemic in the U.S.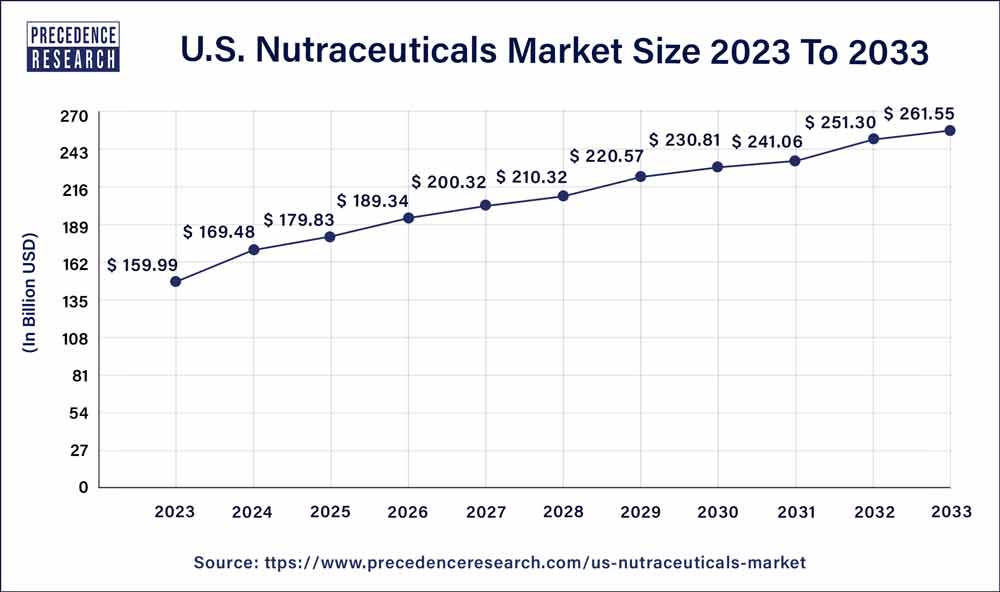 Europe reported succeeding highest share predominantly owing to greater elderly population and growing occurrence of chronic ailments. Asia Pacific is projected to advance at the highest compounded annual growth rate majorly owing to increasing popularity of e-commerce websites, growing awareness about importance of well-being and health, and the rising middle-class populace. Middle East, Latin America, and African region is expected to exhibit note-worthy growth in the projected time-frame.
Market Overview:
Nutraceuticals is a comprehensive umbrella term which is used to label any product acquired from food origin with additional health advantages over and above the basic nutritious value available in foods. Nutraceuticals can be regarded as non-precise biological remedies used to boost general health, regulate indications and avert malignant developments. The explanation of nutraceuticals and allied output generally relies on the origin. Nutraceuticals can be segmented on the foundation of their natural basis, pharmacological circumstances, as well as chemical structure of the products. Most often nutraceuticals are organized in the following classes: functional food, dietary supplements, pharmaceuticals, and medicinal food.
Crucial factors accountable for market growth are:
Development of function-specific antioxidants
Increasing disposable income
Increasing need for preventive healthcare
Growing awareness regarding health and well-being
Constant innovations
Increasing prevalence of lifestyle related disorders
Increasing number of fitness centers in developing regions
Rise of e-commerce industry
Report Scope of the Nutraceuticals Market
| | |
| --- | --- |
| Report Highlights | Details |
| Market Size in 2022 | USD 498.53 Billion |
| Market Size by 2027 | USD 721.65 Billion |
| Growth Rate from 2022 to 2027 | CAGR of 7.71% |
| Base Year | 2021 |
| Historic Data | 2017 to 2021 |
| Forecast Period | 2022 to 2027 |
| Segments Covered | Type, Form, Sales Channel |
| Regional Scope | North America, Europe, Asia Pacific, Latin America, Middle East & Africa (MEA) |
| Companies Mentioned | Archer Daniels Midland Company, General Mills, Inc., I. du Pont de Nemours and Company, Aland (Jiangsu) Nutraceutical Co., Ltd., BASF SE, Cargill, Incorporated, Royal DSM N.V., Groupe Danone S.A., Nestle S.A., PepsiCo Inc. |
COVID-19 Impact on Global Nutraceuticals Market
The nutraceutical supply chains are struggling on a global scale to keep pace with the rapid spread of the COVID-19 virus. Most of the companies have their manufacturing units in Asia. The disruption in supply chain due to the COVID-19 pandemic has caused a slump in the availability of nutraceuticals across the globe.
The disruptive effects of the novel coronavirus pandemic have placed an enormous strain on the global supply of nutraceutical products, thus increasing the risk of shortages. Although production across various industries in Asia has gradually resumed, the U.S. pharmaceutical and nutraceutical manufacturers, which heavily source directly and indirectly from Asia, are exposed to high risks in supply shortages. However, the COVID-19 pandemic has also presented growth opportunities for the manufacturers of nutraceuticals as the focus has shifted towards consumption of supplements such as multi-vitamins, omega-3 fatty acids, and protein supplements for maintaining a stronger immunity.
Market Dynamics
Market Drivers
Increasing use of Nutraceuticals for their potential therapeutic outcomes in various diseases and ailments
Over the few years, nutraceuticals have been increasingly used in various therapeutic outcomes. Nutraceutical products are not only used for better health outcomes but to reduce the risk of heart diseases, cancer, and other related diseases like insomnia, cataracts, weakened memory, menopausal symptoms, and gastrointestinal problems. Nutraceuticals products, such as those derived from a combination of ginger, garlic, and honey, are effective in treating headaches and migraines caused by stress. Other nutraceutical products like green tea, Vitamin E, and Vitamin C are being used for various purposes, such as improving hair health and complexion and treating conditions like varicose veins, alcoholism, depression, and lethargy, among others.
Increasing prevalence of chronic diseases
There has been a rise in chronic diseases such as diabetes, cardiovascular diseases, cancer, and Obesity. According to WHO, the mortality rate each year due to chronic illness is equivalent to 74%. About 17 million die due before the age of 70;86% of these premature deaths occur in low-and middle-income countries. CVD accounts for the most deaths, 17.9 million people annually, followed by cancers (9.3), chronic respiratory diseases (4.1 million), and diabetes (2.0 million including kidney disease deaths caused by diabetes). These group of diseases accounts for over 80% of all premature Chronic disease deaths. As the prevalence of chronic diseases continues to rise, consumers are increasingly turning to nutraceuticals as a part of their preventive or complementary healthcare strategies. Nutraceuticals are gaining popularity as a complementary or alternative approach for managing these chronic conditions, as they are often perceived as safer with fewer side effects compared to conventional pharmaceuticals.
Development of function-specific antioxidants
Antioxidants are compounds that help neutralize harmful free radicals in the body, which cause oxidative stress and contribute to various health issues such as aging, inflammation, and chronic diseases. The development of function-specific antioxidants, such as polyphenols, flavonoids, and carotenoids, with targeted health benefits, is driving the nutraceuticals market. For instance, antioxidants derived from green tea, berries, and other plant-based sources are being formulated into nutraceutical products that are marketed for their potential anti-aging, anti-inflammatory, and immune-boosting properties, among others.
Market Restraints
Safety Concerns
Although nutraceuticals are known to have numerous benefits that continue to expand, there is a certain side effects as well. Thus, a safety concern arises. Major safety concern includes ingredient safety. Nutraceuticals contains a wide range of ingredients, including herbs, botanicals, vitamins, minerals, and other bioactive compounds. However, not all ingredients used in nutraceuticals are safe for everyone. Some nutraceuticals induce allergic reactions. Another factor that raises safety concerns is dosage level, manufacturing processes, and lack of standardized safety assessments. Excessive or inappropriate use of nutraceuticals can result in adverse effects, and inconsistencies in manufacturing practices and quality control standards can impact product quality and safety. Additionally, the lack of standardized safety assessments can create uncertainties regarding safety profiles and potential interactions. Addressing these concerns through proper dosage guidelines, rigorous quality control measures, and standardized safety assessments is crucial to ensure the safe use of nutraceuticals by consumers.
Competition from conventional pharmaceuticals
Nutraceuticals face competition from conventional pharmaceuticals that are backed by extensive research, regulatory approvals, and established marketing channels. In some cases, consumers opt for conventional pharmaceuticals over nutraceuticals for acute or severe health conditions, where pharmaceuticals are perceived to offer more immediate and proven benefits. This competition from pharmaceuticals poses a challenge for the nutraceuticals market, particularly in areas where there is limited scientific evidence supporting the efficacy of nutraceuticals.
Market Opportunity
Nutraceuticals in the treatment of Prostate Cancer
Prostate cancer, the most common type of cancer in American males and the second leading cause of cancer-related mortality, present challenges in terms of resistance to treatment and disease progression. Men of U.S. and African descent have been identified with the highest prostate cancer mortality rates. While current treatment strategies are effective, there is a need for more non-toxic and efficient therapeutic approaches to manage and treat this disease. Nutraceuticals offer a promising opportunity as safe and effective anti-prostate cancer agents. Precision in medicine design is improved by utilizing nutraceuticals while reducing the toxicities associated with chemotherapy and overcoming resistance to disease progression. Nutraceuticals have the potential to treat both localized and advanced prostate cancer, making them a valuable opportunity in the nutraceuticals market for prostate cancer management and treatment.
Significant Market Trends:
Dietary Supplements Segment Reported Foremost Market Stake in 2021
The dietary supplements segment displayed a major share in the worldwide nutraceuticals market in 2021. Dietary supplements such as vitamins, minerals, and protein are the most frequently used nutraceuticals worldwide. Their acceptance has augmented rapidly in the earlier few years. Many studies have suggested that dietary supplements can enhance health, reimburse for unhealthy eating ways, and also lessen risk of developing chronic ailments. Moreover, factors such as easy availability and low cost augment the demand for dietary supplements.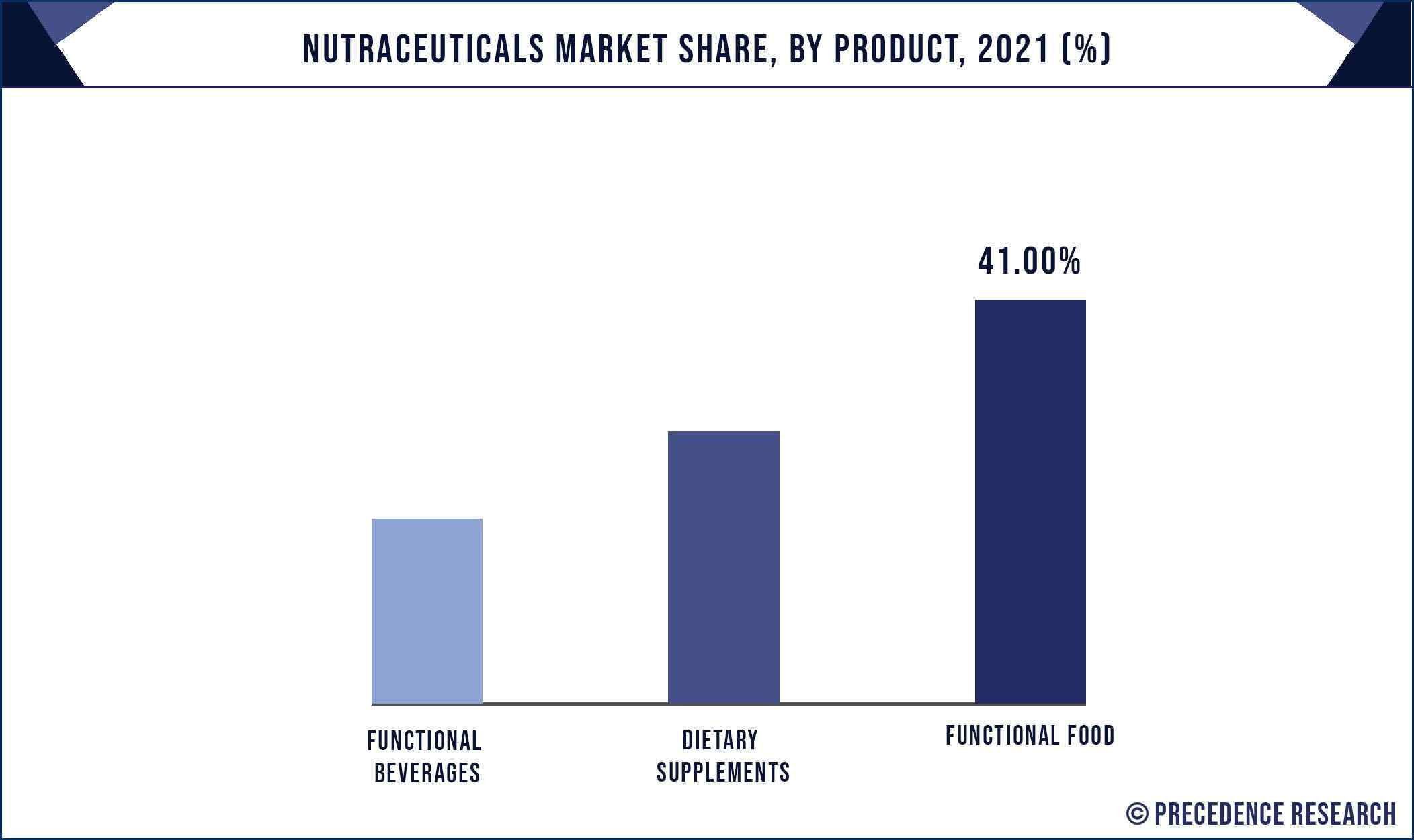 The functional food segment accounted revenue share of around 41% in 2021. Functional beverages are expected to grow at highest CAGR within the forecast time-duration. In the functional food segment, the prebiotics and probiotics segment is expected to hit highest CAGR of 11.5% from 2021 to 2027.
Furthermore, the functional food segment is expected to grow faster during the forecast period due to increasing consumer awareness about the relationship between diet and health and the demand for convenient and tasty food options that offer additional health benefits. The use of functional food as a preventive measure for various health conditions and as a part of a healthy lifestyle is driving the growth of this segment in the nutraceutical market.
Tablets & Soft Gels Dominated the Market Revenue by Form in 2021
Nutraceuticals can be obtained over-the-counter and are also sold through e-commerce sites. Nutraceuticals are predominantly consumed in the form of tablets and soft gels due to ease of storage and consumption. Moreover, higher shelf life and easy packaging also contributes to the high popularity of nutraceuticals tablets and soft gels.
Tablets and soft gels are popular forms of nutraceuticals due to their ease of use, convenience, and precise dosing. Tablets are solid dosage forms that are made by compressing powdered nutraceutical ingredients into a compact shape. At the same time, soft gels are a type of encapsulation that contains liquid or semi-solid nutraceutical ingredients in a gelatin or vegetarian-based shell. Tablets and soft gels are widely used in the nutraceuticals industry for various purposes, including dietary supplements, vitamins, minerals, herbal supplements, and other functional ingredients. They offer a convenient and portable option for consumers to incorporate nutraceuticals into their daily routines. They are favored by many for their ease of swallowing and long shelf life.
Furthermore, the capsule segment is expected to grow significantly during the forecast period. Capsules are widely used for delivering nutraceutical ingredients in a convenient and easy-to-consume form. They are typically made of gelatin or vegetarian/vegan alternatives and contain a variety of nutraceutical ingredients such as vitamins, minerals, herbal extracts, and other bioactive compounds. Capsules are preferred by many consumers due to their ease of use, precise dosing, and potential for controlled-release formulations.
Sales Channel Landscape
In 2021, the online retail stores' channel dominated the market and is expected to grow faster during the forecast period. Online retail stores have gained significant popularity in recent years due to the increasing trend of e-commerce and online shopping. Consumers are increasingly opting for the convenience of online shopping, which allows them to browse and purchase nutraceutical products from the comfort of their homes or offices. Online retail stores also offer a wide variety of options, competitive pricing, and convenient delivery options, making them a preferred choice for many consumers when it comes to purchasing nutraceuticals. The online retail channel provides a convenient and efficient way for consumers to access a wide range of nutraceutical products, compare prices, read reviews, and make informed purchasing decisions.
Nutraceuticals Market Players
The companies focusing on research and development are expected to lead the global nutraceuticals market. Leading competitors contending in global nutraceuticals market are as follows:
Archer Daniels Midland Company
General Mills, Inc.
I. du Pont de Nemours and Company
Aland (Jiangsu) Nutraceutical Co., Ltd.
BASF SE
Cargill, Incorporated
Royal DSM N.V.
Groupe Danone S.A.
Nestle S.A.
PepsiCo Inc.
With the aim of well recognizing the present standing of nutraceuticals, and guidelines implemented by the developed countries, Precedence Research anticipated the future advancement of the nutraceuticals industry. This study bids qualitative and quantitative intelligences on nutraceuticals market and estimation of business size and development trend for feasible market sectors.
Segments Covered in the Report
By Type
Dietary Supplements

Vitamins
Botanicals
Minerals
Proteins & Amino Acids
Fibers & Specialty Carbohydrates
Omega Fatty Acids
Others

Functional Beverages

Energy Drinks
Sports Drinks
Functional Juices
Others

Functional Food

Carotenoids
Dietary Fibers
Fatty Acids
Minerals
Prebiotics & Probiotics
Vitamins
Others

Personal Care
By Form
Capsules
Liquid & Gummies
Tablets & Soft Gels
Powder
Others
By Sales Channel
Specialty Stores
Supermarkets/Hypermarkets
Convenience Stores
Drug Stores/Pharmacies
Online Retail Stores
Other
By Geography
North America
Europe
Asia-Pacific

China
India
Japan
South Korea
Malaysia
Philippines

Latin America

Brazil
Rest of Latin America

Middle East & Africa (MEA)

GCC
North Africa
South Africa
Rest of the Middle East & Africa