The global protein supplements market size is expected to hit around USD 49.68 billion by 2032 from USD 21.67 billion in 2022, growing at a CAGR of 8.7% during the forecast period from 2023 to 2032.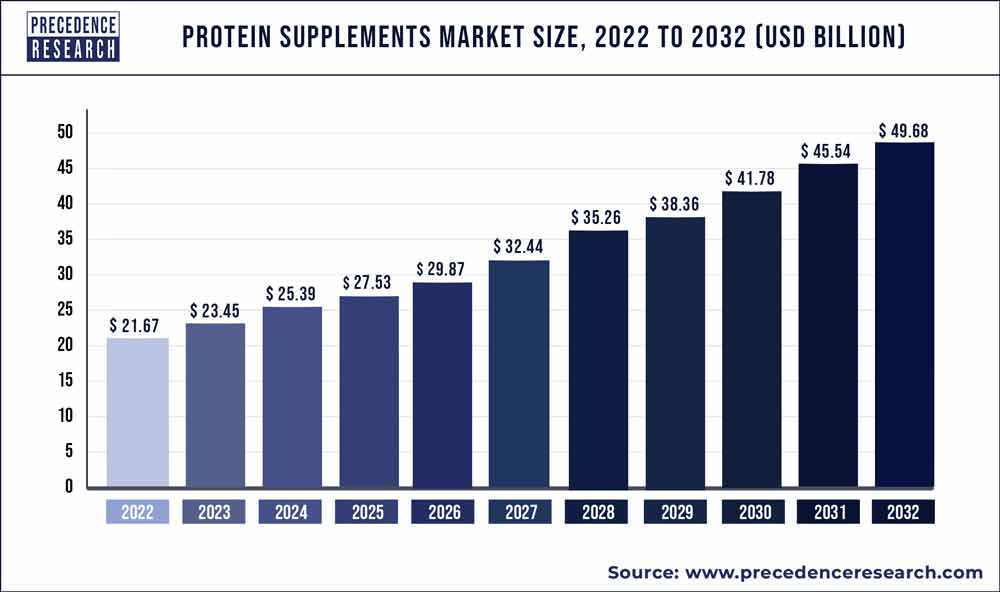 Access our Premium Real Time Data Intelligence Tool, Visit: Precedence Statistics
Key Takeaways:
The sports nutrition segment holds the largest share 68% in 2022.
The animal-based protein supplements have led the market in 2022 with a revenue share of 67%.
the online store segment had the largest market share 32% in 2022.
The supermarkets and hypermarkets segment is expected to witness a CAGR of 8.7% from 2023 to 2032.
North America held the largest revenue share of over 52% in 2022.
Regional Insights
The largest revenue share of over 52% was held by North America in 2022. Increased awareness regarding health and Wellness and the knowledge about the benefits of protein supplements is expected to drive the market in this region due to increased awareness regarding healthy lifestyles along with a good amount of disposable income. The demand for protein supplements is growing in the North American region. The European market is the second largest market for protein supplements.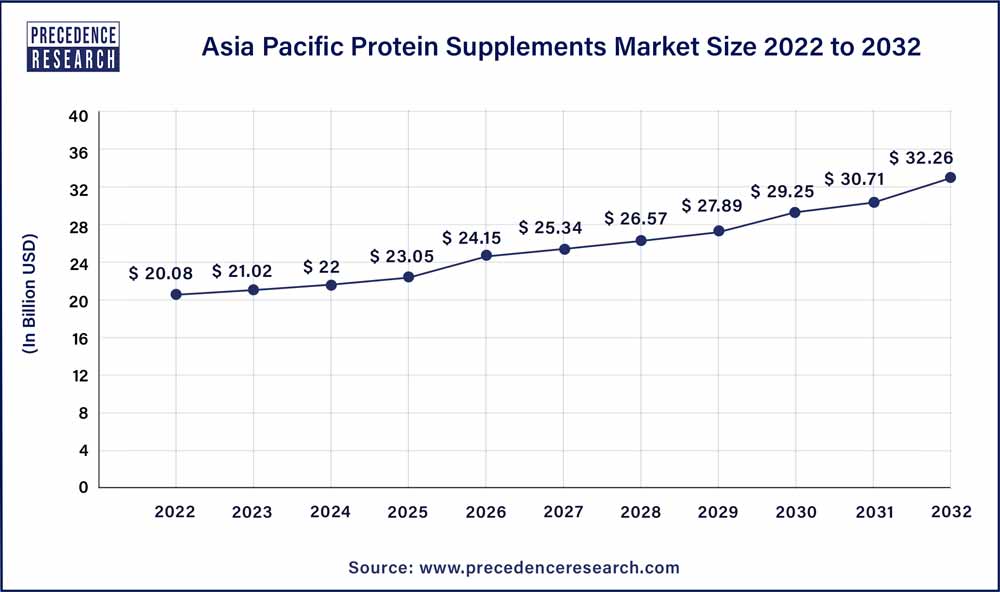 The Asia Pacific region is also expected to register good growth during the forecast. Modernization in these emerging economies is leading to growth in the market. Increased disposable income and changing consumer lifestyles are expected to drive the protein supplements market in the Asia Pacific region.
Global Protein Supplements Market Revenue, By Region, 2022-2032 (US$ Mn)
| | | | | |
| --- | --- | --- | --- | --- |
| Regions | 2022 | 2023 | 2027 | 2032 |
| North America | 10,987.8 | 11,865.3 | 16,283.6 | 24,691.1 |
| Europe | 5,136.3 | 5,569.2 | 7,768.8 | 12,022.6 |
| Asia Pacific | 3,814.3 | 4,150.5 | 5,871.2 | 9,240.5 |
| LAMEA | 1,733.8 | 1,864.2 | 2,513.9 | 3,726.0 |
Market Overview:
The daily basic need for protein may not be fulfilled with the diet so protein supplements are needed in order to fulfill the requirement. Protein supplements are very important in improving the metabolism of the body. They help in improving performance during the workout and provide better fitness. In order to endure heavy workouts protein supplements can be consumed post the workout or pre-workout in order to boost stamina. A deficiency of proteins causes many diseases and the consumption of these protein supplements will help in taking preventive measures. Intake of protein supplements also helps in combating the problems like obesity malnutrition and weak immune system.
Post-pandemic many nations are undergoing a recession, people have financial crises as well as health issues. The protein supplements market had a very steep downfall due to the lockdown across many nations. And the disrupted supply chain networks also amounted to the downfall of the revenues of the protein supplements market.
Growth Factors
The protein supplements market is increasing as there is a growing population of health-conscious people. Protein supplements are gaining popularity amongst millennials. In order to build health through a balanced diet is expected to create a demand for protein supplements over the forecast. Young athletes need protein supplements as they provide many benefits like building muscles, increasing strength, lowering cholesterol, fighting cancer, improving immunity, and lowering blood pressure. These factors are leading to growth in the market.
Report Scope of the Protein Supplements Market
Report Coverage
Details
Market Size in 2023
USD 23.45 Billion
Market Size by 2032
USD 49.68 Billion
Growth Rate from 2023 to 2032
CAGR of 8.7%
Largest Market
North America
Second Largest Market
Europe
Base Year
2022
Forecast Period
2023 to 2032
Segments Covered

By Products
By Source
By Application
By Distribution Channel
By Form
By Gender
By Age Group

Regions Covered

North America
Europe
Asia-Pacific
Latin America
Middle East & Africa
Market Dynamics
Drivers
Increasing Demand from Athletes and Sports Enthusiasts
Protein supplements are highly favored among athletes and individuals aiming to increase muscle mass, serving as a convenient option for those with a busy lifestyle or experiencing reduced appetite post-workout. Athletes have heightened protein requirements to ensure optimal protein synthesis, energy production, immune function, and gut health during physically demanding and prolonged exercise sessions. As the intensity and duration of athletic performance increase, the need for protein also rises, necessitating its inclusion in pre- and post-performance meals, as well as regular consumption throughout the day, to ensure a consistent and effective supply of essential amino acids.
To provide these specific nutritional needs, various protein supplements have been developed for athletes and sports enthusiasts. For instance, in May 2023, Smart for Life, Inc. introduced a new range of Sports Illustrated protein bars specifically designed for individuals leading active lifestyles. These premium protein bars are formulated to meet the increasing demand for clean and nutritious products that align with the requirements of athletes and health-conscious consumers. Similarly, in April 2023, EverGrain launched FȲTA, a collection of high-performance sports nutrition powders created from up-cycled barley protein. This collaboration between EverGrain and The Game Changers filmmaker signifies an important milestone in their pursuit of an extra sustainable as well as circular food chain by scaling up the production of nutrient-rich ingredients from up-cycled barley spent grain (BSG). Additionally, in March 2022, MusclePharm Corporation announced its expansion into the ready-to-drink protein market with the planned release of a new line of whey protein beverages in the summer of 2022. Marketed under the renowned MusclePharm brand, these high-protein drinks will contain over 20g of protein, be free of added sugars, and available in a variety of flavors.
Furthermore, the growing awareness about the role of nutrition in athletic performance has led to a greater emphasis on sports nutrition practices. Athletes and sports enthusiasts are more informed about the benefits of protein supplementation and its impact on their training outcomes. This increased knowledge drives the demand for protein supplements as an integral part of sports nutrition regimens.
Increasing Health and Wellness Consciousness
In the past decade, consumers have made efforts to proactively prioritize their health and maintain fitness and vitality as they age. Although the increasing rates of obesity and diabetes raise concerns about the effectiveness of such endeavors, it indicates that consumers are striving to enhance their well-being. As weight management and healthy weight loss become focal points for many, protein supplements offer a solution to support appetite control and reduce cravings. By incorporating protein supplements into their diets, individuals can enhance their weight management efforts and improve dietary adherence. Further, there are numerous reasons why consumers hold favorable perceptions of protein. They acknowledge protein as an ingredient present in everyday food and beverage products that they trust and consider affordable. Additionally, unlike previous health-boosting ingredients like antioxidants, protein appeals to both men and women, as it is associated with muscle mass and overall health and well-being.
Traditionally, improved dietary habits have predominantly revolved around weight loss, which continues to be important for consumers worldwide who are currently on a weight loss journey. However, as consumers become more knowledgeable about health and well- being, they have adopted a more comprehensive approach to defining a balanced diet. They are no longer solely focused on eliminating unhealthy elements from their eating and drinking plans; instead, they are also seeking to increase their consumption of ingredients associated with overall health enhancement beyond basic satiety. This is attributed to the fact that a majority of consumers regularly conduct research on various health-boosting ingredients. Embracing the concept of holistic health, consumers are turning to ingredients they believe can address multiple health concerns. This shift in consumer behavior is expected to positively impact the protein supplement market during the forecast period.
Increasing Shift towards Plant-Based Protein Products
The demand for plant-based protein products is being fueled by consumers who are linking health and sustainability considerations. Sustainability has become a prominent topic of interest for many individuals. Global consumers express concerns about the state of the environment. Additionally, most of them believe that environmental issues have intensified over the past two decades, while others feel that the damage inflicted is irreversible. These concerns are driving worries about the quality of life for both present and future generations. Traditionally, consumers viewed environmental protection as primarily the responsibility of large corporations rather than individuals. However, this mindset is evolving, with consumers increasingly recognizing the collective effort required to address sustainability challenges. As a result, consumers report having made dietary changes within the past two years in order to adopt a more sustainable lifestyle. The production of meat and dairy products has been associated with negative environmental impacts, such as deforestation and a large carbon footprint. By choosing plant-based protein options, consumers aim to mitigate these environmental issues. These choices align with their desire to lead healthier and more sustainable lifestyles, promoting both personal well-being and the well-being of the planet.
Consumers show a willingness to explore various alternatives to animal protein, such as rice, beans, potato, or maize protein. Among plant-based options, pea and rice protein are being well consumed and known among consumers, while pumpkin seed protein presents a growing niche. Additionally, emerging plant proteins like microalgae and fava bean hold future potential as opportunities. The pursuit of healthier and more sustainable lifestyles by consumers continues to propel the demand for plant-based nutrition. In the realm of bars, an increasing inclusion of nuts, fruits, vegetables, and botanicals is anticipated. Thus, the rising popularity of plant-based diets, driven by ethical, environmental, and health considerations, has created a strong demand for plant-based protein supplements. Furthermore, both plant-based and whey proteins have gained popularity among Generation Z and millennial, a trend that is expected to contribute to the expansion of sustainable food practices. Whey protein, in particular, has become prominent among athletes and individuals seeking protein supplements in their diets. Manufacturers, media outlets, consumers, and influencers are placing their confidence in whey protein powders to foster sustainable food production.
Rising Demand for Clean Nutrition
Consumer demand for transparency is a significant factor as the majority of global consumers consider brand stories influential in their purchase decisions. The clean label movement has experienced substantial growth in the supplement industry, driven by consumers' increasing demand for transparency. Clean labeling has become a mainstream trend, permeating the active and sports nutrition category. Consumers seeking active nutrition products prefer items with recognizable and fewer ingredients, free from artificial flavors or colors. The scrutiny of labels has intensified, with consumers expecting to find familiar ingredients. Food manufacturers that go the extra mile to disclose the origin of ingredients earn higher consumer trust. Consequently, current industry developments primarily revolve around the elimination of additives and preservatives. All indicators of clean labeling demonstrate growth. Moving forward, it is anticipated that more comprehensive and holistic clean strategies will emerge, leveraging their unique potential for product differentiation.
Also, clean label consumers across all generations perceive products with natural or fewer ingredients, as well as those with improved nutrition, as meeting the clean label criteria. It is no surprise that social media has played a significant role in raising awareness, making it customary for the food industry to provide better-for-you ingredient information. Rather than being viewed as a selling point, this transparency is now expected by consumers. Consequently, clean label has become the "new norm," stimulating innovation across various Consumer Packaged Goods categories. This notion is supported by the findings of a survey commissioned by Ingredient Communications, a specialty public relations agency. The survey revealed that a considerable 73 percent of consumers are willing to pay a higher retail price for food or beverage products containing recognized and trusted ingredients.
Clean and mindful eating further gained significant importance during the pandemic as consumers sought natural and nutritious food options. As a result, the demand for clean labels is expected to continue rising in the future, as consumers increasingly prioritize products with recognizable ingredients and simple processing methods that mirror those they would employ in their own kitchens. Consequently, as clean nutrition continues to rise, protein supplements that are prioritizing transparency, quality ingredients, and sustainable practices will be well-positioned for growth. Manufacturers are also likely to embrace and promote clean nutrition principles in their products to attract a broader consumer base, providing to the evolving needs and preferences of health-conscious individuals.
Restraints
Counterfeit Products
The prevalence of fake bodybuilding supplements has surged, largely due to the widespread grey market. While some companies blatantly deceive consumers by misrepresenting the protein content on their labels, others employ a more cunning trick recognized as nitrogen spiking. Nitrogen spiking, which is also referred to as "protein spiking" or "amino spiking," enables supplement manufacturers to include less protein than indicated on the label, evading detection. Surprisingly, numerous companies engage in this deceptive practice. The issue arises from the escalating costs associated with protein powder production, leading many companies to resort to drastic measures to reduce expenses and increase profits. Nitrogen spiking is an unethical ploy, corrupting the integrity of the industry.
Nitrogen spiking serves as a method to manipulate the protein content test utilized for measuring protein powders. The present measurement technique involves assessing the nitrogen content, that is later converted into protein quantity. Nitrogen is employed because amino acids, the building blocks of protein, contain nitrogen. By measuring the nitrogen content in a protein powder, one can infer the protein amount per serving. However, this assumption relies on the presence of complete proteins, like whey, casein, or egg protein. Regrettably, many protein powders not only contain these complete proteins, but they also incorporate additional amino acids.
Many individuals believe that the addition of extra amino acids to protein powders is advantageous. However, the significant issue with protein powders containing added amino acids is that these additional amino acids do not contribute any beneficial effects to the product. They are solely included for their nitrogen content. By incorporating less expensive amino acids into their protein powders, supplement companies can elevate the nitrogen levels, which technically increase the perceived protein quantity per serving as measured by the nitrogen test. This affects the credibility of the protein products and is likely to restraint the growth of the market during the forecast period.
Misconceptions about Protein Powder Intake
The misconceptions surrounding protein powder intake is anticipated to limit the growth of the protein supplements market during the forecast period. Concerns may arise about consuming excessive amounts of protein powder due to potential impacts on the liver, kidneys, or bones. Despite the extensive scientific evidence supporting the safety and benefits of protein supplementation, misconceptions and misinformation continue to prevail among consumers. One significant concern regarding protein powder intake is its potential effect on kidney and liver health. In the past, experts believed that excessive protein consumption could harm the kidneys and liver in healthy individuals. These misconceptions are often generated from outdated or inaccurate information that has not kept pace with the current body of research.
However, numerous recent studies have disproved this claim. For instance, a study involving group of 48 women and men who followed a high protein diet from both whey-beef protein powder and food during an intensive 8-week resistance training program found no significant difference in kidney function among those who consumed the protein powder. It is worth noting that individuals with kidney disease or reduced kidney function may face challenges in excreting protein waste products through urine and should therefore monitor their protein intake. Reduced kidney function is defined as an estimated glomerular filtration rate (eGFR) below 90. Therefore, unless an individual has decreased kidney function or chronic kidney disease, taking protein powder and other high-protein foods is generally considered safe.
Furthermore, there is a common belief that a high protein diet can be harmful to bone health. This misconception stems from the notion that the high acid content of protein could deplete calcium from bones, resulting in increased calcium levels in urine and weakened bones. However, current research indicates that a high protein diet might actually have a positive impact on bone health. Scientists suggest that it achieves this by enhancing calcium absorption, supporting the development of skeletal muscle mass and preserving bone mass during weight loss. An 18-month study of high quality involving 280 older men and women sheds light on this topic. The participants consumed either 45 grams of whey protein or a placebo daily. The results revealed no significant differences in bone composition between the two groups. Interestingly, the whey protein group demonstrated a notable preservation of muscle mass, suggesting that protein intake may help mitigate age-related muscle loss. This preservation of muscle mass can have a positive impact on bone health, as it enables older individuals to maintain their physical activity levels for a longer period, thus benefiting their overall bone health. Such studies are important to disapprove such misbeliefs and also by addressing and dismissing misconceptions, the protein supplements market can improve trust, confidence, and broader acceptance among consumers, leading to increased adoption and continued market growth.
Opportunities
Introduction of New Formats and Demand for Convenience
Protein supplements are expected to evolve beyond the conventional formats of protein powder or bars, presenting new forms that cater to diverse needs. For instance, protein crisps can serve as a solution to ensure children receive adequate protein and essential nutrition for their development. While parents aim to provide balanced meals for their kids, there are instances where snacks become necessary to avoid hunger when dealing with picky eaters. Consequently, conscientious parents no longer wish to offer snacks with minimal nutritional value, instead seeking healthy alternatives that allow children to enjoy their food. The versatility of chicken protein ingredients enables snack developers to incorporate the nutritional benefits of real chicken protein into various applications, whether savory or sweet. Consumers are increasingly seeking alternatives to traditional protein presentations like shakes or bars. High-protein dairy products, such as protein-enriched yogurts or portable beverages, are experiencing a growing demand as individuals recognize their nutritional benefits and convenience. This shift reflects the evolving preferences of consumers who are actively looking for innovative ways to incorporate protein into their diets beyond the standard choices available.
Furthermore, snacking patterns are undergoing a transformation, shifting towards products that offer both nutrition and convenience for individual consumption. In today's fast-paced lifestyle, people are constantly on the move and seek nutritional options that can be consumed on-the-go. High-protein foods, bars, and beverages have become the preferred choice for individuals concerned about weight management, seeking satisfying snacks, or looking for meal replacements. This trend is particularly relevant as people increasingly seek healthy grab-and-go alternatives to support their busy schedules. Collagen, an intriguing ingredient, stands out due to its versatility in formulating a wide range of convenient "to-go formats." Collagen supplementation, typically in the form of collagen peptides derived from the hydrolysis of native collagen, contributes to maintaining flexibility, mobility, and strength over time. Therefore, there is a growing demand for products that offer quick and convenient nutritional boosts. Furthermore, the sports nutrition category is transitioning from niche to mainstream consumption, with products being embraced not only by athletes but also by the general public. This shift has led to an increased demand for on-the-go options that are easier to consume and available in novel formats.
Thus, the introduction of new formats and the increasing demand for convenience is likely to drive the growth of the protein supplements market. By providing consumers with convenient and easily consumable protein options, the market can attract more individuals seeking to incorporate protein supplementation into their daily lives, fueling further growth and innovation within the industry.
Product Insights
The most common protein supplement is consumed in the form of protein powder. The protein powder segment dominated the market in the previous years. These protein powders are manufactured using whey, casein, soy, pea, and egg proteins. These powders have all the essential vitamins, minerals, additional fats and thickeners, fibers, grains, and vegetables. They are very useful in repairing the human body tissues, reducing weight, making enzymes and hormones, and building and toning the muscles. The demand for powder-based proteins is expected to grow due to demand from Athletes, casual exercisers, and bodybuilders. There are many key market players that are contributing to the Growth of this segment.
Global Protein Supplements Market Revenue, By Product, 2022-2032 (US$ Mn)
| | | | | |
| --- | --- | --- | --- | --- |
| Product | 2022 | 2023 | 2027 | 2032 |
| Protein Powder | 13,830.4 | 14,957.7 | 20,653.6 | 31,560.8 |
| Protein Bars | 2,933.3 | 3,162.0 | 4,308.2 | 6,472.5 |
| Ready to Drink | 4,347.8 | 4,726.3 | 6,658.9 | 10,428.8 |
| Others | 560.6 | 603.3 | 816.7 | 1,218.1 |
Source Insights
Protein supplements on the basis of the source could be animal-based or plant-based proteins. The animal-based protein supplements have led the market in 2022 with a revenue share of 67% and it is expected to grow during the forecast. Animal-based proteins are considered complete proteins as they have all the necessary amino acids. Animal-based proteins are derived from meat, eggs, chicken, and beef. Casein and whey are the most consumed animal-based proteins. Due to the increased popularity of plant-based protein supplements among vegetarians. It is expected that there will be significant growth during the forecast period. People who are allergic to dairy and egg proteins are also consuming plant-based proteins. These proteins are derived from canola, rice, potato, hemp, wheat, soy, pea, oat, and almonds. Wheat and soy are the dominant plant protein segments. The presence of the nine essential amino acids in soy makes it very popular among plant-based protein supplements.
Global Protein Supplements Market Revenue, By Source, 2022-2032 (US$ Mn)
| | | | | |
| --- | --- | --- | --- | --- |
| Source | 2022 | 2023 | 2027 | 2032 |
| Animal-based | 14,274.5 | 15,375.1 | 20,900.1 | 31,269.8 |
| Plant-based | 7,397.6 | 8,074.2 | 11,537.3 | 18,410.4 |
Application Insights
On the basis of application, protein supplements are highly consumed in the sports nutrition segment. The sports nutrition segment holds the largest share 68% in 2022. Sports and medical industries have a high consumption of protein supplements due to the athletes, sportsmen, and bodybuilders. These protein supplements are easily available in convenience stores and in supermarkets. Changes in lifestyle have led to growth in this market. The driving factors for the growth of this segment in the coming years are to improve performance, assist in weight reduction, promote lean muscle growth, and boost stamina.
Global Protein Supplements Market Revenue, By Application, 2022-2032 (US$ Mn)
| | | | | |
| --- | --- | --- | --- | --- |
| Application | 2022 | 2023 | 2027 | 2032 |
| Sports Nutrition | 14,251.5 | 15,465.8 | 21,648.9 | 33,652.9 |
| Functional Food | 7,420.6 | 7,983.4 | 10,788.5 | 16,027.3 |
Distribution Channel Insights
Recently, the online store segment had the largest market share 32% in 2022 due to the growing trend of shopping online. Using the Internet for shopping helps in saving time and energy, and it is convenient as more discounts are offered. The online stores are expected to lead the market during the forecast. A wide range of products are available at good prices in various supermarkets and hypermarkets, and therefore the increasing number of these stores in developed and developing economies is also increasing the popularity of fitness amongst the people.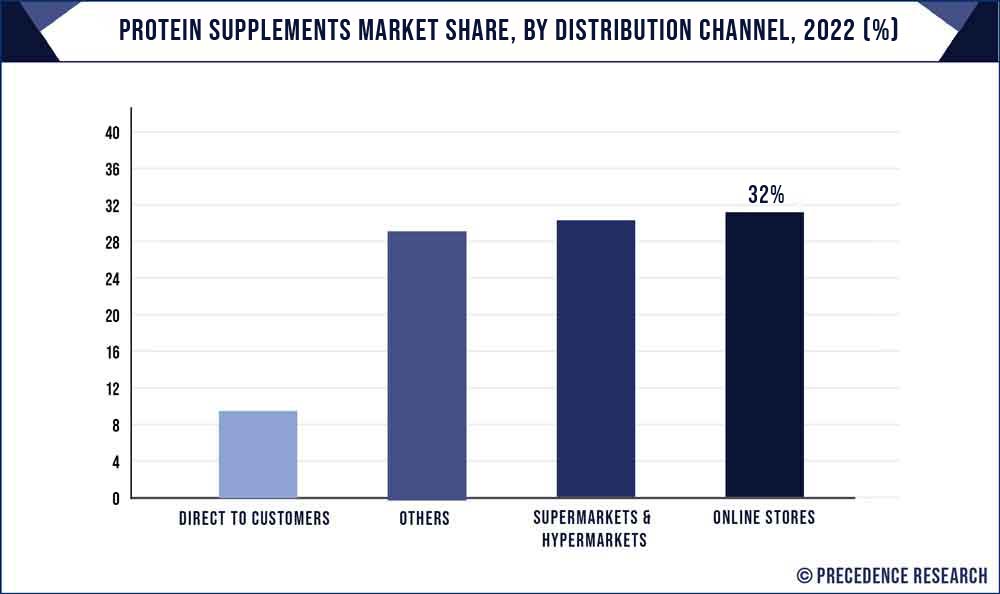 The website design for the marketing of these products or the sale of these products is extremely user-friendly and specialized. These platforms help companies in distributing their products without the intervention of any other third party.
The supermarkets and hypermarkets segment is expected to witness a CAGR of 8.7% from 2023 to 2032. Many companies are adopting the DTC option in order to grow faster. Retailers, pharmacies, and fitness centers are all the distribution channels and more shelf space is allocated for protein supplements. The distributors are providing various options of protein supplements in the form of cookies, protein bars, and powders.
Global Protein Supplements Market Revenue, By Distribution Channel, 2022-2032 (US$ Mn)
| | | | | |
| --- | --- | --- | --- | --- |
| Distribution Channel | 2022 | 2023 | 2027 | 2032 |
| Supermarkets & Hypermarkets | 2,661.7 | 2,868.2 | 3,902.8 | 5,853.4 |
| eCommerce | 17,652.2 | 19,115.9 | 26,532.4 | 40,807.4 |
| Others | 1,358.2 | 1,465.2 | 2,002.2 | 3,019.4 |
Recent Developments
In the European region, Cargill introduced a pea-based protein to the existing protein products in December 2020 to meet the increasing need for protein supplements in the European region.
Verdient Foods acquired Ingredion in November 2020. The purpose of this acquisition is to increase the net sales of the organization with the setup of a manufacturing plant in Canada.
In order to develop innovative strategies to cater to the growing demand for pea protein supplements, which is a plant-based protein supplements. Many research and developmental activities are carried on in GNC holdings. GNC Holdings has also increased its investments in the research and development of this product.
Key Market Players
NOW Foods
Transparent Labs
WOODBOLT DISTRIBUTION LLC
Dymatize Enterprises LLC
JymSupplementScience.com
RSP Nutrition
CytoSport, Inc.
Iovate Health Sciences International Inc.
QuestNutrition
THE BOUNTIFUL COMPANY
AMCO Proteins
Glanbia PLC
MusclePharm
Abbott
BPI Sports LLC
International Dehydrated Foods, Inc.
BRF
Rousselot
GELITA AG
Hoogwegt
Market Segmentation:
(Note*: We offer reports based on sub-segments as well. Kindly, let us know if you are interested)
By Products
Protein Bars
Protein powders
Ready to Drink
Others
By Source
Plant based

Soy
Spirulina
Pumpkin Seed
Hemp
Rice
Pea
Others

Animal based

Whey
Casein
Egg
Fish
Others
By Application
By Distribution Channel
Supermarkets & Hypermarkets
Online Stores
Direct to Customers
Others
By Form
Ready to Drink
Protein Powder
Protein Bar
Others
By Gender
By Age Group
Millennials
Geneartion X
Baby Boomers
By Geography
North America
Europe
Asia-Pacific
Latin America
Middle East & Africa (MEA)